Koji rejoining Red Sox in San Diego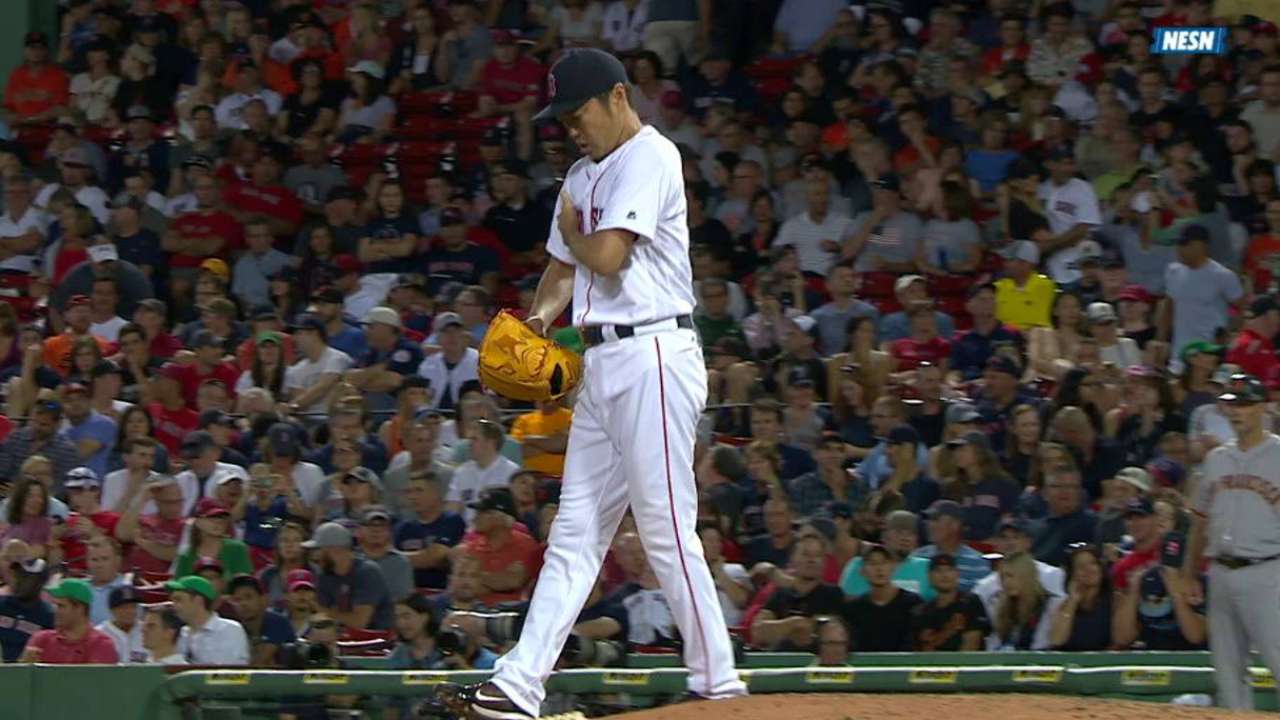 OAKLAND -- Red Sox manager John Farrell said the team will activate reliever Koji Uehara off the disabled list Monday, and the 41-year-old righty will be available out of the bullpen beginning on Tuesday against the Padres.
Uehara threw 26 pitches off the Coliseum mound prior to Saturday's game, facing live hitters and mixing in his fastball, splitter and cutter.
"I know he felt good about it yesterday," Farrell said. "Today he reported feeling the same. This has the chance and the potential to be a viable and an important addition to the bullpen late in games."
Uehara spoke with reporters Saturday afternoon, saying he felt "100 percent." Farrell said he's been encouraged with Uehara's recovery over the last 10 days.
Boston's bullpen struggled in August, especially with leads in the eighth inning, a role Uehara's maintained throughout the season. Brad Ziegler, another late-inning bullpen arm, returned on Saturday after missing several days with the flu.
Uehara was placed on the disabled list July 20 after he strained a pectoral muscle the day before, and there was question as to whether he'd return this season. It has been an uneven season for the righty, but he was showing encouraging signs in July, posting a 2.70 ERA in his last eight appearances. He is 2-3 with a 4.50 ERA in 36 innings, adding 51 strikeouts.
With the Minor League season ending Monday, Uehara must work back into game shape without the benefit of a rehab assignment.
"[Uehara] has the potential to be a proven closer type of guy for us," Farrell said. "We know that there's going to be three appearances that are almost in a Spring Training mode, which might be low-leverage just to get him game action under his belt and see how he responds to in-game exertion and activity."
Worth noting
• Farrell said Sunday that designated hitter David Ortiz will be available in a pinch-hit role in Boston's three-game series at San Diego, adding there's "no intentions" of getting on the field defensively.
• Andrew Benintendi played catch Sunday for the first time since going on the DL with a sprained left knee on Aug. 25. Farrell said Benintendi is also taking some dry swings and will increase his activity level when the team faces the Padres. He's awaiting a custom knee brace before doing so, and it's set to arrive along with the team in San Diego.
• Boston had internal discussions about calling up Rusney Castillo, who has spent the season in Triple-A Pawtucket, but Farrell said there's no plan to do so at his time. Castillo is not on the 40-man roster.
Castillo, 29, is slashing .266/.313/.359 in 387 at-bats in Triple-A.
"To his credit, once he moved to the leadoff spot [in Triple-A], he's become a different hitter," Farrell said, "or a much more productive hitter."
• The Red Sox announced Sunday they had outrighted reliever William Cuevas to Pawtucket, two days after designating him for assignment.
Mark Chiarelli is a reporter for MLB.com based in the Bay Area and covered the Red Sox on Saturday. This story was not subject to the approval of Major League Baseball or its clubs.