Rangers recall Leclerc to bolster bullpen
Texas operating under assumption Jeffress won't return this season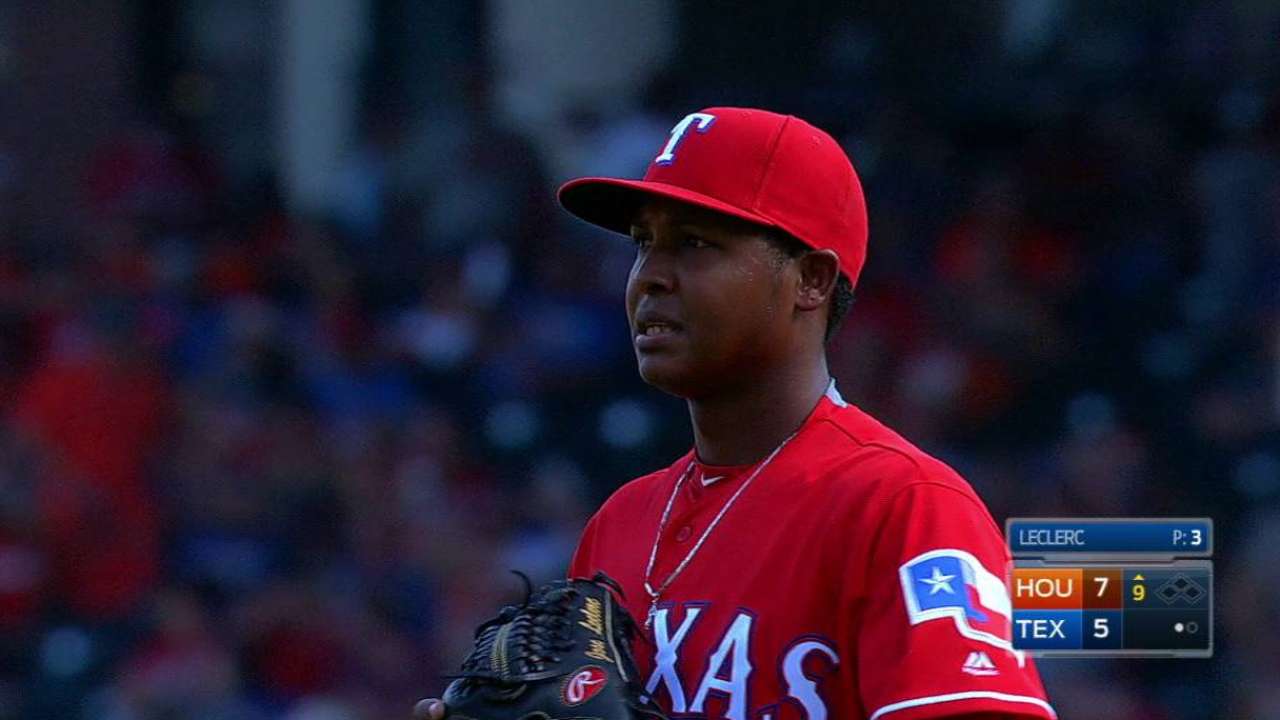 ARLINGTON -- The Rangers recalled right-hander Jose Leclerc from Triple-A Round Rock on Sunday in order to provide some protection for right-handed middle relievers Tony Barnette and Keone Kela.
The need to protect Kela and Barnette has intensified with the Rangers being without right-hander Jeremy Jeffress, who remains on the MLB restricted list as he receives treatment for his alcohol issues. The Rangers are not sure when -- or if -- they will have Jeffress back this season.
"Whether Jeremy's able to pitch for us again this year -- until we have him, until he's in that rhythm -- my thought process is more on the personal side than the professional side," manager Jeff Banister said. "It's a fair statement to say I've got to operate on the thought process that [we won't have him]."
This is Leclerc's second stint with the Rangers, and the 22-year-old struck out two in a scoreless inning of relief in Sunday's 7-6 loss to the Astros. Leclerc said he's a little more relaxed this time around. He allowed one run over 5 2/3 innings through his first three career outings in mid-July. In those outings he collected five strikeouts, but also walked eight. Control has been the biggest issue in Leclerc's development.
"He's got swing-and-miss secondary stuff and an above-average fastball," Banister said. "Again, it's about not letting Major League hitters eliminate pitches. That's crucial. That's where the strikes part of it comes into play."
The Rangers elected to go with Leclerc to bolster the right-handed side of their bullpen rather than Tanner Scheppers. Scheppers, on the 60-day disabled list recovering from February left knee surgery, threw a scoreless inning with Round Rock on Saturday. He has a 1.13 ERA through eight innings during his Minor League rehab with Round Rock and Double-A Frisco.
"I know that the outing [on Saturday] was OK," Banister said. "The velocity is secondary, it's part of it, but it's secondary. The quality of pitch is more important and I'll get a report on that shortly."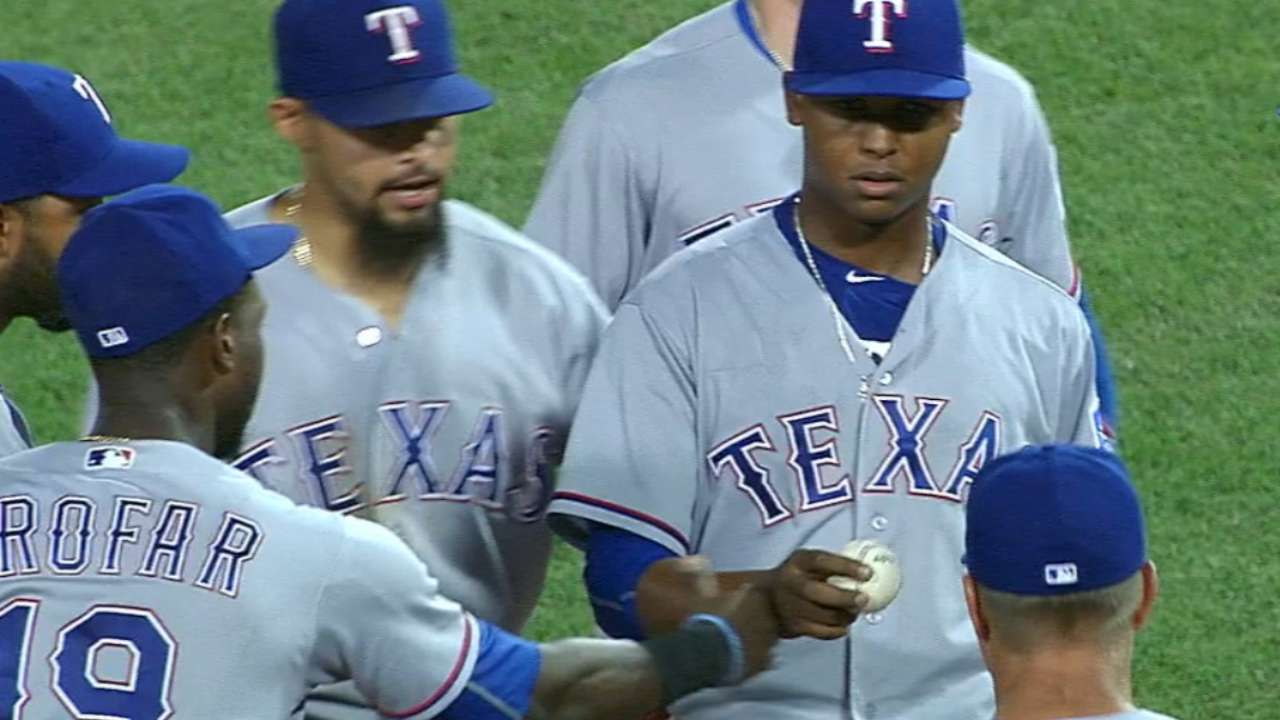 Family comes first
Banister gave bench coach Steve Buechele the day off on Sunday so he could attend University of Texas' football opener against Notre Dame. Buechele's son, Shane, is a freshman quarterback on the team.
"I would hope that any manager in baseball would allow that to happen," Banister said. "Our families sacrifice so much for us and what we do."
Banister, a graduate of University of Houston, said he'll be pulling for Buechele's son and the rest of the Longhorns.
"I woke up this morning a UT fan, and that's rare," Banister quipped. "That's a family unit in there, we're all family. We're not just a band of misfits. We spend more time together than we actually spend with our real family. I guarantee you every single coach in [our clubhouse] will be a UT fan tonight."
Rangers beat
• Catcher Jonathan Lucroy was back in the lineup on Sunday and was not feeling any lingering issues from the flu that kept him out of Saturday's game. Lucroy went 0-for-4 in Sunday's loss.
• Kela said his right hand was OK after deflecting a soft liner off the bat of Jose Altuve with his palm in the seventh inning of Saturday's win.
• Banister said that along with the Rangers' second wave of September callups coming after Round Rock's season ends on Monday, the team will keep certain players fresh in the Arizona Instructional League -- that begins in mid-September -- in case of emergency.
Ryan Posner is a reporter for MLB.com based in Texas. This story was not subject to the approval of Major League Baseball or its clubs.