Puig's HR, Utley's tag help LA increase lead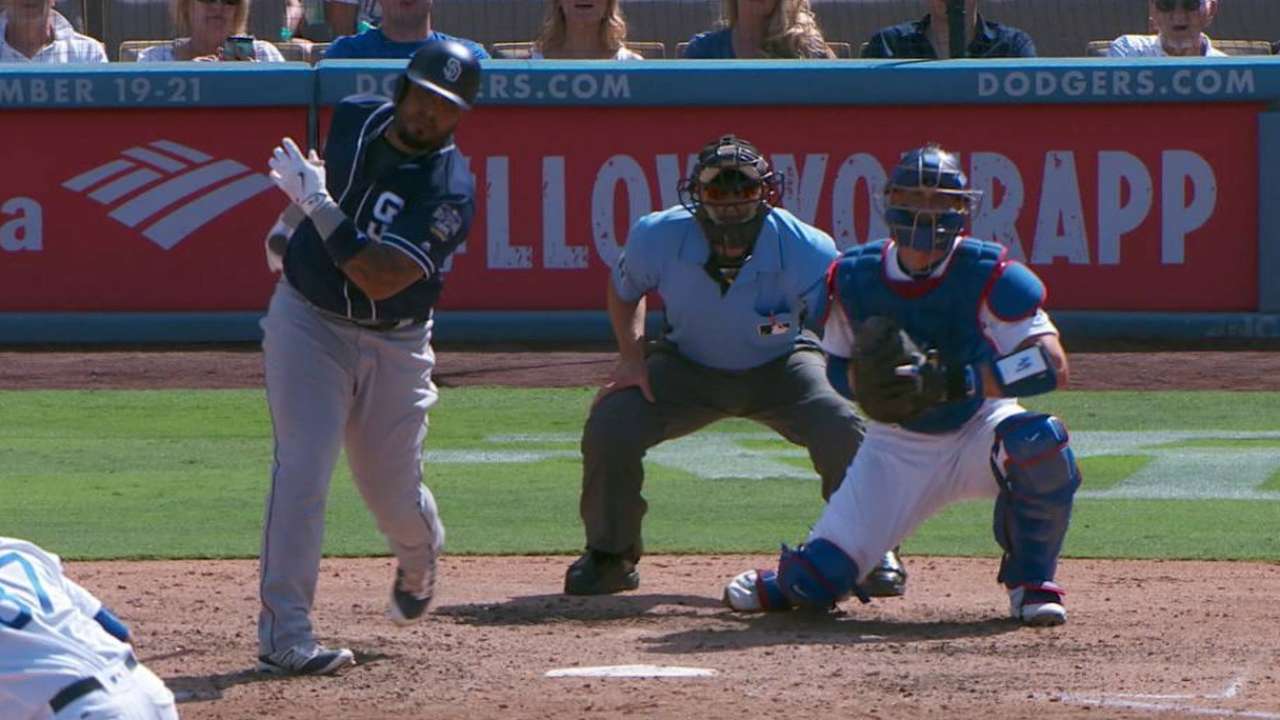 LOS ANGELES -- It took homers from Yasiel Puig and Yasmani Grandal to give Jose De Leon a win in his Major League debut, as the Dodgers prevailed, 7-4, over the Padres on Sunday to take the series.
Yangervis Solarte opened the scoring with a two-run homer in the third inning off De Leon to put the Padres ahead until Puig's three-run long ball in the bottom of the frame. The Padres rallied for two runs in the fifth to take back the lead, but the Dodgers punched back in the bottom of the inning with a pair of RBI singles from Chase Utley and Grandal to go up, 5-4. Grandal's two-run homer in the seventh inning tacked on insurance runs for Kenley Jansen, who closed the door for his 41st save.
Hector Sanchez's Statcast-measured 106-mph ball to the wall off Jansen was the Padres' hardest hit ball of the day, but Joc Pederson and Utley teamed to cut him down as he tried to stretch a single into a double. Pederson's hard throw from center, Sanchez's lack of speed and Utley's no-look, backwards tag created a highlight-reel play at second. Replay confirmed that the tag was in time.
• Utley's no-look tag shuts down threat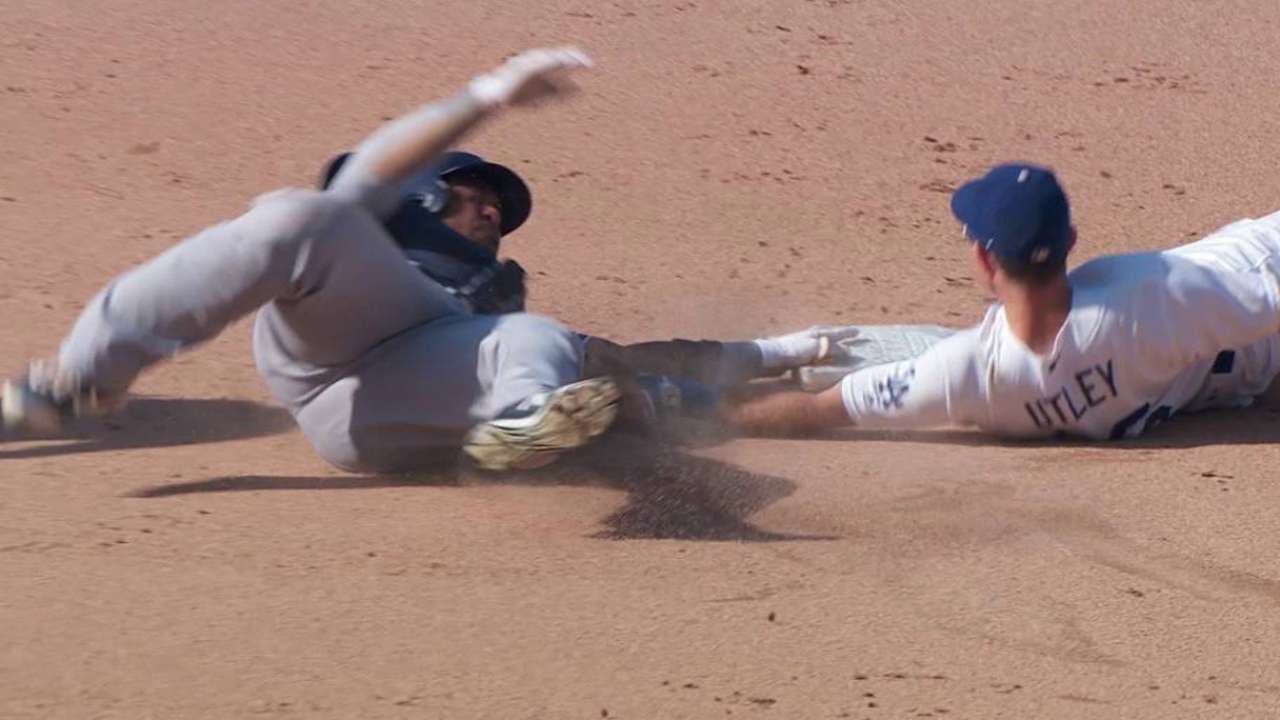 "We as a team did a lot of very good things offensively," Dodgers manager Dave Roberts said. "Running the bases, having better at-bats, things like that. Justin Turner today, very good, grinding out at-bats. From Yasiel to all of the guys, Adrian [Gonzalez] laying the bunt down, we did a lot of good things today."
De Leon, MLBPipeline.com's No. 2 Dodgers prospect, struck out nine, walked none, and allowed four runs over six innings. Those nine strikeouts are the most by a Dodger making his debut since Kazuhisa Ishii's 10 in 2002.
"I knew the Dodger crowds are probably the biggest in Major League Baseball. I just tried to focus on the catcher. After I threw the first strike, everything was good," De Leon said.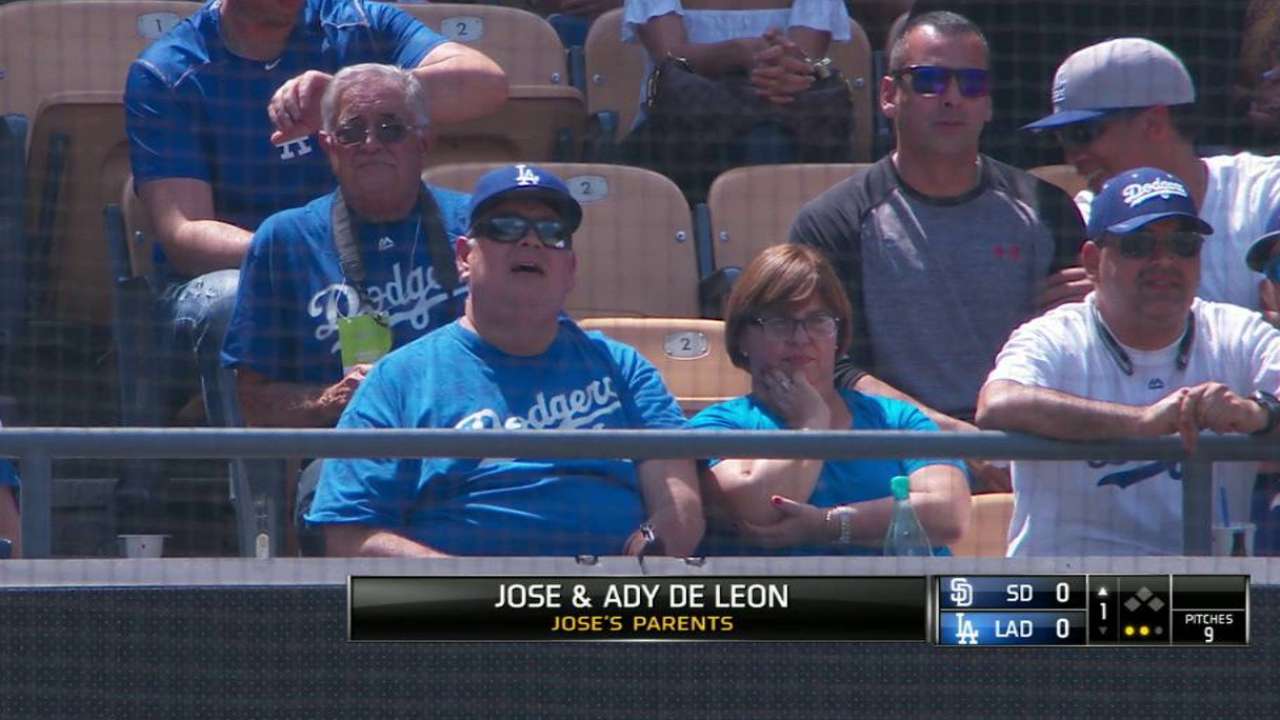 With the win and the Giants' extra-innings loss to the Cubs, the Dodgers took a three-game lead in the National League West, tied for their largest lead of the season.
MOMENTS THAT MATTERED
That'll do, Puig: In his second game since returning from Triple-A Oklahoma City, Puig homered into the left-field bullpen in the third inning to put the Dodgers up, 3-2. He also walked twice and scored both times thanks to hits from Grandal to total a three-run, three-RBI day. More >
"The homer was great. It was a big hit for us," Roberts said. "But the at-bat quality he had throughout the day, hitting the cutoff man, throwing to the right base, backing up, there's a lot of things Yasiel did today to help us win a baseball game."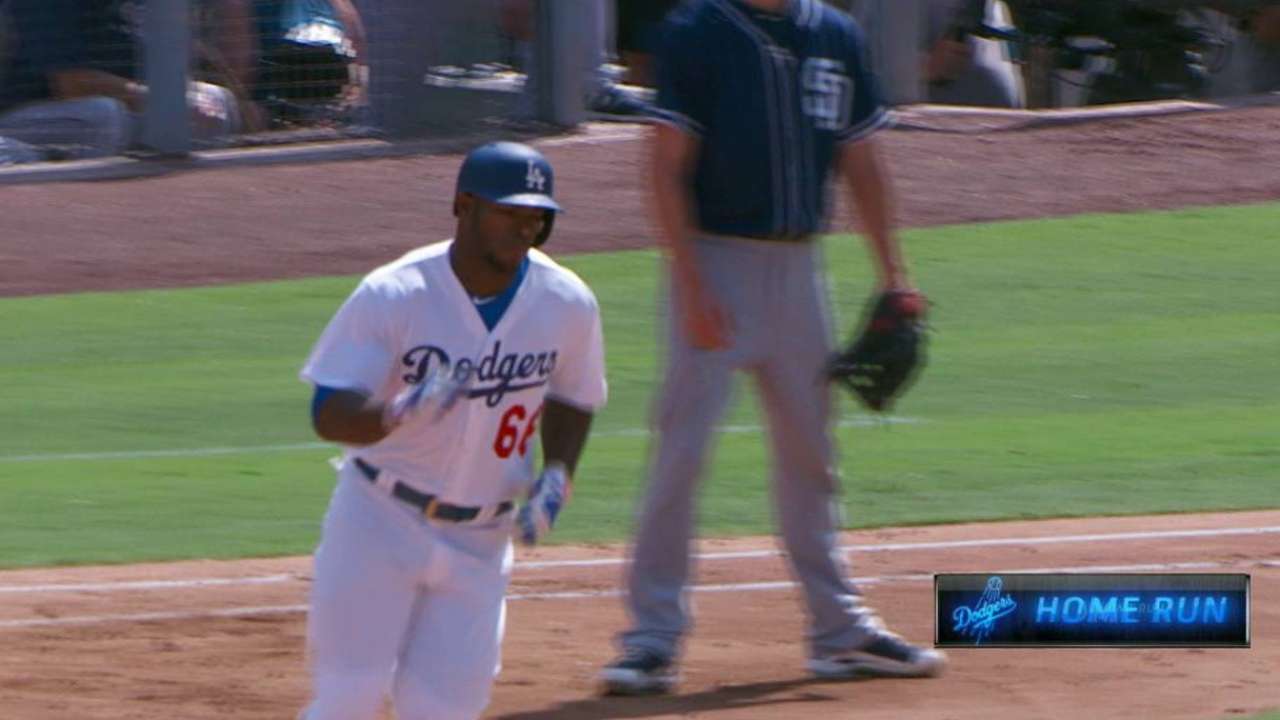 It's my Sol: Solarte's third-inning dinger was his 15th of the season, marking a career high. He launched 14 homers in 152 games last season, but needed just 91 games beat that mark this year -- after he missed a month and a half with a strained right hamstring.
"I wonder what would've happened if I didn't miss those two months," Solarte said. "Would things have been better? But at the same time, the most important thing is just to be playing. I'm happy to be playing every day, being able to stay in shape, play well every day. It's not necessarily about the numbers." More >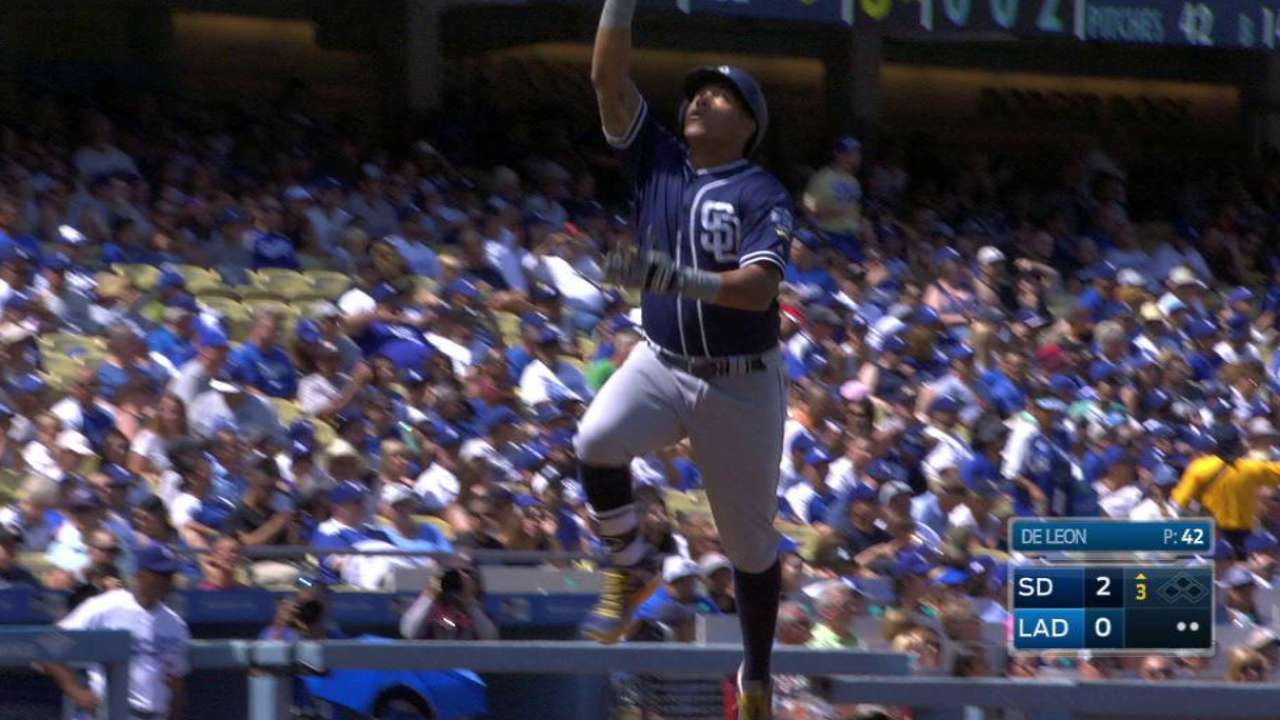 Late start: Grandal wasn't even in the game until he pinch-hit for Austin Barnes in the fifth inning, but that didn't stop him from racking up three RBIs, tied for his second-highest mark of the season. His RBI single in the fifth gave the Dodgers a 5-4 lead that was lengthened two innings later on his two-run homer. That homer tied him with Corey Seager for second most on the team with 23. Turner has 24.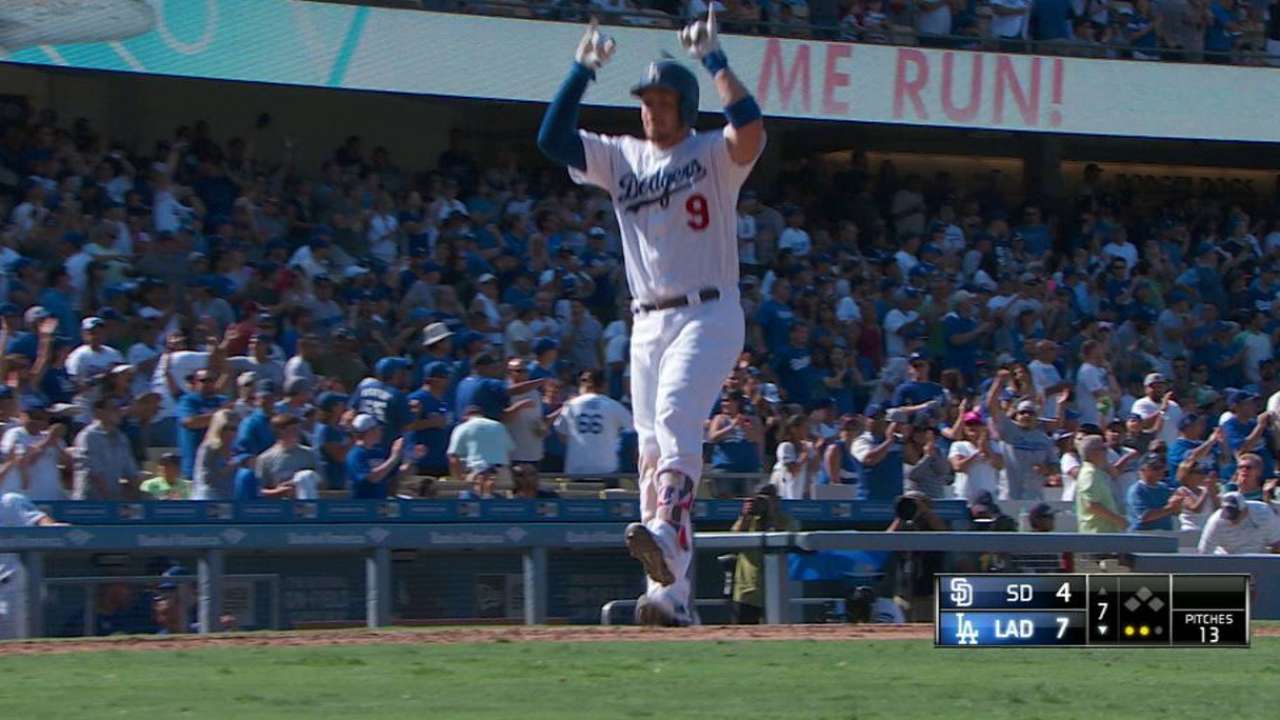 Jank of all trades: Travis Jankowski showcased his wheels in two very different fashions Sunday. In the bottom of the first, he covered a country mile to make a brilliant sliding catch on a deep fly ball from Gonzalez. Then, in his next two at-bats, he reached base via a pair of bunt singles -- an aspect of the game Jankowski has been working at tirelessly over the past few months.
QUOTABLE
"He called it. That's actually the third time this year he's called some shots. It's amazing." -- De Leon on Puig's homer. The two played for Triple-A Oklahoma City over the course of August
When Yasi tells u in the 4th "Relax, we are hitting a HR in the 9th so you dont lose this game" #WalkOff @YasielPuig pic.twitter.com/VofcwpEuz7

— Jose De Leon (@JDL_87) August 18, 2016
STILL GOING STRONG
Padres starter Christian Friedrich was touched up for four runs over 4 1/3 innings on Sunday, with three of them coming on the belt-high fastball to Puig. The left-hander has often talked about his small margin for error with his lower-velocity fastball. The pitch only missed by an inch or two -- but it missed by enough for Puig to tee off.
In any case, Friedrich will likely make his next start -- and there's a possibility he could finish the season in the rotation. The Padres had considered cutting his season short, and they skipped his most recent outing to give him a breather. But Friedrich's arm felt great on Sunday, and he's eager to finish strong.
"It's nice because at first they wanted to shut it down," said Friedrich, who has doubled his innings workload from last season. "The way I felt today … I'm really looking forward. I feel like I'm kind of hitting my second win after today."
AFTER REVIEW
• Solarte would not have scored in the third, if not for a Padres challenge. Two batters prior, Jankowksi bunted up the third-base line, but was ruled out at first base. A quick review showed that Jankowski had beaten the throw, and the call was overturned.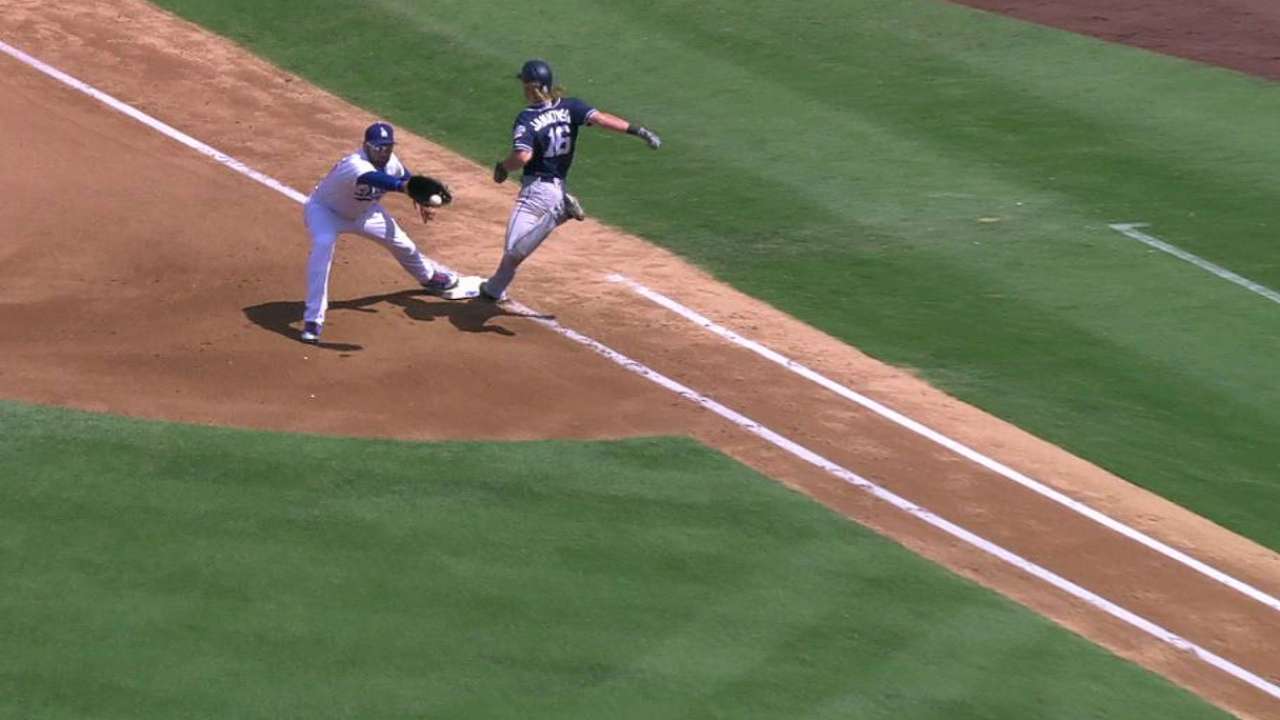 • In the ninth, the Padres used another challenge after Sanchez was nailed at second base trying to stretch a single into a double. Replays confirmed that Pederson's throw and Utley's nifty, reaching tag arrived in plenty of time.
WHAT'S NEXT
Padres: The Padres play host to the Red Sox Monday afternoon with first pitch slated for 1:40 p.m. PT. Edwin Jackson takes the hill for the Friars, looking to end a stretch of three straight shaky outings. He'll be opposed by former Friar Drew Pomeranz, who was dealt in July for top prospect Anderson Espinoza.
Dodgers: Dodger Stadium will see Zack Greinke pitch for the first time since he left for the division rival D-backs in free agency as they open a home series against Arizona on Monday at 5:10 p.m. PT. On the mound for Los Angeles will be Kenta Maeda, pitching on six days' rest.
Watch every out-of-market regular-season game live on MLB.TV.
Jack Baer is a reporter for MLB.com based in Los Angeles.

AJ Cassavell covers the Padres for MLB.com. Follow him on Twitter @ajcassavell.

This story was not subject to the approval of Major League Baseball or its clubs.