Blackmon still dealing with back stiffness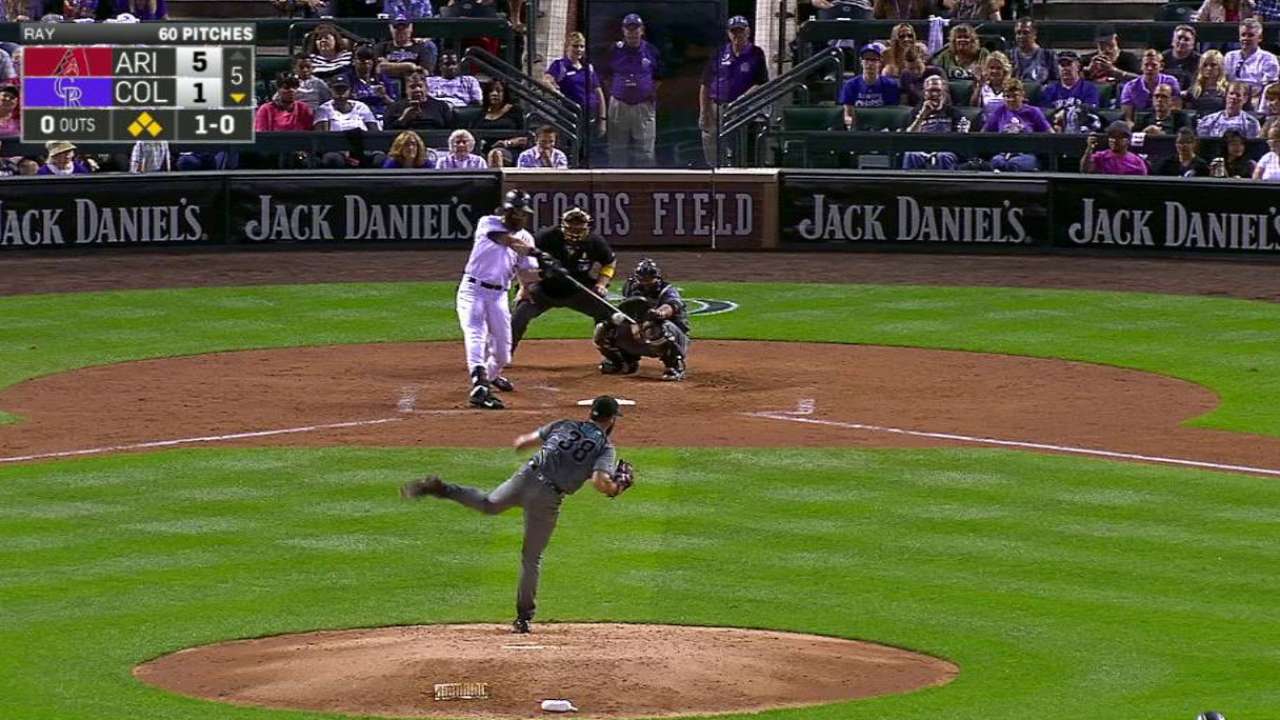 DENVER -- Rockies center fielder Charlie Blackmon was out of the starting lineup for a second day on Sunday with back stiffness, but manager Walt Weiss expects him back soon.
Excluding a stint on the 15-day disabled list in April with turf toe on his left foot, Blackmon had only missed two other games -- Aug. 20 and 21 with a contused big right toe. He has also started in 112 of his 119 games.
"Yesterday his back locked up during [batting practice], and it's a little better, but with a quick turnaround day game, I wanted to stay off of him another day," said Weiss, who added that Blackmon could be back as soon as Monday. "He's just sore. He's just tight, so we're giving him a lot of treatment."
Rookie Raimel Tapia has filled in as the leadoff hitter and center fielder in Blackmon's absence. He went 2-for-5 with a pair of singles on Saturday.
In Tapia and fellow rookie David Dahl, the Rockies have a pair of players with extensive experience in center field. The duo has played together since Class A Asheville in 2014 and has split time at the position.
However, with Dahl playing 31 of his 39 games in left field, Weiss opted to keep him where he's been most of the year instead of shifting over to center.
"The reads are easier from center field," Weiss said. "You get a better angle. I think most outfielders will say that. Playing on the corners is a little bit different. It takes a little bit more time to get used to the reads. That's probably the biggest reason I'm keeping David over there in left field, so Tapia doesn't have to make that adjustment up here."
Worth noting
Weiss has a good dilemma at catcher with veteran Nick Hundley paying well and promising youngsters Tom Murphy and Tony Wolters also vying for time.
Hundley, 32, is hitting .309 in his last 13 games with four home runs heading into Sunday, but Murphy, 25, was slashing .327/.361/.647 in Triple-A Albuquerque, and Wolters, 24, is lefty and hitting .340 in the second half.
"I think the bottom line is you're trying to win games," Weiss said. "I feel like 'Murph' can help us do that. But I like Nick back there, and Nick is playing really well, so it's not like I'm going to forget about Nick just for the sake of seeing some young players. Nick's going to continue to play. I'm going to try to balance that, but I do feel like [Murphy] brings some things that can help us win games, and Tony does, and so do Nick. But I like Nick's experience, his leadership, so I'm going to keep him very involved."
Ben Weinrib is a reporter for MLB.com based in Denver and covered the Rockies on Sunday This story was not subject to the approval of Major League Baseball or its clubs.