A's walk off on Sox after nearly getting no-hit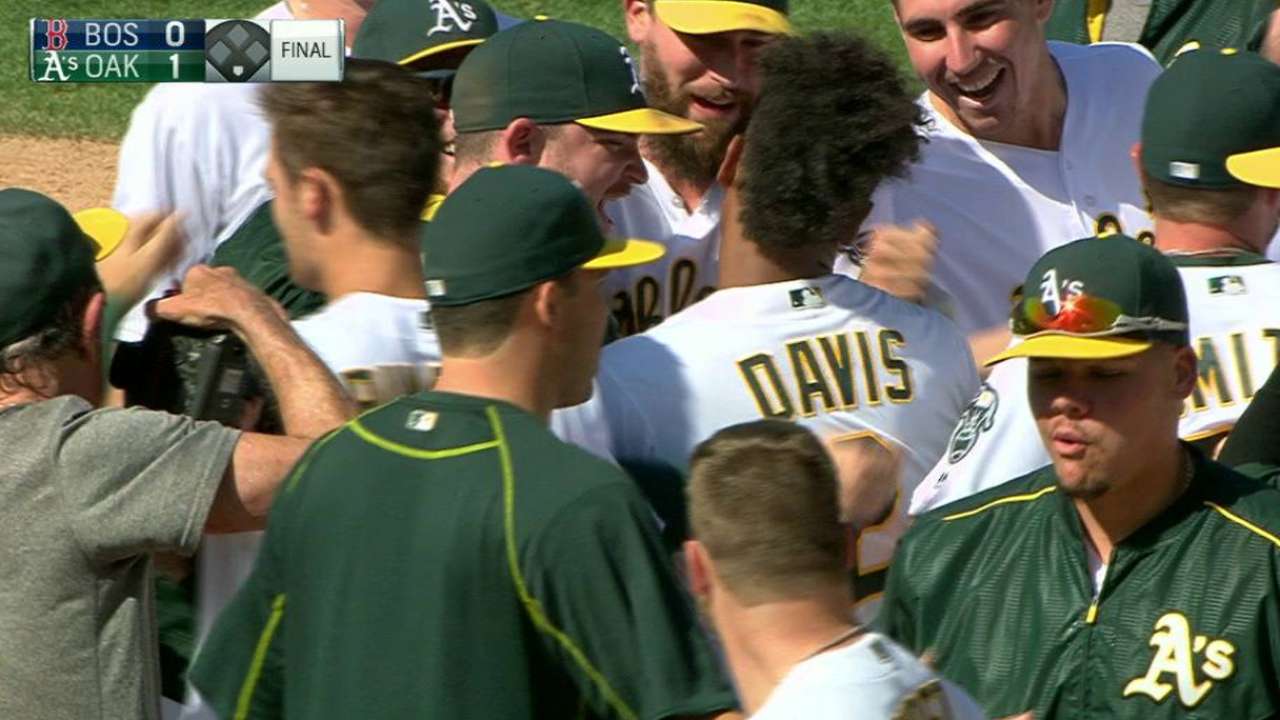 OAKLAND -- It took a two-out replay review in the eighth inning for the A's to get their first hit against Red Sox starter Eduardo Rodriguez, but they avoided a series sweep with their second hit one inning later when Khris Davis' double off Craig Kimbrel, with help from a fielding error by left fielder Brock Holt, plated Danny Valencia for a 1-0 walk-off win at the Coliseum.
With the shocking loss and a Blue Jays win, the Red Sox fell to one game back in the American League East.
Valencia walked to begin the ninth against Kimbrel. Davis then roped a double to left, turning on an inside first pitch, a location Kimbrel said he wanted. Holt misplayed the ball off the carom, allowing Valencia to score.
"I was trying to get it in quick and it kicked off the wall a little bit harder than I thought it was going to," Holt said. "Spinning around, I just kind of rushed it. Obviously I should've caught that ball cleanly and got it in."
• Replay review ends E-Rod's no-hit bid in 8th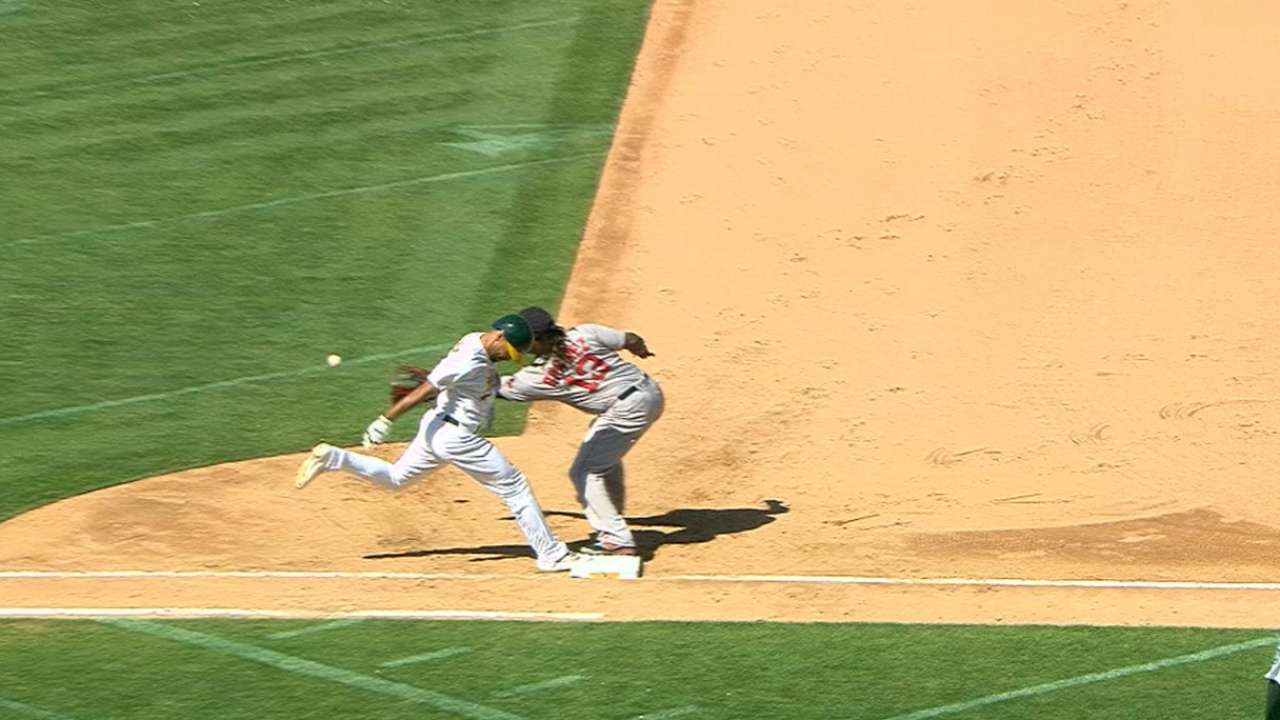 With two outs in the eighth, Rodriguez knocked a Marcus Semien comebacker down with his foot, frantically searching for the ball before throwing to first base. Semien was initially ruled out, but a replay review overturned the call, handing the A's their first hit in a scoreless game.
Red Sox manager John Farrell then visited the mound, electing to keep the young lefty in the game, and Rodriguez got Jake Smolinski to ground out to end the inning on a comebacker to him yet again. Rodriguez gave way to Kimbrel to start the ninth, having thrown a season-high 110 pitches.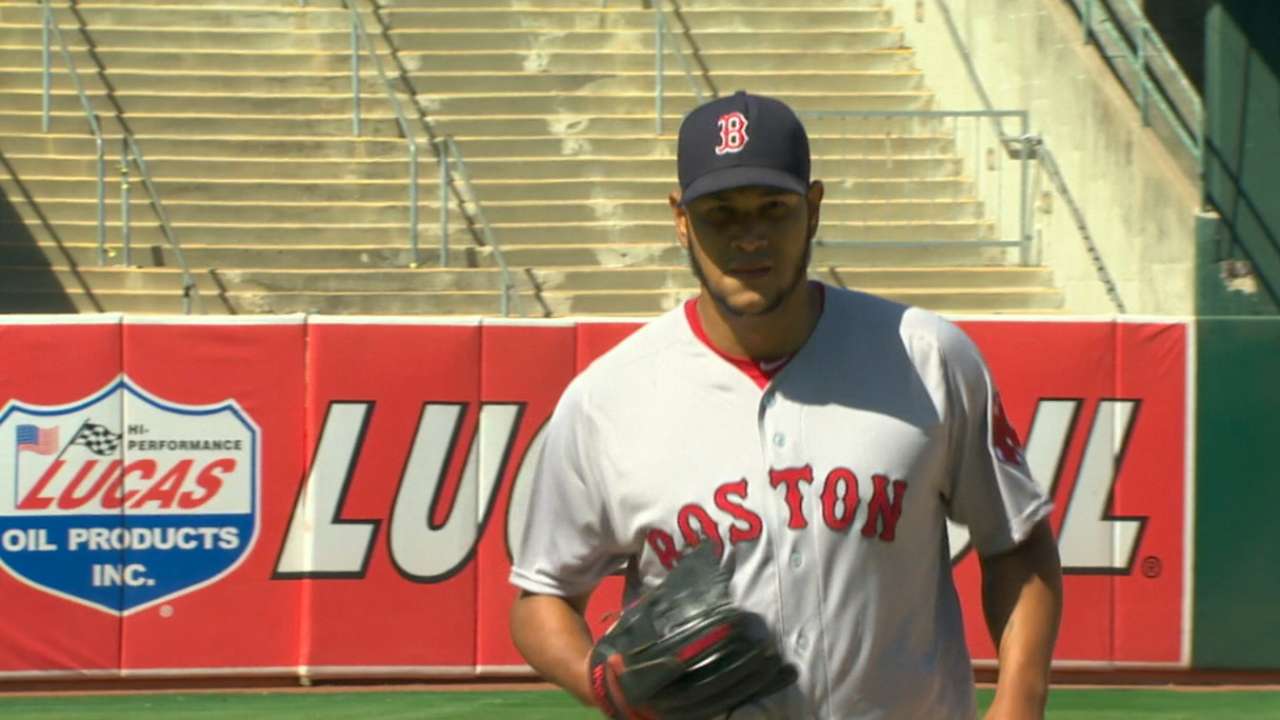 "In the bigger picture, Eddy's start today is extremely important to us as we continue to build out this rotation over the final three to four weeks here," Red Sox manager John Farrell said.
Unlike in Saturday's 9-0 win, when Red Sox righty Rick Porcello took a no-hitter into the sixth, Rodriguez pitched with a decidedly slimmer margin for error. Boston had its chances -- loading the bases in the fourth inning and moving a runner to third base in the seventh -- but couldn't scratch across a run against A's right-hander Kendall Graveman and a pair of relievers.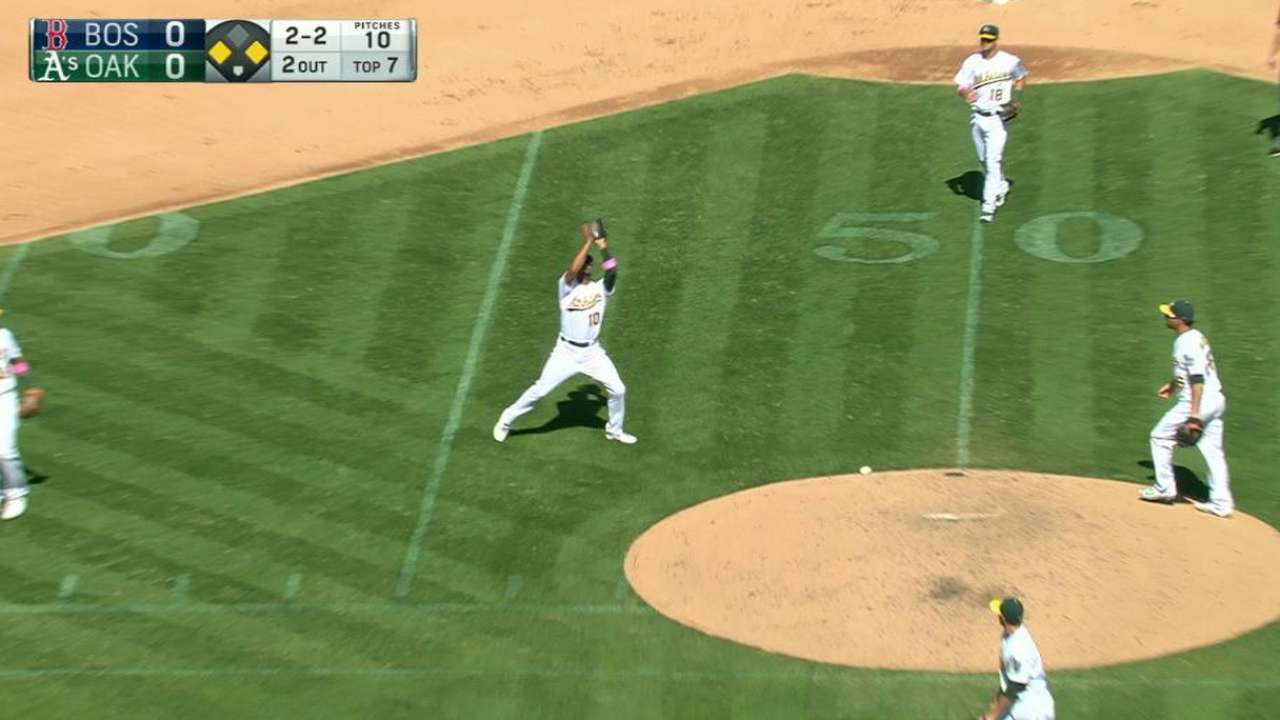 "If you can do the little things right and hold the team down, you always have a chance to win," A's manager Bob Melvin said. "You're trying to just get a hit, let alone a run, and the next thing you know it's a walk and a double and it's a win."
Added Farrell on the walk-off loss: "They're frustrating. They're frustrating in the sense that guys are busting their hump trying to finish out a play. Any time you're walked off, there's a deflated feeling in that. Sometimes when you have a miscue involved in there, it stings a little bit more."
MOMENTS THAT MATTERED
Kimbrel battles control: The Red Sox had the matchup they wanted -- their closer in the ninth inning of a tied game against the heart of the A's order -- but they couldn't execute. Kimbrel said he "was all over the place against Valencia," adding he found himself pulling off the mound within his mechanics.
"It's the meat of their lineup," Kimbrel said. "Save, non-save, at this point it doesn't matter. Winning ballgames is what matters."
"I was definitely trying to jump him early, just because he had walked Danny and I know he was just trying to get ahead," Davis said, "so I didn't want to miss the first one."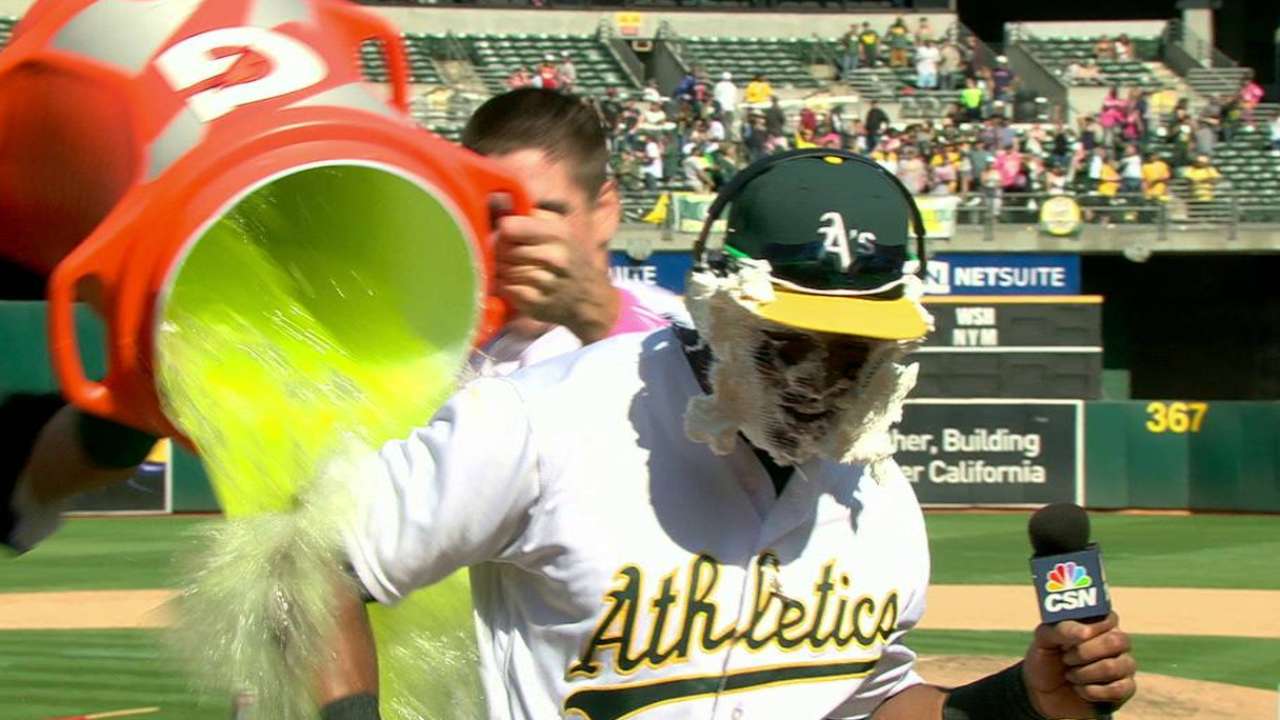 Graveman staves off Sox: After watching the Red Sox score 27 runs through the first two games of this series, Graveman buckled down and kept them off the board with six hits scattered in 6 1/3 innings, working quickly and confidently throughout -- even in the fourth inning when he escaped a bases-loaded jam with one out.
"That was the key to the game," Melvin said. More >
"You've seen what they've done to us the past five games,' Graveman said, "and you kind of take it personal as a team, because they are a good team, and we want to compete against the best in this league and prove we can win some of these close ballgames against teams that are gonna be playoff teams."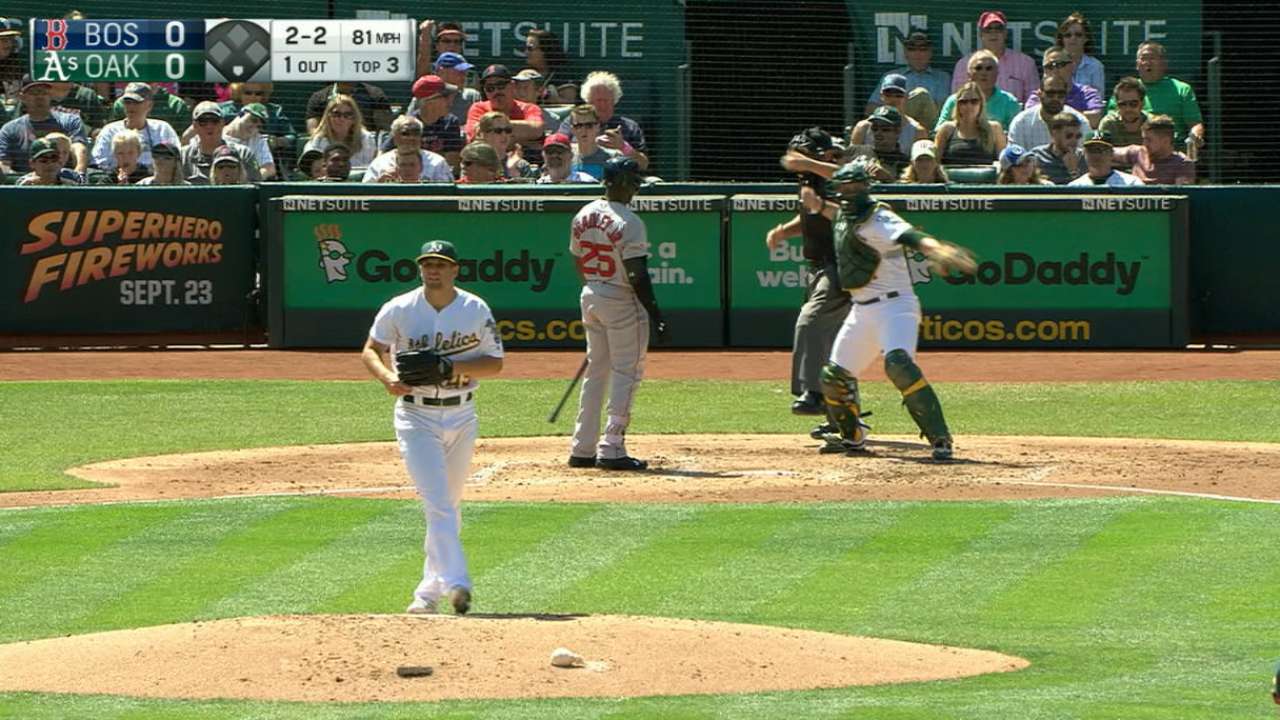 Take the good with the bad: Moncada delivered an up-and-down performance in his second career start. The 21-year-old third baseman misplayed a routine grounder from Ryon Healy in the second inning, and he was picked off at first base by Graveman after singling in his ensuing at-bat in the third inning. MLBPipeline's top prospect did, however, record his second straight two-hit game.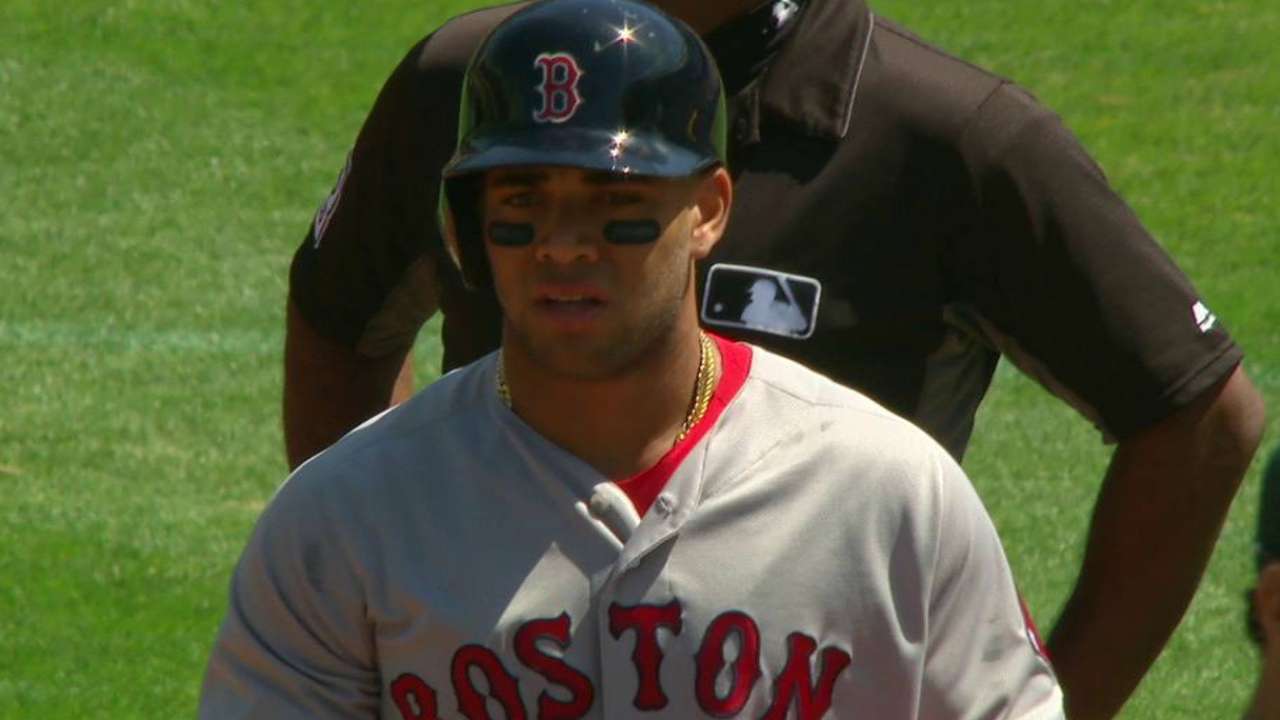 AFTER FURTHER REVIEW
The Red Sox won a fourth-inning challenge, asserting that Mookie Betts was safe at second base despite being called out on a near double play. Replay showed Valencia's throw pulled Semien off the bag. The call was overturned and Boston had the bases loaded with one out.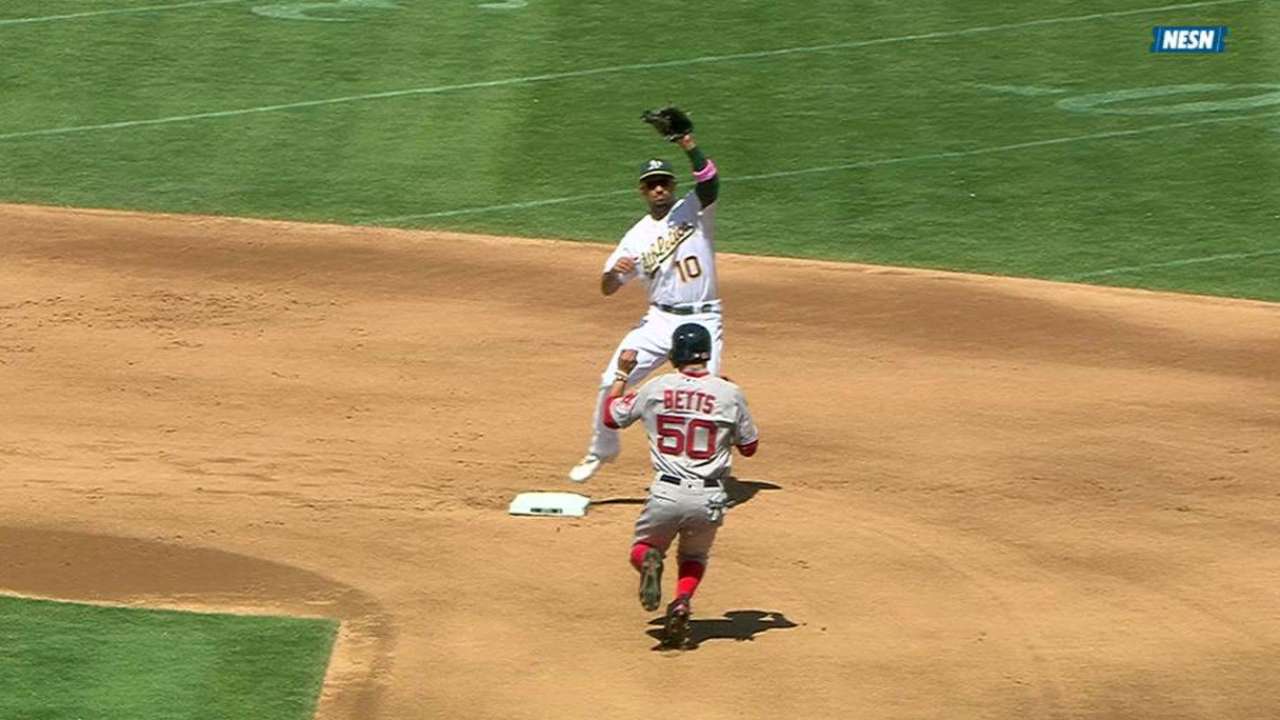 WHAT'S NEXT
Red Sox: Drew Pomeranz (2-3, 4.06 ERA) faces the Padres for the first time since they dealt him to Boston in July, taking the mound Monday to begin a three-game series at Petco Park. The lefty gave up three runs in 6 2/3 innings in his last start, a no-decision against the Rays on Tuesday and hasn't allowed more than three runs in any of his last five starts. First pitch is scheduled for 4:40 p.m. ET.
Athletics: Right-hander Raul Alcantara will make his big league debut Monday with a start against the Angels in the opener of a three-game series at the Coliseum, scheduled for 1:05 p.m. PT. Alcantara made just eight starts at the Triple-A level, dominating in each of them to the tune of a 1.18 ERA.
Watch every out-of-market regular-season game live on MLB.TV.
Mark Chiarelli is a reporter for MLB.com based in the Bay Area and covered the Red Sox on Sunday.

Jane Lee has covered the A's for MLB.com since 2010. Follow her on Twitter @JaneMLB.

This story was not subject to the approval of Major League Baseball or its clubs.