Hamilton exits with strained left oblique
Center fielder scheduled for tests on Monday; return timetable unknown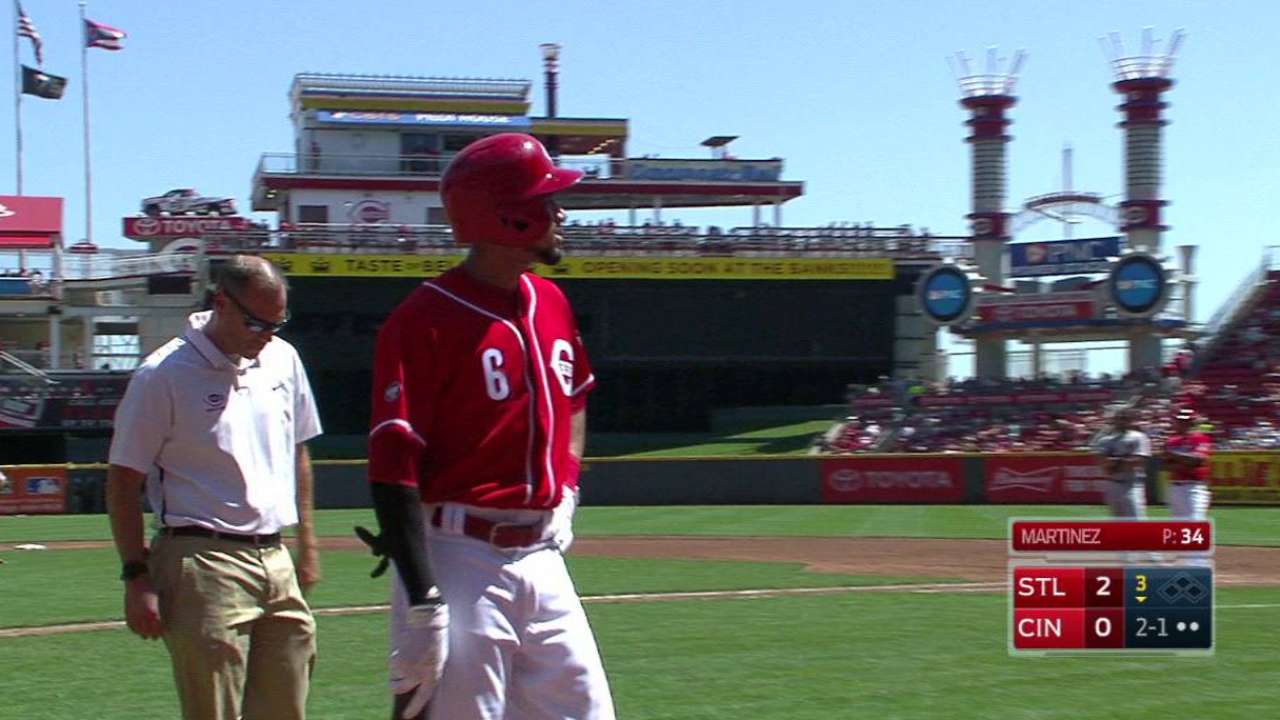 CINCINNATI -- Reds center fielder Billy Hamilton exited Sunday's 5-2 loss to the Cardinals early with a strained left oblique.
With a 2-0 count in his second at-bat, in the third inning, Hamilton took strike 1, then stepped out of the batter's box and walked around before stopping in the grass and leaning over. At that point, Reds' trainer Steve Baumann and manager Bryan Price came out, ultimately pulling Hamilton from the game. Hamilton was replaced by Tyler Holt, who drew a walk.
Hamilton, who left Great American Ball Park on Sunday without speaking to the media, hurt his oblique on the called strike. He started his swing, but stopped it before he even threw the barrel of the bat forward. The slight torque of his hips was enough to result in the strain.
"Just a little twist, he started his hands and stopped," Reds manager Bryan Price said. "It wasn't even like a traditional check swing where the barrel gets out. He just did a little twitch. That's what makes this injury so unique. … There's times where a guy will go and take a big checked swing or a pitcher will fly open and you really jerk it. But that was very subtle movement and he still tweaked his oblique."
The timing couldn't be worse, with Hamilton in the midst of a breakout campaign, hitting .260 with a .321 on-base percentage, both career highs. On Saturday, Hamilton stole his 58th base of the season, breaking his previous career high of 57 set last year.
The timetable for Hamilton to return is uncertain at this point. The Reds intend on having him undergo some more diagnostic tests on Monday, but Price said he's unlikely to play for the next couple of days.
With Hamilton out of the lineup, utility man Jose Peraza could get regular looks in center field, although Price stopped short of saying that Peraza would be the everyday center fielder. Peraza went 3-for-4 on Sunday.
"[Peraza] would get regular time out there," Price said. "I've got Holt [who] can play center, [Scott] Schebler can. You saw Holt had a terrific game today -- on base three times, a base hit and an RBI, a nice catch in right-center. I want to see guys play when I can, without saying that Peraza's going to be the everyday center fielder if Billy can't play. I'd like to leave myself a little bit of freedom to kind of move him around a little bit."
The Reds have seen their fair share of oblique injuries this season. Anthony DeSclafani suffered a "mild" oblique strain in Spring Training that ended up costing him more than the first two months of the season. Tim Adleman, Sunday's starter, also missed about two months with an oblique injury.
"You just cringe as soon as you hear 'oblique,'" Adleman said. "Those things are so tricky, and now having gone through one myself, you almost want to tell [Hamilton] to just shut it down. The only good thing about those, I think, is that they can vary from person to person. So hopefully his is just really minor, and he's able to get back out there."
Cody Pace is a reporter for MLB.com based in Cincinnati. This story was not subject to the approval of Major League Baseball or its clubs.