Despite no set role, Rondon aids Detroit's 'pen
Ausmus believes improved approach key for righty reliever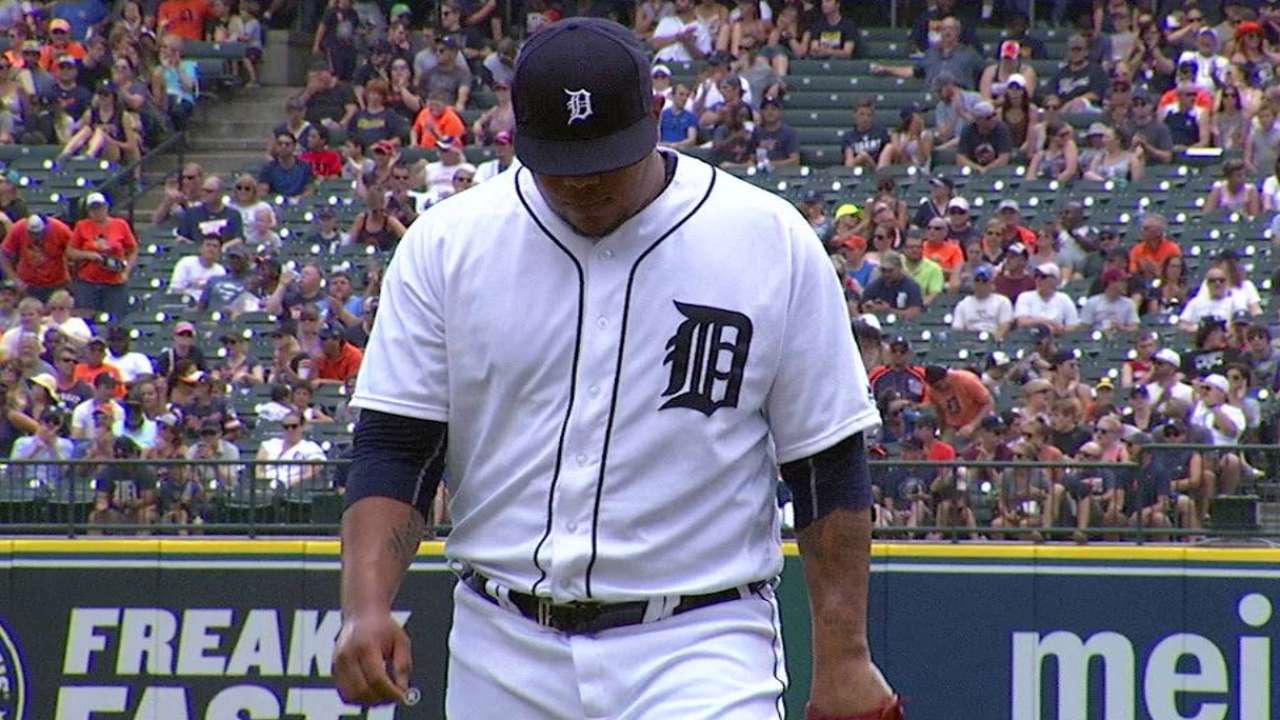 KANSAS CITY -- Bruce Rondon was the Tigers' closer of the future in 2013, and he was the actual closer for a good stretch last year. Then he was seemingly a Tiger of the past last September, sent home early for effort level.
As the Tigers head into the home stretch looking to extend their season, a postseason berth in sight, Rondon has quietly found his part. He just doesn't have a set role while doing it.
Saturday marked Rondon's 25th appearance since rejoining the Tigers in mid-June. In that stretch, he has pitched everywhere from the sixth inning to the 12th. He was warming up in the third inning on Friday when Anibal Sanchez was struggling to get a third out.
Rondon has more wins (five) and holds (two) than saves (none).
"He's got the ability at times to shut down an offense," manager Brad Ausmus said. "So if it's early in the game and you need to get out of a situation and keep the score so you have a fighting chance the rest of the way, he has that ability."
Rondon also seems to have the right attitude about it. The 25-year-old has given up runs in only one of his past 13 outings, allowing two runs on nine hits over 12 1/3 innings in that span with three walks and 19 strikeouts. His 33-to-7 strikeout-to-walk ratio over 25 innings this season is by far the best of his brief, staggered big league career.
Part of the improvement, Ausmus believes, comes down to approach.
"At times, he's pitched well. His preparation and attitude have been much better," Ausmus said. "I think he's in a better frame of mind, which is making him a better pitcher. He's doing a better job of holding runners, more aware of what's going on around him."
Maybin remains out with thumb injury
The Tigers came to town on Friday hoping Cameron Maybin's reinjured left thumb would be good enough to get him back in the lineup. As of Sunday, they were wondering when he might be able to play.
"I can't give you an answer," Ausmus said before Tyler Collins made his second straight start in center.
Ausmus said Maybin told him his thumb felt the same as it did a day earlier. Maybin said Saturday that his thumb felt good, but not as good as it needs to be. Swinging a bat remains a problem.
Maybin is dealing with two different injuries with the thumb. The contusion he sustained sliding into second base is in a different spot in the thumb than his previous injury, a sprain in early August.
Quick hits
• Mike Pelfrey gave up five runs on nine hits over 3 1/3 innings Saturday in his second rehab start for Triple-A Toledo, but Ausmus said the stuff was better than the results, which included a couple of infield hits. Team officials are deliberating whether to find another rehab start for him with Class A West Michigan in the postseason, set up a simulated game in Detroit or simply activate him from the disabled list. If they decide to activate him, he'd most likely pitch out of the bullpen.
• Matt Boyd, optioned to Toledo last week to bring up Blaine Hardy for bullpen depth, will rejoin the Tigers' rotation to start Tuesday against the White Sox. That's the first day he'll be eligible to be recalled with the end of the Minor League season.
Jason Beck has covered the Tigers for MLB.com since 2002. Read Beck's Blog, follow him on Twitter @beckjason and listen to his podcast. This story was not subject to the approval of Major League Baseball or its clubs.