Leake to return this week; Pena, Kelly join Cards
Right-hander recovering from bout with shingles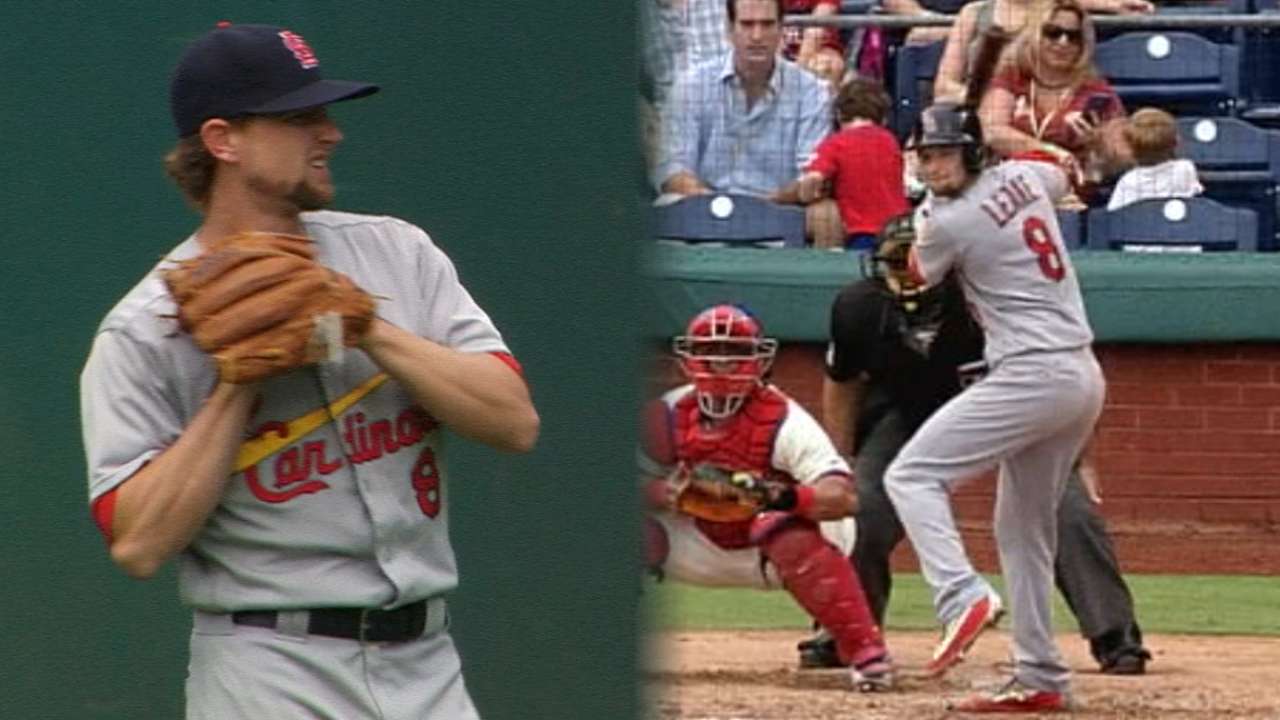 CINCINNATI -- Cardinals right-hander Mike Leake who has been on the disabled list since Aug. 30 with shingles, threw an abbreviated bullpen session at Great American Ball Park on Sunday. He could be activated as soon as Tuesday, but manager Mike Matheny said the timing of that activation is still up for discussion.
"Today is as good as I've felt in the last week and a half," Leake said Sunday after rejoining the team in Cincinnati. "It wasn't fun."
"I heard positive things [about the bullpen session]," Matheny said. "We will meet together as a staff, see how he's feeling, and see how much longer he might need."
Leake signed a five-year, $80-million contract with St. Louis last December. He has made 25 starts for the Cardinals, posting a 9-9 record with a 4.56 ERA and a 1.27 WHIP.
Leake said he first noticed the rash around his back and stomach a couple weeks before being placed on the DL, but "I hoped it was going away. I thought it was just some hives, but it kept going."
The shingles rash was aggravated by a staph infection, which made his ribs even more sore and sleeping difficult. Medications eventually began to work and the symptoms abated, but left Leake without enough energy to go for a walk, much less battle big league hitters.
His place in the rotation has been taken by top prospect Alex Reyes, who had been successful in a relief role since being called up in early August. The return of Leake to the rotation would allow Reyes to return to the bullpen, bolstering both as the Cardinals seek a sixth consecutive postseason berth.
The chicken pox virus can become active again years later as shingles. Leake said his 10-month-old daughter, Scotlyn, now has chicken pox, and "I'm pretty sure I gave it to her."
Kelly, Pena Added to Roster
St. Louis added two catchers to its active roster Sunday, purchasing the contract of top prospect Carson Kelly from Triple-A Memphis and activating veteran Brayan Pena from the disabled list.
Kelly was named the best defensive catcher in Minor League baseball in 2015, and he was batting .289 with six home runs and a .343 on-base percentage between Double-A and Triple-A this season.
"He had a terrific year last year defensively and showed a more consistent approach at the plate this year," Matheny said. "He's got power, and it's amazing how quickly he adjusts to things. He'll be able to learn from Yadier [Molina] and see what a September push looks like and how guys go about their business."
The Cardinals drafted Kelly as an infielder in the second round of the 2012 Draft out of Westview High School in Oregon.
The 34-year-old Pena has appeared in just four games with St. Louis due to left knee surgery in April. He played in nine Minor League games during an injury rehabilitation assignment. Pena hit .273 in 333 at-bats for Cincinnati in 2015.
To make room for Kelly on the 40-man roster, infielder Dean Anna was designated for assignment, and right-hander Seth Maness was transferred from the 15-day DL to the 60-day DL.
Andy Call is contributor to MLB.com. This story was not subject to the approval of Major League Baseball or its clubs.