Crew rides 4 HRs to seal sweep of Pirates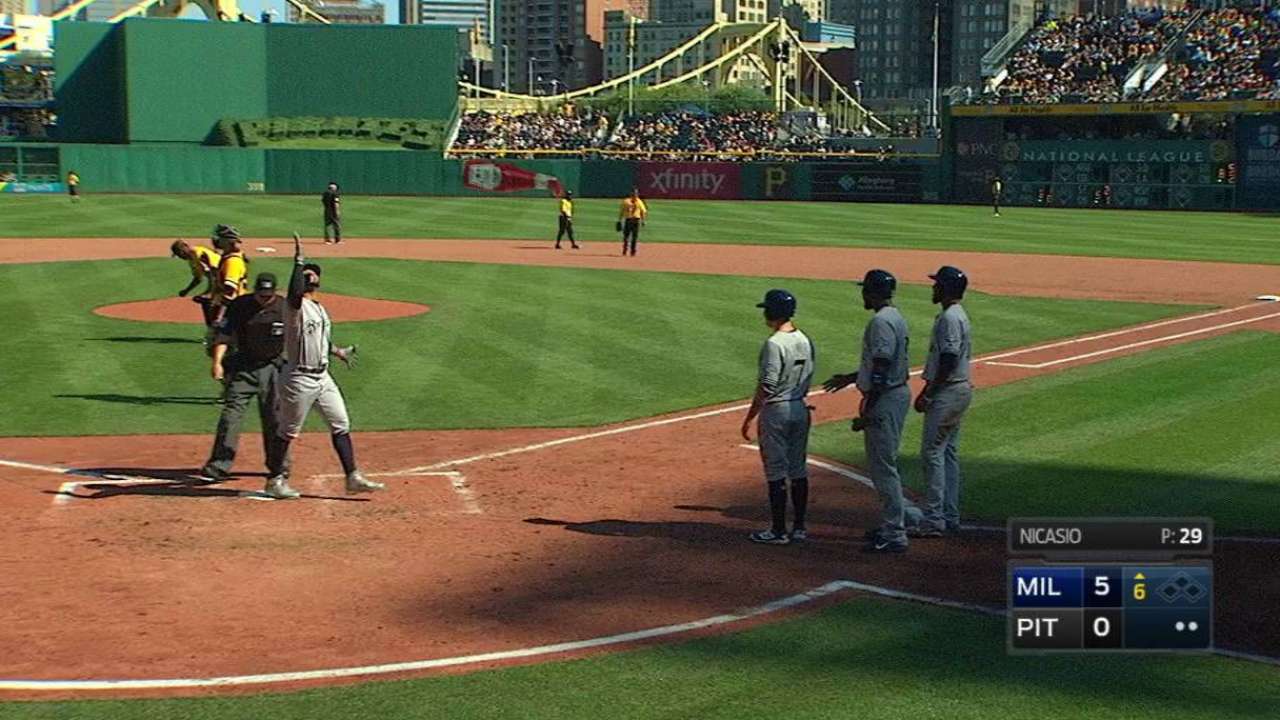 PITTSBURGH -- The Brewers punctuated a three-game sweep and the Pirates' season-high six-game losing streak with authority on Sunday afternoon at PNC Park, bashing four homers and cruising to a 10-0 win.
The Brewers allowed only four runs the three-game series, locking up their second road sweep of the season and their first since May, but they hardly needed to be so stingy in the series finale. Domingo Santana homered twice, Jonathan Villar crushed a pinch-hit grand slam to break the game open in the sixth and Chris Carter launched his 32nd homer of the season.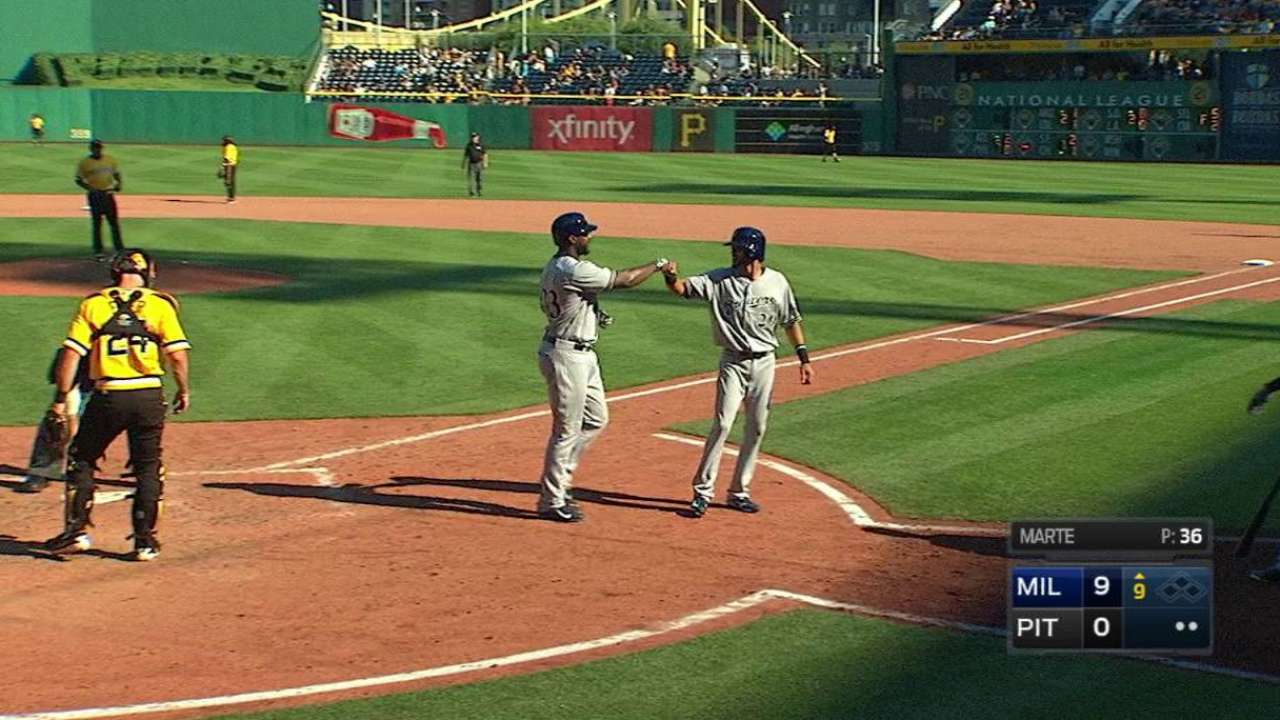 Right-hander Chase Anderson and a cast of relievers did the job Sunday, as Anderson threw five scoreless innings then let Tyler Cravy, Jacob Barnes and Ben Rowen take over from there. The Pirates went 1-for-18 with runners in scoring position, as they were swept for the second straight series.
"We pitched outstanding, for sure," Brewers manager Craig Counsell said. "Our starters all three days really, really did a nice job of keeping runs off the board. The last two days, the offense really gave us the lead, and Tyler Cravy did an outstanding job today getting through those two innings. It was a well-pitched series for us."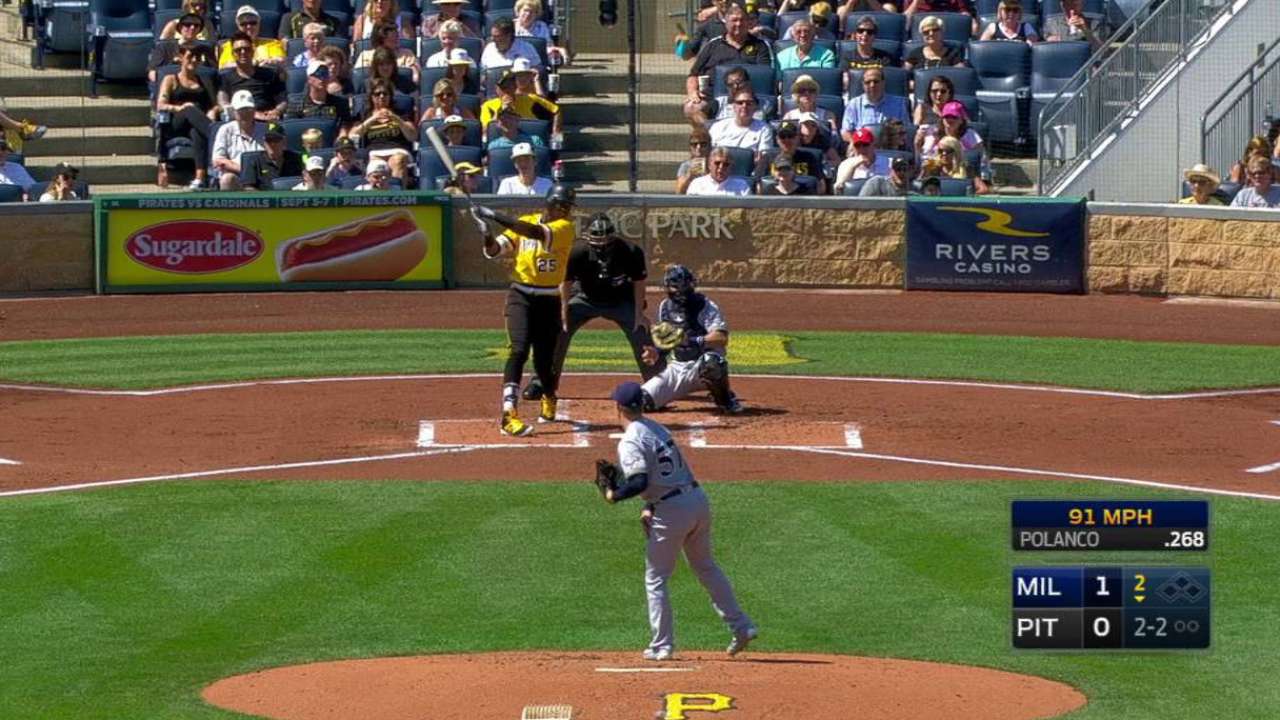 Pittsburgh fell to 67-67 and dropped to 3 1/2 games behind St. Louis in the National League Wild Card standings with 28 games remaining. Only a week ago, they appeared to be getting hot at the right time, coming off a four-game sweep of the Brewers at Miller Park. But they haven't built on that momentum, instead losing six straight for the first time since a seven-game skid in August 2014.
• Pirates eye consistency for late-season run
"Even though we're at .500 and we've lost six in a row, we can do it. We can still pick ourselves up," Andrew McCutchen said. "We're not out of it. It ain't over 'til the fat lady sings, right?"
The Bucs' pitching staff has posted a 4.75 ERA while their lineup has averaged fewer than three runs per game over the last week.
"It's rough. You come in and you fight all year to get yourself in this position. It's done with now," Pirates manager Clint Hurdle said. "Not the result we wanted. We got three good starts. It just goes to show you what the game's really about -- it's a complete game, it's getting offense, pitching and defense. We weren't able to complete the equation."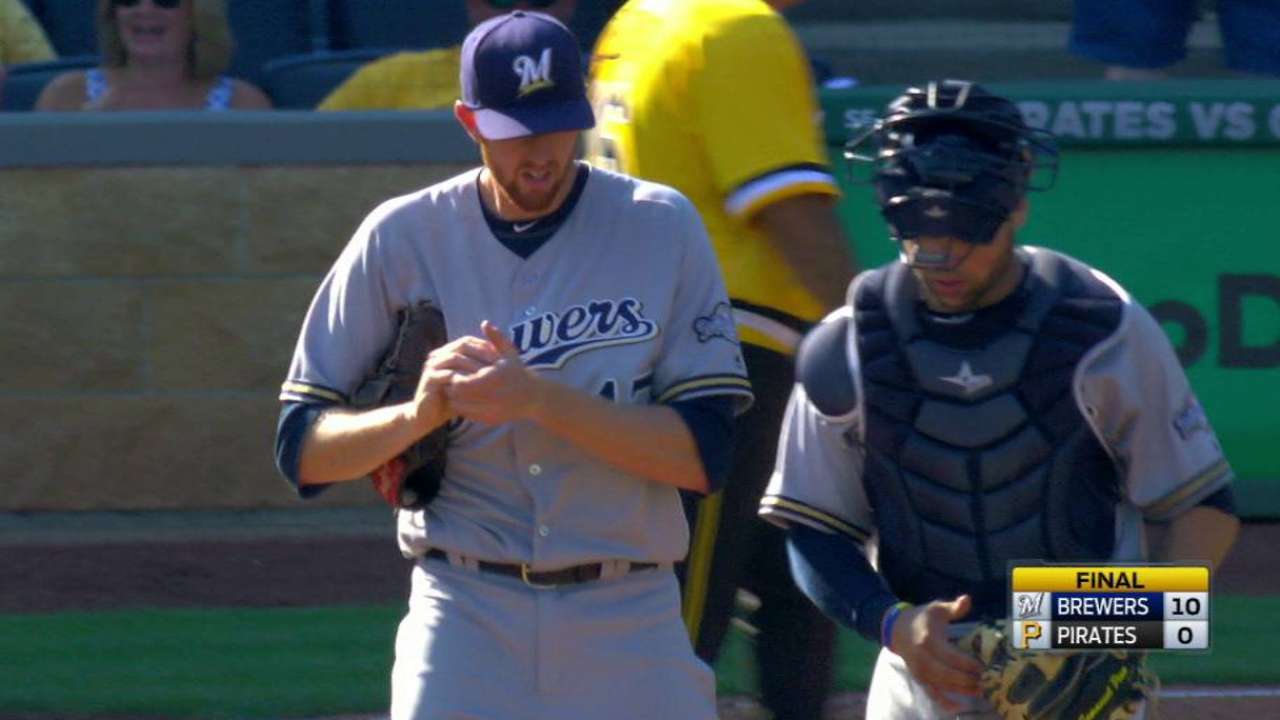 MOMENTS THAT MATTERED
A long walk: Villar's grand slam wouldn't have been possible had Jake Elmore not extended the inning by drawing a two-out walk against Pirates reliever Juan Nicasio. Elmore got ahead in the count, 3-1, then took a called strike to run up a full count. Elmore fouled off Nicasio's next three pitches, all fastballs over 96 mph, before taking a high, 97-mph fastball for ball four. Just like that, Nicasio went from nearly being out of the inning to facing the pinch-hitter Villar, who saw nothing fastballs up and away and lashed the sixth one into the left-field seats.
"The at-bat that hurt was Elmore's walk. That one hurt," Hurdle said. "You give him a shot to get out of it, he didn't get out of it. That's on me."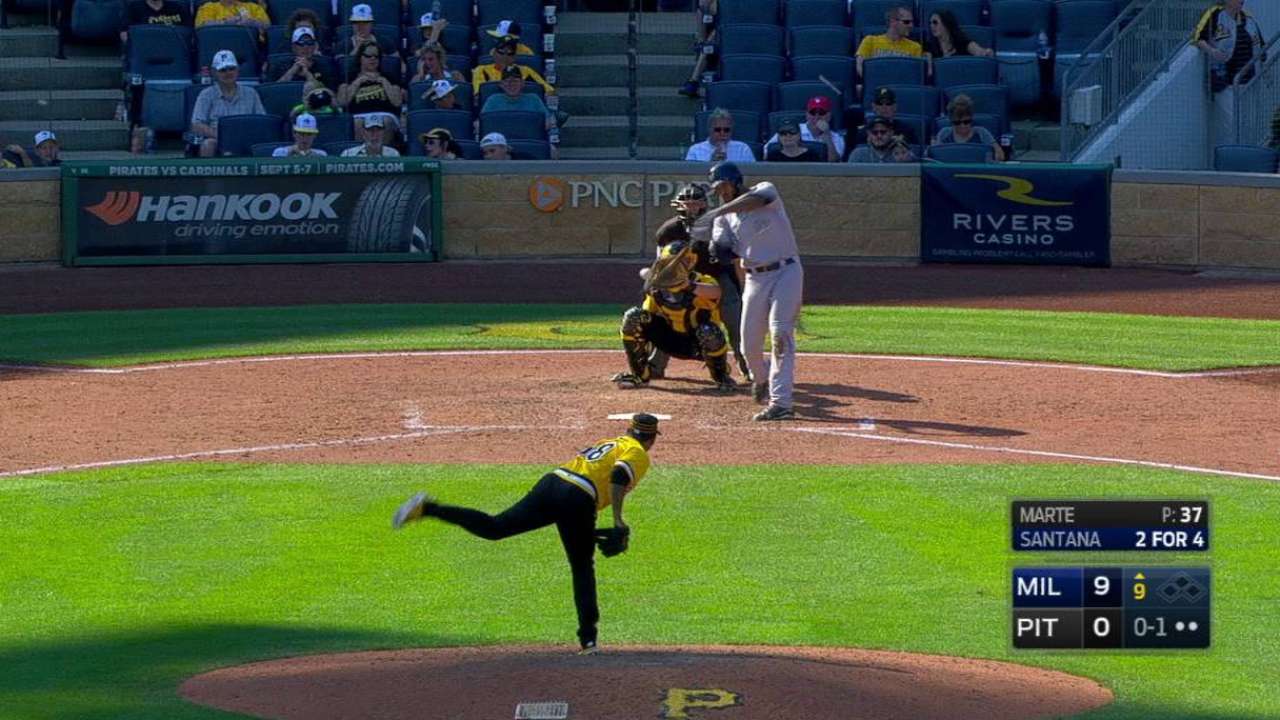 Live by the long ball: Santana smacked a 2-1 offering from Pirates starter Steven Brault in the second inning for his fifth home run putting the Brewers up 1-0. Villar, nursing a sore left knee, pinch-hit for Anderson in the sixth and cracked a bases-loaded home run off Nicasio, giving the Brewers a 5-0 lead. It was Villar's 12th home run and his first career grand slam. Carter added a three-run home run in the ninth inning, and Santana followed that blast with his second home run of the game. More >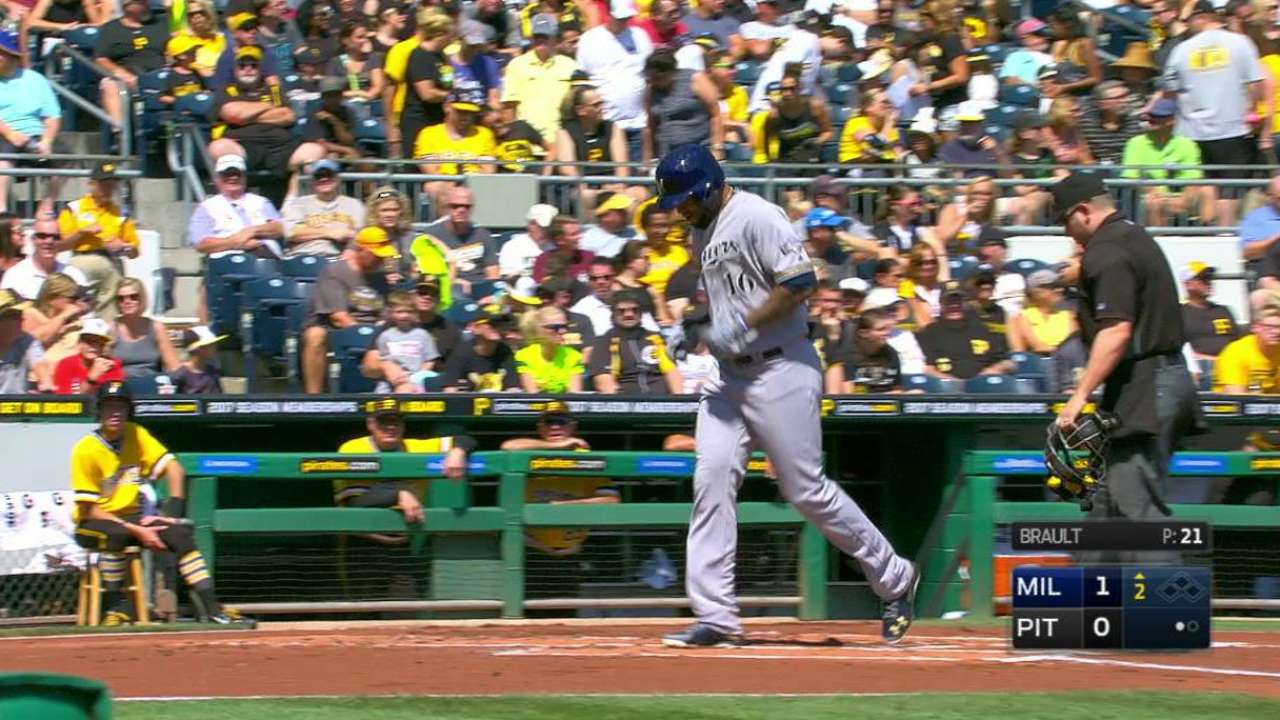 Obstructing a run: The Brewers had a run taken off the board in the third inning. With two outs Orlando Arcia drew a walk, and Hernan Perez then hit a sharp grounder to third resulting in a throwing error by Adam Frazier. Pirates first baseman John Jaso was charged with obstructing Perez when he was going for the errant throw. Arcia came around to score and Perez was thrown out at second. But because the obstruction occurred before Perez reached first, he was awarded first and the play was ruled dead, with Arcia being placed on third. In the argument that followed, Counsell was ejected for the third time this season.
"In the end, I just didn't agree with the call," Counsell said. "I just didn't think there was obstruction there, I thought that play happens a lot that the fielder has a right to go for the ball, and the throw took the fielder into the lane. He was just trying to make a play on the ball. It's not obstruction, and to just stop the play rewards the other team."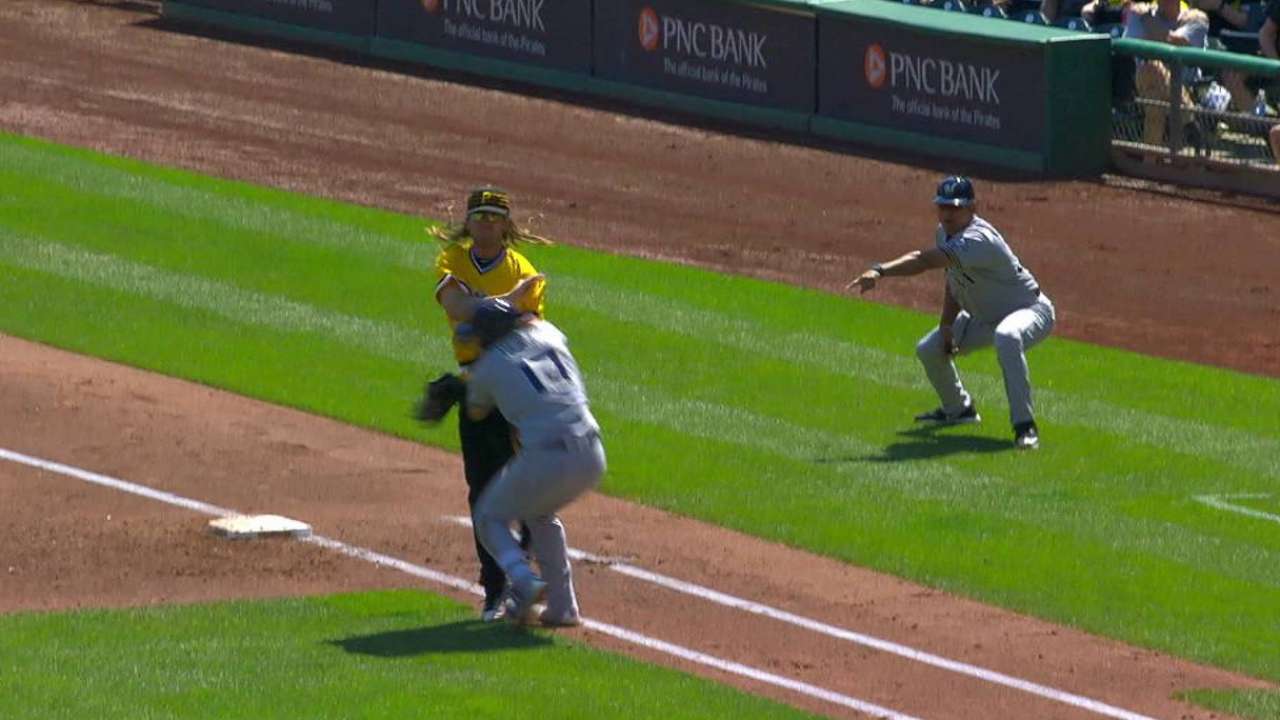 Home debut review: Brault pitched well enough in his first start at PNC Park, allowing only one run on four hits and three walks while striking out five. He likely could have returned for at least one more inning, having only thrown 87 pitches, but Hurdle elected to pinch-hit for the rookie lefty with a runner on first base in the fifth. Making his fourth Major League start, Brault lowered his ERA to 3.32.
"You're actually here, you know? This is actually a rotation. This is a normal thing," Brault said. "We want this to become the new normal. You never get comfortable, but you want it to be the new normal so that every time you're ready to go and you feel confident. I felt confident. It's a slow process, but it's getting better."
QUOTABLE
"I think anytime you don't score runs, it looks like you're pressing. It magnifies everything else that doesn't go well when you don't score runs." -- Hurdle, on the Pirates' lack of offensive production
"In the end, the umpires I guess got it right. Just a weird play."-- Jaso, on the obstruction call at first base
SOUND SMART WITH YOUR FRIENDS
The Brewers captured their first sweep of at least three games in Pittsburgh since September 2012.
The Pirates have lost eight of their last nine games at home. They have suffered four sweeps of at least three games at PNC Park this season after not getting swept in a three-game home series all of last season.
WHAT'S NEXT
Brewers: The Brewers return to Miller Park on Monday afternoon to open a three-game series with the Cubs at 12:10 p.m. CT. Right-hander Zach Davies (10-6, 4.07) will toe the rubber for the Brewers. Davies has gone 2-1 with a 4.41 ERA in three career starts against the Cubs.
Pirates: Rookie right-hander Chad Kuhl will take the mound for the Pirates as they begin a critical three-game series against the Cardinals at 4:05 p.m. ET on Monday at PNC Park. Trailing St. Louis by 3 1/2 games, Pittsburgh will get six more head-to-head chances to close the gap in the race for the second NL Wild Card spot.
Watch every out-of-market regular-season game live on MLB.TV.
Adam Berry has covered the Pirates for MLB.com since 2015. Follow him on Twitter at @adamdberry.

George Von Benko is a contributor to MLB.com based in Pittsburgh.

This story was not subject to the approval of Major League Baseball or its clubs.