Storen, Rollins return to ease strain on Mariners' bullpen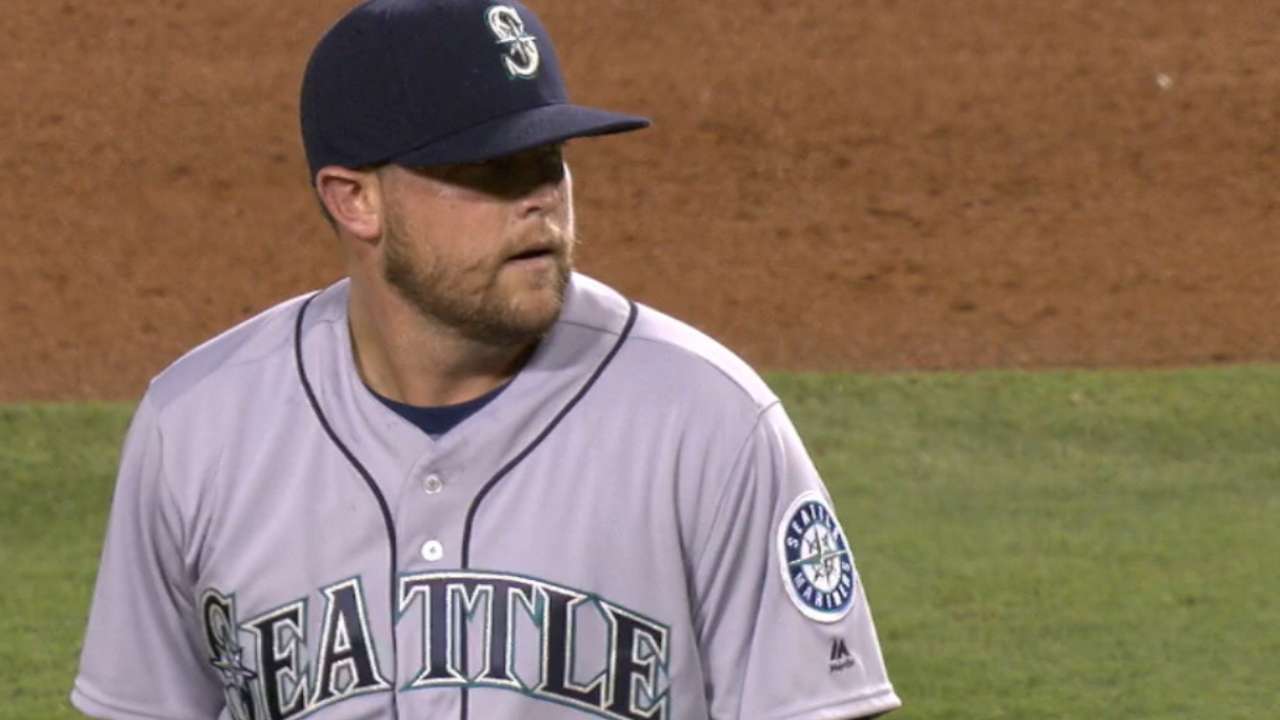 SEATTLE -- The Mariners activated right-hander Drew Storen from the 15-day disabled list and recalled left-hander David Rollins from Triple-A Tacoma on Sunday, adding two fresh arms to a well-used bullpen.
Storen pitched in one rehab game after going to the DL retroactive to Aug. 20 with right shoulder inflammation. He didn't allow a run on just one hit over one inning in Triple-A Tacoma on Friday.
"With the situations late the last couple nights, giving up runs early, you want to make sure you're covered there," manager Scott Servais said. "And last night obviously we got stretched on the length guys."
Storen tossed a scoreless ninth inning in Sunday's 4-2 loss to the Angels.
The Mariners used all eight of their active relievers in the past two games. With starter Taijuan Walker unable to get through the first inning Saturday, switch-pitcher Pat Venditte and left-hander Vidal Nuno had to eat up innings. Venditte pitched 4 1/3 innings, and Nuno threw three.
"When we acquired Pat Venditte, we did not acquire him to be our long guy," Servias said. "We acquired him to try to see if he could be a matchup lefty because that's when he's been most effective in the minor leagues. And we really haven't put him in a situation where we can find out if he can do that or not because we've been up against it, and he's a guy that actually could go-and he's had to pitch-multiple innings for us."
Cue Rollins, who was expected to arrive at game time and be available out of the bullpen in Sunday's game. It's the fifth time the Mariners recalled Rollins this season. He has a 7.04 ERA in 7 2/3 innings over nine appearances.
In the case of Storen, all he needed was a little rest to cure the inflammation in his right shoulder, and a 15-day stint on the disabled list was enough to get him feeling fresh again.
Seattle acquired Storen from Toronto in exchange for right-handed reliever Joaquin Benoit on July 26. After a rough first outing in which Storen allowed four runs on three hits in 1 1/3 innings at Pittsburgh, he has logged a 1.00 ERA in nine appearances.
"It's just one of those things where when you're in the bullpen and we're in the middle of a race, you pick that scab every day," Storen said. "You don't have that luxury to sit there and go, 'OK I just need a couple days,' because these games are all meaningful."
"You look at my workload before I got here and then when I got here -- it was a good thing -- it was just that there's no way you can prepare for that," Storen said.
Storen pitched in one rehab game after going to the DL, retroactive to Aug. 20. He didn't allow a run on just one hit over one inning in Triple-A Tacoma Friday.
Maddie Lee is a reporter for MLB.com based in Seattle. This story was not subject to the approval of Major League Baseball or its clubs.