Iribarren returns to Majors after 7-year absence
Utility man starts at second base with Phillips injured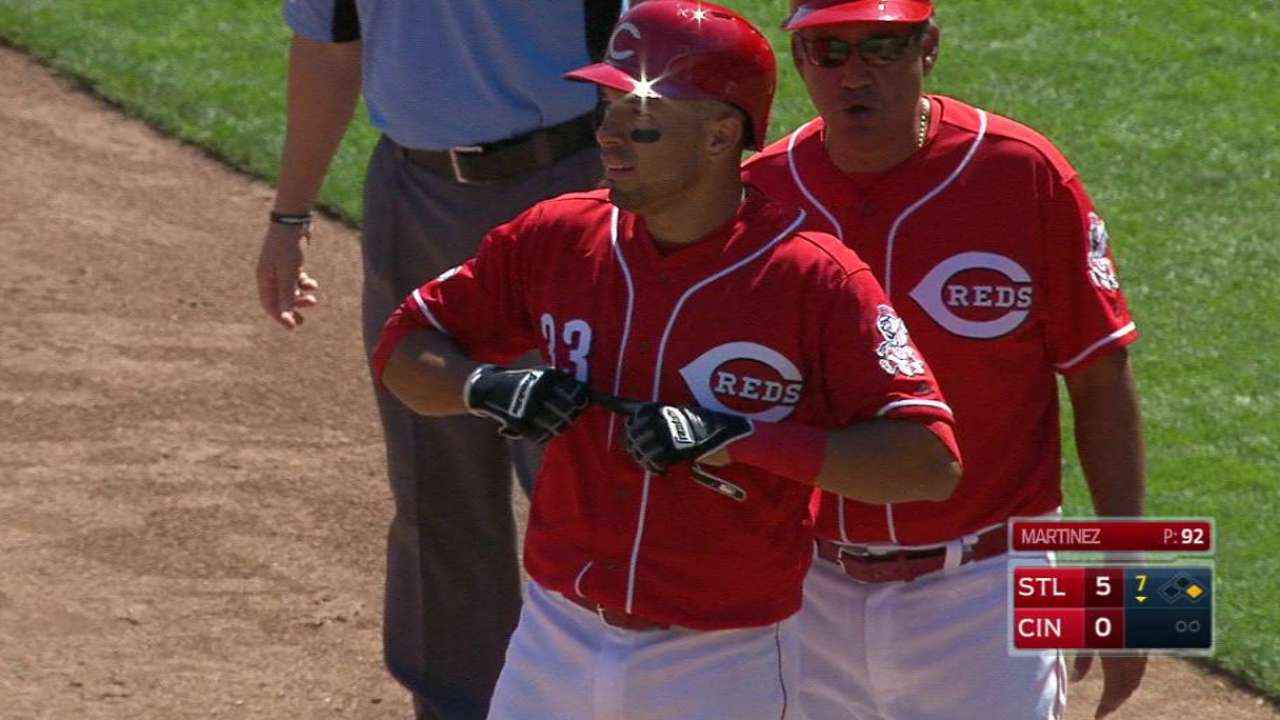 CINCINNATI -- It's been seven years since utility man Hernan Iribarren was on a Major League roster. It's been eight since he started a Major League game.
On Sunday, the Reds ended both of those streaks, selecting the 32-year-old Iribarren's contract from Triple-A Louisville and giving him the start at second base in place of the injured Brandon Phillips, who fouled a ball off of his left foot on Friday. Iribarren went 1-for-4 in the Reds' 5-2 loss to the Cardinals.
In Iribarren's first start since June 15, 2008, for Milwaukee against the Twins, he recorded his first hit in 2,569 days, which is the longest span between Major League hits for any non-pitcher since Erick Almonte got his second hit after a span of 2,745 days on April 2, 2011, for the Brewers. Iribarren's hit came in the seventh, and he scored the Reds' first run on Ivan De Jesus Jr.'s double.
In a corresponding move, the Reds designated Triple-A starting pitcher Daniel Wright for assignment. He was later claimed by the Angels.
"I was having a good year, but you never know," Iribarren said. "We had a lot of young guys, young prospect guys. You know ... trying to do my job and wait for the last day, and fortunately it came earlier than that."
Not even a participant in Major League Spring Training, Iribarren earned his spot on the roster by hitting an International League-leading .327 in 101 games for Louisville this season, earning a spot on the league's postseason All-Star roster as a utility man.
And Iribarren stuck true to the definition of a utility man -- he's played every position in a game this season but catcher, including pitching 3 2/3 scoreless innings.
"All these guys in our system that get a chance to go see our younger players or our players down in the Minor Leagues have raved about this kid, what a great influence he is on the others, how hard he works, the fact that he can play multiple positions," Reds' manager Bryan Price said. "This is one of those things where he went and he earned it."
The road that brought Iribarren back to the Majors was both difficult and improbable. Although Iribarren was never an elite prospect, he did appear on some Top 20 Brewers' prospects lists and was rated as the Brewers' best hit-for-average prospect in 2007 by Baseball America.
An undrafted free agent in 2002, Iribarren raised his stock by hitting .422 in 61 games between rookie ball and Class A in 2004. Iribarren continued to hit, and he got his first chance at Major League action in 2008, but hit a disappointing .143 in 12 games with the Brewers. He made one more 12-game Major League appearance in 2009, but toiled away in the Minors after that.
Iribarren's problem, he admits now, is that he didn't work hard enough. An injury in 2011 -- a torn left ACL -- changed that, an injury that he called life-changing.
"I thought my career was over, but it's been a long ride, a lot of up and downs, a lot of crying in the process," Iribarren said. "But it's been fun, it's been great. Like I said, after I got hurt, I met God, and it's just been a blessing."
That injury taught Iribarren about working hard, and it's something that become part of who he is. Since then, he's taken it upon himself to try to help younger players not make the same mistakes he's made, one of many reasons that the Reds' Triple-A staff rave about him.
"I'm more mature now," Iribarren said. "I've been doing this, the things correctly. I've been working hard. When I played in the big leagues seven years ago, I wasn't working as hard as I am right now. I think that injury I was talking about changed my life for a good reason."
Cody Pace is a reporter for MLB.com based in Cincinnati. This story was not subject to the approval of Major League Baseball or its clubs.