GM Klentak pleased with Velasquez's 2016 effort
Phillies right-hander struck out 152 in 24 starts before getting shut down
PHILADELPHIA -- Phillies general manager Matt Klentak told Vince Velasquez on Wednesday that the right-hander would be making his last start of 2016 on Saturday.
Klentak was hoping the 24-year-old would end his first full Major League season year on a high note. Seven innings and eight strikeouts later, the GM got his wish.
After hitting a rough patch in August, Velasquez looked like a potential future rotation fixture for the Phillies in his last two outings. In starts against the Mets and Braves, Velasquez combined to allow just three earned runs in 12 innings, and he had 15 strikeouts and just one walk in that span.
"That's all we really could have hoped for," Klentak said. "... We didn't know exactly when that would be. But as we monitored his workload, his innings, his pitches, the intensity of those innings and outings, this was going to be the right time to do it. We told him on Wednesday. Vince was good with it. Obviously we wanted him to go out on a positive note, and credit to him, that's exactly what he did [Saturday] night."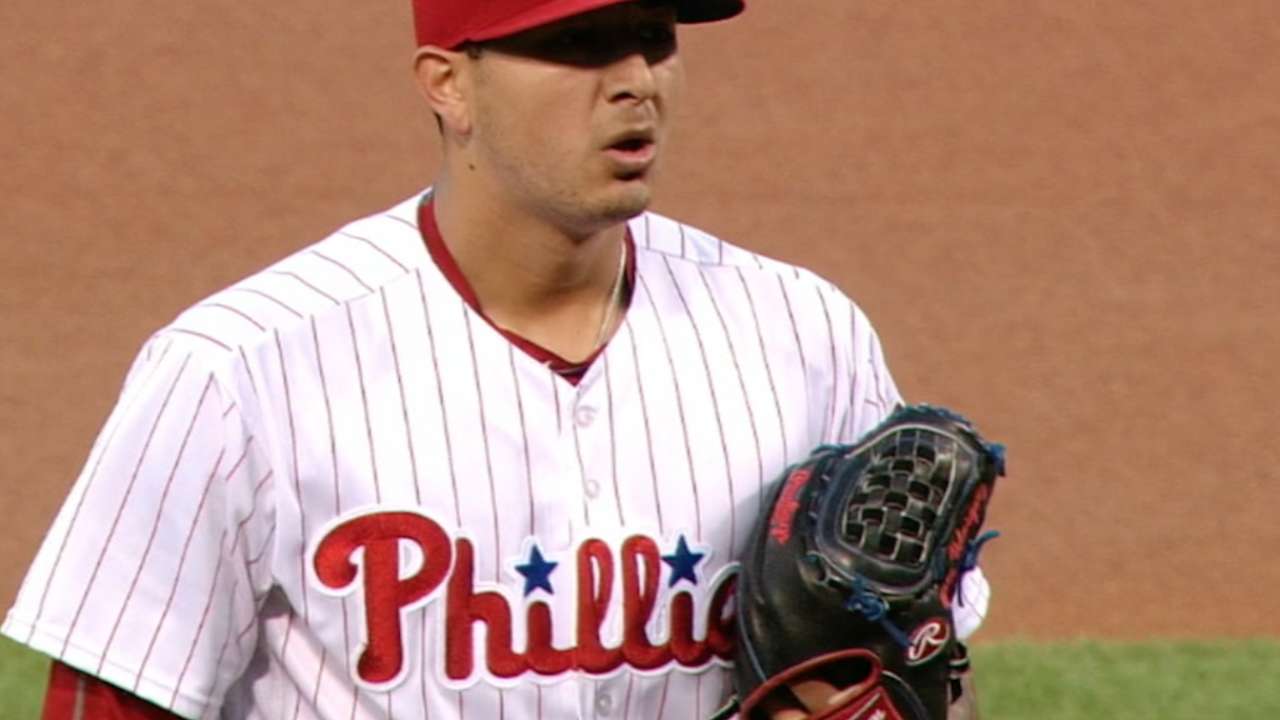 Velasquez ended the year with a 4.12 ERA, throwing 131 innings in 24 starts.
The most eye-popping statistic for Velasquez were his strikeouts. He had 152 on the season, including 16 in a shutout against the Padres on April 14. His 10.4 strikeout/nine inning mark was the best among Phillies starters.
"It's not easy to strike out 10 hitters per nine in the big leagues," Klentak said. "It's not easy to do that at any level as a starting pitcher, especially in this league. For him to be able to do that for five straight months, that's really impressive."
Velasquez had 10 starts in which he went five innings or fewer, including a June 8 outing against the Cubs when he was pulled in the first inning due to an injury. Klentak noted he's hoping to see Velasquez figure out how to go deeper in games as his career continues.
"I think we've seen that throughout baseball history, strikeout pitchers mature and become more comfortable in the league," Klentak said. "They understand when it's time to miss a bat and put a hitter away, and when it's time to get some contact. I'm thrilled with the progress Vince made this year."
Klentak added it's likely right-hander Alec Asher would take Velasquez's spot in the rotation and start Thursday at Atlanta. Asher is serving an 80-game PED suspension, but it is set to conclude prior to that game.
Asher, 24, made seven starts for the Phils last season, going 0-6 with a 9.31 ERA. He is not currently on the Phillies' 40-man roster.
• Klentak said that he expects approximately six additional players to be called up to the Majors once Triple-A Lehigh Valley wraps up the International League postseason. The Phillies called up three players -- Patrick Schuster, Darin Ruf and Colton Murray -- on Sept. 1.
Stephen Pianovich is a contributor to MLB.com. This story was not subject to the approval of Major League Baseball or its clubs.