Around the horn: Statcast's defensive best of '16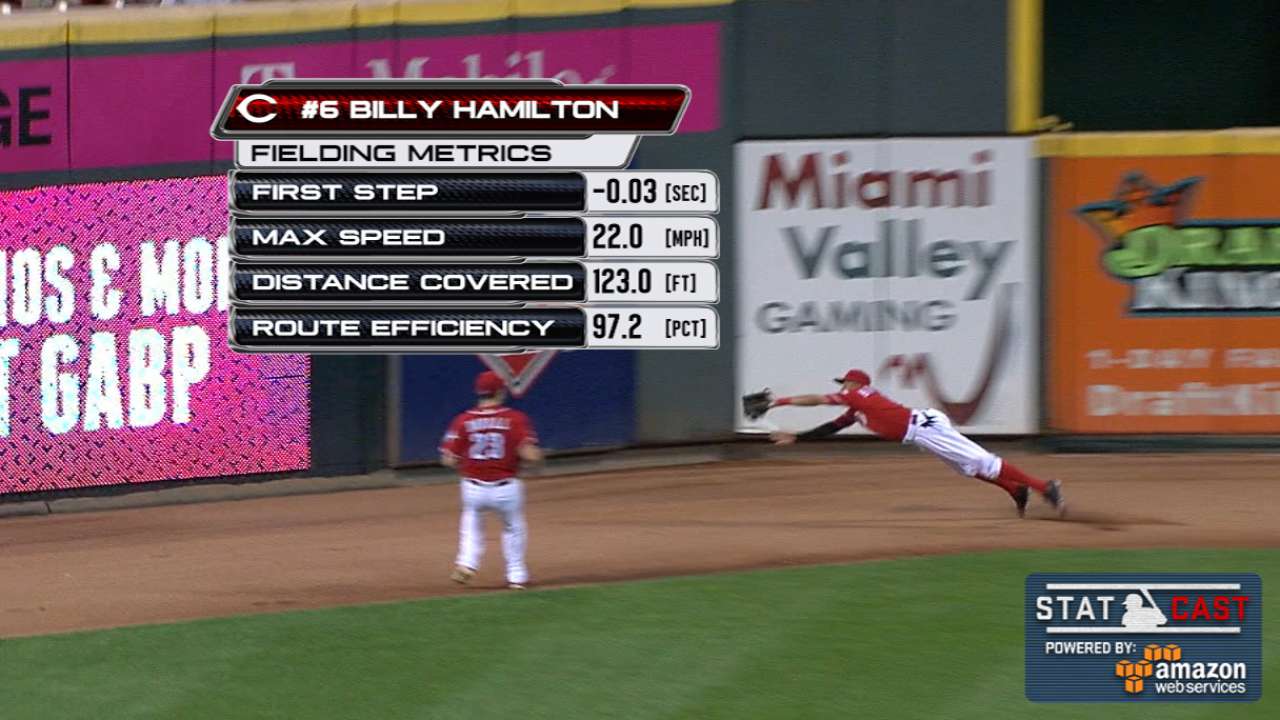 Throughout 2016, Statcast™ has tracked every movement on the field, providing a data-driven view of the game's top defensive gems.
With only about a month remaining on the schedule, now is a good opportunity to review the best of the best. Here is a look at one superlative play this season from each position on the field (except pitcher), and what makes them so impressive, according to Statcast™.
Catcher: Martin Maldonado's pop time
When it comes to catching a runner stealing, the throw alone tends to grab most of the attention. Yet that's only one piece of the equation. The catcher can unleash a sizzling strike to second base, but if he lets go of it too late, it won't matter.
So to prevent a steal, first the pitcher must deliver the ball to the plate quickly. Then, the catcher must get rid of it quickly. This latter period of time, from the moment the catcher receives the pitch to the moment his throw arrives at its target, is known as pop time. A great one requires efficient footwork, a smooth exchange from glove to hand and -- of course -- arm strength.
The top catchers in the Majors average a bit less than two seconds with their pop time. But back on April 14 in St. Louis, the Brewers' Maldonado set the standard for an individual play. With one out, Jeremy Hazelbaker took off from first base against pitcher Wily Peralta, who delivered an 87.1-mph pitch up in the zone. Knowing he had to hurry, Maldonado started coming out of his crouch as the ball approached, made the exchange in 0.62 seconds as he fell back to his knees and still managed an accurate 87.4-mph throw, his second-fastest of the year to second base.
Thanks in large part to the 1.72-second pop time, Hazelbaker was out, and the Cardinals didn't score in the inning.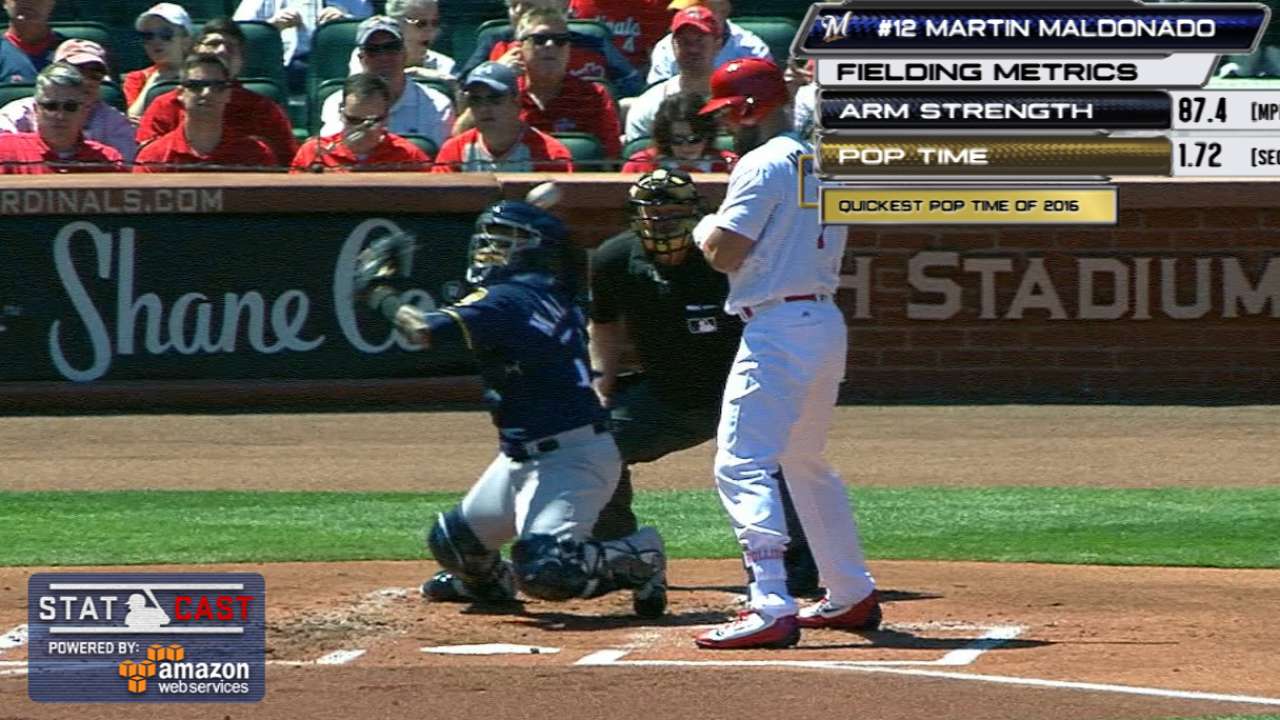 First base: Wil Myers' throw
A good arm isn't a requirement for first basemen, who have to worry about catching throws more than making them. Still, it's a luxury to have.
As a player who began his pro career as a catcher and arrived in the Majors as an outfielder, Myers has an edge in that department. He used it to make a big play for the Padres at Philadelphia on April 13, when the Phillies' Peter Bourjos tried to score from second on a ground ball to shortstop. After catching Alexi Amarista's late throw, Myers turned and sent an 82.0-mph rocket to the plate, where Christian Bethancourt applied the tag for an out. It remains the hardest throw by a first baseman this year.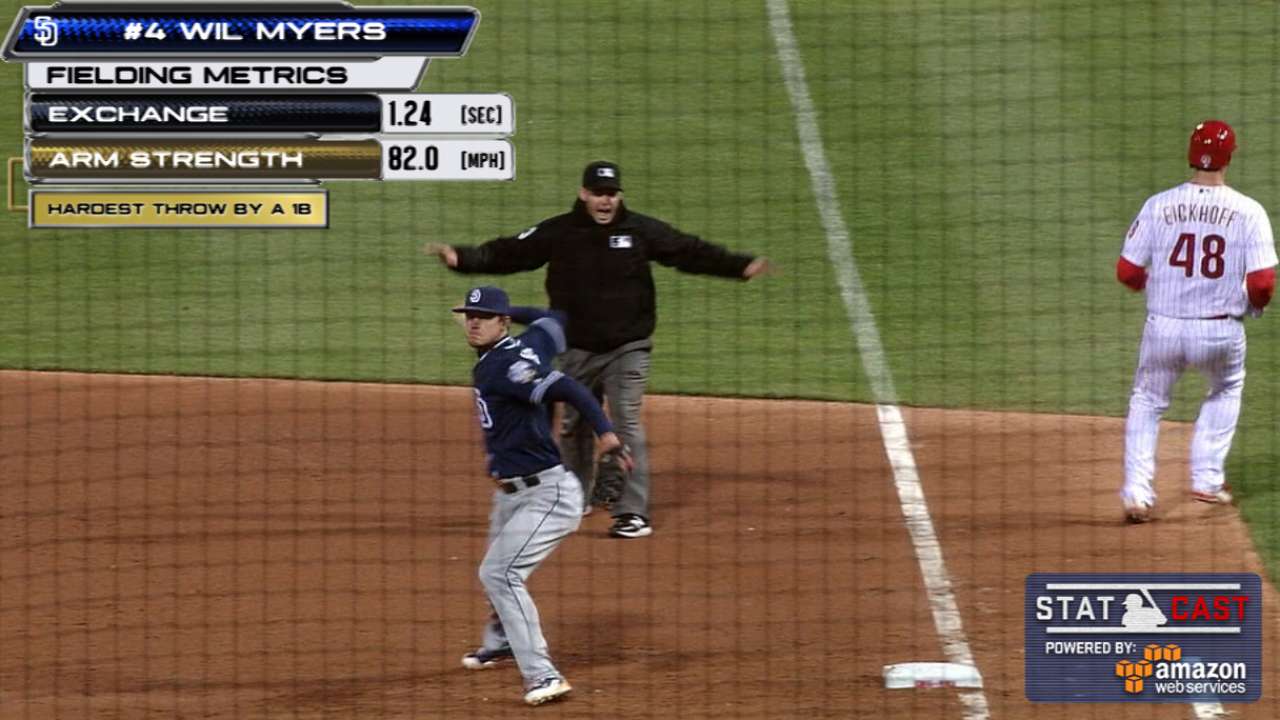 Second base: Brandon Phillips' catch
If a batter hits a pitch at 116.2 mph, he's extremely likely to have success, with similarly struck balls resulting in a .667 average and .860 weighted on-base average (wOBA) this season. But that wasn't the case for the Rockies' Carlos Gonzalez on April 19 at Cincinnati.
When Gonzalez ripped a 116.2-mph line drive to the right side, Phillips was stationed in the right spot, several steps out on the right-field grass. His 0.17-second first step was about all he had time for before the ball was right on him, and he dove to his right for the catch. No infielder has snagged a harder-hit liner this season.
Third base: Yadiel Rivera's throw
The highest-velocity throw of the year by a third baseman has not come from an established Gold Glove Award winner such as Nolan Arenado or Manny Machado. Instead, the man behind the play was the Brewers' Yadiel Rivera, a 24-year-old rookie who has spent most of the season at Triple-A Colorado Springs.
On April 9, Rivera made his season debut and his fifth career start against the Astros at Miller Park. In the sixth inning, Houston speedster Jose Altuve hit a slow bouncer to third and flew down the line in 4.2 seconds, at a top speed of 21.4 mph. But Rivera scooped up the ball and showed off his arm strength by slinging it across the diamond at 91.7 mph, just in time for the out.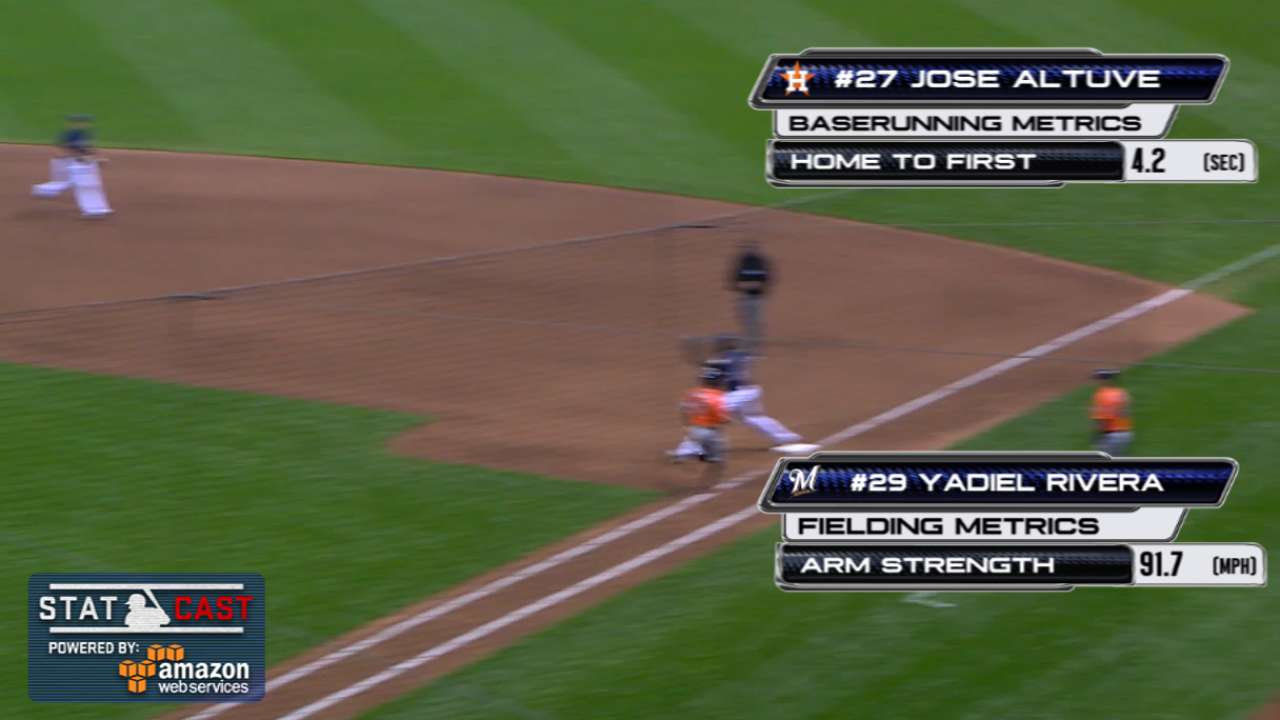 Shortstop: Addison Russell's catch
Russell certainly got a test of his range in a big situation last Wednesday at Wrigley Field. With the Cubs leading the Pirates by three runs in the seventh inning, Pittsburgh's Gregory Polanco came up with the bases loaded and two outs and sliced a pop fly to shallow left field, with a hang time of 5.4 seconds.
Russell took off after it, and the 22-year-old reached 19.3 mph with a route efficiency of 98.5 percent as he covered 107 feet before making a sliding, sprawling grab near the foul line. That's the farthest a shortstop has run to make a catch this season, on a ball with a hang time of less than 5.5 seconds.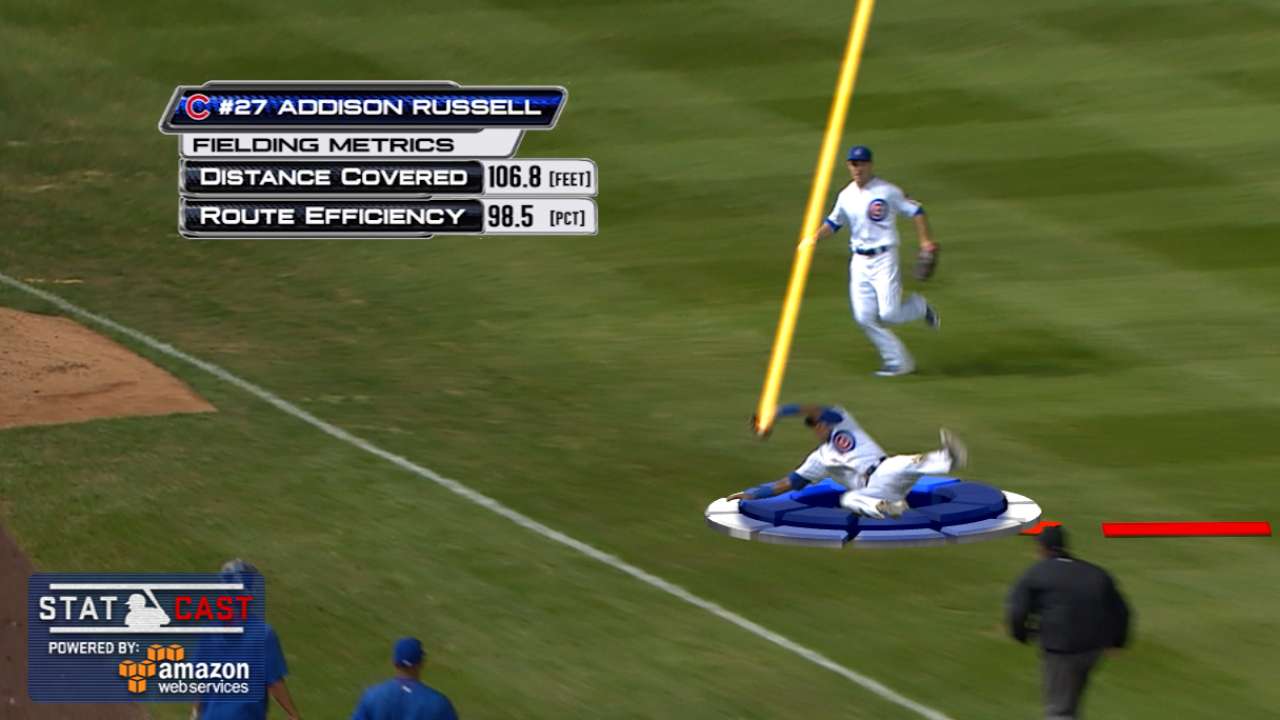 Left field: Aaron Hicks' throw
What's faster than the fastest Aroldis Chapman fastball? That's not a riddle. The answer is a throw Hicks made from left for the Yankees on April 20.
Of course, it's an apples-and-oranges comparison. Chapman, a teammate of Hicks' before a trade to the Cubs, has reached 105.1 mph this season despite the fact that he has to throw with his foot rooted to the pitching rubber. Hicks, like any outfielder, has the benefit of getting his momentum behind him.
That's what Hicks did in a game against the A's, setting himself up to catch a fly ball in deep left as he moved toward the plate, then crow hopping and firing to the plate. His one-hop, 105.5-mph strike nabbed Danny Valencia to complete a double play and was the fastest throw of the two-year Statcast™ era.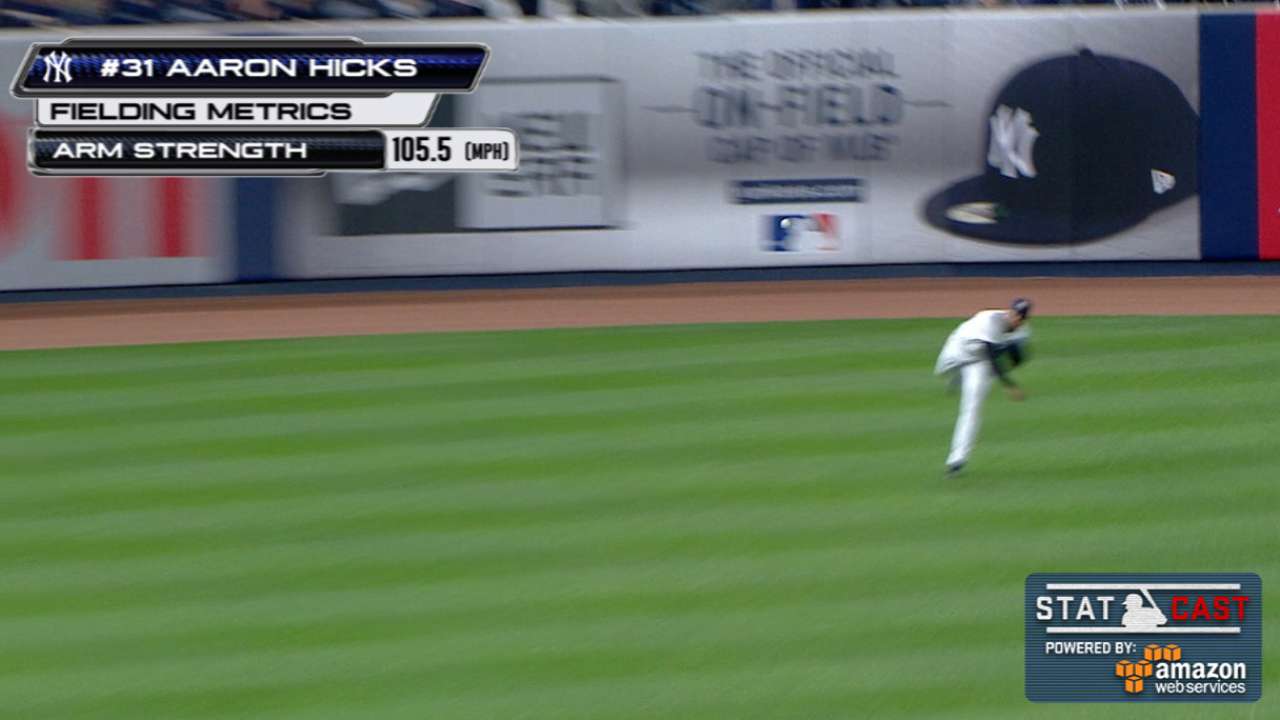 Center field: Billy Hamilton's catch
Statcast™ has shown that Hamilton is the game's fastest baserunner, and that speed translates to the defensive side of the game, too. But a great play in the outfield isn't just about miles per hour.
On Aug. 23 in Cincinnati, the Rangers' Carlos Beltran crushed a fly ball to deep left-center field for what should have been an extra-base hit -- if not for Hamilton. A highlight-reel catch, which ended with Hamilton diving headfirst and skidding across the warning track, began with a quick reaction. Hamilton took his first step in minus-0.03 seconds, meaning he was moving the instant the ball was hit.
From there, he reached a top speed of 22 mph and traveled 123 feet. That's the most ground covered by an outfielder to make a catch this year, on a ball with a hang time of less than 5.5 seconds and a launch angle below 35 degrees.
Right field: Yasiel Puig's throw
It hasn't been the easiest season for Puig, who returned to the Dodgers on Friday after spending about a month in the Minors, but he still has shown flashes of awe-inspiring tools. One of those instances came on April 22 at Coors Field, where Puig took advantage of the altitude to let loose the longest throw of the season that resulted in an out.
When the Rockies' Trevor Story hit a deep drive over a leaping Puig and off the right-field wall, the ball bounced away, and Story justifiably made the turn around second. Where most outfielders would have conceded the triple at that point, Puig picked it up, and ignoring his cutoff man, let loose with a 93.5-mph heave that soared 310 feet, directly to third base. Justin Turner applied the tag for the out.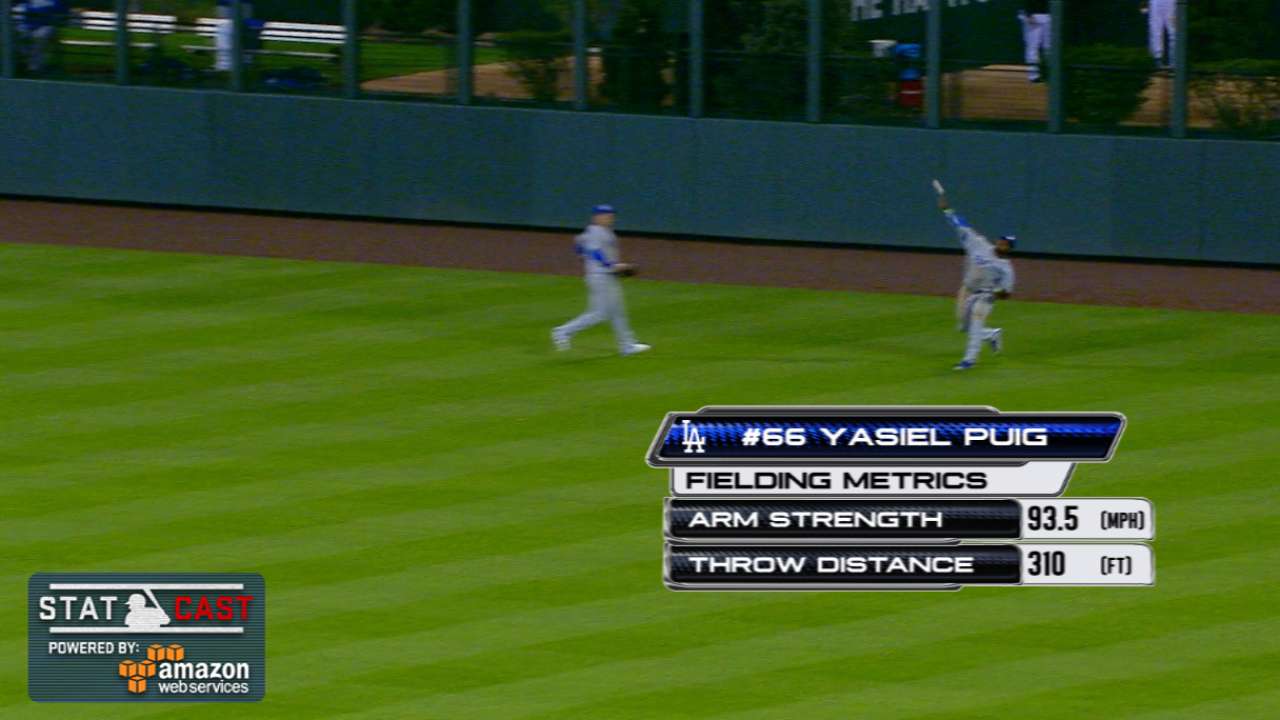 Andrew Simon is a reporter for MLB.com. Follow him on Twitter @AndrewSimonMLB. This story was not subject to the approval of Major League Baseball or its clubs.