Unlikely heroes stepping up for Mets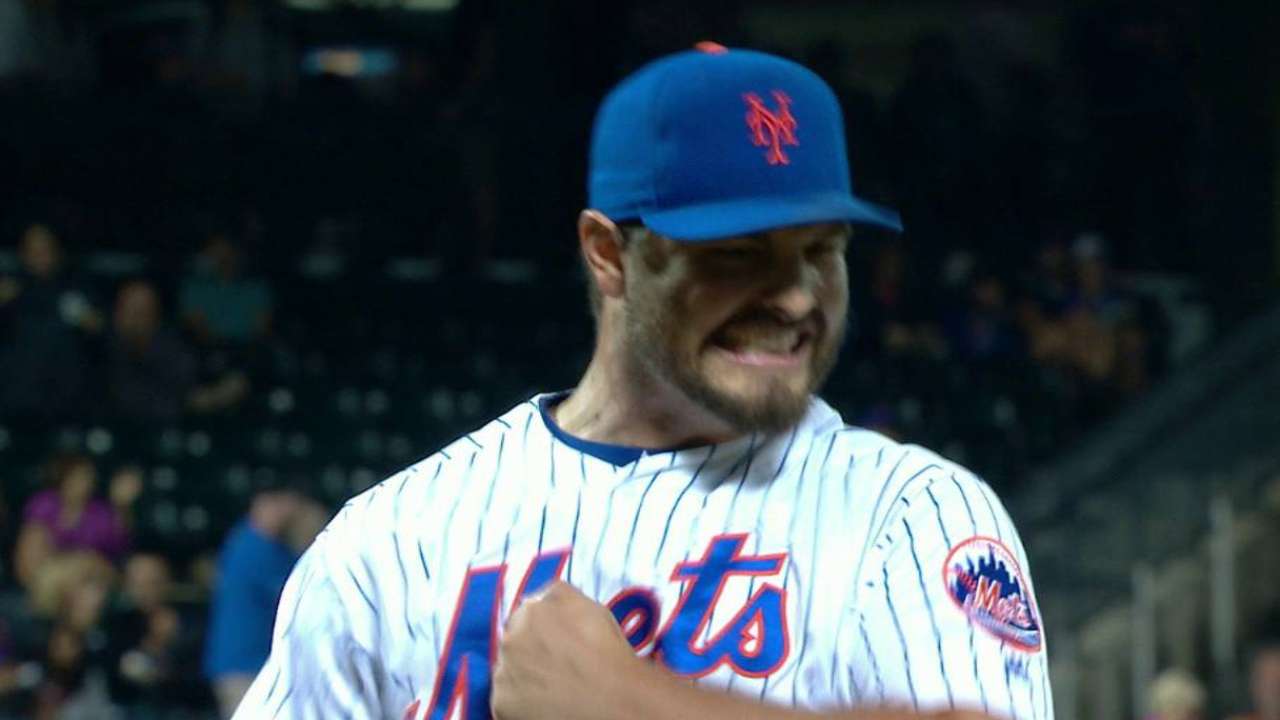 NEW YORK -- In the eyes of the pessimist, it seemed like a slow-motion horror movie with an inevitable ending. Walking on a razor's edge all evening, the Mets had taken a two-run lead into the seventh inning of their eventual 3-1 win over the Nationals on Saturday. Jayson Werth hit a one-out single, bringing up the heart of Washington's order -- Daniel Murphy and Bryce Harper, both of them full-time Mets antagonists.
Then the improbability of the Mets' postseason push took control. Murphy smoked a line drive to center field, where Michael Conforto -- a corner outfielder by nature, and a limited one at that -- sprinted forward to make a diving catch. Josh Smoker, a rookie pitcher who had allowed three home runs over his first seven big league innings, then struck out Harper on four pitches -- the last of them an 83-mph slider careening toward the right-handed batter's box.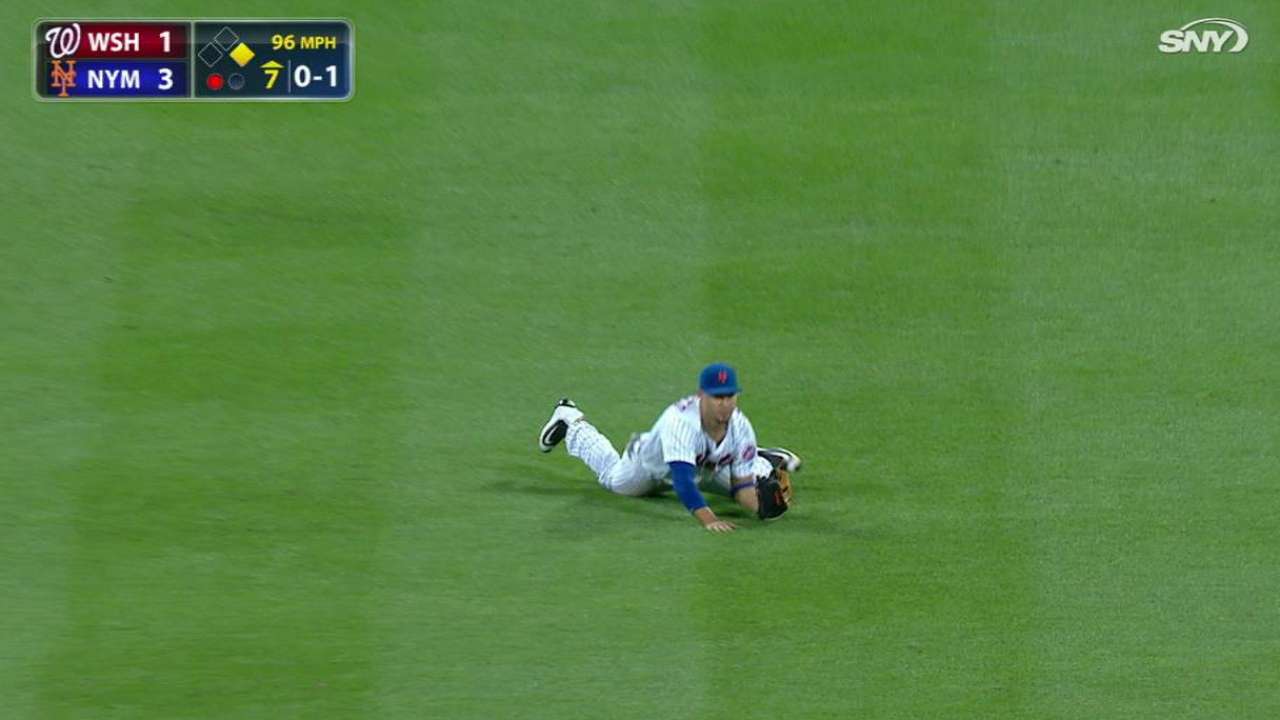 The resulting victory moved the Mets to within one game of a National League Wild Card spot. They may not have expected to be playing September games with this cast of characters, but right now they're not complaining.
"We don't want to keep talking about, or belabor, the injury issue," manager Terry Collins said. "But we've asked a lot of some young players, and they have stepped up. This is what we have. These guys, I think they're caught up in it a little bit."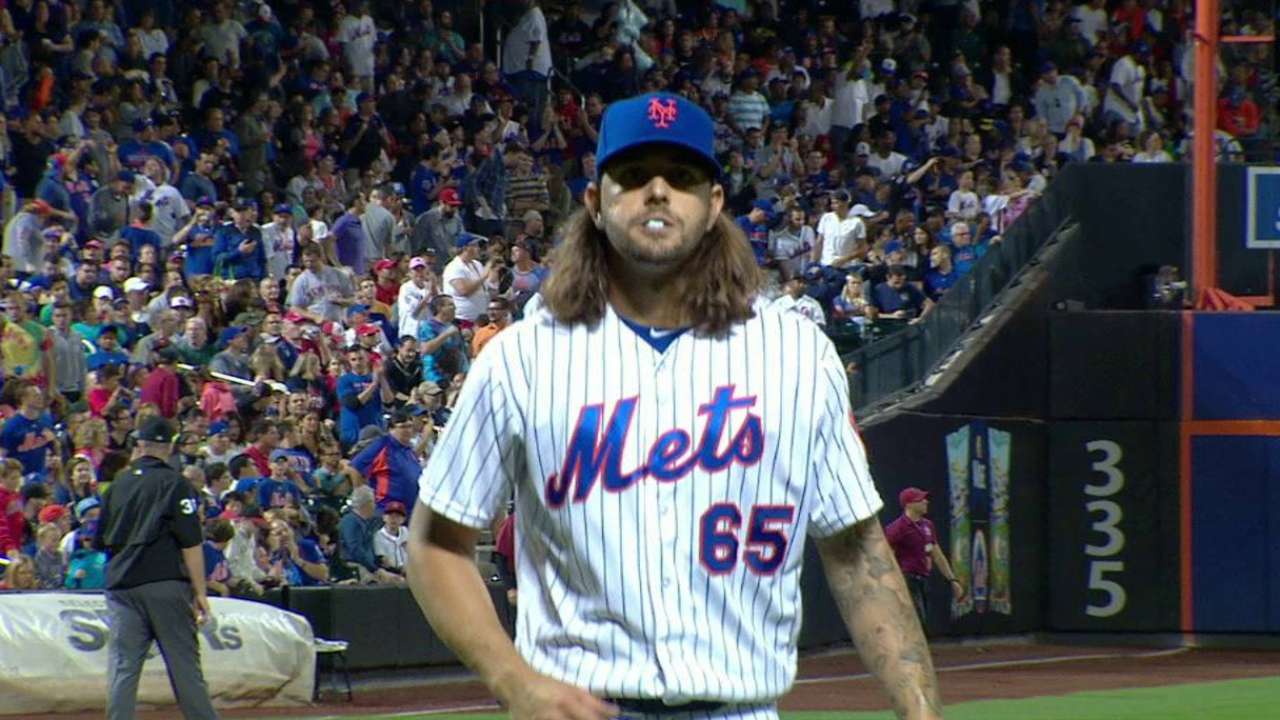 There is perhaps no better example than starting pitcher Robert Gsellman, who held the Nationals to one run in six innings, stranding eight. But it was only after Gsellman departed that the night's most dramatic moments unfolded, a few of them neatly packaged in the seventh inning.
Conforto, a September callup whom the Mets twice demoted to the Minors this summer, understood the risk he was taking with his diving attempt at Murphy's ball. Despite that, and despite his inexperience in center field, he went for it anyway, hoping to give the Mets exactly the type of spark that he did.
"For a guy who hasn't played center field, that's a huge chance," Collins said. "If that ball bounces by him, that's an easy triple, if not an inside-the-park home run. It's a credit to his makeup, and the fact that he's not afraid to try to make a big play."
The catch took plenty of weight off Smoker, who jumped ahead of Harper, 0-2, before wasting a fastball outside. His next offering was a slider that never sniffed the strike zone but carried enough tilt to entice Harper into swinging.
The rest of the victory was routine -- just an average Mets game in a pennant race in which a host of second- and third-stringers starred.
"I've been waiting for this for a long time," Smoker said. "It's my job to go out there and come through in those situations."
It is now, and if the Mets have true designs on making the playoffs, it's going to continue to be.
Asked if he ever thought the Mets would be winning games down the stretch with this cast of characters, Collins said, "I'd have told you you were out of your mind.
"But we've asked them to step in, and this is their opportunity."
Anthony DiComo has covered the Mets for MLB.com since 2008. Follow him on Twitter @AnthonyDiComo and Facebook, and listen to his podcast. This story was not subject to the approval of Major League Baseball or its clubs.