MLB.com Columnist
Mike Bauman
Don't count out these Royals yet
Just when you think its run is over, KC comes from behind again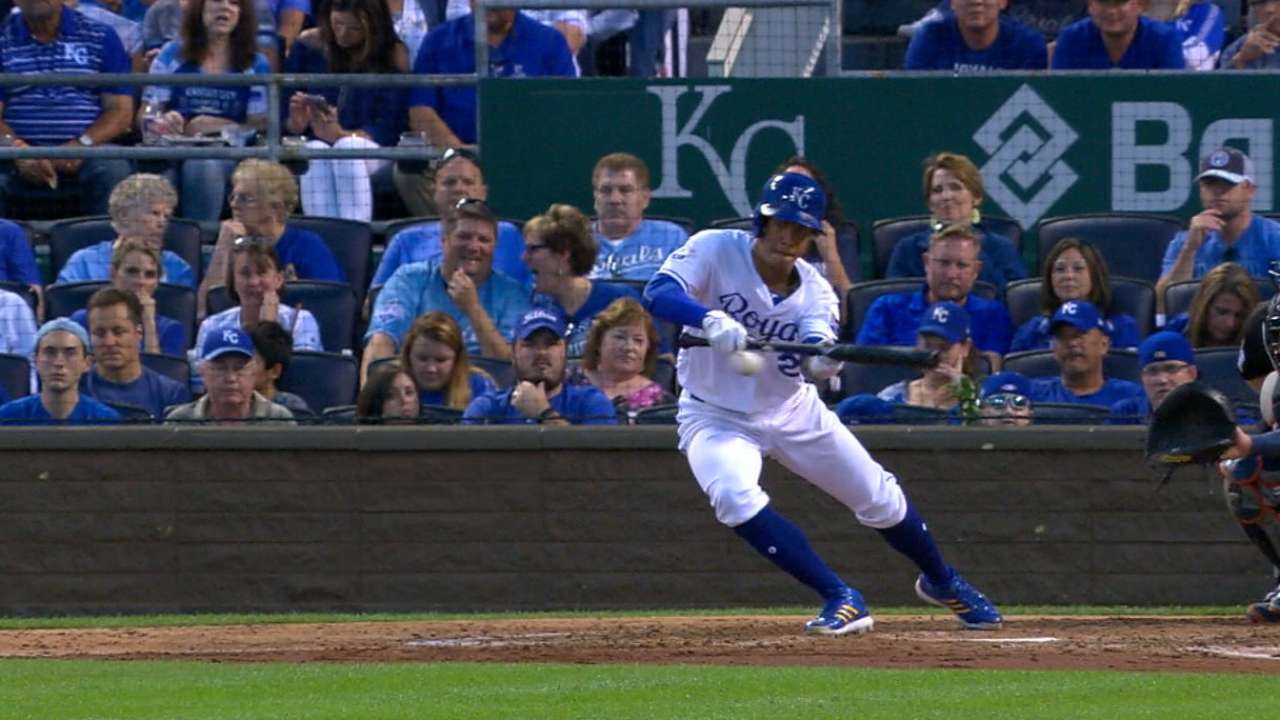 KANSAS CITY -- Here come the Kansas City Royals again, trying to turn the impossible into the merely improbable.
When everybody else is prepared to count the Royals out, this is when they do some of their best work. But these guys specialize in comebacks. They have been coming back since the eighth inning of the 2014 American League Wild Card Game.
This summer, the Royals have undoubtedly made it harder on themselves. As late as Aug. 5, they were bumping along with a 51-58 record. People were saying that Kansas City had a terrific run with the two AL pennants and the 2015 World Series championship. But that wasn't going to last.
Then the Royals went 18-4. They won seven straight series. They moved into genuine contention in the AL Wild Card race. But after that, Kansas City dropped three straight. Agonizing losses, all of them one-run games, two in extra innings. The Royals were obviously on the way out of contention.
But then Saturday night at Kauffman Stadium, they were the intrepid Royals again. Against the Tigers, a team tied for the second AL Wild Card berth at the start of the night, a loss would have dropped them five games behind them in the Wild Card race.
Kansas City did not allow that to happen. It defeated Detroit, 5-2, before a completely appreciative audience of 39,757, the seventh sellout crowd at Kauffman this season.
The Royals fell behind early, which, given the way this group operates, was probably not a bad thing. Some people say when a pitcher puts runners on base that he is "flirting with danger." Kansas City starter Yordano Ventura did not flirt with danger. He became engaged to danger.
In six innings, Ventura gave up six hits. That sort of thing happens on a regular basis. But he also walked six. It took Ventura 105 pitches to navigate through those six innings. Fifty-two of those pitches were balls.
And Ventura pitched this way on purpose.
"He was really smart tonight," Royals manager Ned Yost said. "Some of those balls weren't because he was fighting command. He just wasn't going to let the middle of that order beat him. So he picked his spots.
"He commanded the ball really well. The numbers don't really show it, but he was pitching around some of those guys to make sure they weren't going to beat him."
Ventura said through an interpreter that "three or four" of the walks were the result of pitching around Detroit hitters.
"I was just trying to make sure that the big guys didn't beat me," Ventura said. "You've just got to be smart in those situations."
Ventura stranded nine Tigers runners in his six innings. He is now 7-0 with a 2.84 ERA over 11 appearances, 10 of them starts, against Detroit. Ventura is the only active pitcher with at least seven wins and no losses against the Tigers.
Yost said that Ventura, in his last start, against the Red Sox in Boston, had been overthrowing the ball. But in another big game here, Ventura was in form.
"We feel like he's really making strides," Yost said. "Sometimes it feels like there's three steps forward and then a step back. He stayed within himself wonderfully tonight."
Kansas City took a 2-1 lead in the fourth inning, when Eric Hosmer hit a home run, his career-high 20th of the season. As if in reaction to this show of power, the small-ball Royals had consecutive bunt hits in the fifth -- by Raul Mondesi and Jarrod Dyson -- to set up another run.
An eighth-inning combination of two hits, two walks and two wild pitches gave Kansas City, of course, two more runs.
Closer Wade Davis, coming off the disabled list, had to be summoned for the second straight night. But he got the final two outs in uneventful form and the Royals were back in the win column.
"It was a huge bounce-back," Hosmer said. "All the factors that went into today; they've got their guy [Michael Fulmer] on the mound, they get off to an early lead. We did a good job of just going with the flow, realizing that we're going to break out soon, put up some runs.
"It was a huge bounce-back day, but [Sunday] is even bigger. Hopefully, get out of here with a series win, hit the road and see what we can do."
Twenty-seven games from the finish line, the Royals are definitely not finished.
Mike Bauman is a national columnist for MLB.com. This story was not subject to the approval of Major League Baseball or its clubs.