Hill, Kershaw give Dodgers hope for rotation rebound
Roberts optimistic about formidable front three down the stretch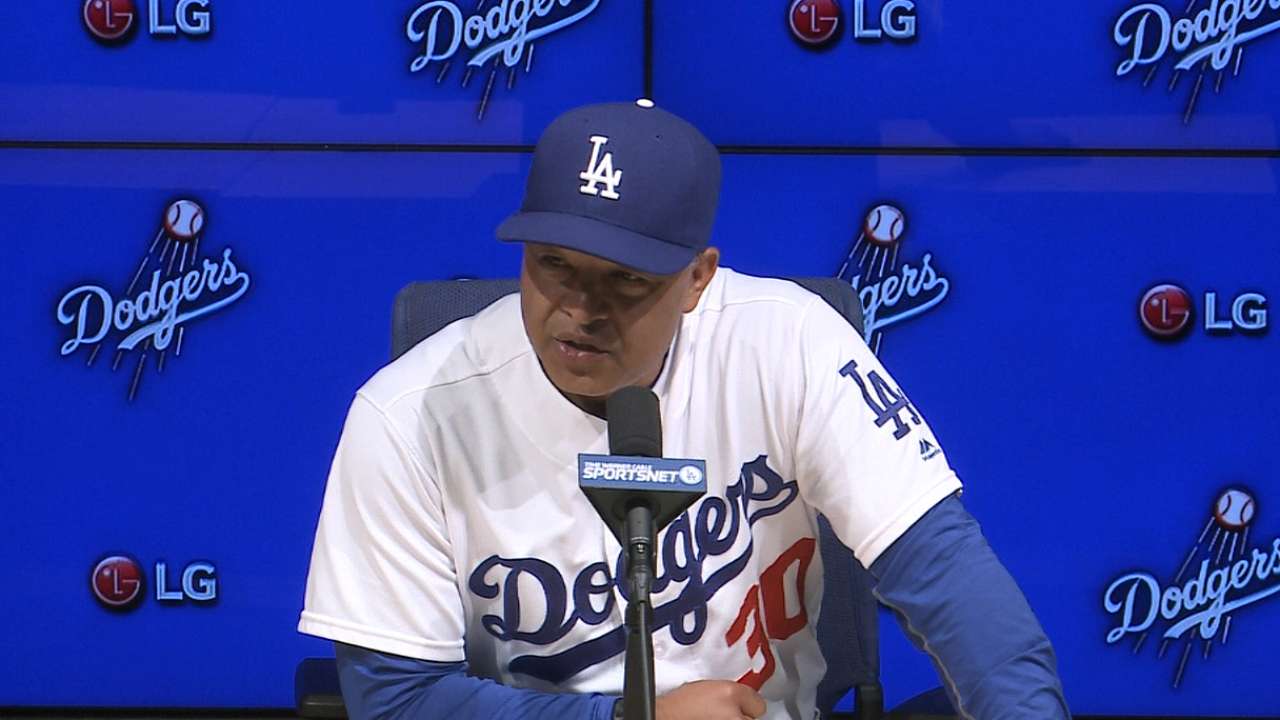 LOS ANGELES -- While Rich Hill flirted with a no-hitter Saturday night, Clayton Kershaw was rehabbing his way back into the Dodgers rotation, "To make a good night even better," manager Dave Roberts said.
"We might have a two- or three-headed monster going," said Yasmani Grandal, who complemented Hill's six scoreless innings with a three-run homer in the Dodgers' 5-1 win over San Diego.
Hill, scratched as a precaution Wednesday in Colorado, said his finger blisters were no issue, and Kershaw predicted he would be pitching in a game in four of five days, an endorsement of his recovery from a herniated disk, even if the final decision isn't his to make.
"Is that what he said?" asked Roberts. "We're going to talk about that. Clayton has an idea of what he wants to do, so we'll have a discussion."
• Kershaw dominant in rehab assignment
If Kershaw waits to pitch until Friday in Miami, he will be lined up to pitch in both remaining series with the Giants. As long as he returns, and assuming Hill really is past the blister issues, Roberts can see a formidable rotation coming together after months of patching things together.
"If you look at Clayton, Richie, Kenta [Maeda] -- those guys against any three, I like our chances," said Roberts. "That's why we acquired Richie."
That's also why Roberts said he wasn't going to let Hill pursue his no-hitter beyond six innings, even if Alexei Ramirez hadn't broken it up with a line single with two outs in the sixth.
"We're trying to make sure he's out of the woods," said Roberts, who lifted Hill after 89 pitches. "To sustain where he's at, with the finger and blister, he wasn't going to see that next inning, regardless. It would have been a bigger fight. Where he was at with the pitch count, to figure how to manage three more innings, it wasn't going to happen."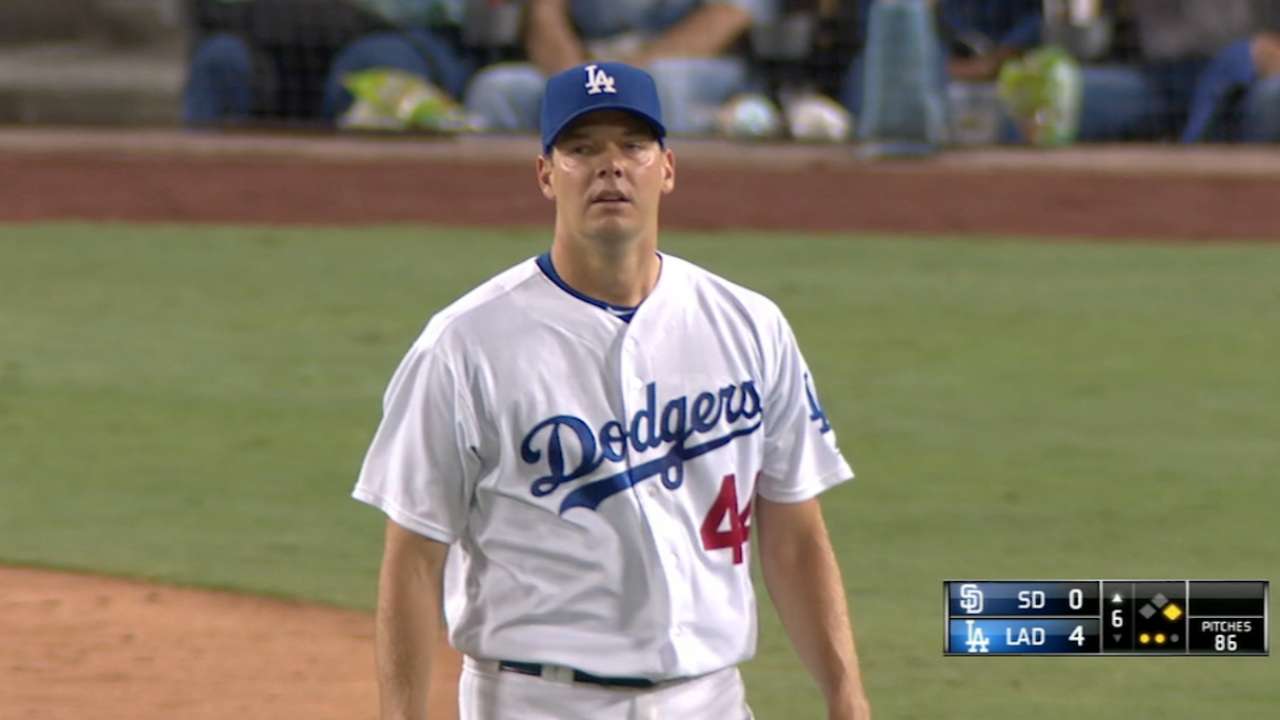 Hill, unbeaten in his last 10 starts since May 7, insisted he was healthy enough to continue, but he didn't argue.
"I feel great. Everything is good health-wise," he said. "That's not my decision. I continue to pitch when the ball is given to me. That's baseball. You don't go out there looking at completing a no-hitter, but as the game goes on each pitch has its own moment and the rhythm and tempo, and you want to stay in that moment."
Hill struck out eight and walked two. He said his curve had depth and his fastball carried through the strike zone. Since his acquisition from Oakland with Josh Reddick on July 31, Hill has made only two starts, but both were six scoreless-inning victories.
"Rich did what Rich Hill does," Reddick said. "He strikes people out. The fastball seems like 96 [mph], the way the curve moves so much. Joc [Pederson] and I talk about how dirty he looks from the outfield."
Although nothing is certain, Roberts allowed himself the same enjoyment as Grandal, envisioning what might be a dynamic top of the rotation.
"Most of it is contingent upon Clayton," he said. "We're trying to take each step with him and build on that. Looking forward, there's a little bit of lining those guys up together."
Ken Gurnick has covered the Dodgers since 1989, and for MLB.com since 2001. This story was not subject to the approval of Major League Baseball or its clubs.