Off-night merely a hiccup for rookie Perdomo
Padres' Rule 5 pick has developed quickly this season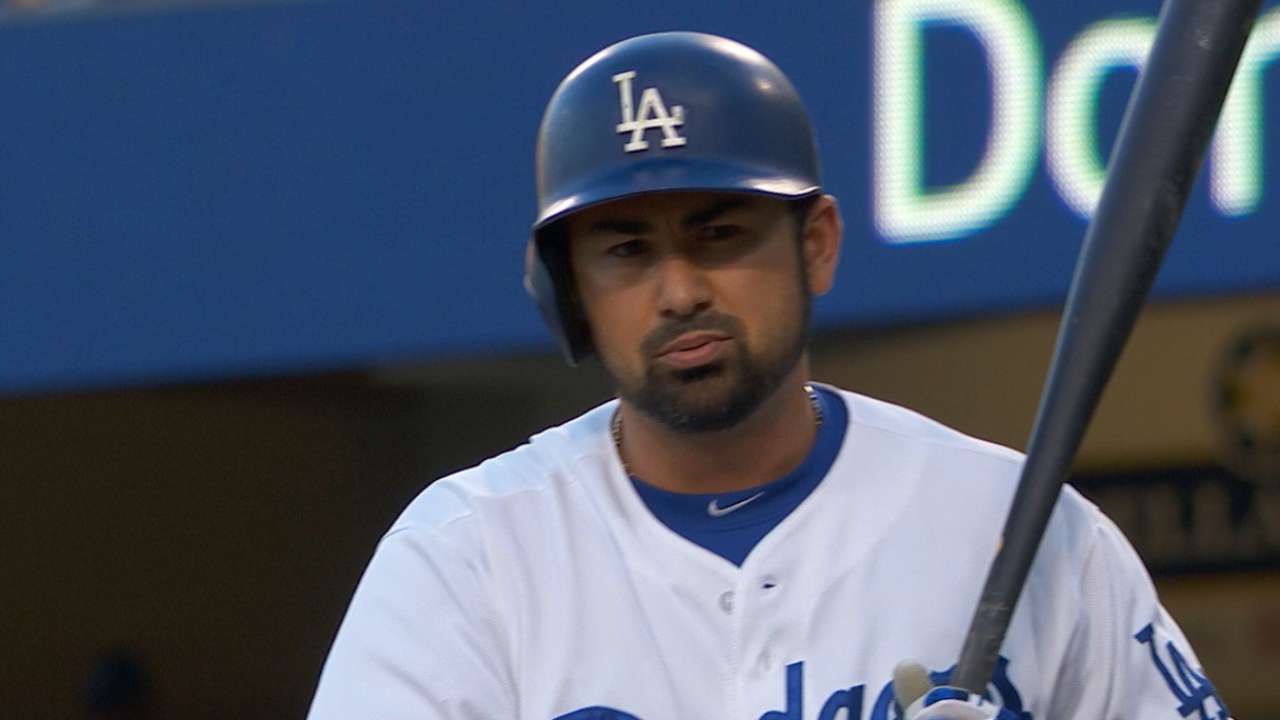 LOS ANGELES -- Sept. 1 was supposed to mark something of a hurdle for the Padres and Luis Perdomo. As a Rule 5 Draft pick, Perdomo needed to remain on the 25-man roster for an entire season, or San Diego would've been forced to offer him back to the Cardinals.
Well, the Sept. 1 date for roster expansion came and went earlier this week -- and Perdomo's status as a Padre was a foregone conclusion. The expansion to 40-man rosters means Perdomo is officially here to stay -- and the team believes his future is very bright.
It won't be without its share of hiccups, however, as the Padres were reminded during Saturday night's 5-1 loss to the Dodgers at Chavez Ravine. Perdomo was roughed up for five runs on nine hits, including a pair of no-doubt home runs.
"I honestly think his mechanics got a little bit off today," said manager Andy Green. "That's something you haven't seen from him a lot lately. ... That had a lot to do with the ball being on plane more instead of sinking like it typically does."
Perdomo was coming off his first career complete game last Sunday in Miami, and he posted a 1.83 ERA in his previous three starts. During that time, he had seemingly mastered the art of keeping his sinker down in the zone, and he entered the game with the highest ground-ball rate in the Majors over the past month.
That precious skill eluded Perdomo on Saturday. The right-hander consistently left his sinker upstairs during a brutal fourth inning in which he allowed five straight hits -- each with an exit velocity of 98 mph or more.
The biggest blow came when his first-pitch sinker to Yasmani Grandal -- which was meant to be low and at the knees -- hung at the top of the strike zone. Grandal deposited it into the center-field batter's eye.
"I probably wasn't staying on top of the ball as much as I would've liked," Perdomo said through a team interpreter. "I think ultimately that's why I left those balls up."
Green viewed that pitch as a case of a 23-year-old rookie trying to shoulder too much of the burden, while his offense was being blanked by Dodgers lefty Rich Hill.
"You're a young guy, you're trying to match Rich Hill pitch for pitch," Green said. "Instead of getting the ball down in the zone, playing for the ground ball and the double play, you start trying to pitch for the punchout. … When you're trying to pitch for a punchout, sometimes you end up with a three-run homer."
Chalk it up as another Major League learning experience for Perdomo, who -- if not for his Rule 5 status -- would've most likely started the season at Double-A.
Instead, Perdomo has developed a big league identity, as a quick worker who lives down in the zone. He's even begun to use his curveball as a weapon -- as evidenced by Grandal's first at-bat, in which he struck out on three straight hooks.
Despite Saturday's bump in the road, the Padres remain extremely bullish on Perdomo -- who they view as a rotation fixture for years to come.
"He had a couple bad pitches there, but I thought he threw the ball really well," said first baseman Wil Myers. "... What I saw today, playing behind him, that's a guy you want to play behind. He gets a lot of first-pitch outs, a lot of first-pitch results, and he's fun to play behind."
AJ Cassavell covers the Padres for MLB.com. Follow him on Twitter @ajcassavell. This story was not subject to the approval of Major League Baseball or its clubs.