Girardi, Yanks acknowledge sense of urgency
With club 4 1/2 back in WC, manager emphasizes importance of Sunday's finale
BALTIMORE -- Back-to-back silent nights in the Inner Harbor have manager Joe Girardi sounding the alarm on his team's sputtering pursuit of a postseason berth.
"Tomorrow's game is probably the most important game of the year," Girardi said after the Yankees' 2-0 loss to the Orioles on Saturday, dropping New York 4 1/2 games back of the second American League Wild Card spot.
The bats were absent for another solid pitching performance from left-hander CC Sabathia, as the Yankees were blanked for the second consecutive evening, limited to just four hits by Kevin Gausman and three relievers.
Sabathia wouldn't go so far as to classify Sunday's game as do-or-die, but he agreed that a loss would pin the Yankees (69-65) in a tough spot.
"We have a lot left, but I think every one for us right now is important," Sabathia said. "Hopefully we can come out, play well and get a victory."
Sabathia said that he didn't have a lot to offer on Saturday, but the veteran provided a gritty effort, limiting the O's to two runs (one earned) and six hits over six innings.
"I didn't have much. Just trying to make pitches when I had to, and was able to do that for the most part," Sabathia said. "It was a struggle today."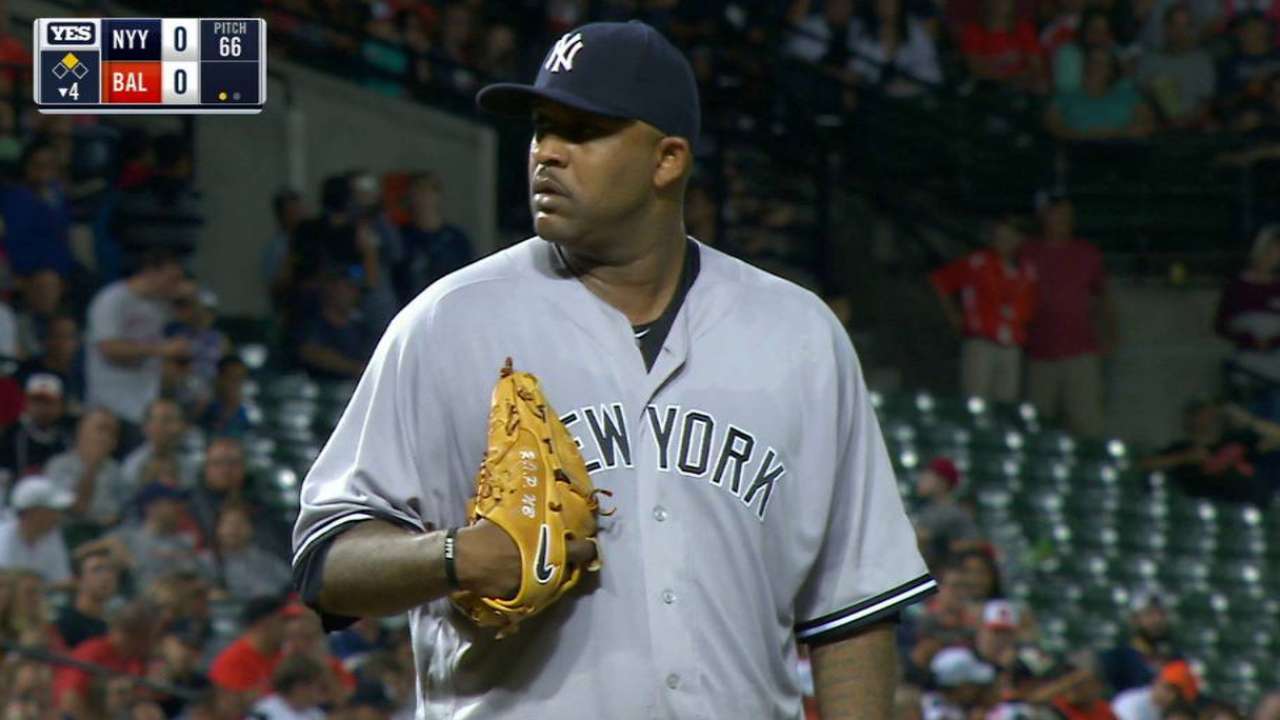 Aaron Judge's fourth-inning error and Adam Jones' fifth-inning solo homer held up as the difference as the Yankees provided Sabathia with zero run support for the second consecutive start. New York was shut out for the ninth time this year.
"He probably should have just given up the one run, the home run to Jones," Girardi said. "Again, he pitched well enough to win. We just didn't score."
Judge's miscue came as Chris Davis' one-out single clanged off his glove in right field. Baltimore third-base coach Bobby Dickerson held Mark Trumbo at third base, then frantically windmilled him home with the Orioles' first run.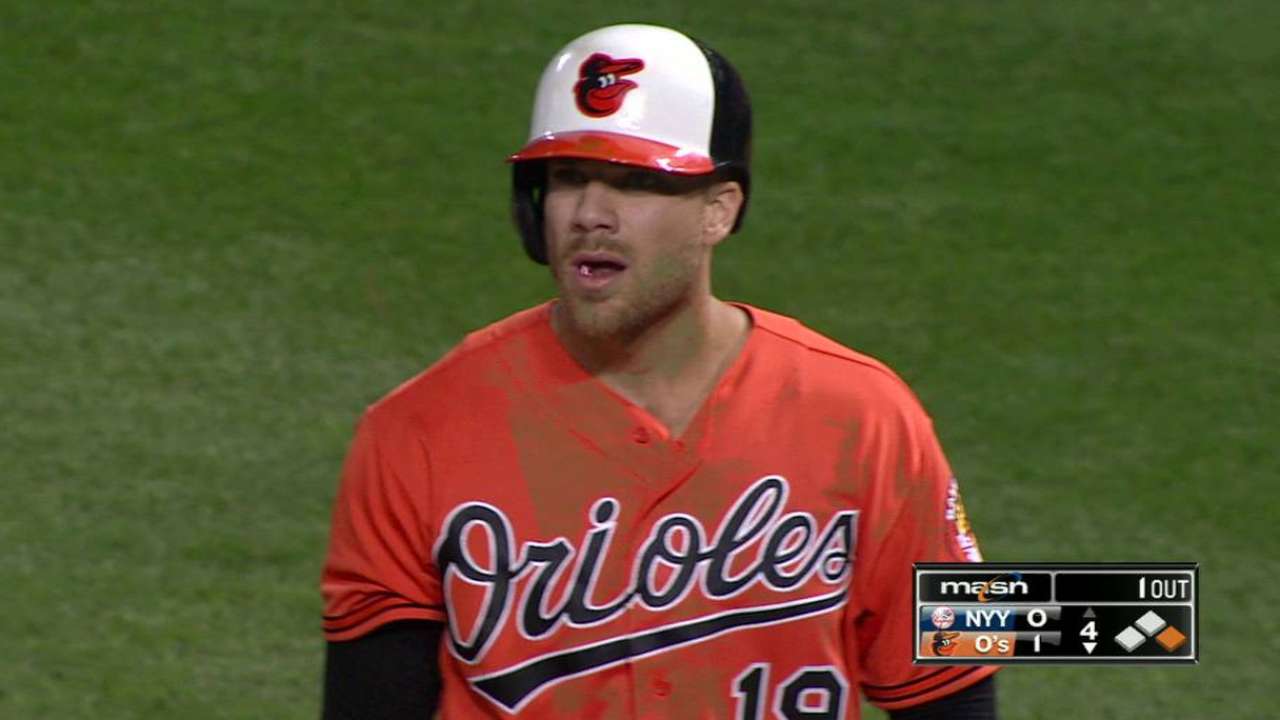 Judge said that he took his eye off the ball for a moment, and Girardi excused it as a physical error, but the rookie's whiffs at the plate may require more attention. Judge is 5-for-48 (.104) with 28 strikeouts over his last 15 games, but he said that those numbers haven't affected his mental state.
"That's part of the game," Judge said. "You try to go up and have quality at-bats. He's making good pitches, so you've got to go out there and battle."
If Judge continues to struggle, Aaron Hicks' potential season-ending left hamstring injury may be more costly than anticipated. Girardi said that he has given no thought to benching Judge, who has played regularly since being called up on Aug. 13.
"We have to get this kid going," Girardi said.
Girardi's mood has shifted markedly since arriving in town fresh off a series victory in Kansas City, vaulting past one of the teams they were chasing in the Wild Card push. On Friday afternoon, Girardi even permitted himself to fantasize what a sweep of the O's might do for their place in the standings.
Instead, the Yankees will hand the ball to enigmatic right-hander Michael Pineda on Sunday afternoon, crossing their fingers for different results than his recent history shows.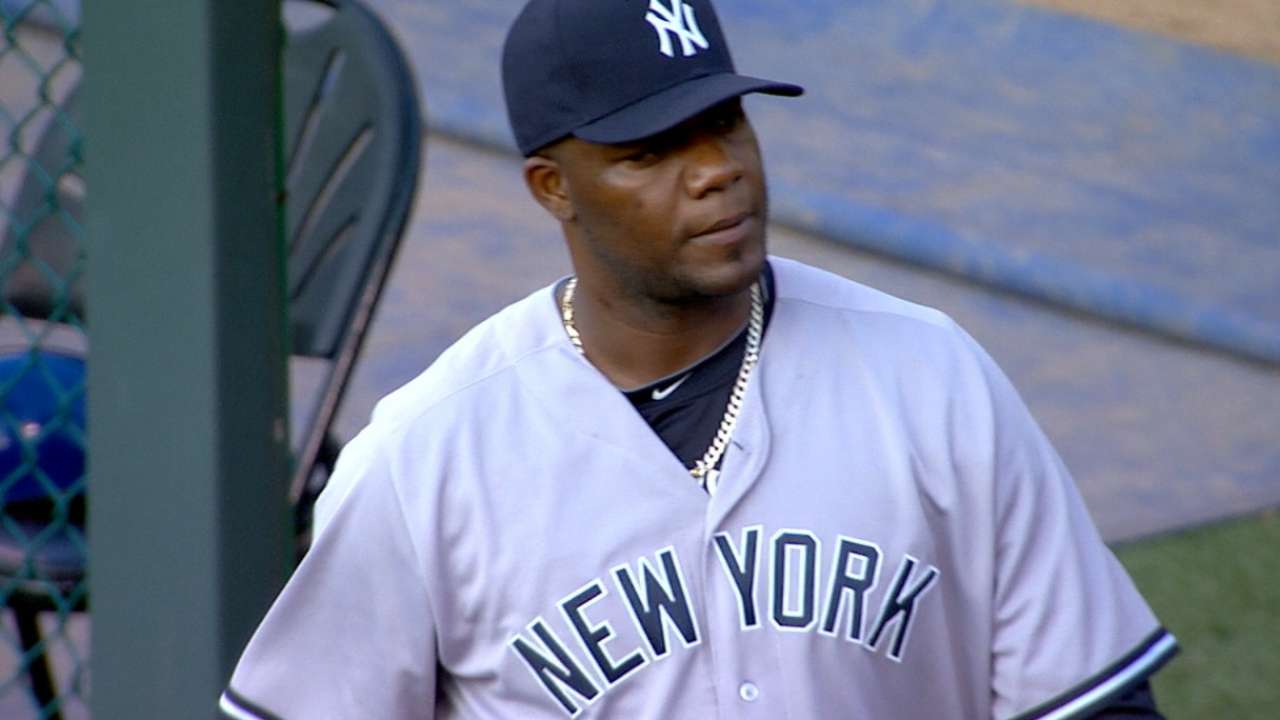 The Yanks shuffled their rotation last week in New York so that Pineda would not have to face the home run-hitting Orioles, who hit right-handed pitching better than lefties.
They do not have the luxury of doing so this turn, and as their hitters attempt to avoid a fourth consecutive shutout at the hands of O's pitching, they might be asking Pineda to deliver the gem that saves their season.
"If you're inconsistent against this team, we know what happens," Girardi said. "He's got to be on his game."
Bryan Hoch has covered the Yankees for MLB.com since 2007. Follow him on Twitter @bryanhoch, on Facebook and read his MLBlog, Bombers Beat. This story was not subject to the approval of Major League Baseball or its clubs.