Snell finds top form with simplified approach
Rookie left-hander retires final 10 batters in six-inning outing vs. Jays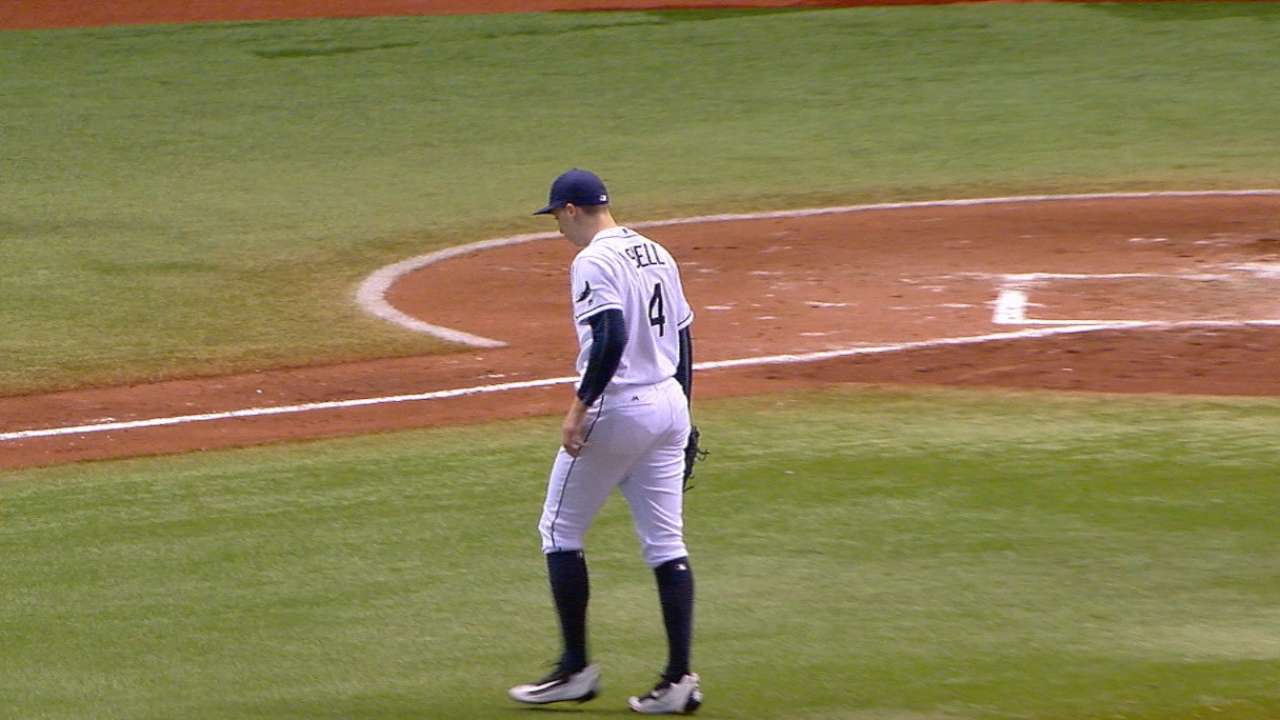 ST. PETERSBURG -- The third inning for Blake Snell was beginning to mirror the type of inning that had defined each of his starts over the past month.
Snell made 20 pitches to four batters to turn a game he was cruising in to one with another elevated pitch count. After not lasting six innings in any start since July 24, Snell retired the last 10 batters he faced and reached the elusive six-inning mark in a 7-5 Rays win over the first-place Blue Jays on Saturday at Tropicana Field.
"I feel like I just got better and better throughout the game," Snell said. "I was happy about the way that I was attacking the zone. I felt more aggressive."
Snell allowed one run over six, striking out seven, walking two and allowing two hits -- both in that third inning. He commanded his changeup really well, and found ways to put hitters away even when he got into deep counts.
Rays manager Kevin Cash called it a "drastic improvement" compared to his last outing against the Blue Jays on Aug. 10, when he lasted just 1 2/3 innings after allowing five runs.
On Saturday, Snell was the first lefty starter to hold Toronto without an extra-base hit since May 26.
"The approach I think he simplified a little bit with the fastball-changeup combination," Cash said. "First time through the lineup, he realized those were his two pitches. He really had the changeup working."
Despite his recent struggles, Snell has a 9.56 K/9 IP ratio, which is the best among American League rookies. The problem hasn't been throwing strikes as much as it's been limiting his pitch count.
He didn't allow any home runs to the team that is second in the Majors with 196 homers -- lowering his 0.48 HR/9 IP ratio in the process. But the really telling number with Snell was the 40 pitches that he threw to get through the last three innings. That's in comparison to 64 pitches he needed for the first three innings.
When Snell is at his best, he's pitching efficiently. And it's been a while since he put a stretch like that together.
"I saw [Toronto starter Marco] Estrada just attacking the zone, I felt like he was under 10 pitches for each of the first four innings, or something like that," Snell said. "So it kind of made me want to go out there and do the same thing. It was just good attacking ... but with meaning."
Sam Blum is a reporter for MLB.com based in St. Petersburg. This story was not subject to the approval of Major League Baseball or its clubs.