Estrada's strong start unravels in sixth
Righty cruises through first five before allowing five-run inning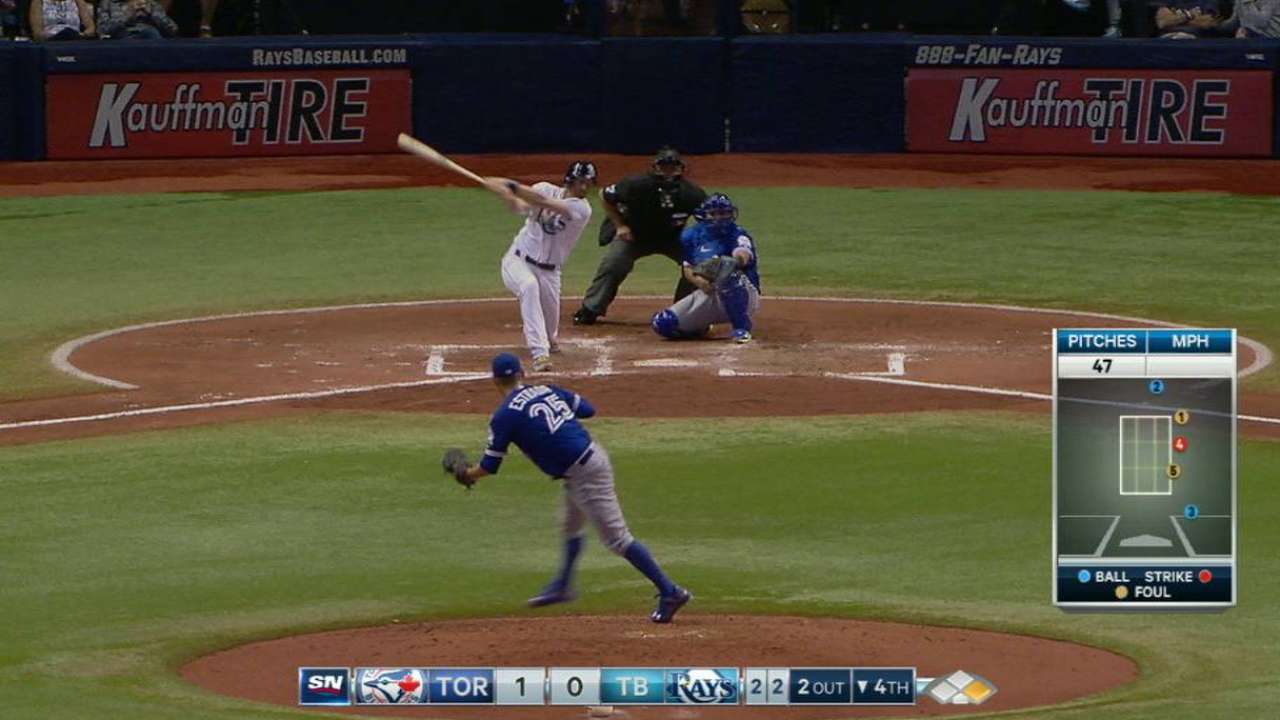 ST. PETERSBURG -- Marco Estrada came within five outs of a perfect game when he faced the Rays at Tropicana Field last summer. There was a long stretch during Saturday night's matchup when it looked like history might be repeating itself, but then his outing came unglued in lightning-quick fashion.
Estrada faced two batters over the minimum through five innings against Tampa Bay, but when he came back out for the sixth, the veteran righty was not able to retire a single batter he faced. Four singles, a walk and a double later found the Blue Jays trailing by four and well on their way to a 7-5 loss.
The reversal in fortunes came like a runaway train. One minute he was cruising with relative ease, and the next Estrada was making the lonely walk off the field as the Blue Jays' prolonged struggles against a last-place Rays squad continued.
"It was the best I've felt," Estrada said of his first five innings. "I was locating pretty well, all of my pitches and then that last inning just, I don't know, a little bloop hit here and I couldn't make the play on a bunt. Next thing you know, it's 5-1. I'm not really sure what happened, it just kind of got out of hand."
Estrada opened the sixth inning by allowing four consecutive singles, but in a cruel twist of fate, none of the balls were particularly well hit. There was a bloop single to right, a bunt single and a seeing-eye single through the left side of the infield.
The lone well-struck ball came off the bat of the final hitter Estrada would face. Rays shortstop Matt Duffy hit a bases-loaded double off the top of the wall in left, as three runs came around to score and Estrada was saddled with his seventh loss.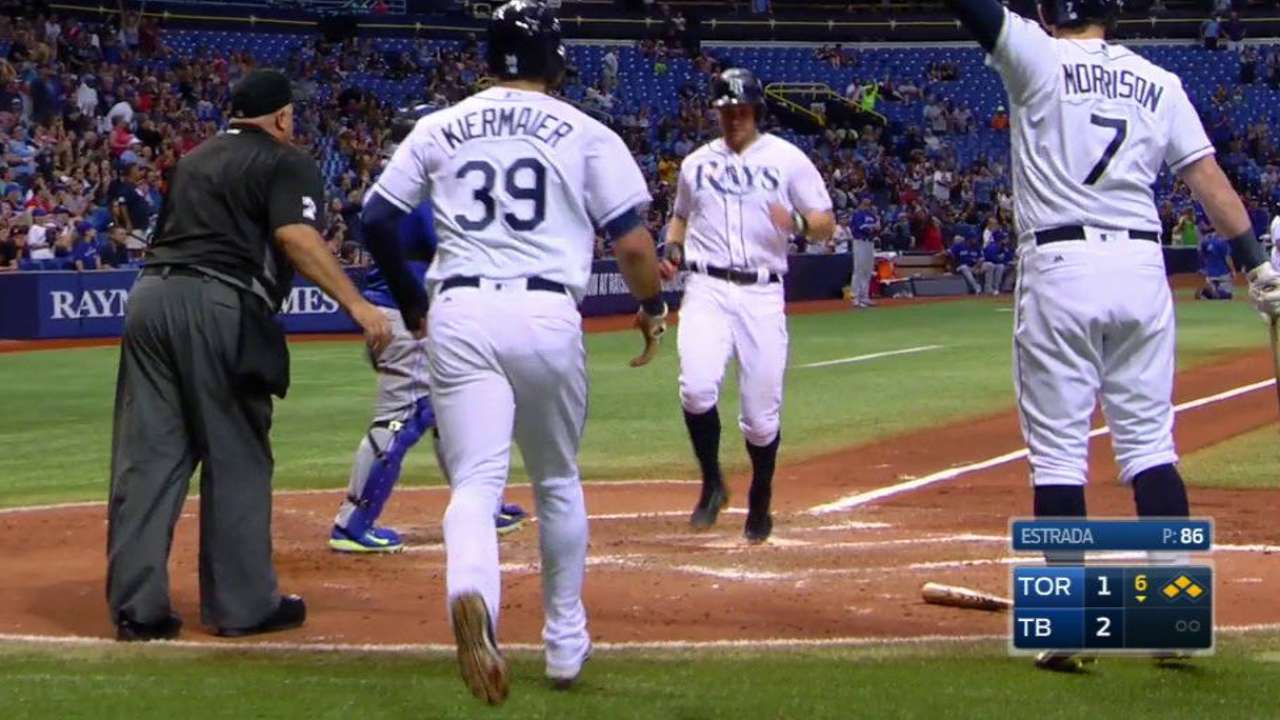 The only real regret Estrada has came during the third at-bat of the inning. With runners on first and second, Kevin Kiermaier placed a bunt down the third-base line. Estrada fielded the ball cleanly and had a play at first, but his throw pulled the covering Devon Travis off the bag. That loaded the bases with nobody out and set the stage for the five-run frame.
"You can't make a play like that, it's obviously going to affect you," Estrada said. "It's tough, especially when they have their best hitters [Evan Longoria and Brad Miller] coming up. That's what happened. I tried making the play, just yanked it a little bit and obviously it threw Travis off the base. It was tough. These things happen but I felt pretty good today. It was just one really bad inning."
Estrada entered that sixth with no margin for error as Toronto's offensive struggles continued for the second consecutive day. The Blue Jays did end up scoring five runs, but four of those came in the ninth when the game was all but officially decided.
That won't excuse the sixth, but considering the nature of how the inning unfolded, it's not something Estrada plans to dwell on for very long and the Blue Jays don't intend to either.
"Usually he's a master of that, getting out of jams and things like that," Blue Jays manager John Gibbons said. "Not getting out of the bunt definitely hurts. But the way Kiermaier runs he put it in a perfect spot for him. Bounce back tomorrow, big game for us tomorrow."
Gregor Chisholm has covered the Blue Jays for MLB.com since 2011. Follow him on Twitter @gregorMLB and Facebook, and listen to his podcast. This story was not subject to the approval of Major League Baseball or its clubs.