Byron looking like 100 Bux-ton since recall
Rookie outfielder homers, hits 2 doubles and makes great catch Saturday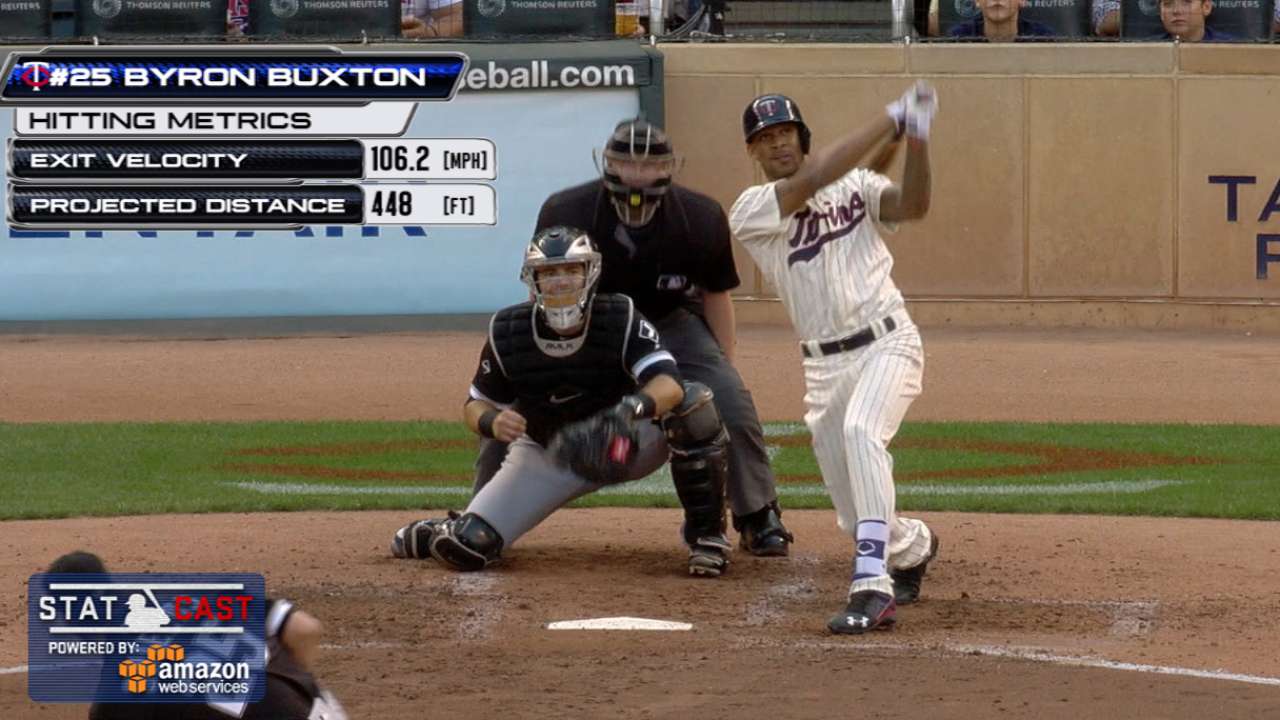 MINNEAPOLIS -- It's looked like a completely different Byron Buxton that has been stepping into the Target Field batter's box since his recall from Triple-A Rochester on Thursday. He swung a hot bat again on Saturday night, going 3-for-4 with two doubles and a two-run homer to help the Twins to an 11-3 victory over the White Sox at Target Field.
Buxton has hit two homers in three games since his return to the Major Leagues after hitting just one in his first 63 games with the club this season. More importantly, he hasn't struck out in those three games, which was his biggest problem in the parts of two seasons he had previously played with the Twins.
Of course, Buxton also started out hot in the first six games following his earlier recall on May 31 before cooling down significantly, and manager Paul Molitor is keeping things in perspective while still recognizing the positive strides Buxton seems to have made in his latest stint in the Minor Leagues.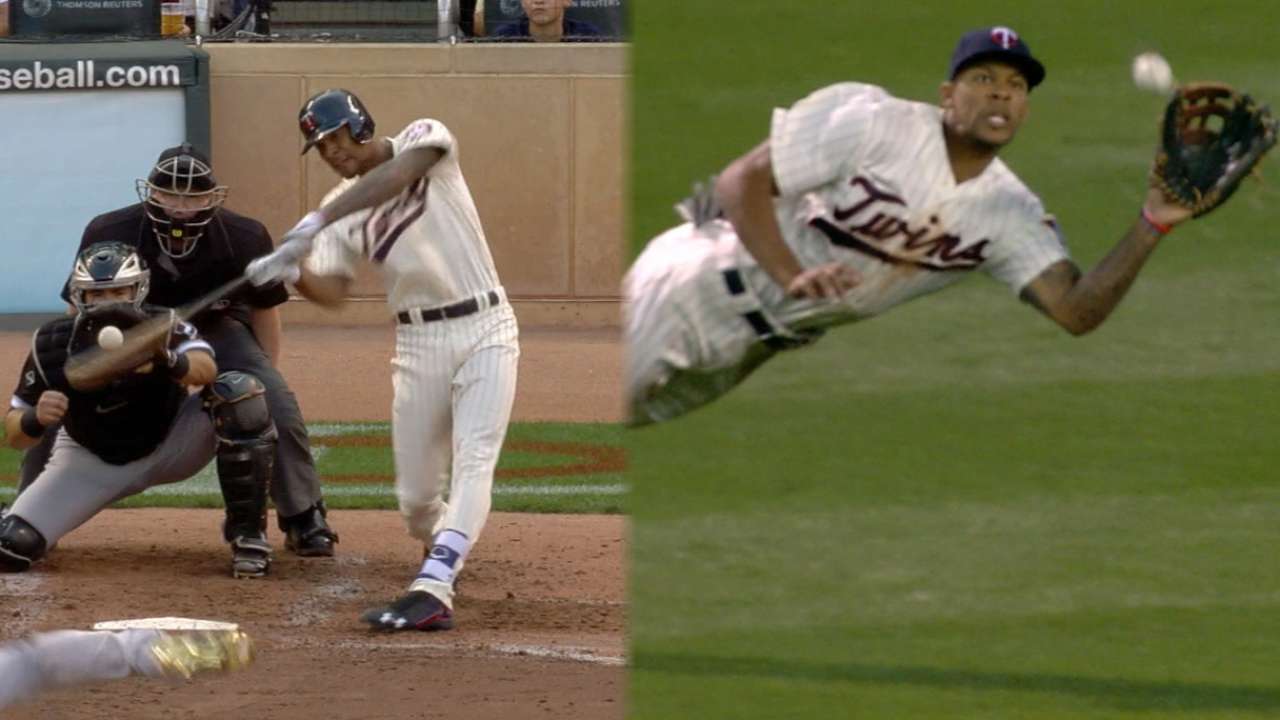 "It's just something that's a handful of at-bats, you've got to be careful to not get too far ahead," Molitor said. "But he's doing well. It's been a nice start for him. I don't even think he's had a strikeout up here in the first few games, so that's a good sign. He's putting it in play, he's giving himself a chance. He can do a lot of things when the ball's in play, so that's been good."
Buxton was particularly impressive on Saturday, showcasing the well-rounded potential that the Twins hope will be a frequent sight in the years to come. In his first at-bat, he hit a towering two-run homer of James Shields into the upper deck in left-center field that traveled an estimated 448 feet, per Statcast™, and left his bat at 106 mph.
He added a double and a run as part of Minnesota's eight-run rally in the third inning and showed off his speed in the seventh by easily taking second on a weak line drive into left for his second double of the game. Four of his six hits since his recall have gone for extra bases.
He also showcased his range in center field with his second tremendous catch in as many days in the fourth inning. He sprinted into the right-center field gap on a hard line drive by Avisail Garcia and snagged the ball on a dive to record the out.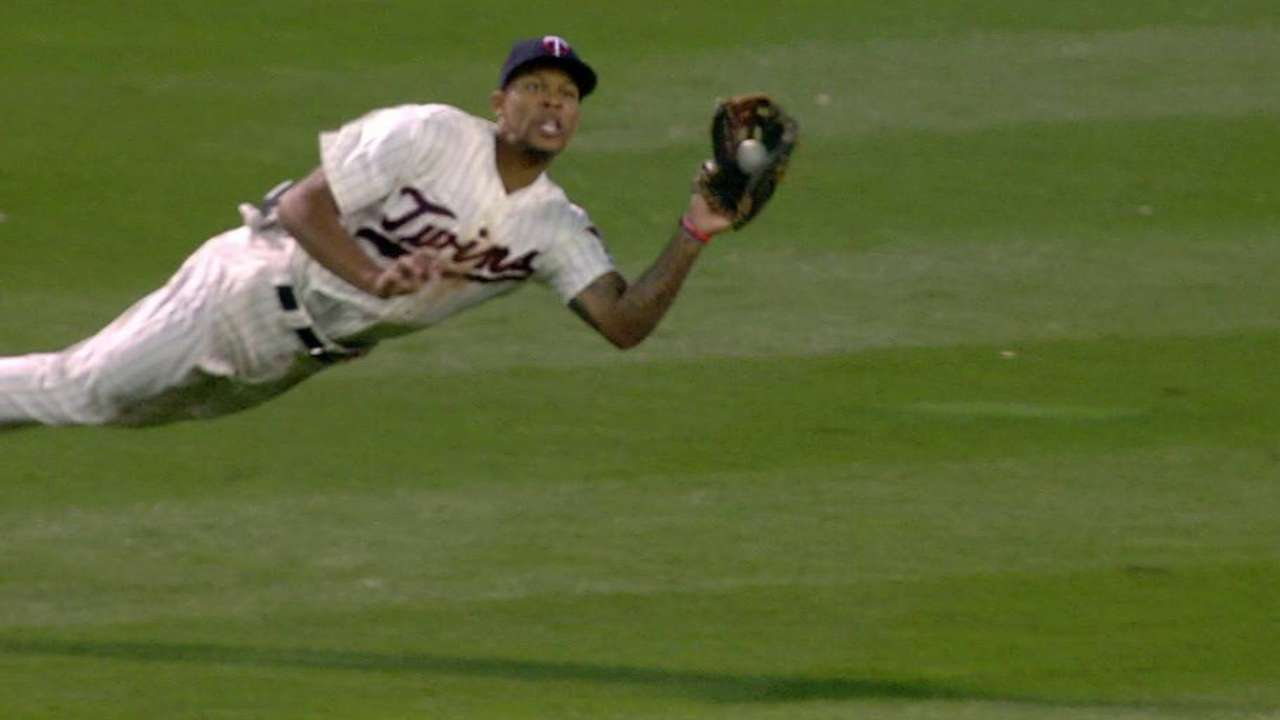 Buxton said that he had been working hard on refining his swing when he was with Rochester, and Molitor noted that Buxton's swing has been quicker and that he also seems to have improved his ability to recognize and react to pitches since his last stint in the Major Leagues.
"You watch how a guy's hands are working, you're watching how he's taking pitches," Molitor said. "There seems to be a little bit better balance."
Do-Hyoung Park is a reporter for MLB.com based in Minneapolis. This story was not subject to the approval of Major League Baseball or its clubs.