Kela's toughness impresses, bails out Rangers
Before game turned into rout, reliever saved runs with bare hand, turned two on next play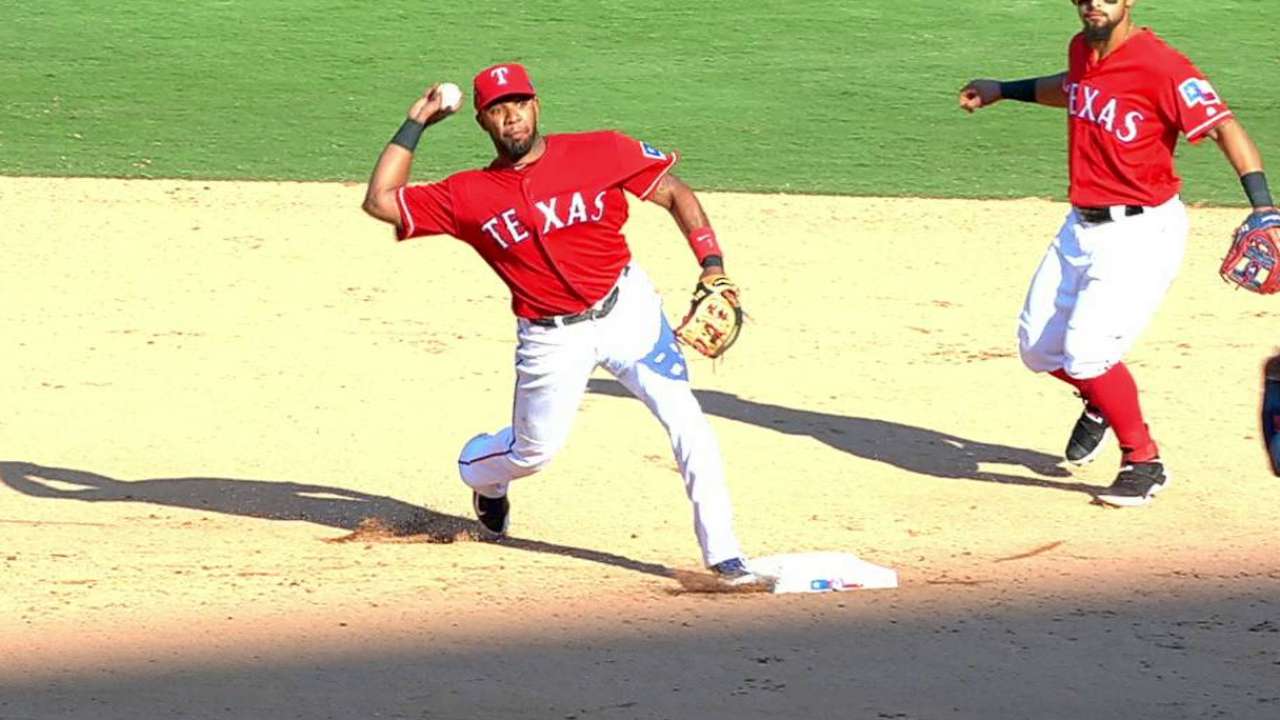 ARLINGTON -- The Rangers blew out the Astros with a 12-4 victory on Saturday afternoon at Globe Life Park. But this one was still in doubt as late as the seventh inning, and the Rangers' afternoon might have turned out much different if not for the toughness reliever Keone Kela showed during the Astros' last best threat.
Kela's ability to shake off a stinging right hand, get out of a bases-loaded jam with a double-play ball and hold a three-run lead was the pivotal moment in the Rangers' seventh straight win.
"He's a tough kid, but we've always known that," said shortstop Elvis Andrus, who turned the double play.
"We had the one big inning where we had bases loaded and one out," Astros manager A.J. Hinch said, acknowledging the significance of the play. "They get the big double play and then come back and punch us in the mouth with a couple runs."
Kela, taking over for starter Derek Holland, entered the game in the seventh with the Rangers holding a 5-2 lead. He retired Jake Marisnick on a flyout to right, but walked George Springer and gave up a double to Alex Bregman off the center-field wall. With runners at second and third, manager Jeff Banister went to the mound.
"He didn't seem to trust his stuff," Banister said. "I told him to get back in there and fight."
Kela did exactly that, as he faced off against Jose Altuve, the leading hitter in the Major Leagues.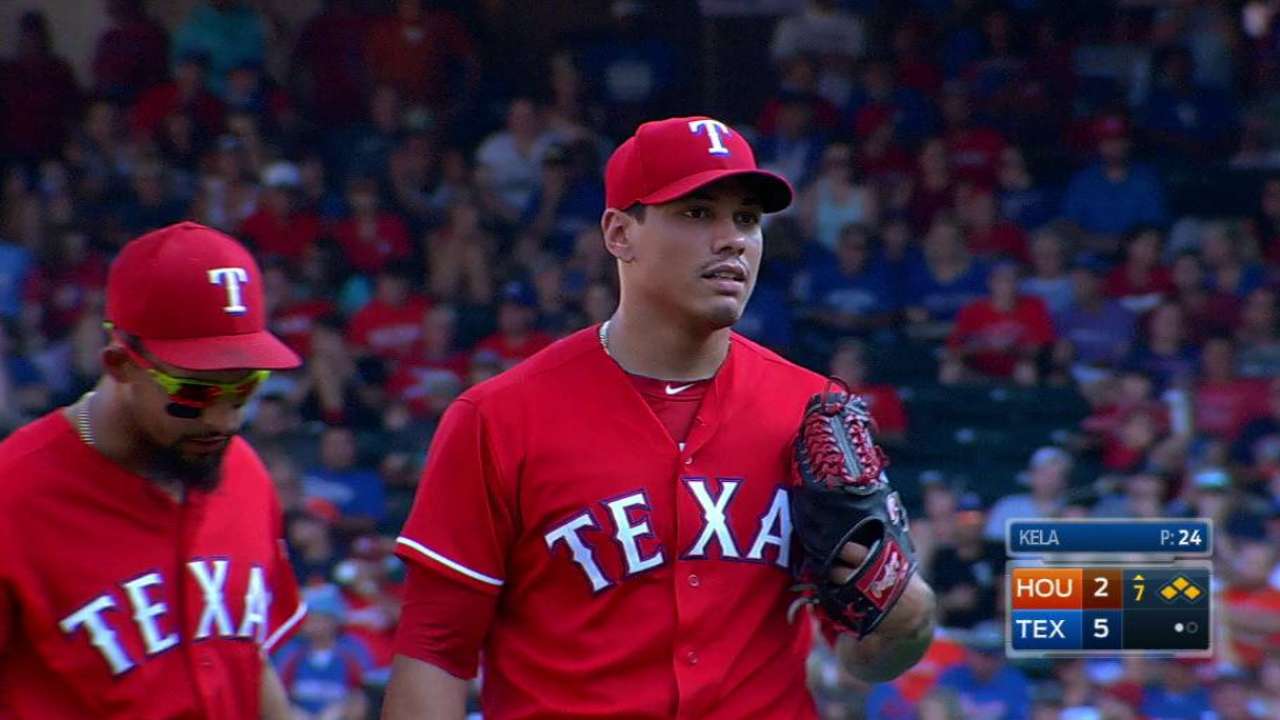 Kela went after Altuve, who lined a 2-2 fastball back to the mound that was bound for center field and a two-run single. But Kela reached up with his bare right hand, knocked the ball up in the air and almost made a terrific juggling catch. He finally dropped the ball, leaving the bases loaded as the runners froze on the play.
"My initial reaction was similar to every time I see a pitcher put his hand up like that," Banister said. "I want to have a strong conversation with him. It's not something I want our guys to do. I'm glad nothing was broken."
Banister and others rushed to the mound to make sure Kela was all right. He was.
"He looked me in the eye and told me he could go," Banister said. "He threw two pitches and said he could go. Tough kid."
Kela was also fortunate.
"He didn't really hit it hard," catcher Robinson Chirinos said. "It seemed to come off hard, but he didn't hit it hard. It was a good pitch down and in."
Kela was still in a jam with Carlos Correa at the plate. Kela got ahead 1-2 in the count and Correa fouled off two pitches. Kela then threw one more fastball and Correa hit a double-play grounder right at Andrus to end the inning.
"That was tremendous," Andrus said. "That's when he's at his best, when he is aggressive with his fastball. I don't think he knows how nasty he is with his fastball. I love it when he brings that attitude."
The toughness was also evident.
T.R. Sullivan has covered the Rangers since 1989, and for MLB.com since 2006. Follow him on Twitter @Sullivan_Ranger and listen to his podcast. This story was not subject to the approval of Major League Baseball or its clubs.