De Leon to fulfill dream of Scully calling debut
Dodgers' No. 2 prospect to make start Sunday vs. Padres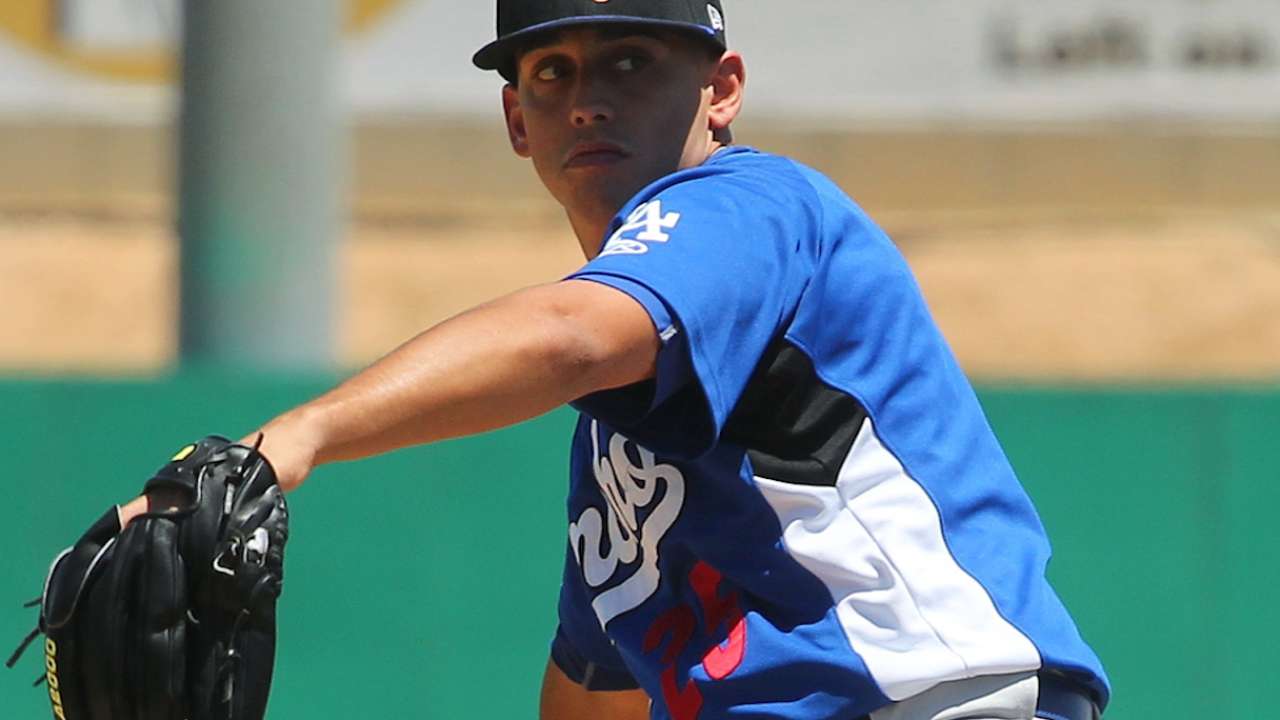 LOS ANGELES -- Jose De Leon makes his Dodgers debut Sunday, fulfilling not only his dream of being a big leaguer, but being one this year in particular.
"The best thing I was thinking about, I needed to be here this year because I wanted Vin Scully to call my games," said De Leon, ranked as the organization's No. 2 prospect by MLBPipeline.com. "To be honest, I'm still in shock, it still hasn't hit me."
De Leon was 7-1 with a 2.61 ERA and 111 strikeouts in 86 1/3 innings at Triple-A. De Leon's parents will fly in to see his debut.
"[Oklahoma City manager] Bill Haselman called me [Friday] as I was coming out of the movies, which I do on days I pitch, and said he's got good news, I'm going to the big leagues. My parents are crying, jumping all over the place."
Despite De Leon's dominating second half at OKC, and the onslaught of injuries in Los Angeles and the presence of fellow rookies Ross Stripling, Julio Urias, Brock Stewart, the Dodgers front office was determined not to bring him up until September.
"If I tell you I was not thinking about it, I'd be lying, because it's been in my head since I was a kid," De Leon said. "But you've got to control what you can control and I knew the moment would come, eventually. I was just having fun down there, the same thing I'll try to do up there. I know it will be really emotional tomorrow, I know that, but I'll just keep focused and enjoy the ride."
• It was originally announced the left-handed reliever Luis Avilan, who was the 26th man for the nightcap of Wednesday's double-header in Denver, would be in the first wave of September callups. But because Avilan was optioned to Triple-A Aug. 25, he's not eligible to return until Sunday.
• Scott Van Slyke said doctors repaired two ligament tears and removed scar tissue in his right wrist Thursday. The wrist will be immobilized for two weeks, but he expects to be fully healed by Spring Training.
• Manager Dave Roberts said the probable starting pitchers are uncertain beyond Kenta Maeda on Monday, but Stripling threw a bullpen session Saturday, lining him up for a Tuesday start.
• Roberts said Urias, whose fingers were nicked by a pitch while attempted to bunt Friday night, was fine on Saturday.
• Brandon McCarthy, on the disabled list since Aug. 14, will make a rehab start at Rancho Cucamonga on Monday.
Ken Gurnick has covered the Dodgers since 1989, and for MLB.com since 2001. This story was not subject to the approval of Major League Baseball or its clubs.