Rockies welcome 96-year-old fan to Coors
Ballclub offers VIP treatment to Overton and family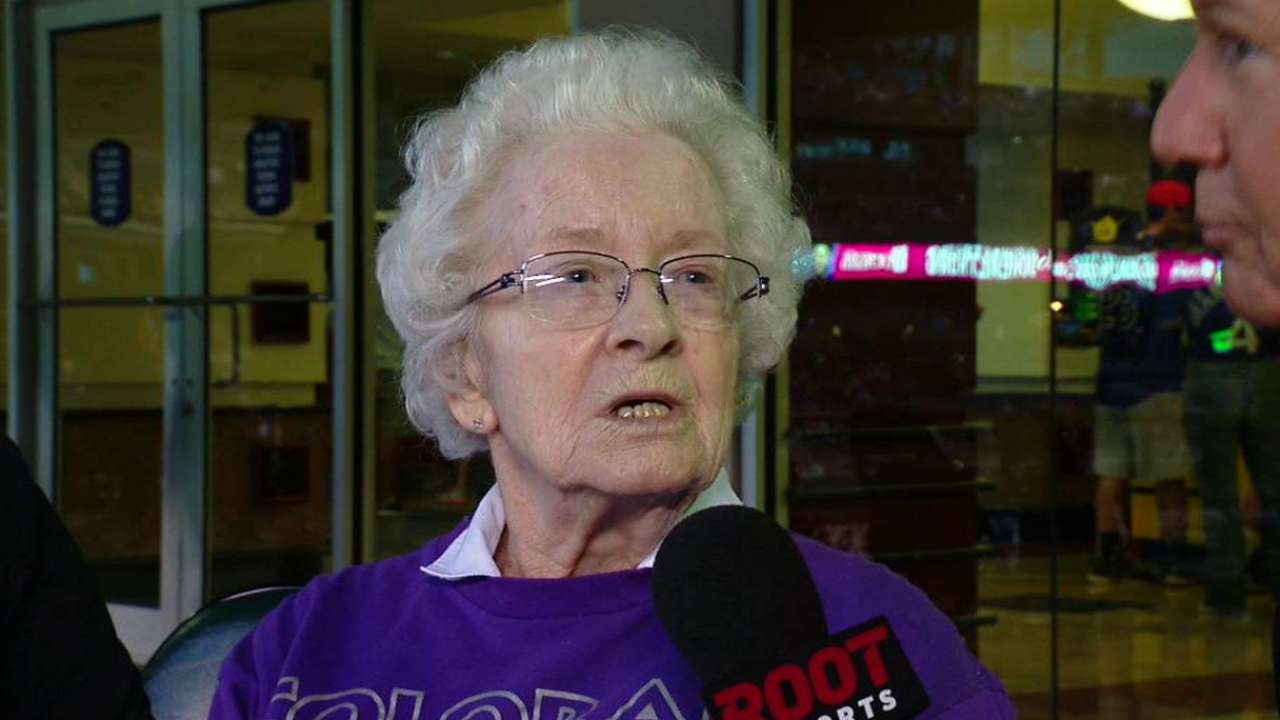 DENVER -- The Rockies earned a visit from one of their oldest fans Saturday, as 96-year-old Florence Overton returned to see the Rockies for the first time since she and her husband visited Mile High Stadium during the team's opening season in 1993.
Overton grew up playing softball and has remained a sports fan throughout her life, whether it has been watching the Minor League Denver Bears, University of Colorado football, or the Rockies, which remain her favorite.
"I watch them every night," Overton said. "They have their good moments, and there are times when I'd like to shake them. But I really enjoy them."
Overton got to watch batting practice from the field and meet various members of the Rockies, including manager Walt Weiss and catcher Tony Wolters. Her smile was ever-present throughout the afternoon as she was blown away with everything she got to do.
"I wasn't expecting this," she said. "I was just hoping to be coming down to see a ballgame. Then all of this [happened]. ... It's been wonderful but shocking."
Overton played softball with the Denver Bankerettes during the early 1940s in the Great Western Softball League. She started playing with her coworkers at the Remington Arms factory and was eventually recruited to play for a traveling team that went as far as Phoenix and Fresno, Calif.
"People would come out to watch our games, and that was it because there weren't any more young men around. They were all at war," Overton said. "Saturday night and Sunday, that was all there was to go out and see."
Florence Overton is spending her 96th birthday at #CoorsField!

She played for the Denver Bankerettes in the '40s. pic.twitter.com/A7XVoaSmAK

— Colorado Rockies (@Rockies) September 4, 2016
Overton was joined by several members of her family at the game for her memorable outing. With all the excitement, she said she won't be able to go to sleep for a long time tonight.
"I'm just hoping for a good game," Overton said. "And a Rockies win. That's all."
Rockies beat
Hoffman pushed back: Rookie right-hander Jeff Hoffman had his start pushed back to Thursday because of cuts on his right thumb, which is something he's dealt with since college. He will be pitching on a week's rest, with left-hander Jorge De La Rosa pitching twice between Hoffman's starts.
"Sometimes I cut myself with my own fingernail," Hoffman said. "It's not a blister or anything. I would be good to go on my normal rest, but they decided to go with something else, so I'll go for it. I tuck this part of my thumb on the seam, so the seam constantly is shaving. That's something that I've had no issue with in my career."
Bettis, Gray swapped: Right-handers Chad Bettis and Jon Gray were flipped in the rotation, with Gray getting the nod on Sunday and Bettis set to throw Monday. Weiss didn't want Bettis to face the D-backs for a fifth time this season, instead opting to go with Gray, who hasn't faced them this year, on five days' rest.
Ben Weinrib is a reporter for MLB.com based in Denver. This story was not subject to the approval of Major League Baseball or its clubs.