K-Rod blows save, regroups, closes out win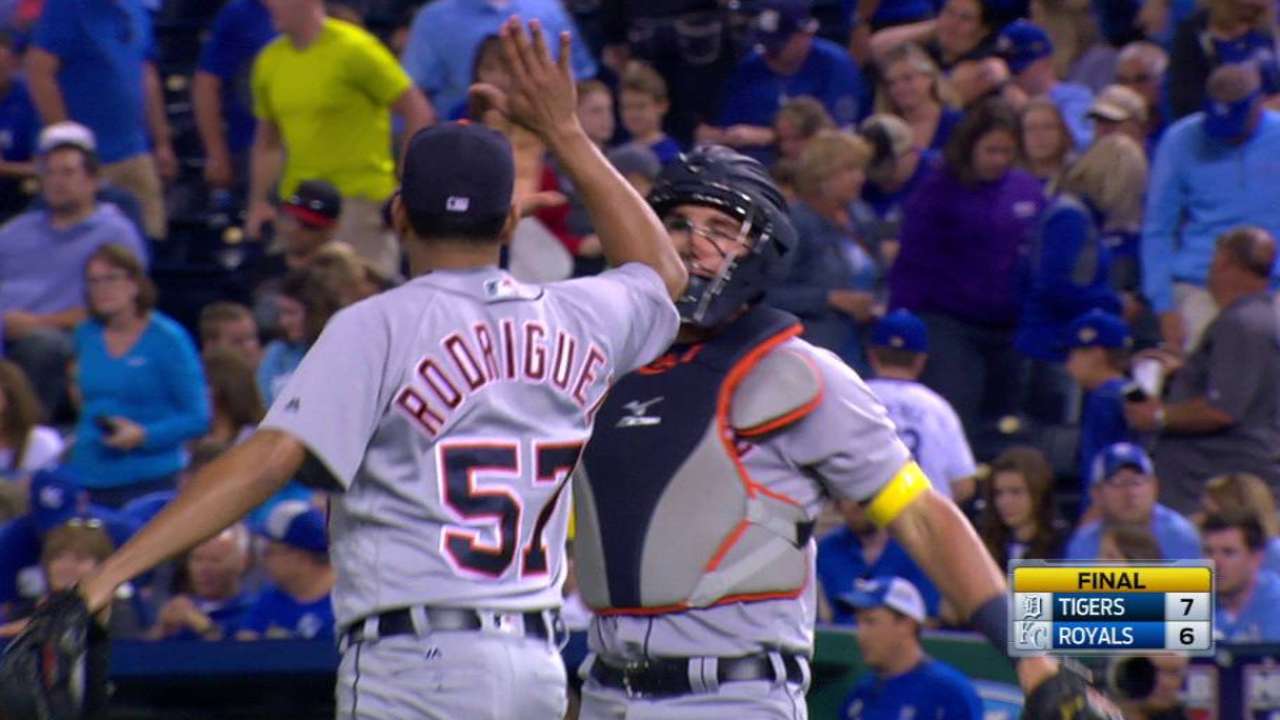 KANSAS CITY -- Tigers closer Francisco Rodriguez said a week ago that he treats four-out saves like two different appearances -- one for the bottom for the eighth, then the ninth inning like a standard appearance. Never did that philosophy help out more than Friday's 7-6 win over the Royals.
When Paulo Orlando hit his second pitch of the night for a go-ahead two-run single, Rodriguez was beside himself for pitch selection and execution. He was still dwelling on it in the dugout, he admitted, when the Tigers pulled back in front within three batters and seven pitches in the ninth.
He was going to pitch the bottom of the ninth inning as long as there was one, with the Tigers leading or the game tied. Once the Tigers pulled ahead, he still had a blown save, but had the chance at a four-out win.
"I was itching in the dugout," Rodriguez said. "I was asking for it, praying for it. Even if we were tied, I was going back out. The guys picked me up big time, but the ninth inning was a different mentality. … You have to hit the reset button and go out there and give everything you've got."
It was the mentality, but also the intensity.
"It was definitely different," Rodriguez said. "I'm not saying in the eighth I wasn't [fired up], but in the ninth I got a little extra going on -- pretty much all the anger, trying to make pitches early in the count and seal the deal."
He did that, retiring the middle of the Royals' lineup in order, including strikeouts of Eric Hosmer and Kendrys Morales. With that, he earned his 50th career win. It's not a category relievers totally relish, given the circumstances, but it's a testament to longevity.
That said, Rodriguez was still simmering about his eighth-inning pitch.
"I'm still thinking I should have a better pitch than that," he said.
Rodriguez will get over it. But he wants to keep the intensity.
"Every single game we're going to play out is going to be like this one," Rodriguez said. "There's going to be a lot of pressure. It's going to be a close game. At the end of the day, whoever plays the best baseball this month is going to clinch the crown."
Quick hits
• Cameron Maybin remained out of the lineup Saturday with a sprained left thumb. The center fielder said that he still feels the thumb restricting him when he swings the bat, keeping him off the field.
"I feel good," Maybin said, "but not as good as I would hope."
• Erick Aybar was a late scratch at third base with what the Tigers called left abdominal soreness, an injury he apparently suffered during Friday's win.
"He did something on a swing or running," manager Brad Ausmus said. "I actually noticed him kind of grab his side a little bit last night when he got near first base and made the turn, and he came in today and said it was a little sore."
Jason Beck has covered the Tigers for MLB.com since 2002. Read Beck's Blog, follow him on Twitter @beckjason and listen to his podcast. This story was not subject to the approval of Major League Baseball or its clubs.