Crawford's baserunning paces Giants' victory over Cubs
Second baseman also part of key double play in ninth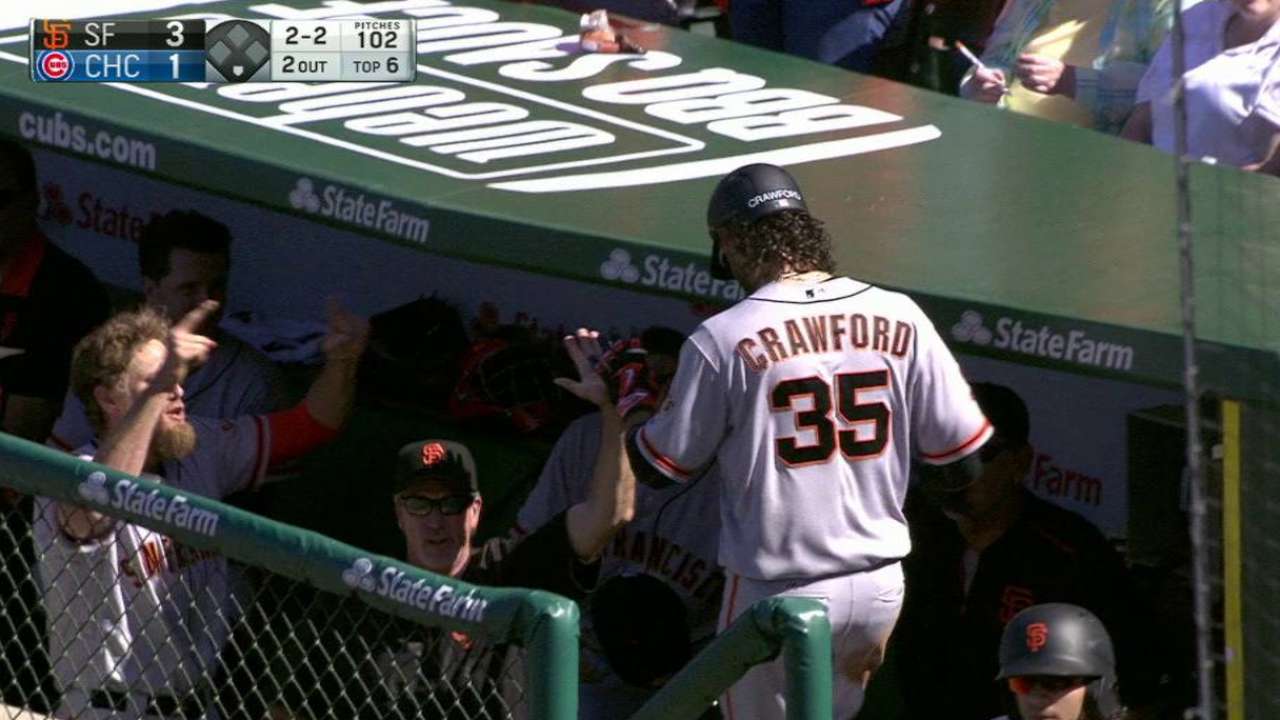 CHICAGO -- Aficionados of "small ball" would have reveled in Brandon Crawford's contributions to the Giants' 3-2 victory on Saturday over the Cubs at Wrigley Field.
San Francisco's shortstop staged a baserunning showcase in the sixth inning by stealing second and third, which put him in position to score what proved to be the standup run on Jake Arrieta's wild pitch.
Then, in the ninth, Crawford alertly covered second base on a Cubs sacrifice-bunt attempt and took Joe Panik's throw to complete a double play that stopped a Chicago rally before it started.
Later, Crawford took good-natured kidding from Panik. San Francisco's second baseman called Crawford a "modern-day Rickey Henderson" for his base-stealing exploits. Crawford, who has stolen six bases in as many tries this season, has 20 career thefts. That's 1,386 behind Henderson, the all-time stolen-base king.
Crawford's initial steal came in a mildly predictable situation. He was ordered to take off, put in motion by manager Bruce Bochy with a full count on Panik. But neither of the Cubs' middle infielders covered second, simplifying matters for Crawford.
By contrast, Crawford's dash to third base required intelligence and instinct.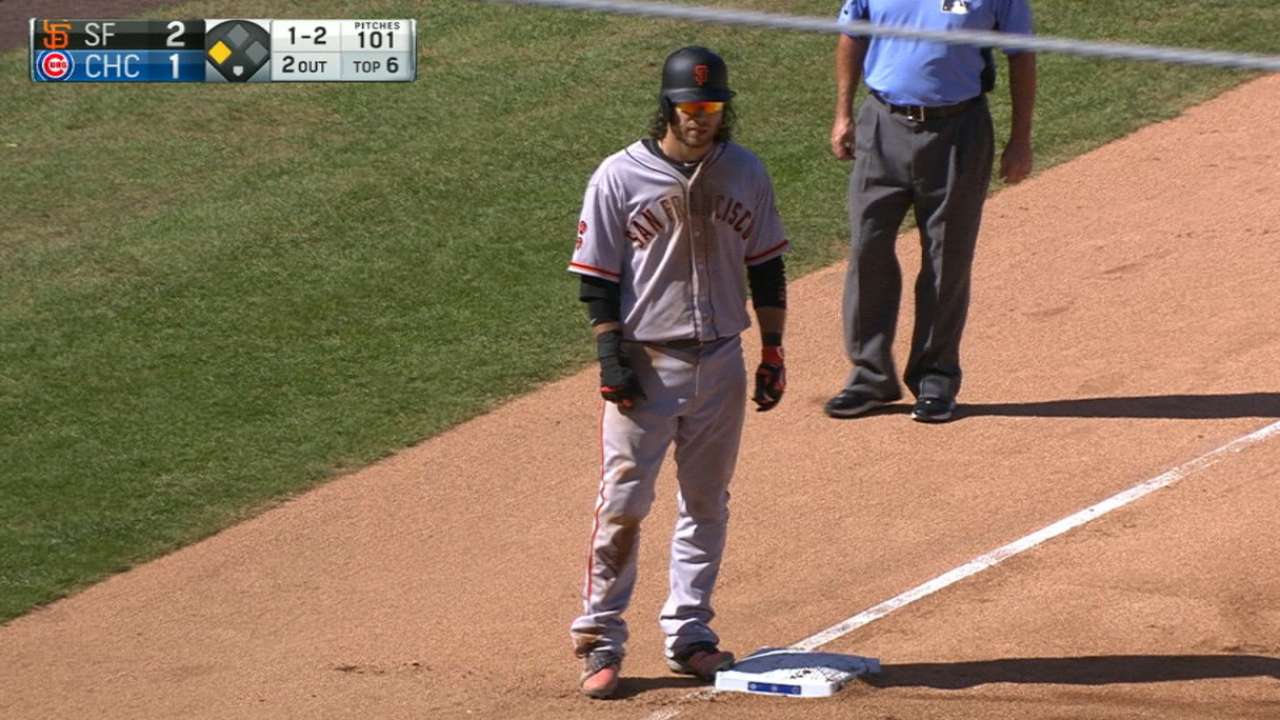 Chicago's infield was overshifted for left-handed-batting, pull-hitting Brandon Belt. "[Shortstop Addison] Russell was off the bag a ways on the second-base side," Crawford said. "[Javier] Baez was probably further off [third base] than any third baseman I've seen in a shift with a guy on second."
The Giants led, 2-1. But with the formidable Arrieta on the mound, Crawford reasoned, "We want to score any way we can." Also, Crawford noticed that Baez was standing "a little flatfooted" and Arrieta was intently staring at catcher Willson Contreras' signals. "While Arrieta was looking at the sign, I figured that was the best time to go," said Crawford, who came across on the subsequent wild pitch.
Crawford was just as alert as he took part in the ninth-inning double play. After Anthony Rizzo drew a leadoff walk from left-hander Will Smith, Dexter Fowler, facing Giants closer Santiago Casilla, laid down a sacrifice bunt that third baseman Eduardo Nunez pounced on. Predictably, Nunez threw to Panik, who covered first base, to retire Fowler. Unpredictably, Rizzo rounded second base with designs on advancing to third, since Nunez had vacated the area to field the bunt.
Catcher Buster Posey rescued the Giants by hustling to cover third. "Off the bat, it looked like the [bunt] was going to roll foul, so I kind of hesitated," Posey said. "Then, I saw the ball was fair."
"You see that play a lot -- a bunt [toward] third base and the runner's thinking third if it's open," Bochy said.
Seeing Posey ahead, Rizzo retreated toward second. But Panik and Crawford denied him his escape route.
"You always check what's going on, once you catch the ball," Panik said. "For some reason, I kind of saw Buster sprinting to third, then I turned quickly to second. I saw Rizzo take a couple of hard steps, so I started to run at him just in case he kept going. Once he stopped, that's when I threw the ball to second."
Crawford did the rest, by retiring Rizzo.
"I think I probably saw the same thing as Rizzo did," Crawford said. "I didn't see anyone at third. ... so I took a couple of steps toward there and then saw Buster running over there, so I went back to second."
As Panik said, "It was kind of heads-up all the way around."
Chris Haft has covered the Giants since 2005, and for MLB.com since 2007. Follow him on Twitter at @sfgiantsbeat and listen to his podcast. This story was not subject to the approval of Major League Baseball or its clubs.