Maddon enjoys postseason intensity of matchup with Giants
Cubs skipper applauds his club's aggressiveness despite loss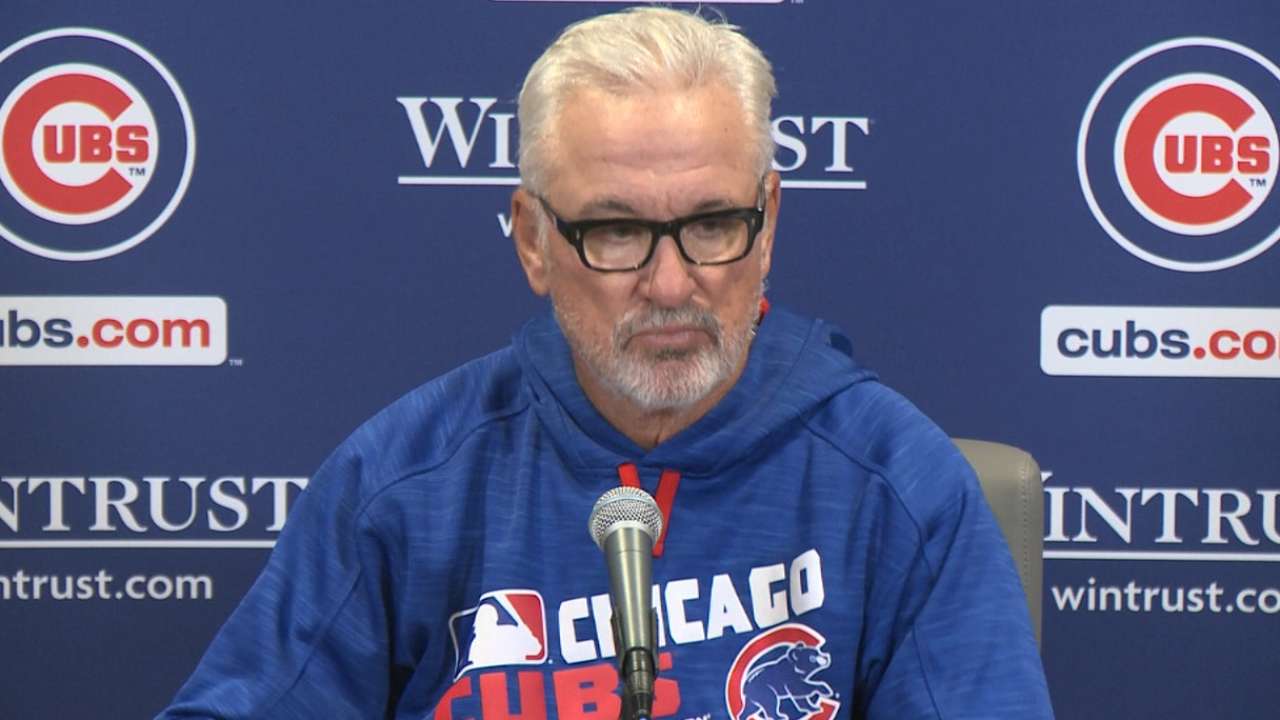 CHICAGO -- Cubs manager Joe Maddon's first reaction when Javier Baez headed home in the fifth inning, trying to score on Jake Arrieta's infield single, was "Oh no." But that changed, as Baez sped to the plate.
"You have to take the bad with the good," Maddon said. "The kid's aggressive." Baez was safe on the play, sliding head first after third baseman Eduardo Nunez overran Arrieta's hit. But that hustle wasn't enough, as the Giants edged the Cubs, 3-2, on Saturday at Wrigley Field to snap Chicago's winning streak at home at nine.
"Intense game -- it was a great game," Maddon said. "You can nitpick it all you want -- I loved that game. That's very similar to a playoff situation."
These two teams could meet again in the National League Division Series. The Cubs have a substantial lead in the NL Central, while the Giants lead the Wild Card standings.
"It could be," Arrieta said of a possible October rematch. "We're a really good team. I like us against anybody."
If you're going to nitpick, the one play Maddon wasn't happy with occurred in the Giants' sixth, when Brandon Crawford singled, stole second, then swiped third without being challenged. Baez was playing third at the time, and was positioned back because of a defensive shift.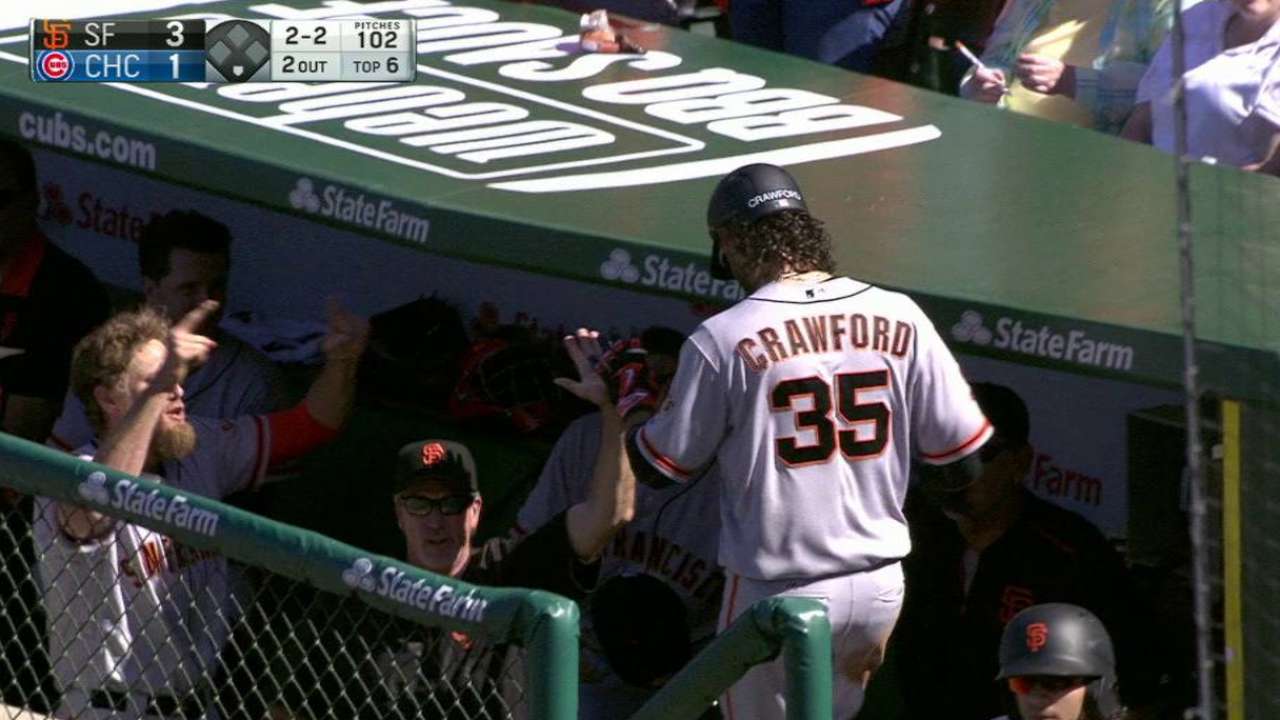 "Javy easily gets to third base," Maddon said. "We had talked about that, he was aware of that. What you do at third base, you don't get maybe as deep, you get in a little more. Even though you're off, you're in -- which permits you to get there soon enough. We just didn't react."
Baez said he was in the right position, and sensed Crawford was going to try to steal two pitches before that.
"I was there," Baez said. "I think [Arrieta] had two strikes on him and the fans were pretty loud, and Jake didn't hear me. I had him the whole time."
Anthony Rizzo walked to open the ninth, but was caught in a double play after rounding second base.
"Rizzo was trying to be aggressive there," Maddon said. "You'd rather he had not, but he did. I love the intensity and passion of the game. If we play with that kind of heart every night, I'll take it. ... Where did you not see effort? I give our guys credit."
Giants starter Madison Bumgarner held the Cubs to one hit over the first four innings, and was chased after six innings.
"I think he took advantage of our youth a little bit," Maddon said. "We got his pitch number up. Maybe the approach needs to get better against him in the future. The passion and everything else was there, and I'll take that any day of the week. Our young players are developing into better Major League players. As long as they're showing up and they're right there, I'll take it."
Carrie Muskat has covered the Cubs since 1987, and for MLB.com since 2001. She writes a blog, Muskat Ramblings. You can follow her on Twitter @CarrieMuskat and listen to her podcast. This story was not subject to the approval of Major League Baseball or its clubs.