Merrifield made most of demotion to Minors
Royals rookie spent time working on swing before September callup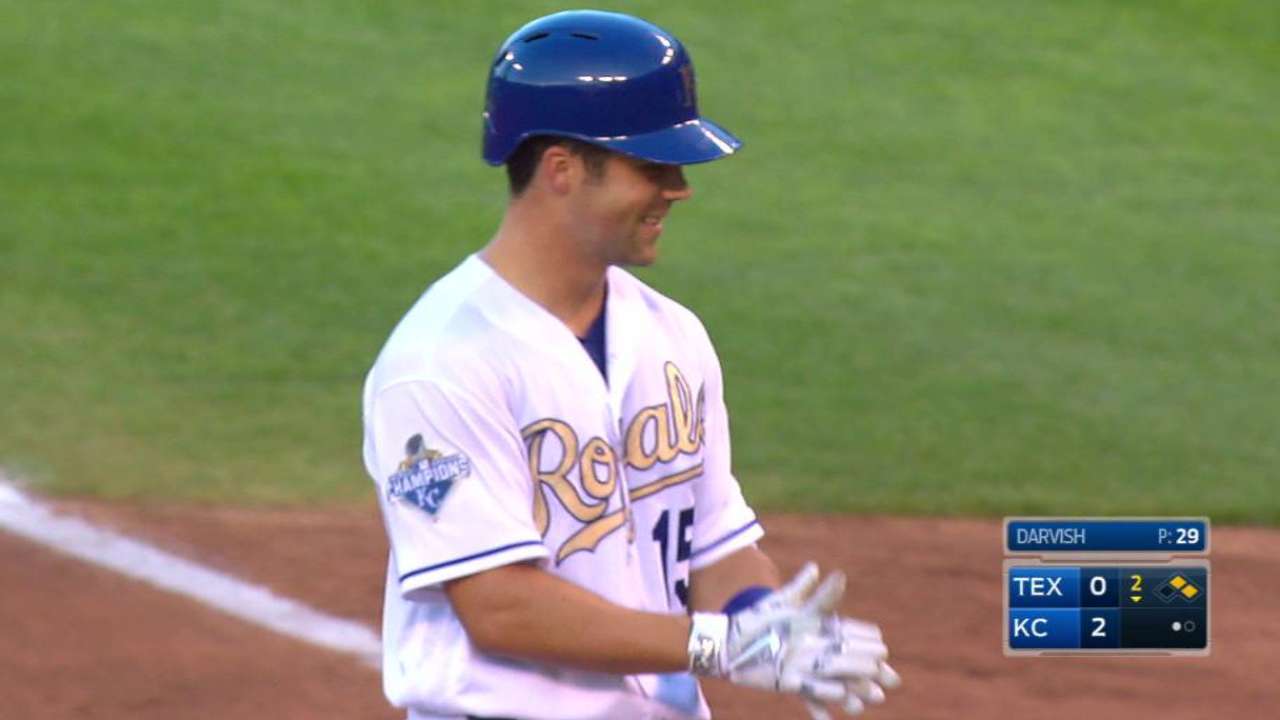 KANSAS CITY -- Almost from the moment that rookie Whit Merrifield was promoted from Triple-A Omaha back in May, he was an instant hit with the Royals.
In fact, Merrifield was producing so many multihit games that fans on Twitter started dubbing him two-hit Whit.
Merrifield energized the team with his speed and athleticism, quickly moving to the top of the order.
By mid-June, Merrifield had homered in consecutive games and his average stood at .330. Merrifield had secured the second-base job while also using his versatility to allow manager Ned Yost to plug and play him anywhere if needed.
But then, out of nowhere, Merrifield hit a rookie wall. On July 2, he was still hitting .315. Suddenly the hits stopped falling.
Merrifield sunk into a 5-for-45 slide. And in late July, Yost called him into his office to give him the bad news: Merrifield was being sent down to Omaha and top prospect Raul Mondesi would take his place.
"I was disappointed obviously," Merrifield said. "You never want to get demoted. So yeah, I was disappointed.
"I had a good talk with Ned. Went back to Omaha and worked on some things and tried to get back up here."
And Merrifield has made it back, part of the September callups. He went back to Omaha and worked instead of pouting.
"I just worked on certain things with my swing," he said. "I was just trying to recognize spin early and put myself in a good position to make a good swing."
Make no mistake, though: Adjusting to life in the Minors again wasn't easy.
"It was tough because you're with the guys up here and you're fighting for a playoff spot and then that happens," Merrifield said. "It wasn't my decision, so you just control what you can control. You go back and work and keep your spirits up.
"The games were hard because you leave a place like this and then get there and there's no adrenaline. You have to create your own. It's a different mindset and it takes an adjustment.
"Up here you don't feel anything and down there you feel every ache and pain. And travel [stinks] down there. But hey, there are worse positions to be in. I understood what they were trying to do."
One of the explanations for Merrifield's 5-for-45 slump was that opponents began feeding him breaking balls. He doesn't believe it to be true.
"People say that," Merrifield said. "They might have been. But I didn't notice anything particular. It was a skid. I've had skids in every point of my career.
"Even my college coach called the other day and we talked about a time I was in high A ball and I was leading the league in hitting. I called him to tell him about it back then, and then I suddenly went into like a 0-for-40. Just because I went into a skid didn't mean I couldn't hit at that level anymore. That's how I feel about the slump I had here. It's just a skid. You bounce back."
Jeffrey Flanagan has covered the Royals since 1991, and for MLB.com since 2015. Follow him on Twitter @FlannyMLB. This story was not subject to the approval of Major League Baseball or its clubs.