Elbow discomfort no longer issue for Cole
Pirates right-hander expects to return this season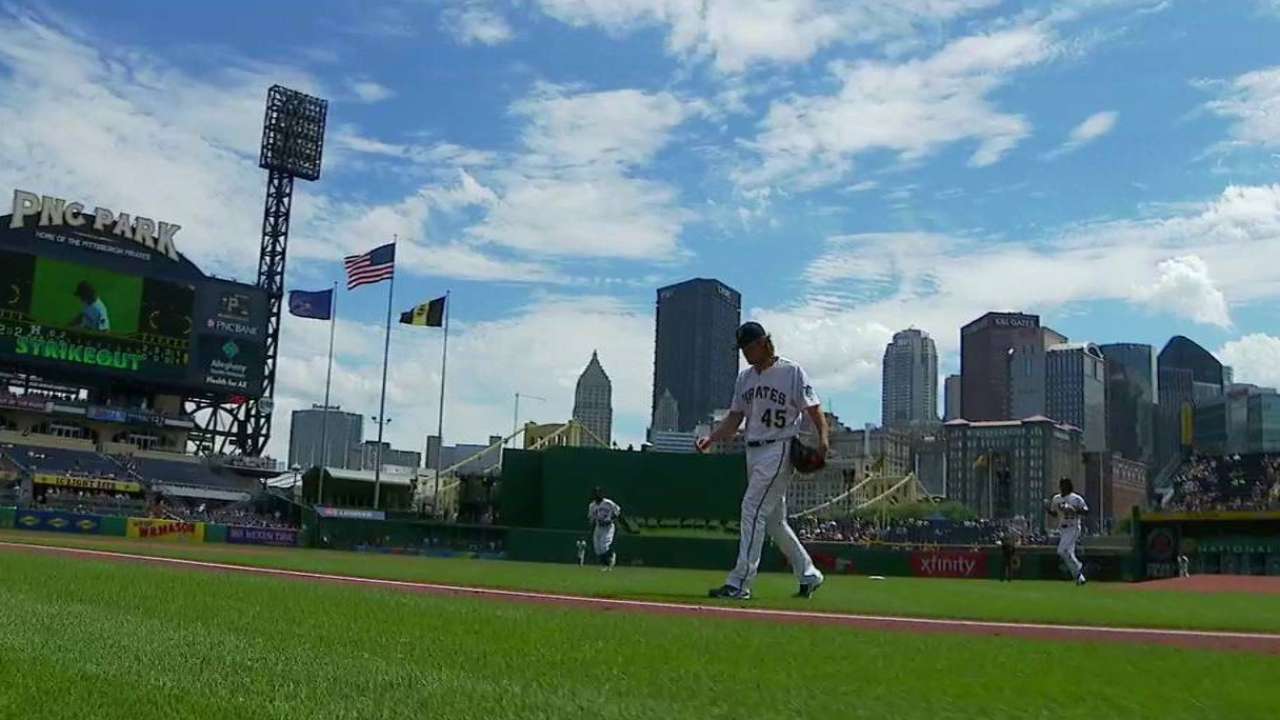 PITTSBURGH -- Gerrit Cole got back on the mound Saturday afternoon for the first time since he was sidelined by posterior inflammation in his throwing elbow.
Cole threw 30 fastballs in the bullpen and felt good as he advanced past the flat-ground portion of his recovery. The elbow discomfort that forced him to skip his last start and sent him to the 15-day disabled list is no longer a problem, Cole said.
"I'm not concerned," Cole said. "I was pleased with the work today. I thought it was good work."
Cole said Tuesday he plans to pitch again this season. The Pirates have a plan in place for his return, but Pirates manager Clint Hurdle said he wasn't yet ready to reveal it. Cole expects to throw another bullpen session early next week. He is eligible to come off the disabled list on Friday, but it appears unlikely that he will be ready to start by then.
"Just trying to get better," Cole said. "We've got a short amount of starts to perform really well, so I'm just going to keep trying to work hard."
Cole is 7-9 with a 3.55 ERA over 20 starts in a season that has been disrupted by three injuries: rib inflammation in the offseason, a strained right triceps in June and this right elbow inflammation. He was 0-3 with a 7.06 ERA in his last four starts before going on the disabled list.
Repeating his delivery will be a focal point during the final stages of Cole's recovery. The last two days, his throwing sessions have been closely monitored by pitching coach Ray Searage, with the club recording his work on camera.
Iron man?
Catcher Francisco Cervelli has started the Pirates' last six games -- and 17 of their last 20. Pittsburgh is carrying three catchers, but the club expects Cervelli to get the majority of starts down the stretch.
"We won't overuse him, but we're going to use him as long as he feels ready to go, can post up and grade out well and show that there's no fatigue at play," Hurdle said. "He's adamant about the games he's already missed. He doesn't want to miss a whole lot more."
Cervelli missed more than a month this season due to a fractured left hamate bone. He entered Saturday batting .262/.268/.304 and without a home run in 81 games. He said earlier this season that his hand likely won't feel 100 percent until next season, but that doesn't mean he's looking for extra days off now.
"He keeps telling me that's what the offseason is for," Hurdle said.
Getting the band back together
The Pirates held a pregame ceremony Saturday to recognize the 45th anniversary of their 1971 World Series champion club. To further honor that club, the Bucs brought back last year's throwback uniforms - the white, pullover-style jerseys and mustard-gold caps worn in the early 1970s.
"It's always good when we can rekindle with our history, our tradition," Hurdle said. "It's never not good when they show up."
Adam Berry has covered the Pirates for MLB.com since 2015. Follow him on Twitter at @adamdberry. This story was not subject to the approval of Major League Baseball or its clubs.