Gomes progressing in rehab assignment
Catcher, eligible to return Sept. 16, on 60-day DL with shoulder injury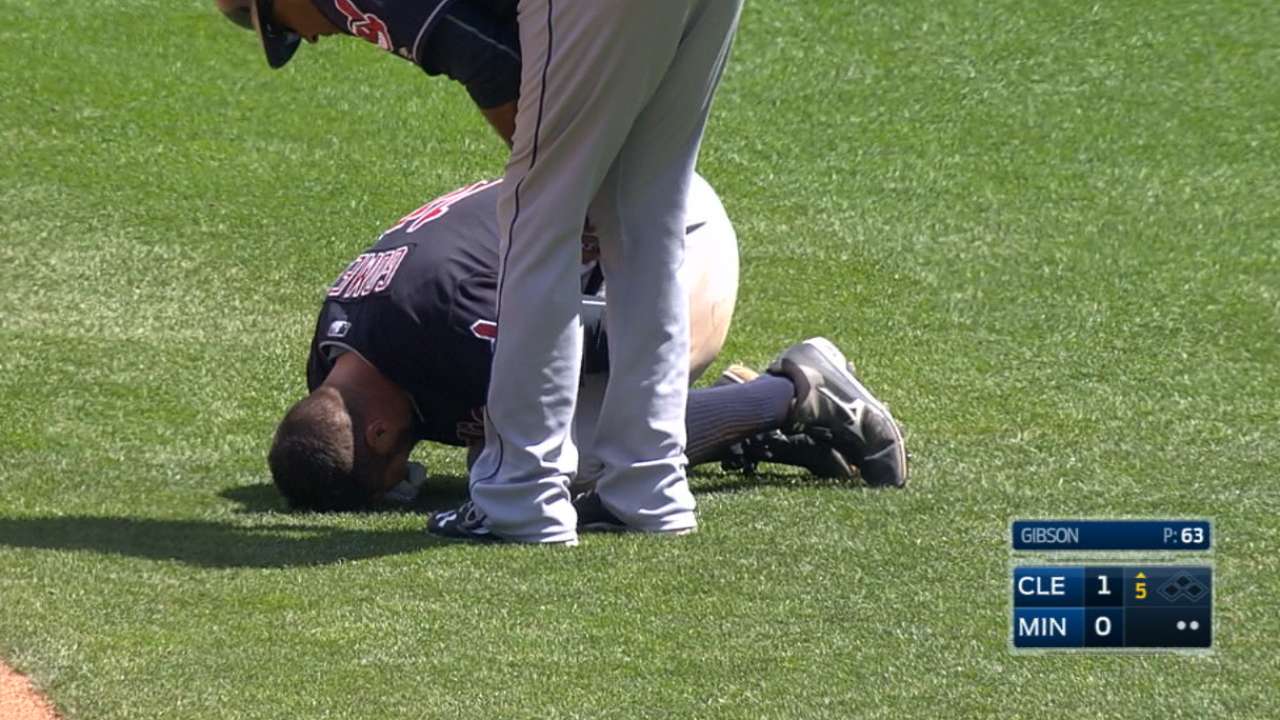 CLEVELAND -- The first step in Yan Gomes' rehab assignment was a success, which is a positive sign for the Indians.
"He swung the bat pretty good," manager Terry Francona said. "Then in between his at-bats, he would go down and receive. Not just receive but squatting, try to simulate as much as you can like an inning."
The Tribe catcher, who has been sidelined since mid-July with a right shoulder injury, went 2-for-3 on Friday night for Double-A Akron. Gomes returned to Cleveland prior to Saturday's 8-3 win over the Marlins to throw the bases, according to Francona.
Gomes is expected to return to Akron on Sunday to take a few more at-bats. The plan for Gomes isn't as clear past the next few days.
"He will go back tomorrow to Akron and DH again," Francona said. "Then after that, we need to sit with some trainers and see what the next couple, three days they have for him for a schedule."
Gomes sustained a separated shoulder on July 17 against the Twins when he fell awkwardly to avoid a collision with first baseman Kennys Vargas. Prior to that, Gomes was batting .165 with eight homers and 32 RBIs in 71 games.
On Wednesday, Gomes was transferred from the 15-day disabled list to the 60-day DL to open a roster spot for reliever Perci Garner. Gomes is eligible to return on Sept. 16, which was on schedule.
"He wasn't going to be ready before that," Francona said. "Believe me, I think if anyone though he was going to be, we probably would have done something different."
With the expanded rosters in September, the Indians currently have a three-man backstop. Francona believes that should help if and when Gomes is ready to return to action for the big league club.
"In a perfect world, he can catch every inning of every game," Francona said. "I don't think that's going to happen. I think what we should do is see what he is able to do, and then we will make the adjustments that we think fit. Like everything else, take what he can do and try not to let what he can't do get in the way. In September, I think you can certainly do easier than other months."
Shane Jackson is a reporter for MLB.com based in Cleveland. This story was not subject to the approval of Major League Baseball or its clubs.