Mackanin looking for more from his team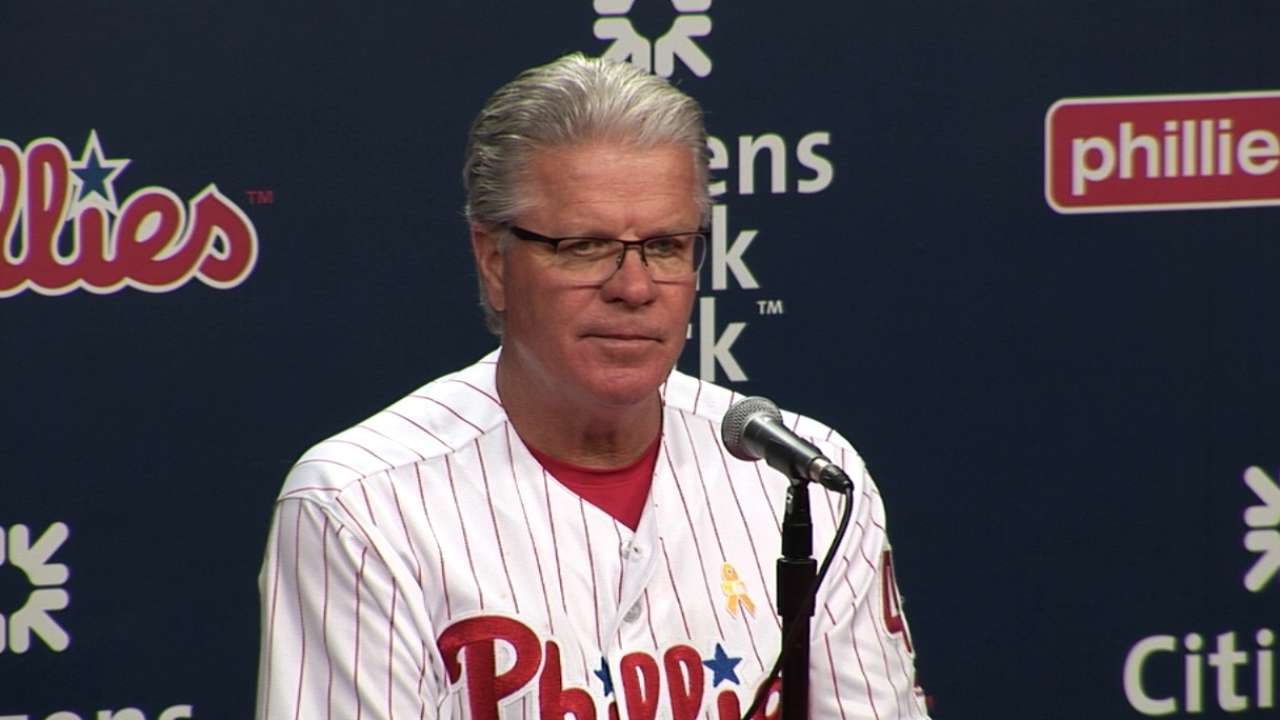 PHILADELPHIA -- Pete Mackanin addressed his hitters in a brief meeting before Saturday night's game against the Braves at Citizens Bank Park.
A pep talk couldn't hurt.
The Phillies' offense entered Saturday last in Major League Baseball in runs per game (3.70) and on-base percentage (.296). The Phillies are on pace to have their lowest runs-per-game average since 1988 (3.69) and their lowest on-base percentage since 1968 (.294).
"I just want them to pay more attention," Mackanin said. "It's the little things. Take batting practice the same way you were going to hit in the game, instead of taking it nonchalantly to get loose. I want them to bear down.
"I want them to try to take some of that discipline from BP into the game. A two-strike approach. As much as [hitting coach Steve] Henderson has been badgering the guys with this type of thing -- hunt the fastball, a two-strike approach, all these basic concepts of hitting -- I think by hearing it from me it might make a difference, it might help. I told them they're better hitters than they've shown."
Mackanin hopes things improve in the season's final month because the past two weeks have been rough. The Phillies are 4-11 since Aug. 16, averaging a mere 2.8 runs per game in that stretch.
"I'm clinging to the good parts of the season," Mackanin said. "Hopefully we'll have a good finish."
Perhaps that good finish includes Phillies center fielder Odubel Herrera, who has hit .235 with a .628 OPS in 191 plate appearances since July 7. Herrera hit seventh Saturday night, the lowest he has hit in the Phillies' lineup since he hit seventh on July 20, 2015.
"He's just giving away too many at-bats," Mackanin said. "They started pounding him inside and he's become aware of the inner-half of the plate. And how he's getting caught on both sides of the plate. I think that he's guessing. That's my best guess. His plate discipline has not been the same."
Todd Zolecki has covered the Phillies since 2003, and for MLB.com since 2009. Read his Phillies blog The Zo Zone, follow him on Twitter and listen to his podcast. This story was not subject to the approval of Major League Baseball or its clubs.