Reds pile on with 5-run 8th in win vs. Cards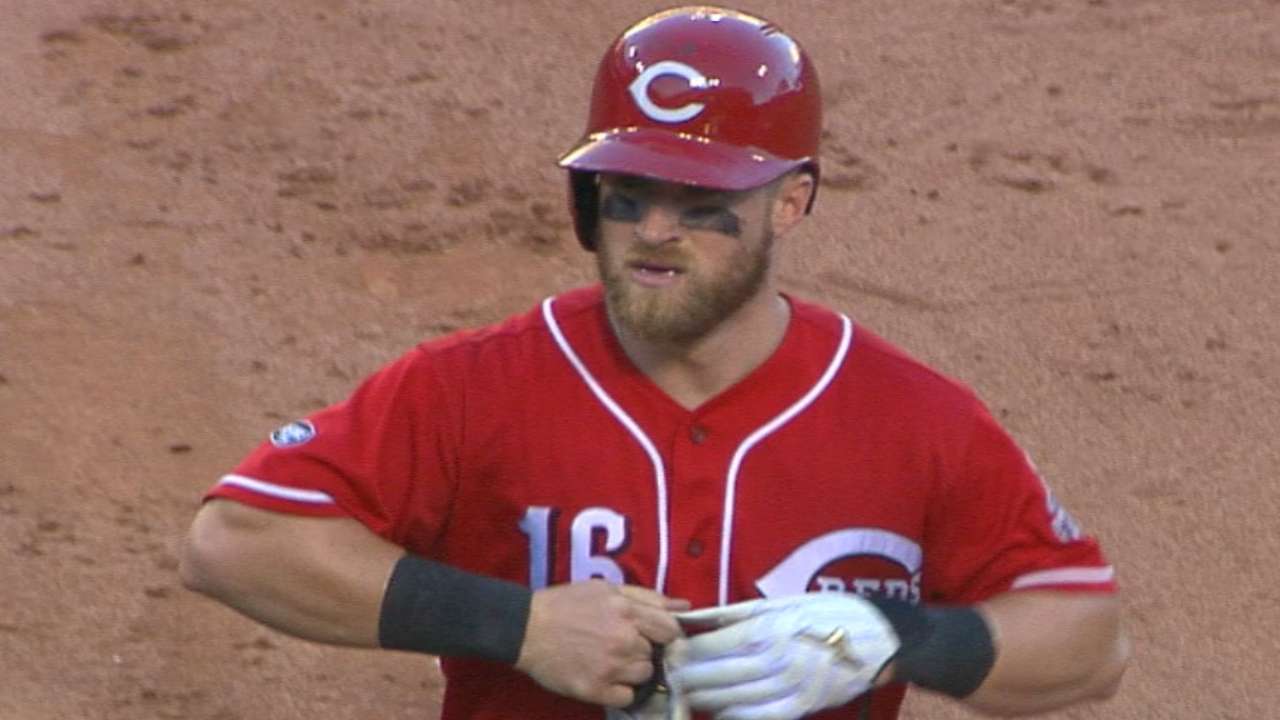 CINCINNATI -- Great American Ball Park has quickly become the unfriendly confines for the Cardinals in their second-half postseason push.
After jumping out to an early lead via a Jedd Gyorko solo homer in the first, the Cardinals' bats went silent, sending them to a 9-1 loss, their third straight and their third in their past four games in Cincinnati.
After the first inning, the Cardinals mustered just three more hits but still had opportunities after coaxing a career-high seven walks from Reds starter Dan Straily. Straily was able to work his way out of jams, though, pitching 5 2/3 innings of three-hit, one-run baseball.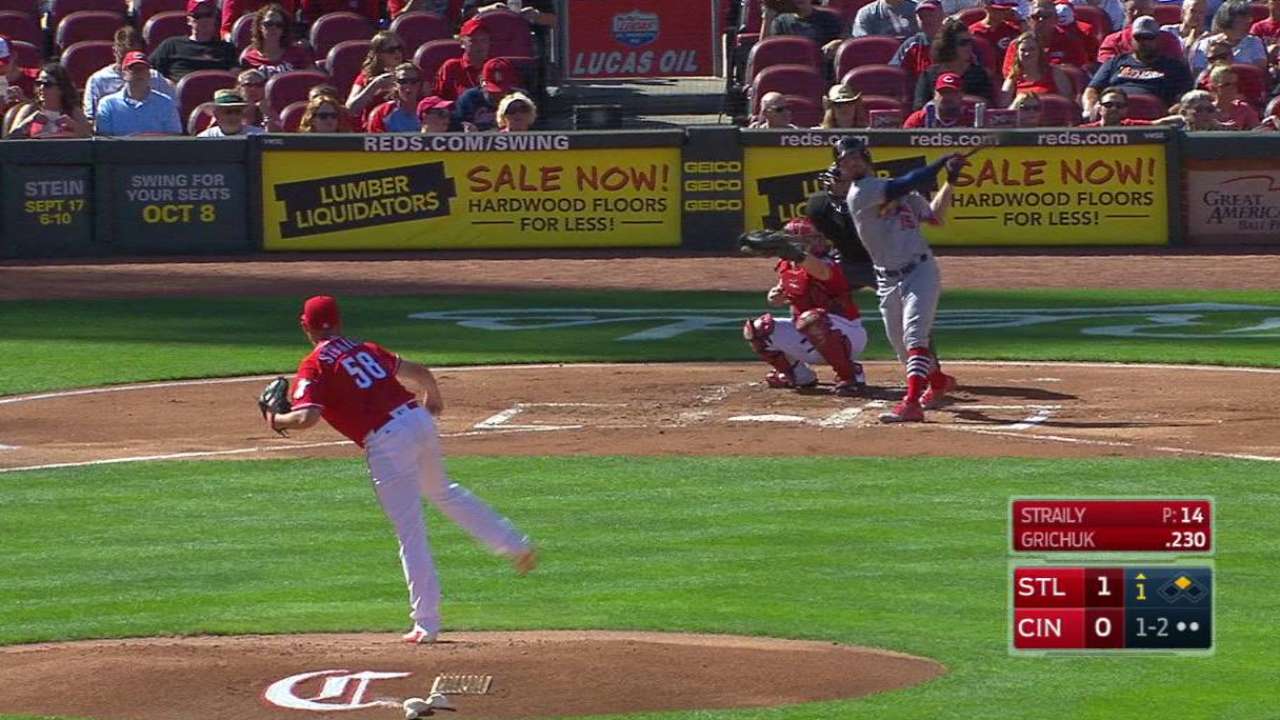 "When we have that many walks and only put one run on their starter," Cardinals manager Mike Matheny said, "he got the pitches he needed to make when he needed to make them."
The Reds didn't have a lot of success against Cardinals starter Jaime Garcia, scratching across two runs on six hits over six innings, but they managed to open things up against the bullpen. Miguel Socolovich came in to start the seventh, surrendering a hit before Dean Kiekhefer came in and gave up two hits and two runs -- one charged to Socolovich. The wheels fell off in the eighth after reliever Jerome Williams was tagged for five runs on three hits, four walks and a sacrifice fly.
The loss drops the Cardinals to 2 1/2 games behind the Giants for the first National League Wild Card spot, and after the Mets defeated the Nationals on Saturday night, St. Louis has a one-game lead over the Mets for the second.
MOMENTS THAT MATTERED
Gyoing, Gyoing, Gyone: Gyorko's first-inning home run allowed the Cardinals to extend their franchise-record streak of hitting homers to 22 consecutive games. Gyorko was the second batter of the game. His long drive to the left-field seats, on Straily's first pitch, kept alive a streak that began against the Reds on Aug. 9. More >
Billy saves the day: It seems like every time Straily takes the mound, Billy Hamilton makes a spectacular catch, and Saturday was no exception. In the top of the fourth, Alberto Rosario drove a one-out pitch to the deepest part of the park well over Hamilton's head. Awkwardly reaching, Hamilton tracked the ball down on the warning track. Hamilton stopped and fired in to cutoff man Jose Peraza, who made a quick turn to first to get Greg Garcia, who broke for second base on contact. With Garcia running on the pitch, the Cardinals would have likely brought in two runs had the ball fallen.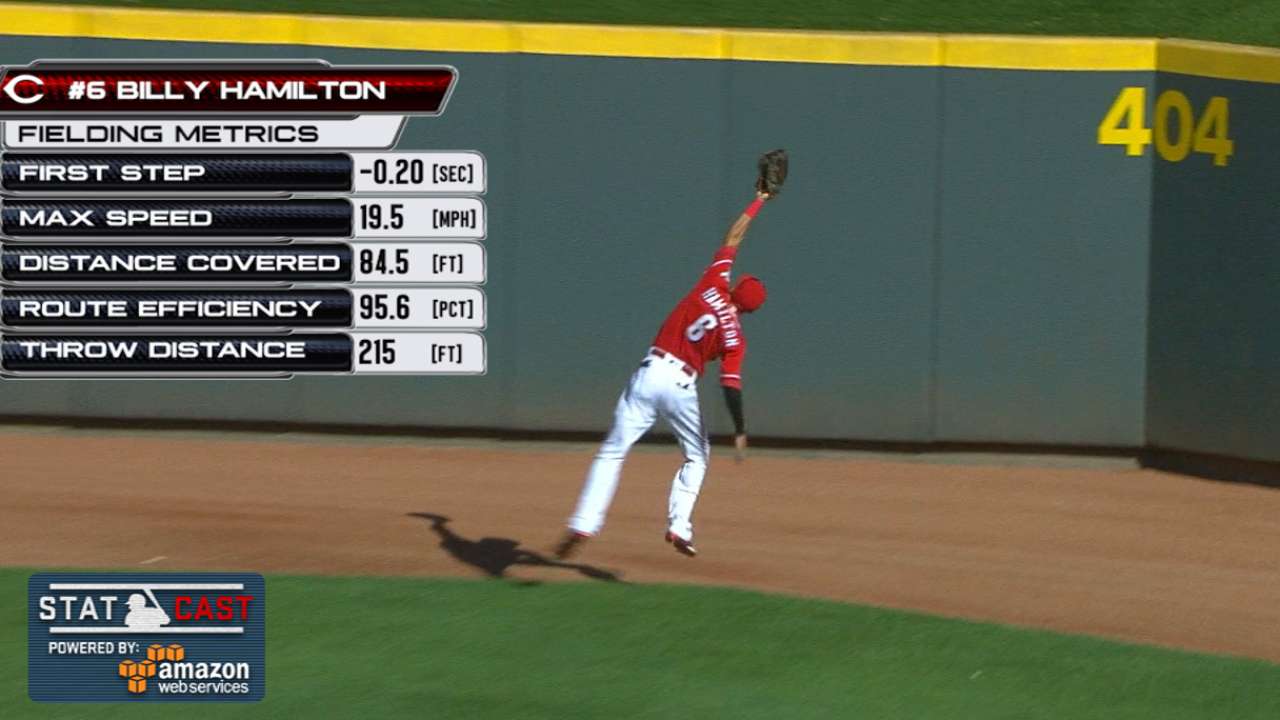 "We don't even really need to talk about it," Straily said. "I'm his No. 1 fan in his fan club, I think. That was a really good play by him and Peraza to get it over to first, right there. That was good. You just, like I said before, every time the ball's hit that direction, you just assume it's caught. He makes a lot of plays, difficult plays, he makes them look easy." More >
The Good Garcia: Garcia allowed two runs over six innings to snap a string of three consecutive shaky starts. The St. Louis left-hander struck out Eugenio Suarez to end the fifth, stranding runners at second and third.
"Jaime's stuff was good enough to win with," Matheny said. "His sinker had great sink. There was really good movement on that ball."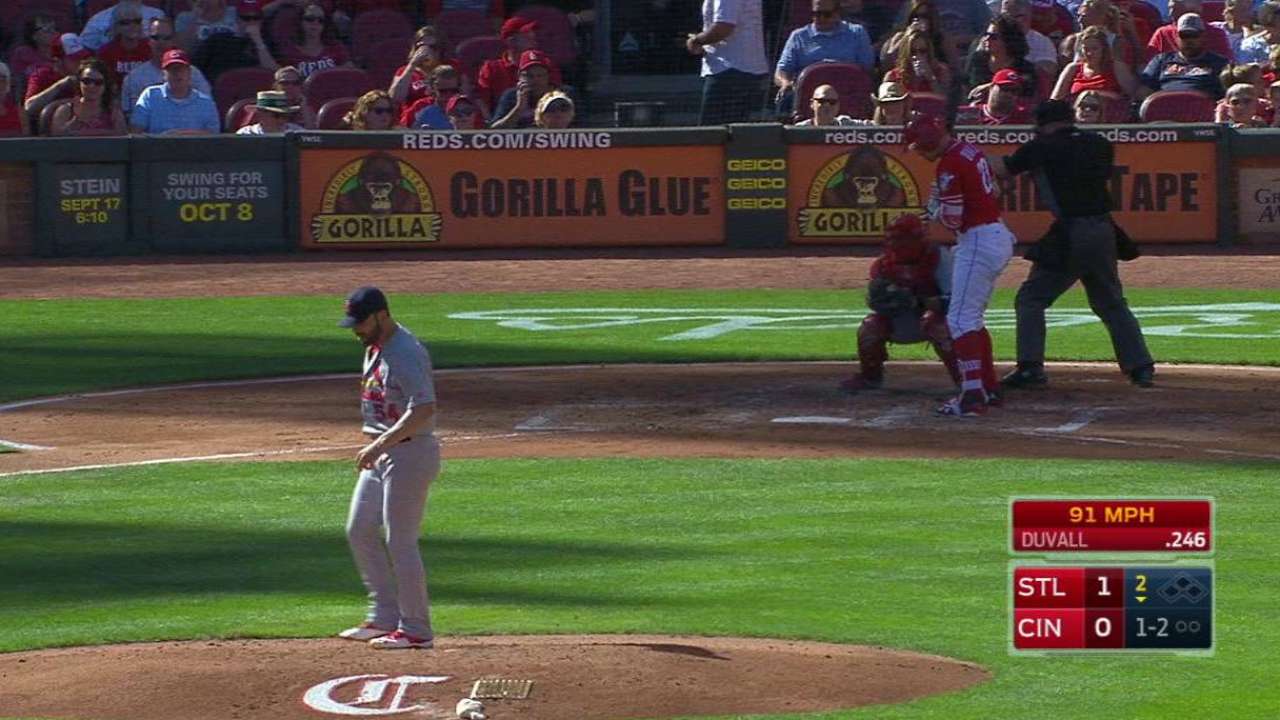 "I felt good," Garcia said. "But today, unfortunately, I wasn't good enough to get us the win."
Missed opportunity for the Cards: Three of Straily's seven walks came in the sixth, loading the bases with two outs. The Reds changed pitchers after the third one, bringing in Blake Wood, who was able to induce a first-pitch groundout from Rosario to end the inning.
"The other [important moment] was Blake Wood coming into the sixth with the bases loaded and two outs and getting a first-pitch out and then throwing a good quality seventh inning to lead us into [Michael] Lorenzen and [Tony] Cingrani, that was a big help," Reds manager Bryan Price said. "That was really, the game could've teetered in the balance right there, if they take the lead then they kind of control how they want to finish the game with their bullpen. It was some big outs."
QUOTABLE
"I came in, I knew I'd walked a few guys. I did not know I'd walked seven, honestly, until I got in here. I had no clue it was seven walks. I think he's had a force field around the strike zone for me. I guess timely walks, I guess you could say it that way. Last time I gave up seven runs and one walk. This time out I gave up seven walks and one run. Which way would you rather have it? Kind of answers itself. I made pitches when I had to. The old cliche right there." -- Straily, on his seven walks
"I didn't feel anything or hear it hit the glove. I just couldn't get to it. I thought it was a foul ball."-- Rosario, on his fifth-inning passed ball that allowed Cincinnati's second run to score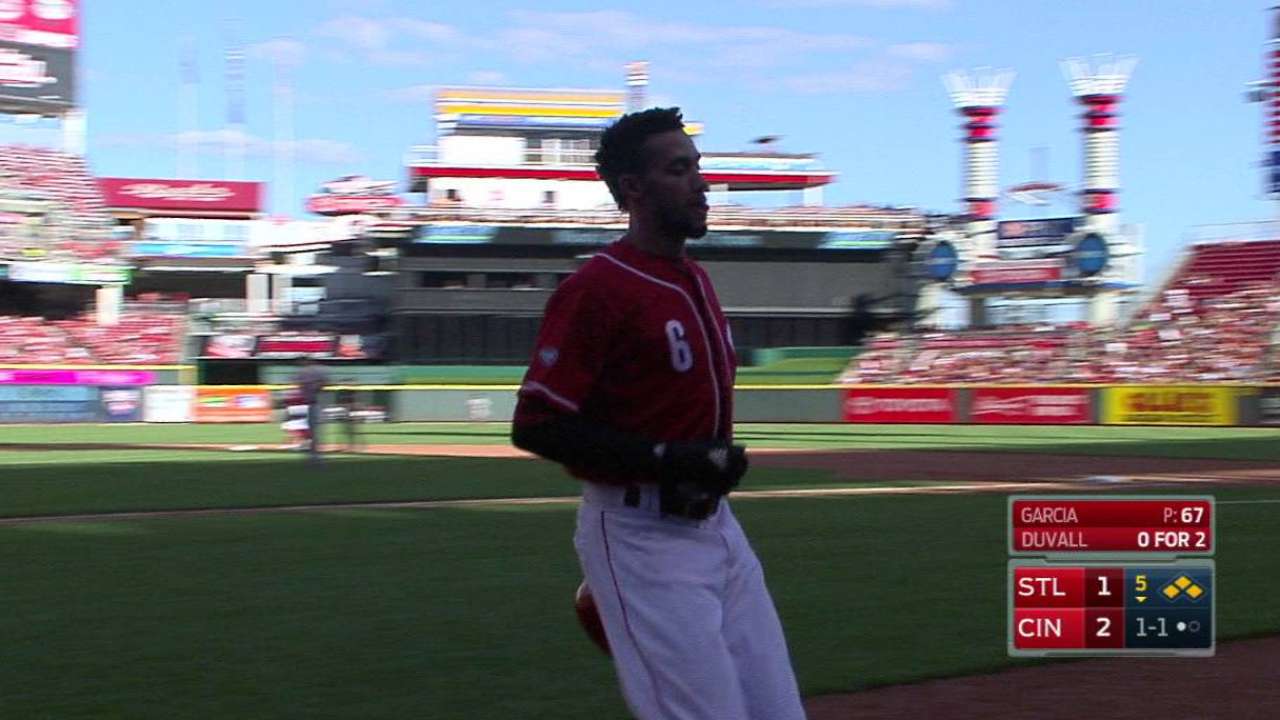 WHAT'S NEXT
Cardinals: The series in Cincinnati concludes Sunday at 12:10 p.m. CT. St. Louis starter Carlos Martinez (12-7, 3.07 ERA) has allowed just one run in each of his past three starts. St. Louis is 13-2 against Cincinnati in games he has pitched.
Reds: The Reds host the series finale against the Cardinals at 1:10 p.m. ET on Sunday. Rookie Tim Adleman (2-2, 3.82 ERA) takes the mound coming off of a six-inning, three-run start against the Angels.
Watch every out-of-market regular-season game live on MLB.TV.
Cody Pace is a reporter for MLB.com based in Cincinnati.

Andy Call is a contributor to MLB.com based in Cincinnati and covered the Cardinals on Saturday.

This story was not subject to the approval of Major League Baseball or its clubs.