Lefty Mantiply joins Tigers' bullpen mix
Former 27th-round pick adds to depth for manager Ausmus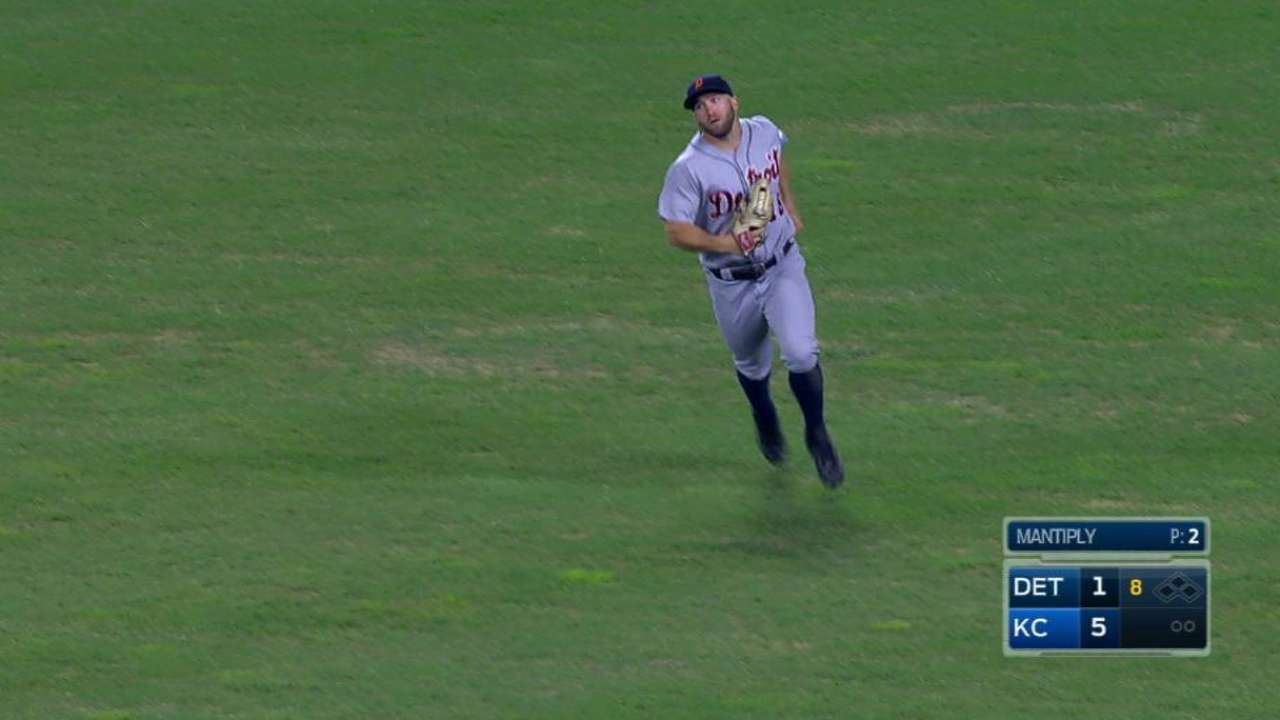 KANSAS CITY -- Joe Mantiply has his car packed in Erie, Pa., ready to return home to Virginia. The left-hander hit the road with the Tigers' Double-A team Friday morning thinking his season was just about over. By Friday night, the Tigers had other plans for him, including a Saturday morning flight from Binghamton, N.Y., to Newark, N.J., to Kansas City.
By purchasing Mantiply's contract for his first Major League stint, the Tigers added to their bullpen depth with a tough lefty specialist. It wasn't a spur-of-the-moment decision, but it came together after rosters officially expanded on Thursday.
"Yeah, it was a shock, for sure," Mantiply said.
Mantiply becomes the second reliever the Tigers have added since rosters expanded on Thursday. Detroit designated right-handed reliever Donn Roach for assignment to open a spot on the 40-man roster. Mantiply made his big league debut during Saturday's 5-2 loss to the Royals, securing the final out in the eighth after entering with runners on second and third with two outs.
"This was all decided yesterday afternoon," manager Brad Ausmus said. "It was decided before the game started."
The fact that Mantiply made the jump from Double-A makes the move a bit of a surprise. Though the 25-year-old spent most of July at Triple-A Toledo, he gave up four runs on 11 hits over 8 1/3 innings, walking one and striking out seven. He had much more success at Erie, posting a 2.47 ERA while allowing 40 hits over 51 innings with 11 walks and 62 strikeouts. His final month was especially good.
"I went from Toledo back to Erie and just kind of hit my stride," Mantiply said. "I've just been feeling really in sync on the mound and everything's been coming out good. Then my confidence started to grow."
Mantiply was a Cinderella story of sorts in the Tigers' system a couple years ago, vaulting from a 27th-round Draft pick in 2013 to big league camp two years later. He isn't a power pitcher, but his sidearm delivery gives him deceptiveness -- particularly against left-handed hitters, who batted .147 (15-for-102) with 41 strikeouts against him this season and .228 (18-for-79) last year.
"This year I really focused on my slider," Mantiply said, "and it's gotten a lot better. I've been doing pretty well against lefties, and I think that's why. My changeup's always been my pitch, but that's kind of helped me go to the next step, I think."
Mantiply's arrival gives Ausmus another option against left-handed hitters as he tries to sort through his lefty relief corps. Justin Wilson has given up a .301 (25-for-83) average to left-handed hitters, not to mention an .897 OPS on 24 hits over 17 2/3 innings to all hitters since the All-Star break. He gave up singles to all three batters he faced Friday night, creating a threat the Tigers had to call on Shane Greene to extinguish.
Kyle Ryan has emerged as a viable lefty matchup reliever, allowing a .247 (20-for-81) average to lefty hitters, and he has been dominant over the past month. Blaine Hardy rejoined the Tigers at the end of August for depth but has yet to pitch in a game since his return.
Meanwhile, the Tigers have many more matchups with prominent left-handed hitters looming in September, from Royals All-Star Eric Hosmer to Baltimore's Chris Davis and Pedro Alvarez, to even new White Sox DH and familiar foe Justin Morneau.
That said, Ausmus indicated he's more likely to use Mantiply early than late.
"It's usually in the middle innings that you would use those guys," Ausmus said. "For me, anyway, if I get in the seventh or eighth, I'm going to go to the guys that are tried and true. I'm not going to throw Joe Mantiply in the eighth inning against a left-handed hitter."
Jason Beck has covered the Tigers for MLB.com since 2002. Read Beck's Blog, follow him on Twitter @beckjason and listen to his podcast. This story was not subject to the approval of Major League Baseball or its clubs.