Wright scratched from Tuesday start
'Everything points to' Buchholz returning to rotation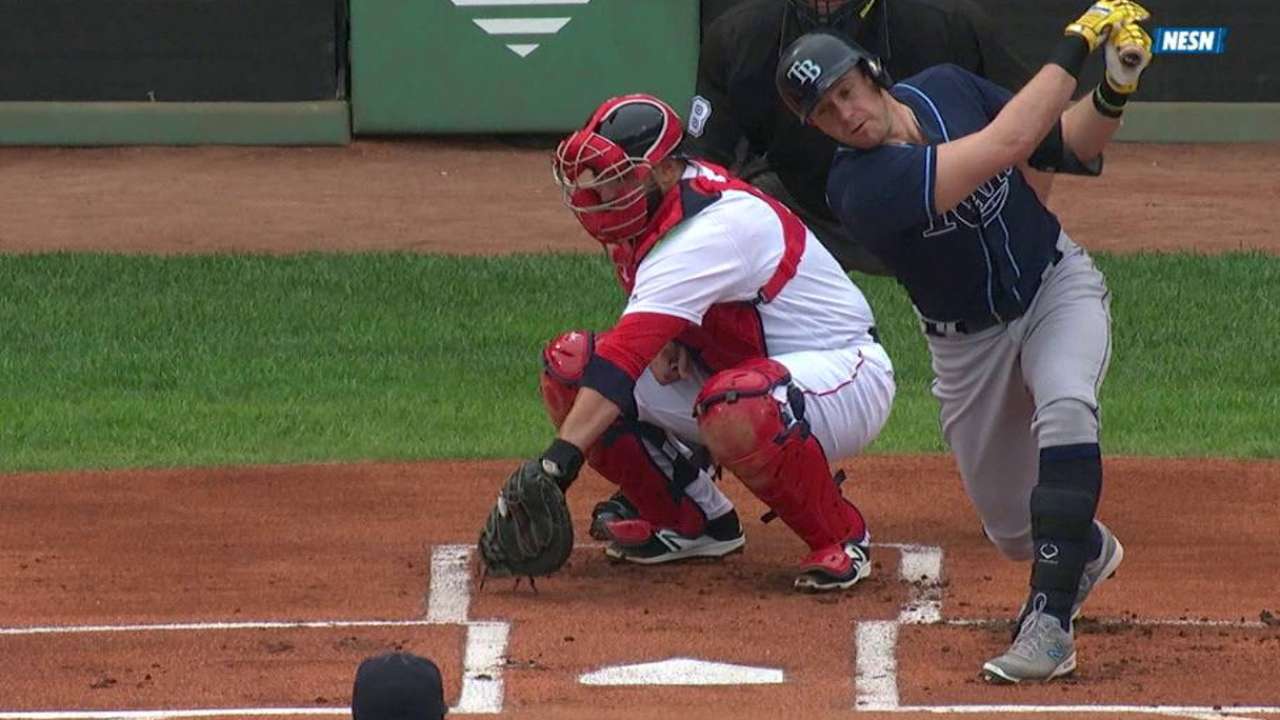 OAKLAND -- Red Sox knuckleballer Steven Wright will not make his scheduled start Tuesday against the Padres, as he continues to feel the symptoms of a right shoulder injury suffered while the running the bases last month against the Dodgers -- an injury growing more worrisome by the day.
Manager John Farrell said "everything points to" righty Clay Buchholz replacing Wright in the rotation.
"When he tries to get his best knuckleball," Farrell said of Wright, "which has got further exertion, that's where he feels the restriction. I think the performance the other day, when he's not able to be at his best, we have to take a different route."
Farrell, who categorized the injury as right shoulder inflammation, said Wright was unable to throw a bullpen session because of the discomfort. Wright will get a second opinion on his shoulder in the coming days, Farrell said, but the team hasn't determined when that will be. It's unclear if a stint on the disabled list is necessary.
Wright initially jammed the shoulder sliding back into second base Aug. 6 against the Dodgers after he entered the game as a pinch-runner. The All-Star was placed on the disabled list and missed three weeks, returning to make two starts against the Royals and Rays. He hasn't been particularly effective, allowing nine runs in 10 innings.
"It's OK; it's not great," Wright said. "Trying to throw through a lot of the pain and the discomfort and it's not getting better.
"It just got to a point where I'm not helping going out there at 50 percent. The last two games I didn't have the same effectiveness with my knuckleball. I had some pain throwing."
That leaves Buchholz, who Farrell said is still available out of the bullpen Saturday against the A's but will likely start Tuesday. Buchholz's turbulent season is on an upswing -- he has a 2.86 ERA in August in nine appearances (three starts) -- following his relegation to the Red Sox's bullpen after posting a 6.35 ERA through his first 10 starts.
In those three August starts, Buchholz allowed five runs in 16 2/3 innings.
"He's been invaluable," Farrell said. "To his credit, when he moved to the bullpen, he continued to work through some things. The way he's stepped back into the rotation, he's been as effective in the last couple of times he's started for us as any time in his career here in Boston. It comes at a pivotal time. We're right down in the stretch here."
Buchholz's name once surfaced in possibly trade discussions prior to the non-waiver Trade Deadline. Now, he's being asked to deliver both starts and crucial outs near the back end of the bullpen.
"I don't think anyone lost sight of the talent that was in there," Farrell said. "He was healthy. Yet he wasn't as consistent or effective as he's been in the past. That's why you don't ever want to cut ties when you know the pitcher is healthy."
Mark Chiarelli is a reporter for MLB.com based in the Bay Area and covered the Red Sox on Saturday. This story was not subject to the approval of Major League Baseball or its clubs.