Koji feels '100 percent' as he nears return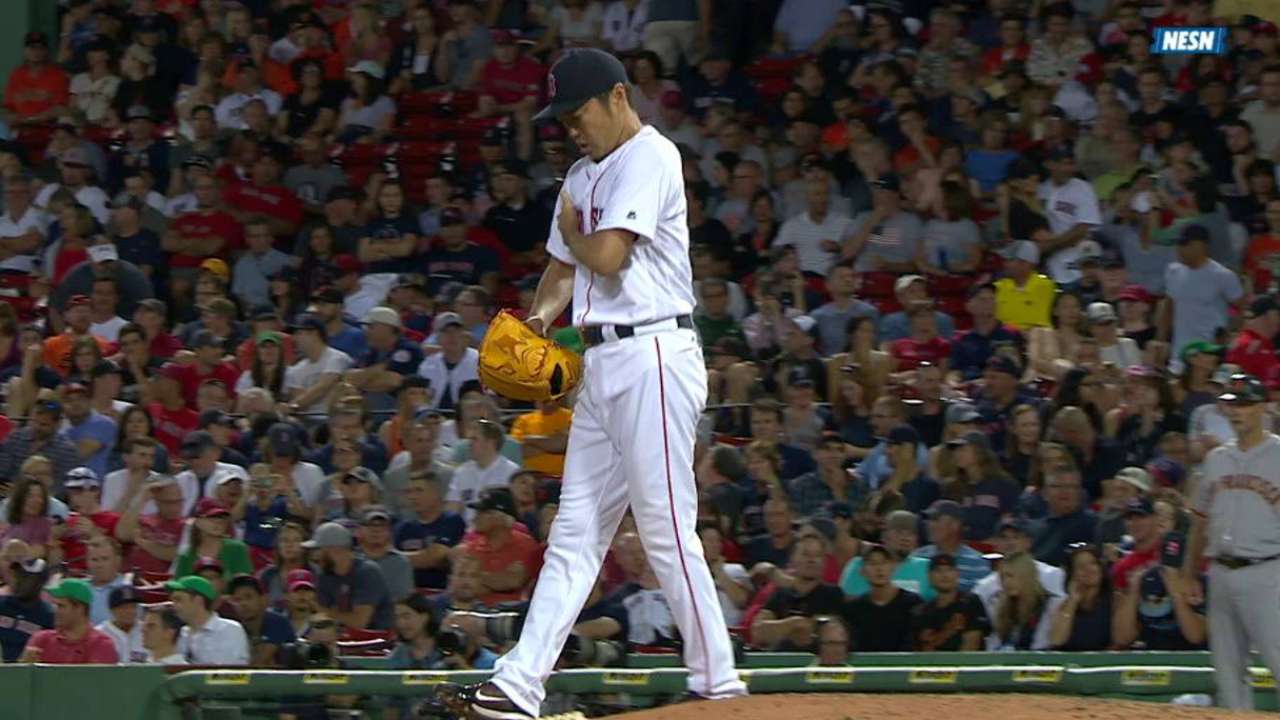 OAKLAND -- The Red Sox are optimistic they'll activate reliever Koji Uehara from the disabled list prior to their series against the Padres, which begins Monday.
Uehara threw 26 pitches off the Coliseum mound prior to Saturday's game, facing hitters and mixing in his fastball, splitter and cutter. Red Sox manager John Farrell said he's "hopeful" Uehara will be activated in advance of the San Diego series, adding he's been encouraged by Uehara's recovery over the past 10 days from a right pectoral injury.
"Today was a good work day for Koji," Farrell said. "He was aggressive, there was good action to both his fastball and his split. He threw some cutters in there as well. Provided he comes in tomorrow and goes through his normal work day, we could see an activation here in the coming days."
Uehara spoke with reporters Saturday afternoon, saying while the decision is not up to him, he feels "100 percent."
Uehara threw a similar batting practice session Tuesday to hitters at Fenway Park, and he'll likely receive a day of rest Sunday. Uehara isn't expecting any setbacks.
"I feel that the only thing I'll feel probably is muscle soreness," Uehara said.
Boston's bullpen struggled in August, especially with leads in the eighth inning, a role Uehara's maintained throughout the season. Brad Ziegler, another late-inning bullpen arm, is also expected to be available Saturday after missing several days with the flu.
Uehara, 41, was placed on the 15-day disabled list July 20 and it was unknown whether he'd return again this season. It's been an uneven season for the righty, but he was showing encouraging signs in July, posting a 2.70 ERA in his last eight appearances. Uehara is 2-3 with a 4.50 ERA in 36 innings, adding 51 strikeouts.
With the Minor League season ending Monday, Uehara must work back into game shape without the benefit of a rehab assignment.
"[Uehara] has the potential to be a proven closer type of guy for us," Farrell said. "We know that there's going to be three appearances that are almost in a Spring Training mode, which might be low-leverage just to get him game action under his belt and see how he responds to in-game exertion and activity."
Worth noting
• Farrell was asked whether he'd consider giving Travis Shaw playing time in left field moving forward, one day after top prospect Yoan Moncada arrived, signaling an apparent decrease in at-bats for Shaw against right-handed pitchers.
Farrell said the coaching staff has considered playing Shaw in left field moving forward, saying it'd have to happen in a ballpark with smaller dimensions.
"A lot of been made with Yoan getting here, where does that leave Travis Shaw?" Farrell said. "To me, if all are performing, it leaves us with a deeper, more talented team. The way guys swing the bat, they'll find a way out in the field. Make no mistake, just because Yoan is here doesn't mean Travis is relegated to no activity."
Mark Chiarelli is a reporter for MLB.com based in the Bay Area and covered the Red Sox on Saturday. This story was not subject to the approval of Major League Baseball or its clubs.