Mookie joins Williams in 30-100 club
Only players in club history to reach milestones while under 24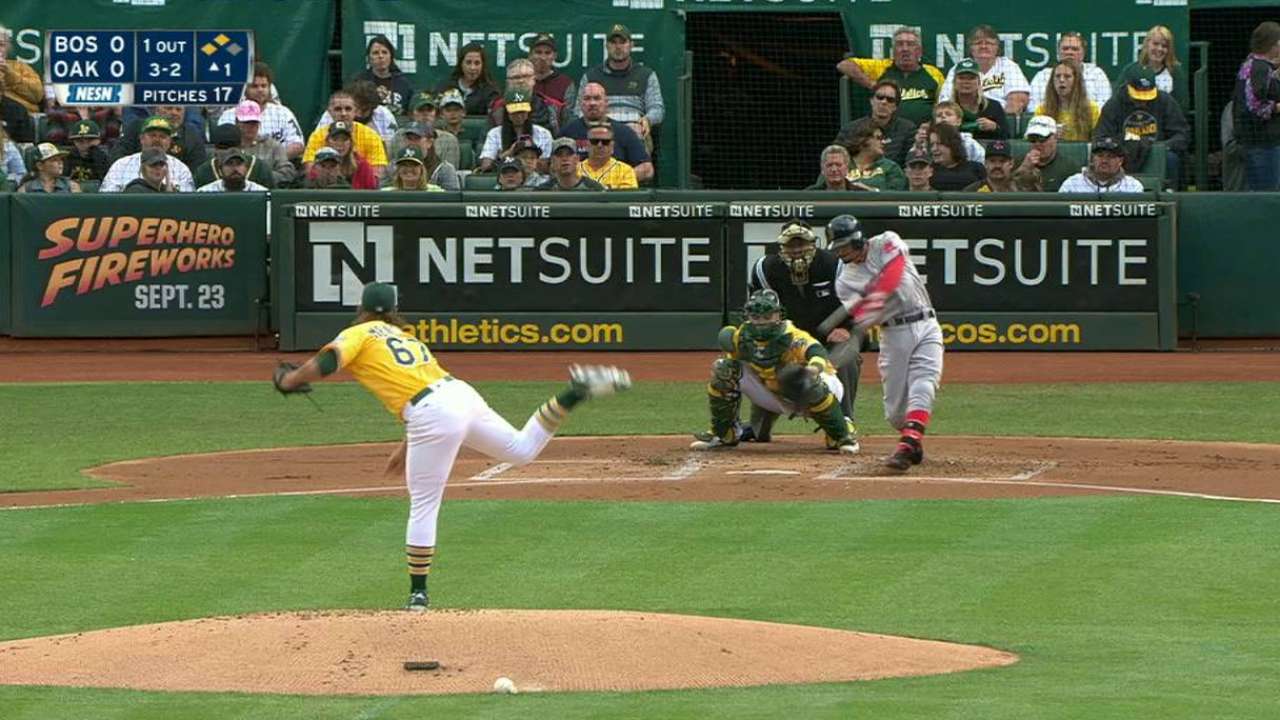 OAKLAND -- Mookie Betts joined exceptional company in the Red Sox's 11-2 win over the A's on Saturday night when he smacked a first-inning, two-run double to the left-field wall, giving him 100 RBIs this season.
Betts joins Hall of Famer Ted Williams (1939 and '41) as the only Red Sox players in team history to hit 30 or more homers and drive in 100 or more runs before turning 24 years old. Betts also joined teammate David Ortiz, who went 3-for-4 Saturday, as the second set of Red Sox teammates to hit 30 homers, 40 doubles and drive in 100 runs in a single season, following Ortiz and Manny Ramirez in 2004.
Betts said he was aware of the milestones, and was asked if they were meaningful to him.
"No, I mean it's pretty cool, but I'd rather win a World Series," Betts said.
Betts, 23, has pushed himself into the American League MVP discussion this year, slashing .319/.359/.560 with 30 homers, 100 RBIs and 21 steals. He's the only Major League player with more than 300 total bases (316) and has reached base in 21 consecutive games.
Betts has the sixth-highest Wins Above Replacement (WAR) according to Fangraphs at 6.6. His two-run double Saturday drove in Ortiz and Dustin Pedroia, giving Boston a 2-0 lead.
Betts also flashed in the field, corralling a Yonder Alonso single off the right-field wall to throw him out at second base in the seventh inning. It was Betts' 12th outfield assist, tying Jackie Bradley Jr. for the team lead.
It was one of three impressive outfield plays, joining catches by Bradley and Chris Young which preserved Rick Porcello's perfect game bid. Porcello finished seven innings, allowing four hits and two runs, winning for a Major League-leading 19th time this season.
"He's been great," Betts said. "Obviously the numbers speak for themselves. He's been keeping us in games."
Mark Chiarelli is a reporter for MLB.com based in the Bay Area and covered the Red Sox on Saturday. This story was not subject to the approval of Major League Baseball or its clubs.