Porcello flirts with perfection, gets 19th win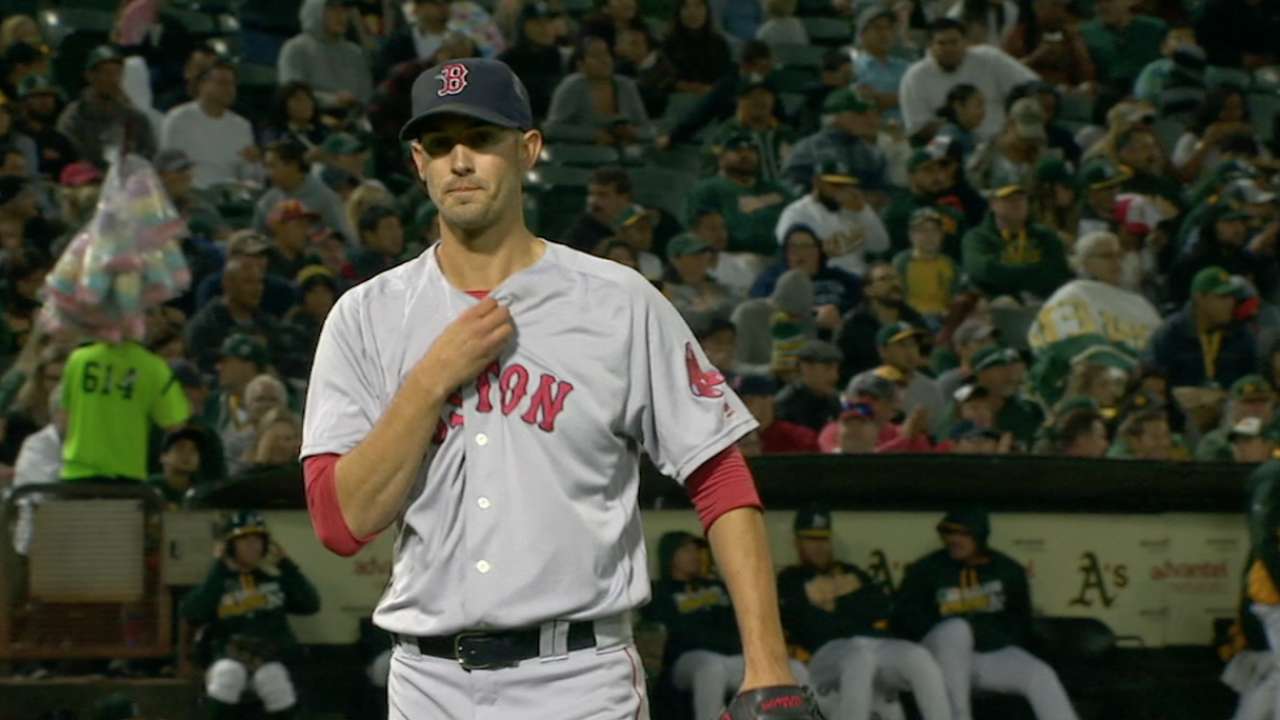 OAKLAND -- Rick Porcello won for the Major League-leading 19th time in the Red Sox's 11-2 win over the A's on Saturday, taking a perfect game into the sixth inning and efficiently maneuvering around Oakland's lineup for much of the night.
Porcello surrendered two runs over seven innings. A Jake Smolinski double to left with one out in the sixth inning ended Porcello's perfect night, a liner that just cleared the outstretched glove of retreating Red Sox left fielder Chris Young. The outfielder appeared miffed upon returning to the dugout, but when he walked by Porcello, the righty patted him on the back.
"I obviously knew the situation," Porcello said. "Five innings, you still have a lot of baseball to be played. My whole mindset was once we had that big inning in the third was to throw strikes and get outs as quick as I can."
Porcello needed just 60 pitches to record the first 15 outs of the game before the A's finally scratched runs across in the sixth and seventh. Red Sox manager John Farrell was impressed with Porcello's command of the strike zone -- he's walked two batters in his last four starts -- and said Porcello "set the tone" early on, following a strong performance from David Price on Friday night.
"I don't know if you anticipate 16 consecutive batters to be retired when you start a ballgame," Farrell said, "but once again, a lot of strikes. Quality pitches."
Boston erupted for nine runs over the first three innings, including a seven-run rally in the third that began with two outs. The Red Sox have scored 166 runs in Porcello's 28 starts this year, certainly aiding his lofty wins total, and the righty is appreciative of the support.
"From top to bottom, there's no weakness," Porcello said of Boston's lineup. "We have to continue it on both sides -- pitching and offense and defense. This is a big road trip for us and obviously this entire month is huge. Hopefully we're peaking at the right time."
Porcello certainly seems to be peaking as well, finishing seven innings or more in eight consecutive starts. His ERA continues to tick downward, and he hasn't allowed more than three runs in a start since July 24 against the Twins. Perhaps even more impressively, Porcello owns baseball's second-lowest walk-to-strikeout ratio (1.35).
"On the whole, he's been in command of the counts pretty much every hitter that he faces," Farrell said. "He's forcing the hitter to stay defensive."
Farrell said Porcello continues to pitch like a front-end of the rotation starter. And with their final 23 games soon arriving against divisional opponents, he'll need to continue.
"I'm very happy to be in the position I'm in and where we are as a team," Porcello said. "We still have some work to do. I want to continue that."
Mark Chiarelli is a reporter for MLB.com based in the Bay Area and covered the Red Sox on Saturday. This story was not subject to the approval of Major League Baseball or its clubs.