X-rays negative on Urias' fingers after bunt try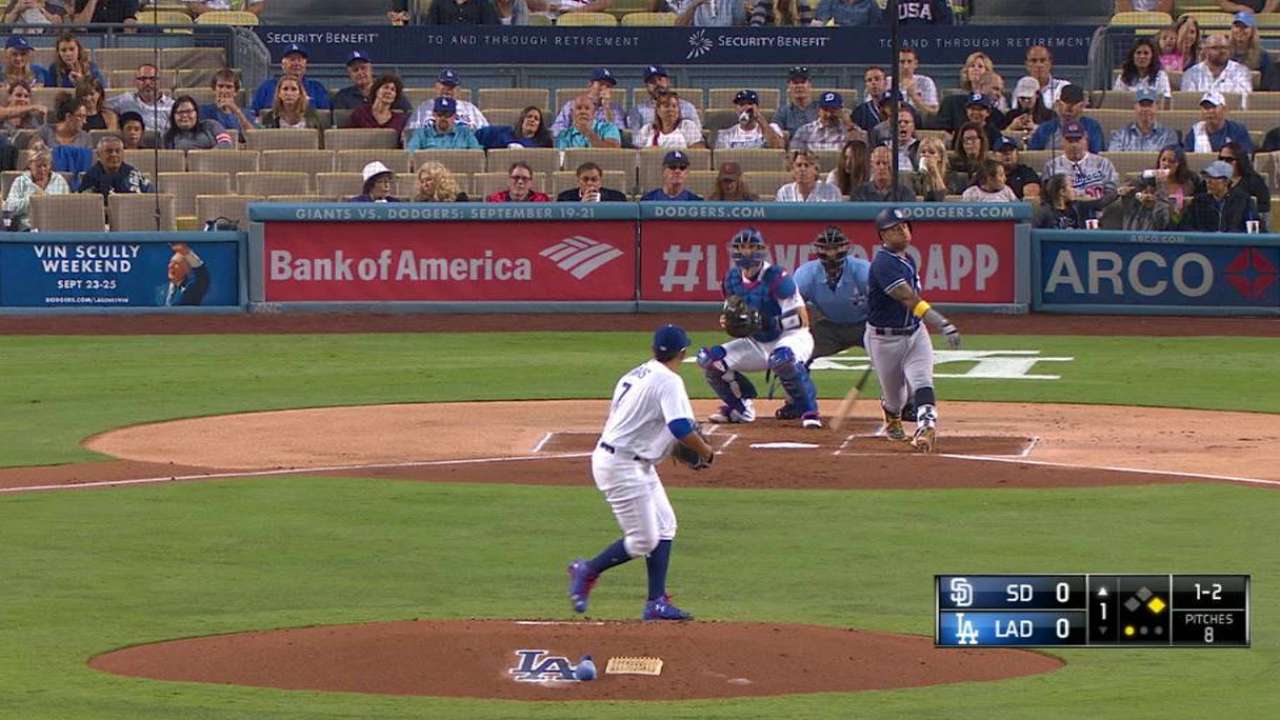 LOS ANGELES -- A night of rocky command turned worse for Dodgers starter Julio Urias when a pitch hit his fingers on a bunt attempt and left the 20-year-old needing X-rays after Friday's 4-2 loss.
The X-rays came back negative, but Urias still had bandages around his left index and middle finger after the game. Urias suffered the injury in the fourth inning, when a high-and-inside fastball from Clayton Richard bounced off his fingers while he squared to bunt.
Urias stayed in the game after hurting the fingers, throwing a 1-2-3 fifth inning, then running into trouble in the sixth when he allowed a single to Yangervis Solarte and hit Alex Dickerson. Manager Dave Roberts had seen enough by then and pulled him.
"[Urias] took a ball off the finger on a bunt attempt," Roberts said. "Took some pictures, negative, so it's fine. Ninety pitches and after that thing, it was time to get him out of there."
After going 63 innings in the Majors without hitting a batter, Urias hit three Friday, including Dickerson twice. Despite the problem with command and the pain after the fourth inning, Urias battled and allowed only two earned runs in 5 1/3 innings. Both runs came on runners inherited by Jesse Chavez that scored in the sixth inning.
"I felt good. The breaking ball wasn't working that well for me in the beginning," Urias said through an interpreter. "I could feel [the pain], but I felt I could continue to hold the ball well and control."
In seven games (five starts) since the All-Star break, Urias holds a 2.25 ERA with 32 strikeouts in 32 innings. Even on a night with clear obstacles, he still limited the damage and showed his growth as a pitcher since his first callup back in late May.
Jack Baer is a reporter for MLB.com based in Los Angeles. This story was not subject to the approval of Major League Baseball or its clubs.