Padres' lockdown bullpen shows its stuff
Buchter, Hand, Maurer hold Dodgers to one hit in 3 2/3 innings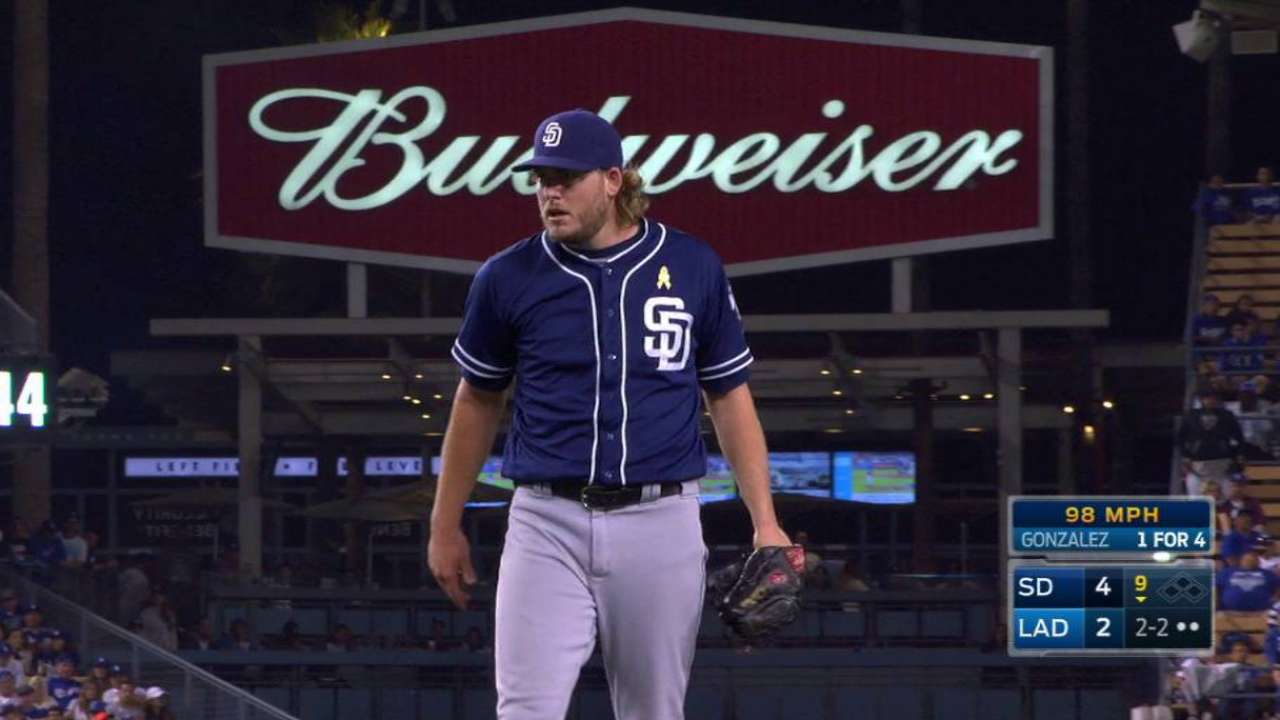 LOS ANGELES -- Make no mistake about it, Ryan Buchter thoroughly enjoyed his 1-2-3 eighth inning Friday night, as he helped the Padres play spoiler to the Dodgers with a 4-2 victory.
But the lefty reliever had just as much fun in the two innings prior, watching from the bullpen as fellow southpaw Brad Hand went to work.
"His offspeed stuff is on another level," Buchter said of Hand. "It's disgusting. We sit back and laugh in the bullpen when he throws that slider or breaking ball and guys wave at it. ... It's not fair. Between [innings] seven, eight, nine, we've got a really good thing going."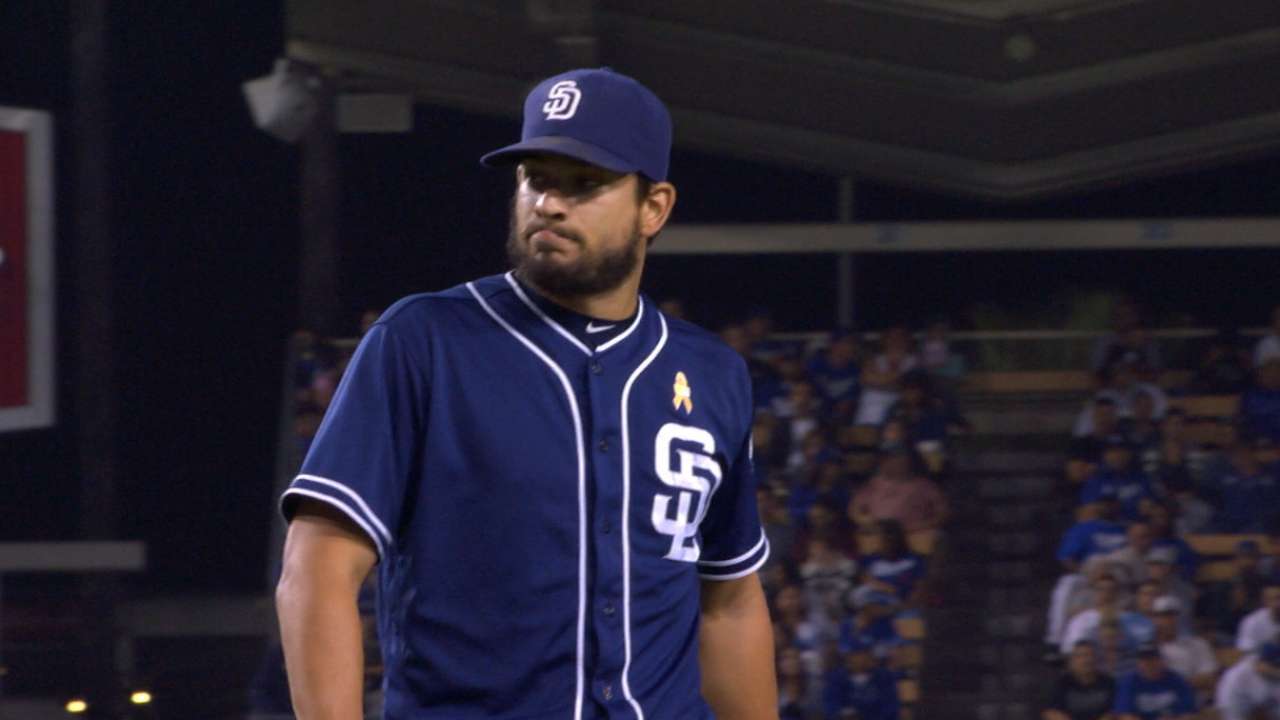 The Padres certainly did on Friday night, as Hand, Buchter and closer Brandon Maurer combined for 3 2/3 scoreless frames, allowing only one hit -- which probably should've been ruled an error.
Of the three, Hand's performance stood out. He entered in the sixth with two men on base and struck out Corey Seager before getting Justin Turner to bounce weakly to shortstop. Then, in the seventh, Hand fanned the side.
Since the All-Star break, Hand -- a waiver claim during the season's opening week -- has been practically untouchable facing left-handed hitters. They're just 1-for-25 against him with 16 strikeouts in that stretch, including eight in a row. Since July 16, Daniel Murphy's home run is the only ball hit by a lefty that's escaped the infield.
"I'm just locating everything," Hand said. "For the most part, I've been getting ahead of them, too. I'm not really doing anything differently than I have in the past."
The Padres starting rotation has seen more turnover than any in baseball this year, with none of their five Opening Day hurlers on the active roster.
Instead, the stability on their pitching staff has come from Hand and Buchter, who rank 1-2 on the club in pitcher WAR.
"Brad's been huge for us all year," said manager Andy Green. "He and Ryan Buchter have been probably our two most valuable relievers all season long. They step up in any situation. Brad takes the ball every single day if you ask him. That 1 2/3 innings out of him to kind of shut down that threat -- that was huge."
After Hand's brilliant work, Yangervis Solarte put the Padres on top with a solo homer in the eighth. They would tack on another run in the frame on a Brett Wallace single.
Buchter then slammed the door, striking out a pair, before getting Howie Kendrick to ground out. Two weeks ago, Buchter was experiencing some arm fatigue and was sent to Triple-A El Paso, where he could rest a bit and ramp up his long-toss program.
In two appearances since returning, the difference is palpable. Buchter has retired all six batters he's faced -- three via the strikeout.
"It definitely helps that I had those days off. I was able to work out some mechanics down there, and I think that's another important factor of being there."
Maurer left no doubts in the ninth, retiring the side in order with two strikeouts, like Buchter. On the whole, the Padres' bullpen numbers aren't good this year, but that's largely been a product of being overworked. They've excelled when given a lead late in games -- going 45-0 when ahead after eight and 44-2 when ahead after seven.
Nights like Friday make that kind of late-inning success easy to understand.
AJ Cassavell covers the Padres for MLB.com. Follow him on Twitter @ajcassavell. This story was not subject to the approval of Major League Baseball or its clubs.