Banister's decision not to bunt pays off big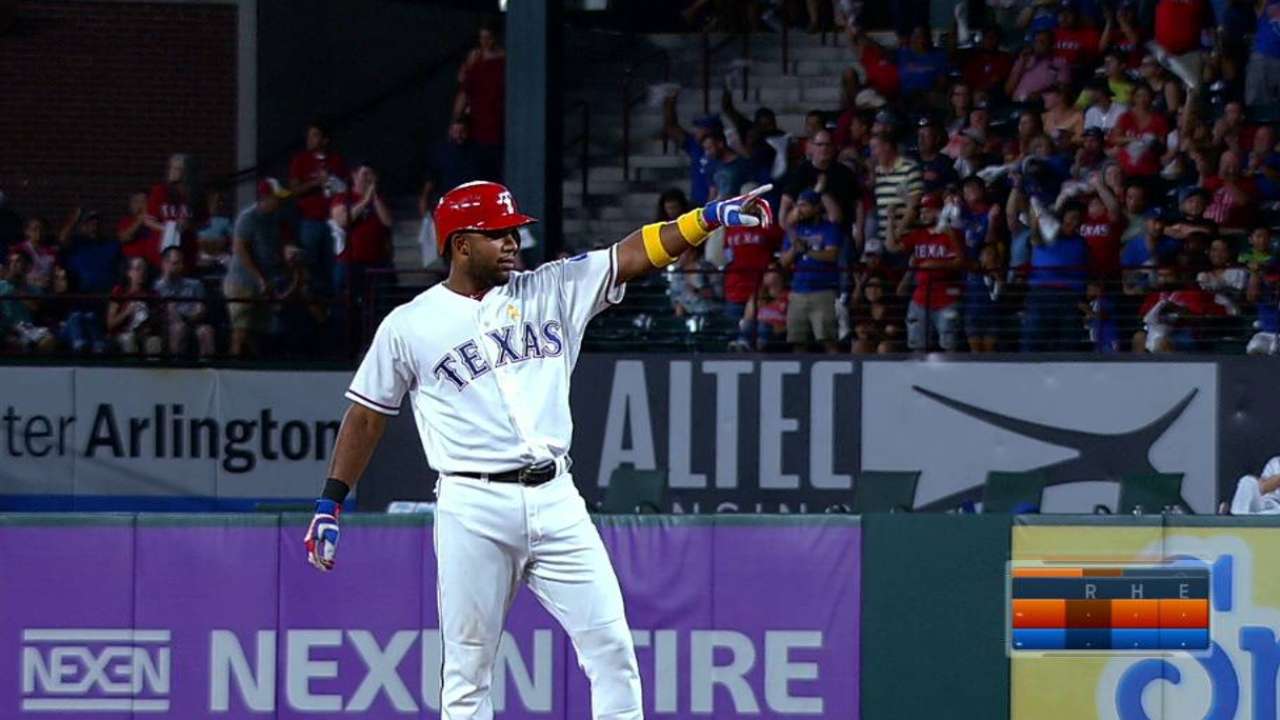 ARLINGTON -- Rangers manager Jeff Banister decided against playing for one run in the fourth inning of a tie game against the Astros on Friday night.
Instead he had his No. 9 hitter swing away, and Elvis Andrus connected on a run-scoring double that led to a seven-run rally and sent the Rangers on their way to a 10-8 victory at Globe Life Park. Texas has now won six straight and has a 9 1/2-game lead over Houston in the American League West.
Carlos Beltran, Rougned Odor and Jonathan Lucroy all ended up hitting home runs in the fourth, but they might not have even stepped to the plate had Banister decided to play it conservatively.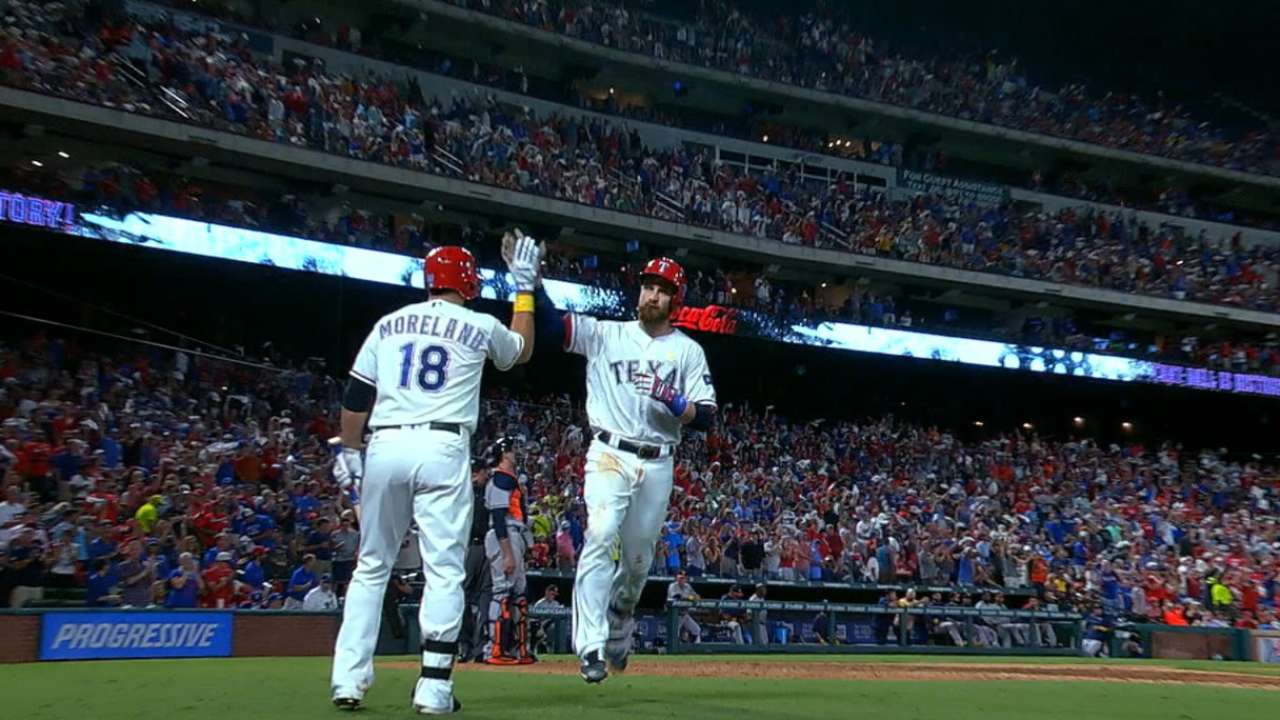 "That hit opened the door," Banister said. "It was a huge hit. Obviously, you roll the dice, but typically, in that situation, you play for one run, you get one."
The situation presented itself after the Rangers, in a 2-2 game, opened the fourth with singles by Mitch Moreland and Carlos Gomez off Astros starter Doug Fister. That brought up Andrus, their No. 9 hitter, who is also second all-time in club history with 98 career sacrifice bunts.
Banister admitted that he thought about having Andrus bunt.
"But we've done it a couple of times before, we didn't get the bunt down, and both times Elvis got big hits," he said. "We decided to go with that pattern. He's come up with some huge hits. It was early enough to let him swing the bat."
A couple of factors favored Andrus swinging away. Although he is the No. 9 hitter, he entered the game leading the team in hitting. He was also batting .383 with runners in scoring position, the third highest in the American League.
"I wanted to swing, for sure," Andrus said. "I knew if I didn't hit the first pitch, even on my own, I might bunt the runners over. But I was looking for that pitch. They might think I would bunt, and so I was looking for a [high] fastball in the middle."
Andrus got just what he was looking for and hit a drive that one-hopped off the left-field wall for a run-scoring double that gave the Rangers the lead. Gomez went to third on the play, and both runners moved up on Nomar Mazara's sacrifice fly to make it 4-2. Ian Desmond grounded out to first with the infield in, keeping Andrus at third.
But then Beltran hit a two-run homer and the Rangers broke the inning open with two outs. A two-run homer by Odor and a solo shot by Lucroy gave the Rangers a seven-run lead; the seven runs in the inning matched the Rangers' largest output this season.
"When Elvis hit that ball, everybody just followed," Odor said. "That's the way our offense is."
Andrus went 2-for-3 on the night and is now hitting .296 with a .354 on-base percentage and .406 slugging percentage. All are career highs.
"I'm still trying to reach .300," Andrus said. "I've got a lot of work to do. So far it's been a pleasant season, but I've got to push it and keep it going."
T.R. Sullivan has covered the Rangers since 1989, and for MLB.com since 2006. Follow him on Twitter @Sullivan_Ranger and listen to his podcast. This story was not subject to the approval of Major League Baseball or its clubs.