Mariners jump on Halos early, hold on late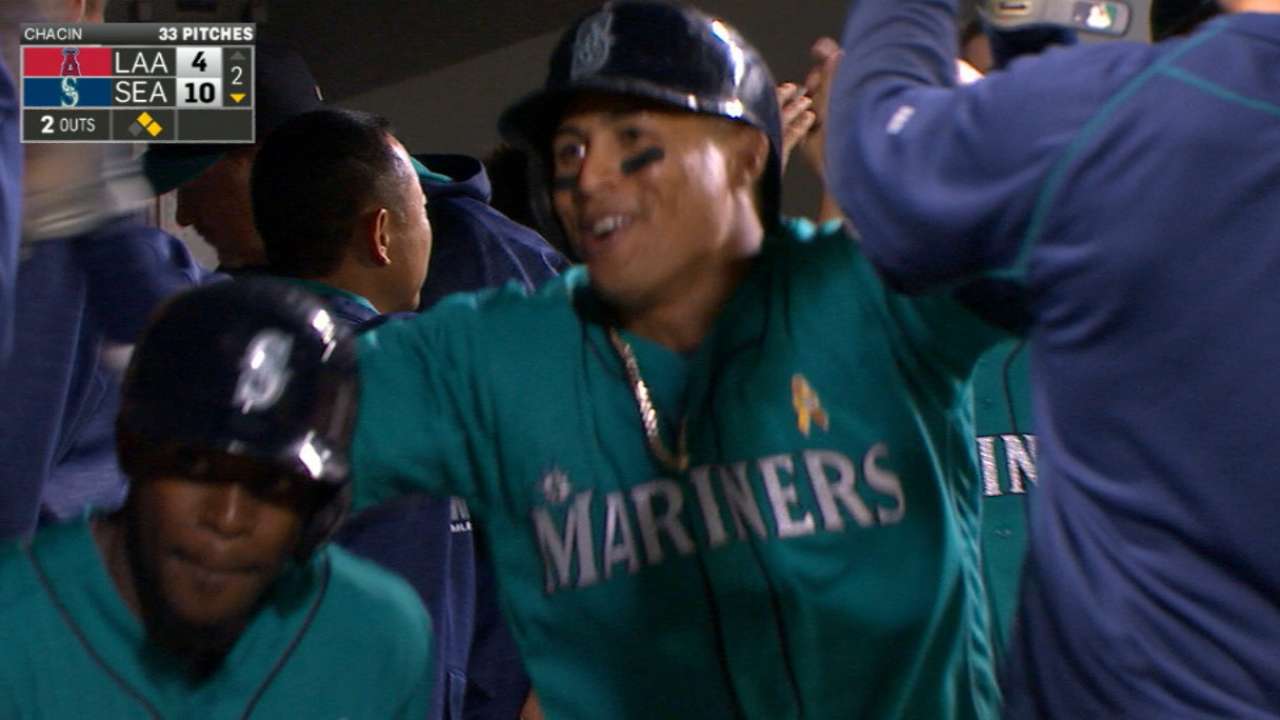 SEATTLE -- The Mariners used a nine-run second inning Friday night on their way to an 11-8 win over the Angels at Safeco Field. They snapped a five-game skid to keep their playoff dreams from fizzling completely.
"We're still alive," center fielder Leonys Martin said. "Keep fighting, that's all we can do. Fight every single game."
The Mariners remained four games back from the second American League Wild Card, tied with the Royals and trailing the Yankees and Astros.
Mariners starting pitcher Ariel Miranda earned his second Major League win and his first as a starting pitcher. He allowed four runs on five hits, including a three-run home run to Mike Trout in the first inning.
"After the start of the game with Miranda, he hung in there and really got his secondary pitch going," Mariners manager Scott Servais said.
Angels starter Brett Oberholtzer only lasted one-plus inning. He gave up a run in the first and a run in the second before leaving the game with the bases loaded and no outs. Jhoulys Chacin replaced him and allowed five runs of his own in the second inning, but threw three scoreless innings after that.
"Tough start. You know, we spotted him four runs and he walks the first hitter and just never really got his command," Angels manager Mike Scioscia said of Oberholtzer. "Wasn't able to establish anything, behind in a lot of counts and gave up three hits and three walks in one-plus inning. Obviously, it's not the start that we were looking for or he was looking for."
The Angels scored four runs in the ninth inning to make things interesting, getting a two-run single by Kole Calhoun. But Edwin Diaz got Trout on a fly to deep center for the final out of the game with two on.
"I hit it off the end," Trout said. "I knew that I didn't get it."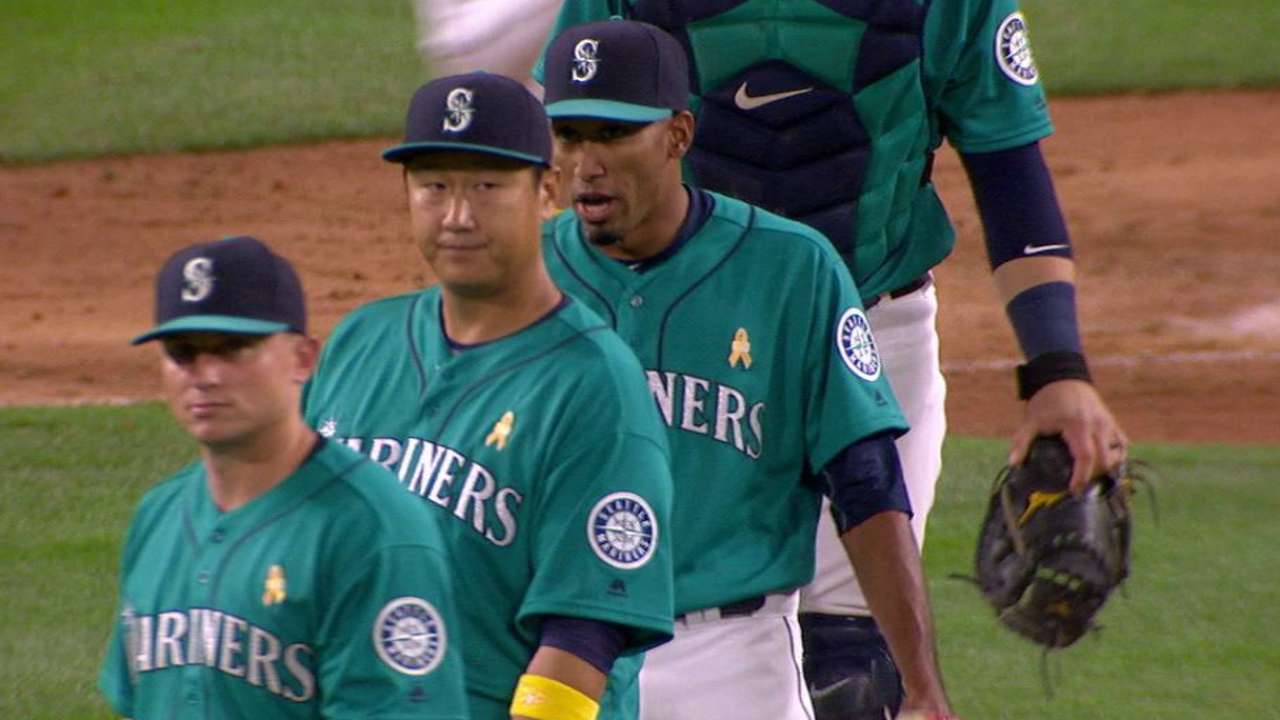 Andrew Bailey, a former American League Rookie of the Year with Oakland, was called up earlier Friday and made his Angels debut with a scoreless seventh inning. He allowed one batter to reach after striking out on a wild pitch and walked one.
"It's good to see Andrew Bailey, first of all, it's good to see the ball coming out of his hand well," Scioscia said. "This guy was one of the top relief pitchers in the game going back four or five years ago. Not quite the same stuff, but still the ball came out hot. It was good to see." More >>
MOMENTS THAT MATTERED
Big second inning: The nine runs in the second inning tied a season-high for the Mariners, who did so against the Padres on June 2. Seattle took advantage of the Angels' mistakes and making simple contact. Seattle drew five walks in the inning alone. Ben Gamel's walk with the bases loaded gave him his first Major League RBI. Ketel Marte also scored on second baseman Gregorio Petit's throwing error to first. The 14 batters the Mariners brought to the plate combined for six singles.
"That whole inning was huge," Servais said. "Guys takings some balls the other way, not trying to do too much, not trying to hit homers." More >>
Trout shows no effects from accident: Trout, who escaped injury in a traffic accident on Wednesday, homered in his first at-bat, sending a 1-0 pitch from Miranda over the wall in right-center to stake the Angels to a 3-0 lead with no one out in the first. It was Trout's 26th home run of the season and his sixth against the Mariners.
First time for everything: The first inning was a conglomeration of firsts for the Mariners. In his Mariners debut, rookie Gamel scored the Mariners' first run on rookie Guillermo Heredia's first Major League double. Gamel, batting leadoff, walked to start off the inning. Up next, Heredia drove an 80.8 mph changeup to left field. Gamel crossed the plate easily and Heredia went into second standing up.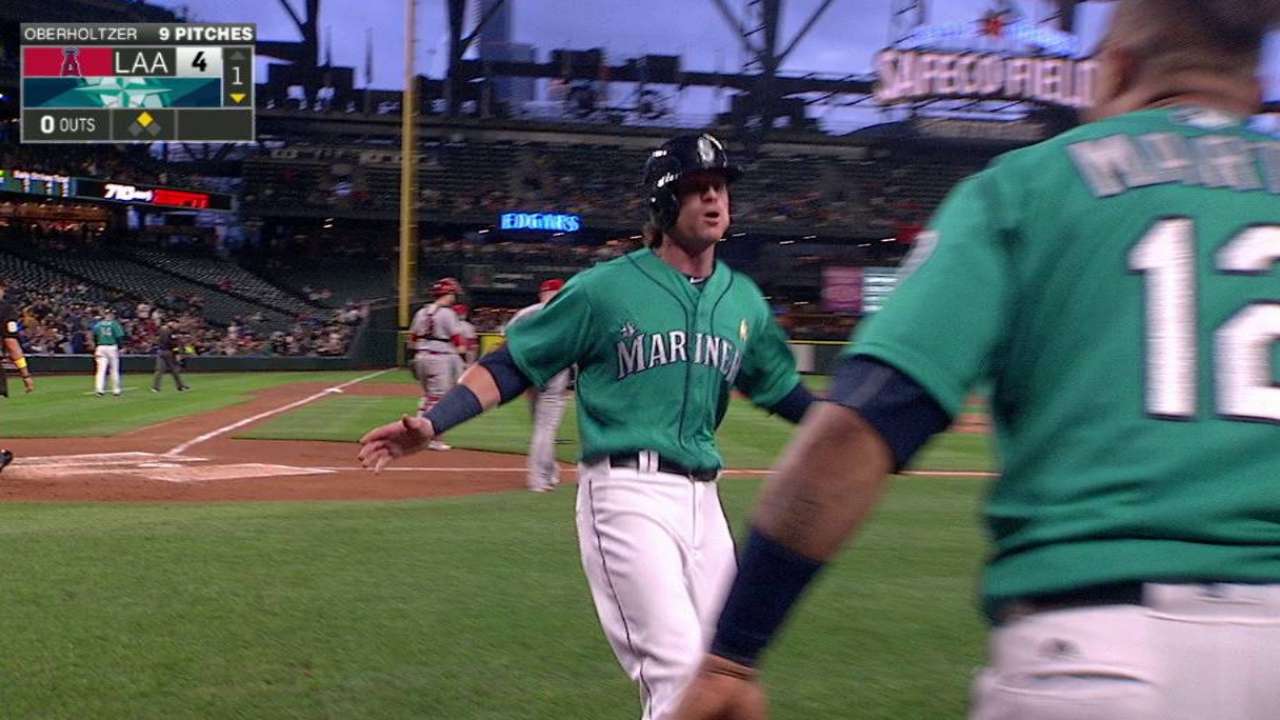 Oberholtzer struggles: Oberholtzer couldn't hold a 4-0 first-inning lead. He gave up a run on two hits in the first, then allowed two singles around a pair of walks before being lifted with no outs in the second, having thrown 49 pitches. The Angels bullpen allowed all three inherited runners to score, leaving Oberholtzer's line at five runs on three hits with three walks in one-plus innings..
"I walked the leadoff hitter and it just started to snowball from there," Oberholtzer said. "I thought I was making pretty quality pitches, but just going the wrong way, they were going for balls. Good takes by the middle of their lineup. Pitch count ran high and couldn't get out of the second."
SOUND SMART WITH YOUR FRIENDS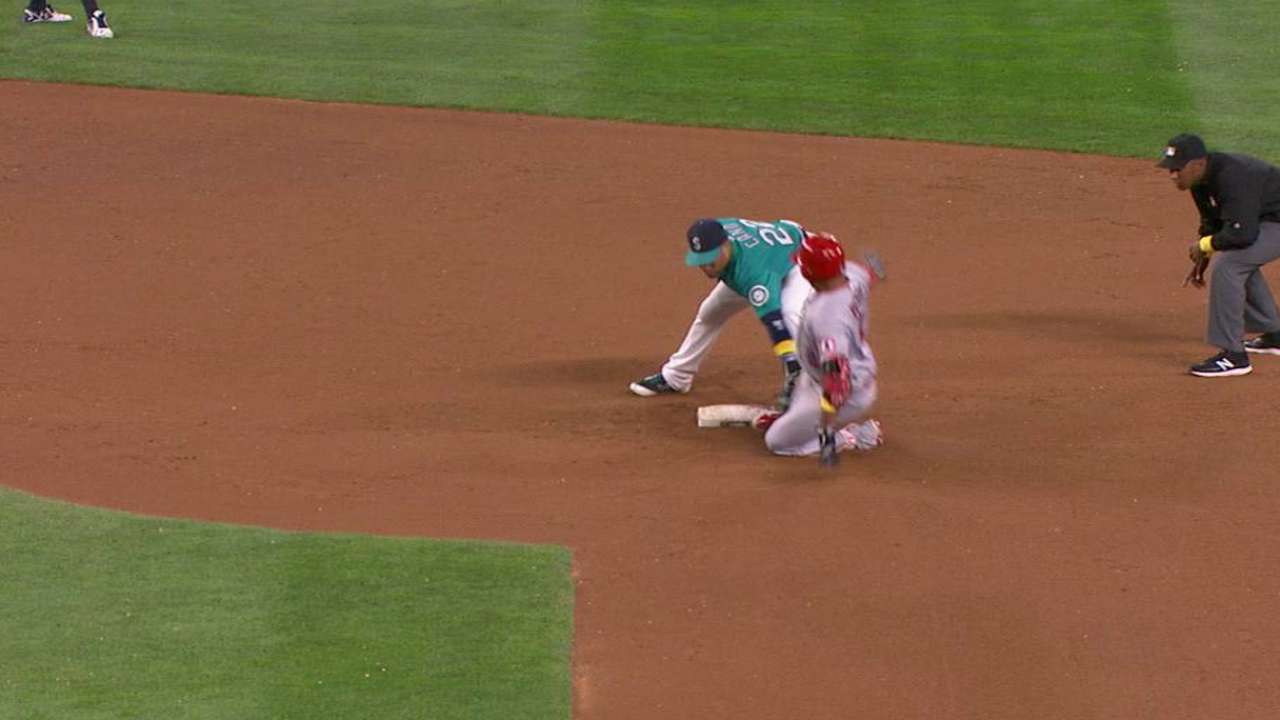 Angels catcher Juan Graterol, who had played in 527 minor league games over 11 seasons, came on in the eighth as a defensive replacement for his Major League debut. Graterol, called up earlier Friday from Triple-A Salt Lake, had an RBI double in the ninth in his first major league at-bat. Graterol was with the Angels from July 18-23, but did not get into a game.
"It's exciting," Trout said. "He's up here working hard and he deserved it. It's unbelievable. It's awesome."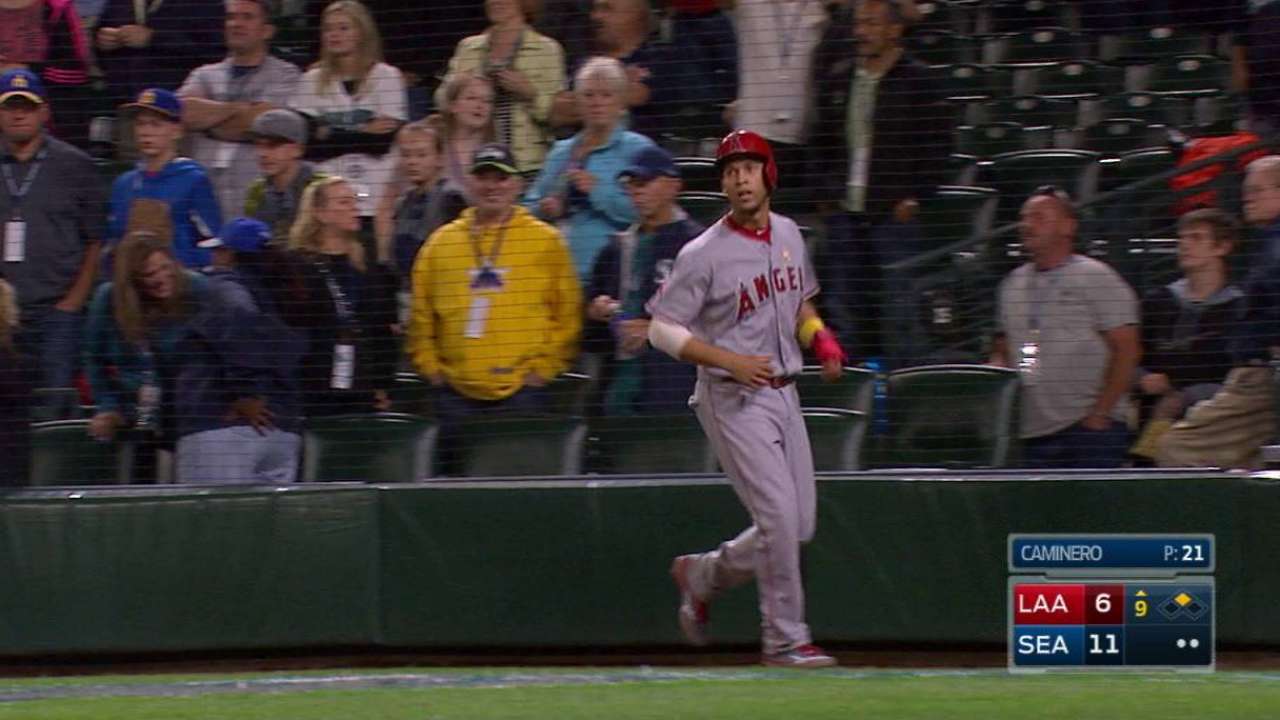 UPON FURTHER REVIEW
The Mariners won a challenge on a tag play at second in the top of the fifth. Petit hit a line drive to left field and tried to stretch it into a double. Heredia fired the ball to second to make it close, but Petit was called safe sliding into the base. After review, the replay official overturned the call for the first out of a 1-2-3 inning.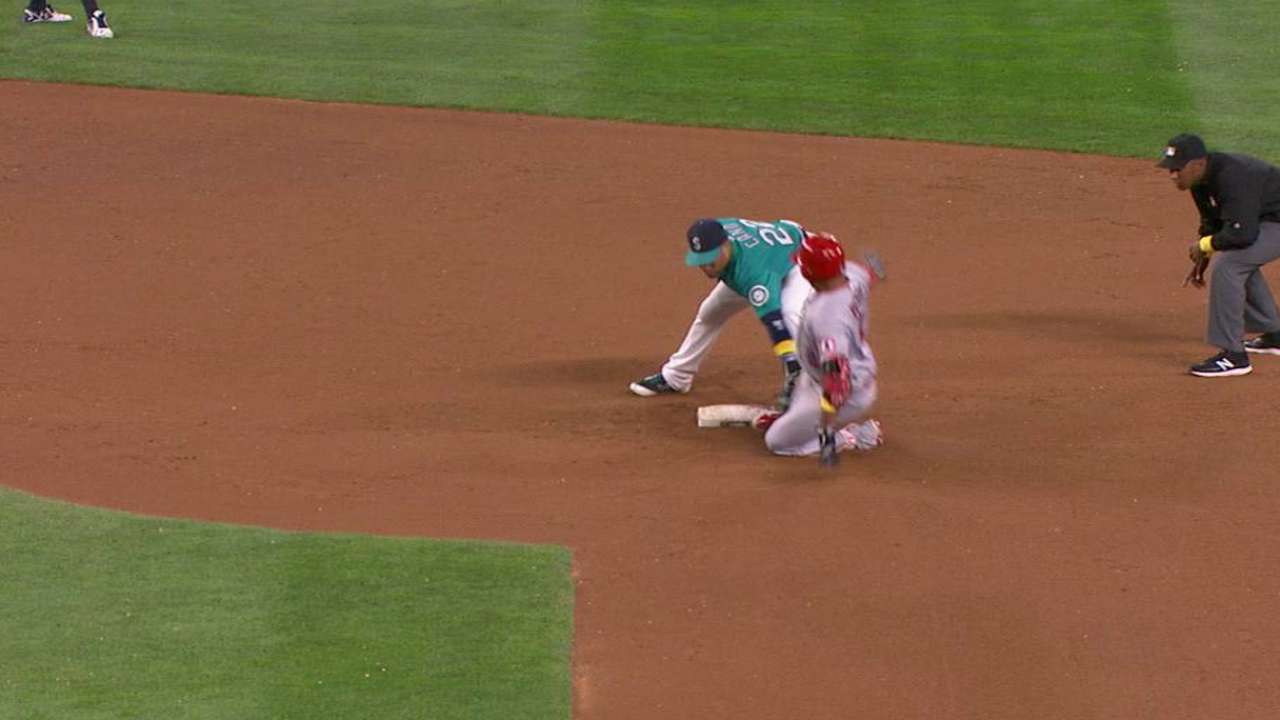 WHAT'S NEXT
Angels: Left-hander Tyler Skaggs (2-3, 4.75 ERA) has struggled in four career starts against Seattle. He is 0-2 with a 6.04 ERA overall and 0-1 with an 8.31 ERA in two starts this season. Skaggs missed all of last season after Tommy John surgery, and much of 2014 with injuries.
Mariners: Right-hander Taijuan Walker (4-9, 4.19 ERA) will take the mound for Seattle Saturday. Servais was pleased with Walker's last start in which he allowed four runs on four hits over seven innings in the Mariners' 4-1 loss to the White Sox. First pitch Saturday is scheduled for 6:10 p.m. PT.
Watch every out-of-market regular-season game live on MLB.TV.
Maddie Lee is a reporter for MLB.com based in Seattle.

Jim Hoehn is a contributor to MLB.com based in Seattle.

This story was not subject to the approval of Major League Baseball or its clubs.