'Fresher' Taillon appears stretch-run ready
Rookie righty allows 1 run over 6 innings in tough-luck loss to Brewers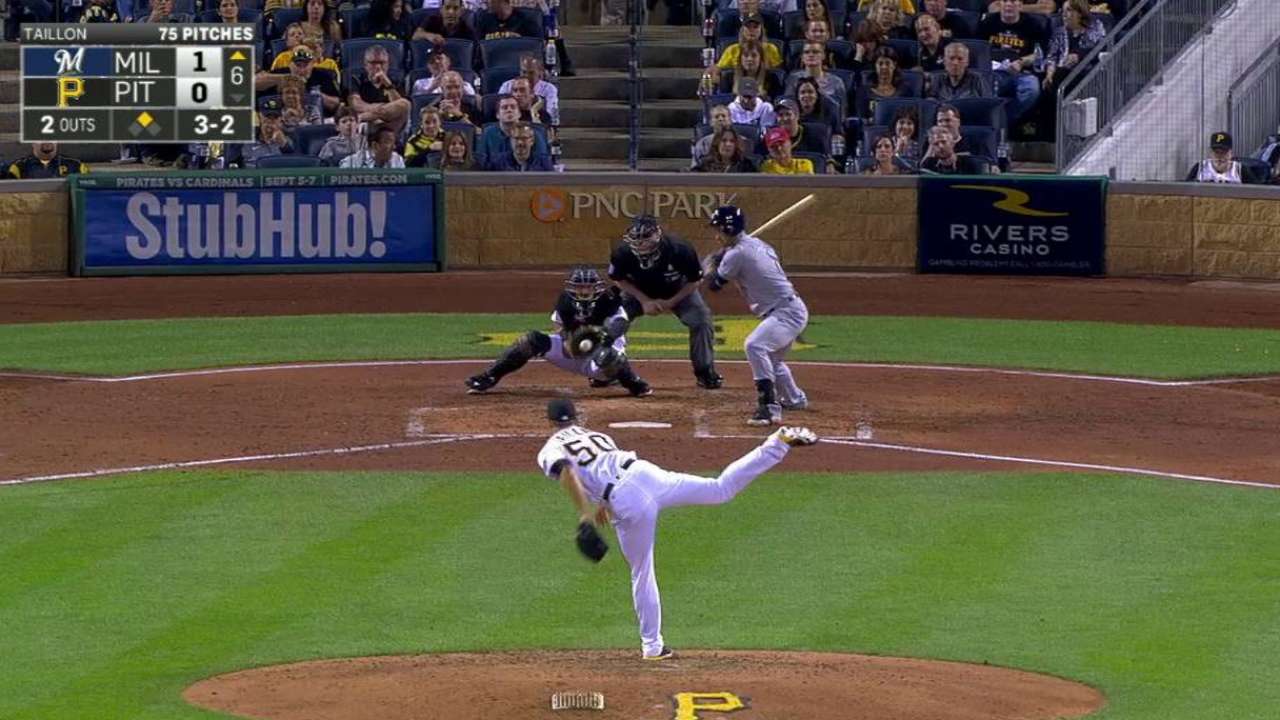 PITTSBURGH -- Jameson Taillon has pitched before in September, as he did Friday night at PNC Park. But he's never pitched through the month, and he's certainly never done it in the midst of a Major League postseason push.
That Taillon did so effectively against the Brewers is yet another encouraging sign in a season full of them. The rookie right-hander bounced back from a tough outing in Milwaukee by holding the Brewers to one run in six hyper-efficient innings, looking personally ready for the stretch run despite the Pirates' 1-0 loss.
"If I can help contribute in any way, that's great," Taillon said. "I'm aware of the standings, where we're at and what's at stake. If I'm a guy they'd like to turn the ball over to, that's great. I'm going to definitely do my best here."
Taillon has been the Pirates' most consistent pitcher since he was called up in June. He has logged 11 quality starts in 14 trips to the mound, posting a 3.25 ERA in 83 innings.
He was tagged with a loss Friday due to the Pirates' inability to score off seven Brewers pitchers and one mistake of his own: a high two-seam fastball that Scooter Gennett shot over Andrew McCutchen's head in center field for an RBI double in the sixth. He needed only 76 pitches to cruise through six otherwise-uneventful innings, allowing three hits while striking out four without a walk.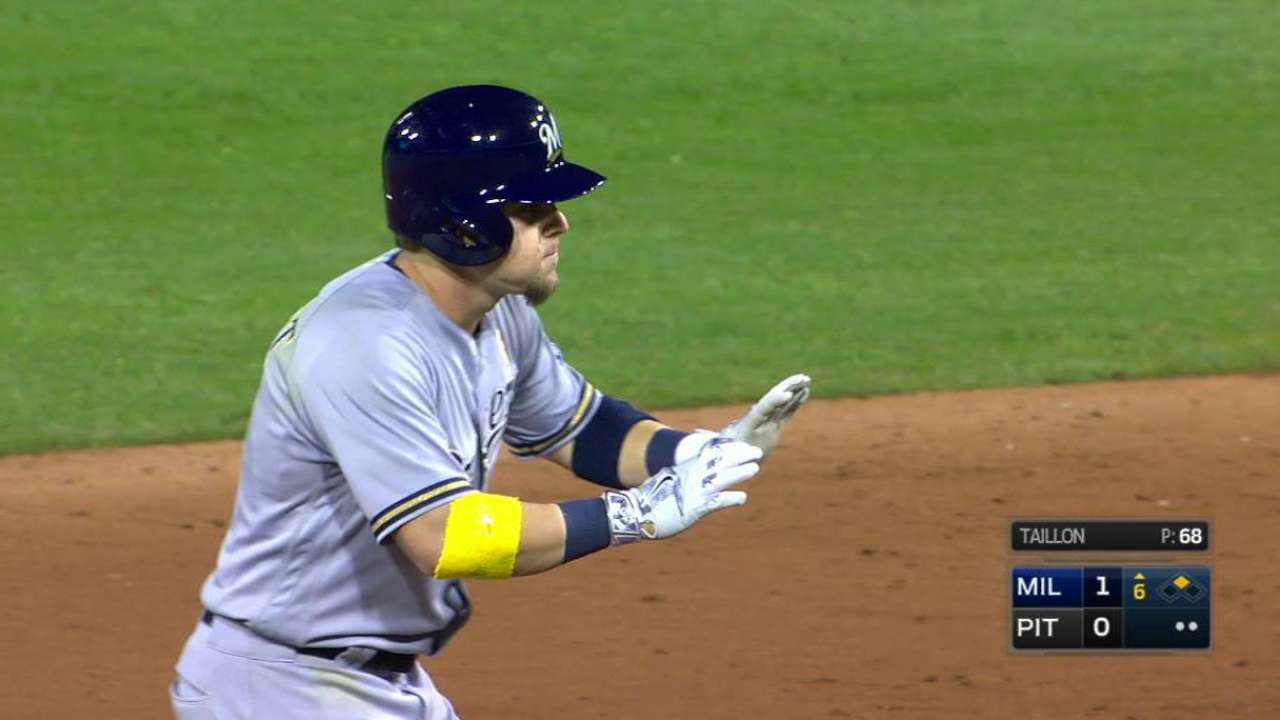 "Maybe my last start of three innings was a blessing in disguise," Taillon said. "I felt really good tonight, better than I have in a while. I felt fresher."
Along those lines, he didn't return for the seventh inning mostly because the Pirates are monitoring his innings in his first competitive season since 2013.
"He's down a run. It's been a long season," manager Clint Hurdle said. "That's why I took him out at that point."
Taillon threw 149 1/3 innings in 2013. He has thrown 144 2/3 innings this season between Triple-A and the Majors. The Pirates haven't publicly set a limit on Taillon -- he says he hasn't heard about one, either -- but the Bucs are being mindful of his workload.
"I know they always have my best interest in mind," Taillon said. "I know we're about to make a playoff push here. If that was the reason for it, I appreciate that they're thinking of me."
Taillon is doing his part to stay fresh down the stretch, too, cutting back on his between-starts work wherever possible.
"I feel great," he said. "I'm just going to be smart, be aware. I'm not going to overwork it, not going to go in the weight room tomorrow and squat 300 pounds or anything."
Particularly with Gerrit Cole temporarily sidelined by elbow inflammation, the Pirates will need a healthy, strong and effective Taillon to push into the postseason for the fourth straight year.
"He's done so many good things so many different ways," Hurdle said. "We want to continue to do everything we can to keep him in a spot to be competitive moving through the month."
Adam Berry has covered the Pirates for MLB.com since 2015. Follow him on Twitter at @adamdberry. This story was not subject to the approval of Major League Baseball or its clubs.