Standout night on D backs stellar 'pen work
Nieuwenhuis, Perez rob hits with glove; Crew erases 3 runners on bases vs. Bucs
PITTSBURGH -- The Brewers flashed some leather in a tight 1-0 win over the Pirates on Friday night at PNC Park.
Defensively challenged at times this season, the Brewers made some sparking defensive plays that helped preserve the narrow victory.
In the fifth inning, a spectacular diving catch by center fielder Kirk Nieuwenhuis robbed Josh Bell of a bloop single. Then in the seventh, first baseman Hernan Perez made a diving stop on a Francisco Cervelli grounder before making a backhanded flip to pitcher Carlos Torres for the out.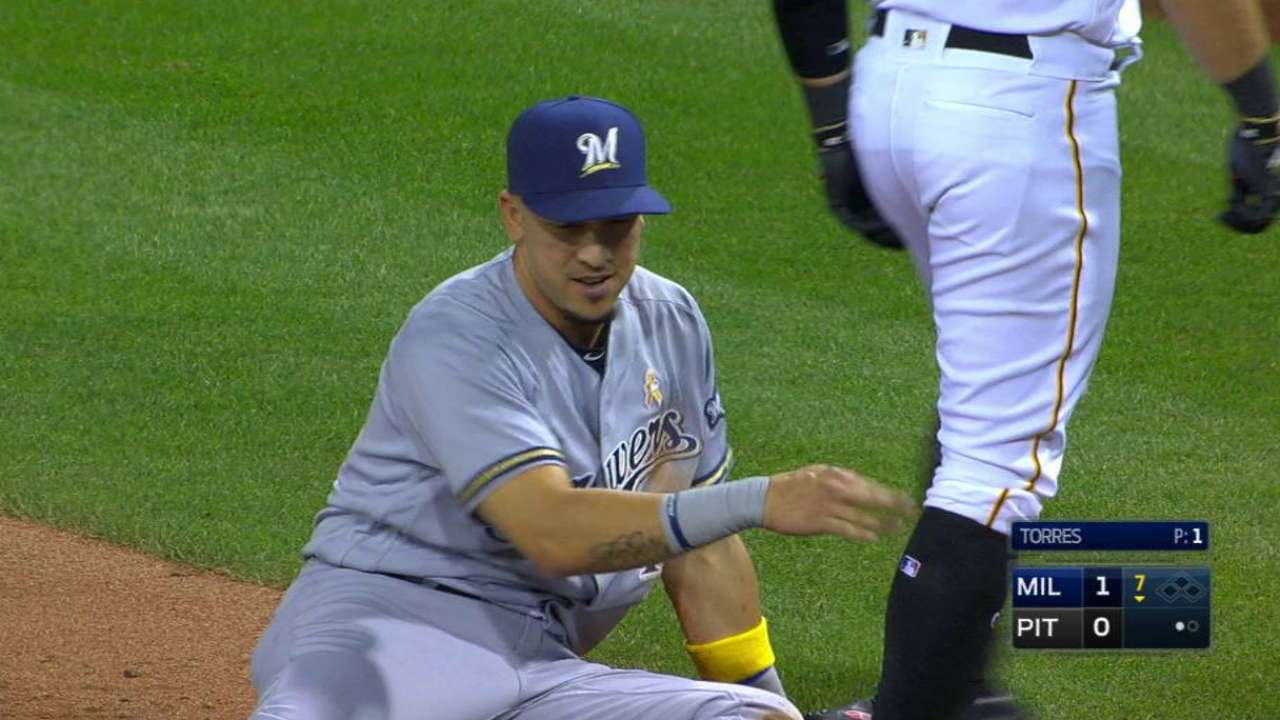 Catcher Martin Maldonado had a strong game behind the plate, throwing out Starling Marte trying to steal second in the second inning.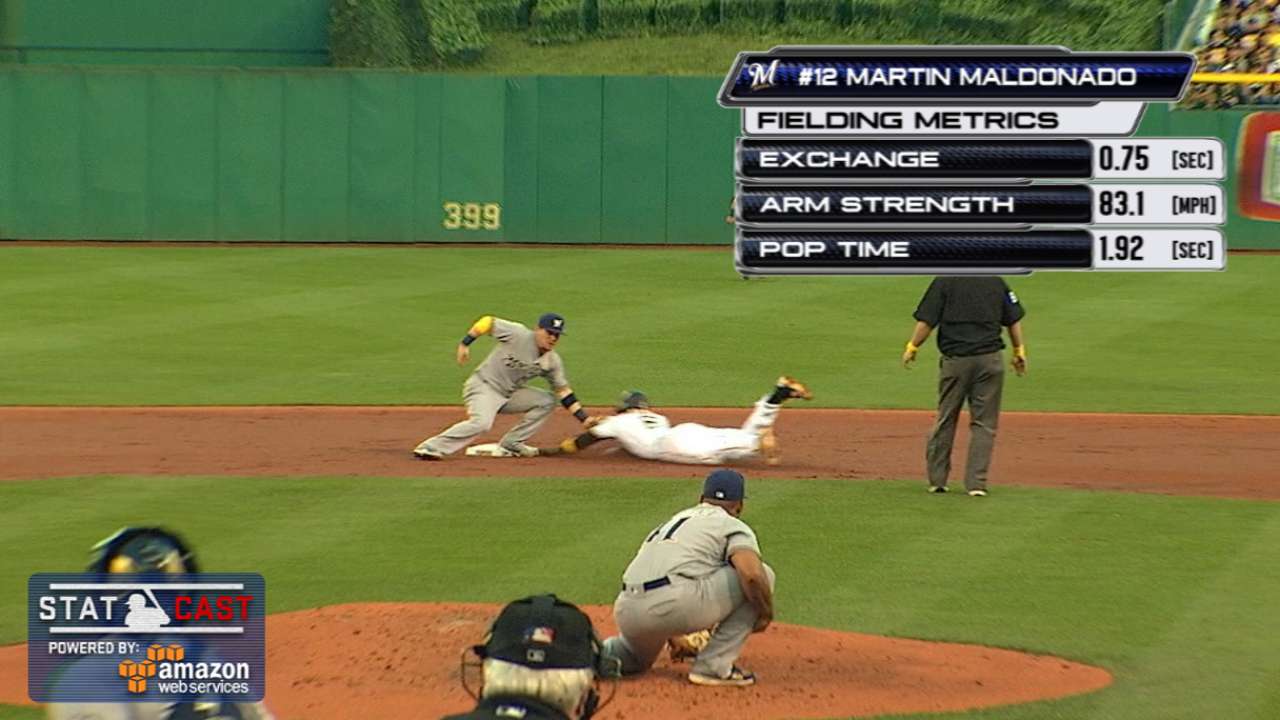 "We made defensive plays all night," Brewers manager Craig Counsell said. "It was probably our best defensive game of the year. Hernan Perez made a couple of plays, Orlando Arcia made a couple of plays, Kirk Nieuwenhuis made a diving play, Jonathan Villar just kind of put his body in front of that tag play on the throw and Martin Maldonado throwing a guy out. It was a great defensive effort tonight for sure."
Torres also picked Alen Hanson off on a steal attempt in the seventh.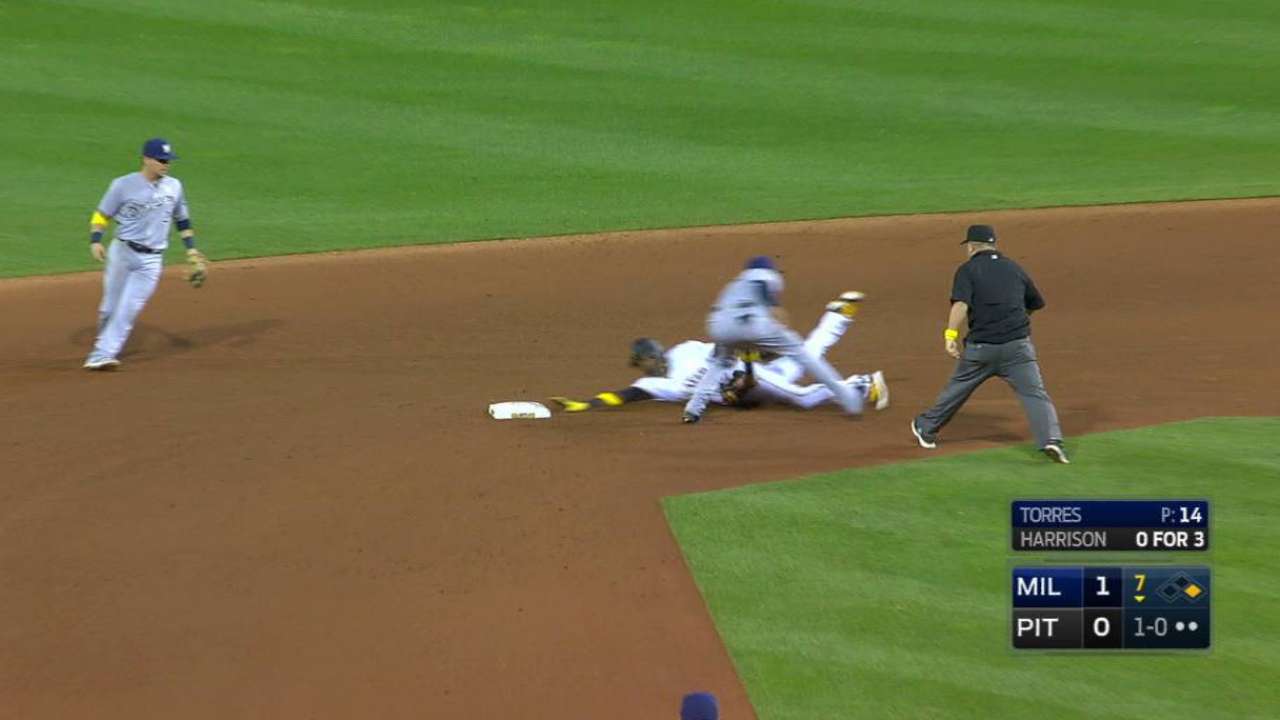 Even when the Brewers had their one defensive hiccup, they rebounded quickly to make one of the biggest plays of the game to keep the Pirates off the board.
In the eighth, Corey Knebel made an errant pickoff throw to try and get out the speedy Josh Harrison, but Perez recovered the ball down the right-field line and made a perfect throw to third to nab Harrison.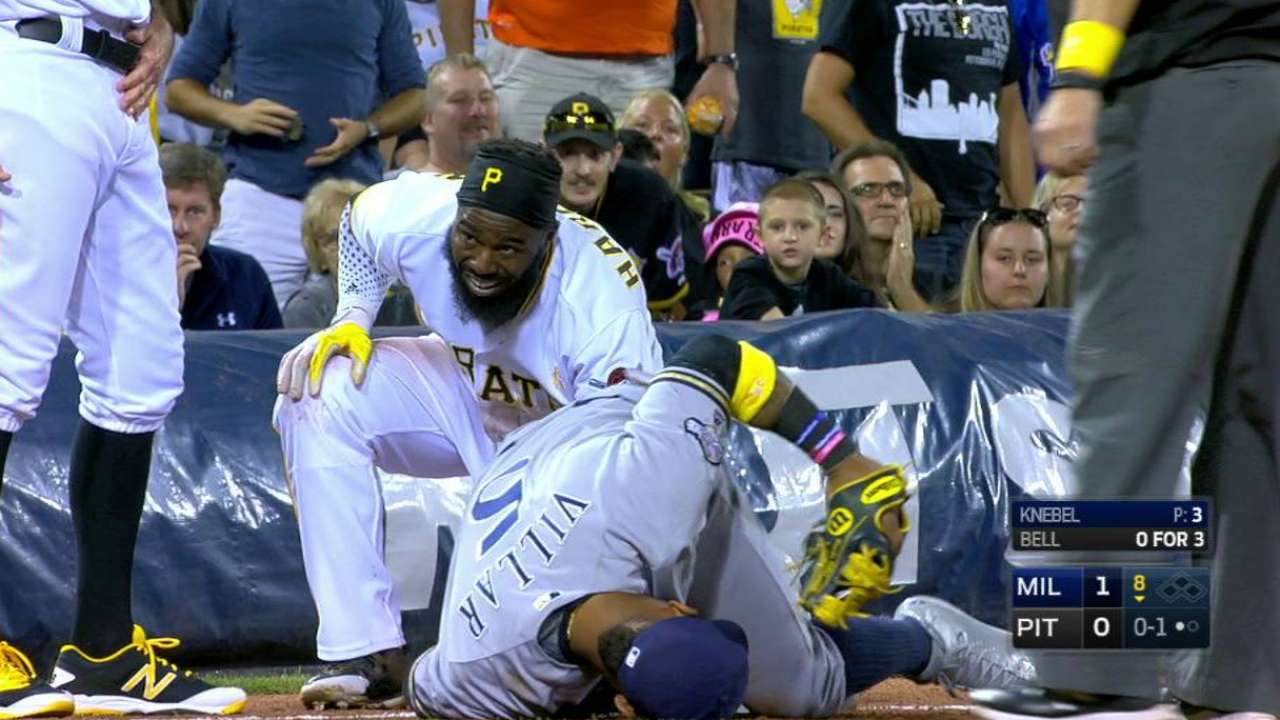 "We're pretty good out there," Counsell said. "We have some errors and stuff, but that can be deceiving at times, some guys they don't make many errors, but they don't get to balls that some guys do, and so it can be deceiving, but for the most part we're pretty solid out there. It's just nice to see going into the offseason and into next year."
The strong night on defense backed a stellar effort from the Brewers' bullpen. After Junior Guerra, on a pitch count after being activated from the disabled list before the game, was lifted after only 3 1/3 innings, six Milwaukee relievers combined to allowed two hits over 5 2/3 innings.
Jacob Barnes relieved Guerra and got the final two outs in the fourth.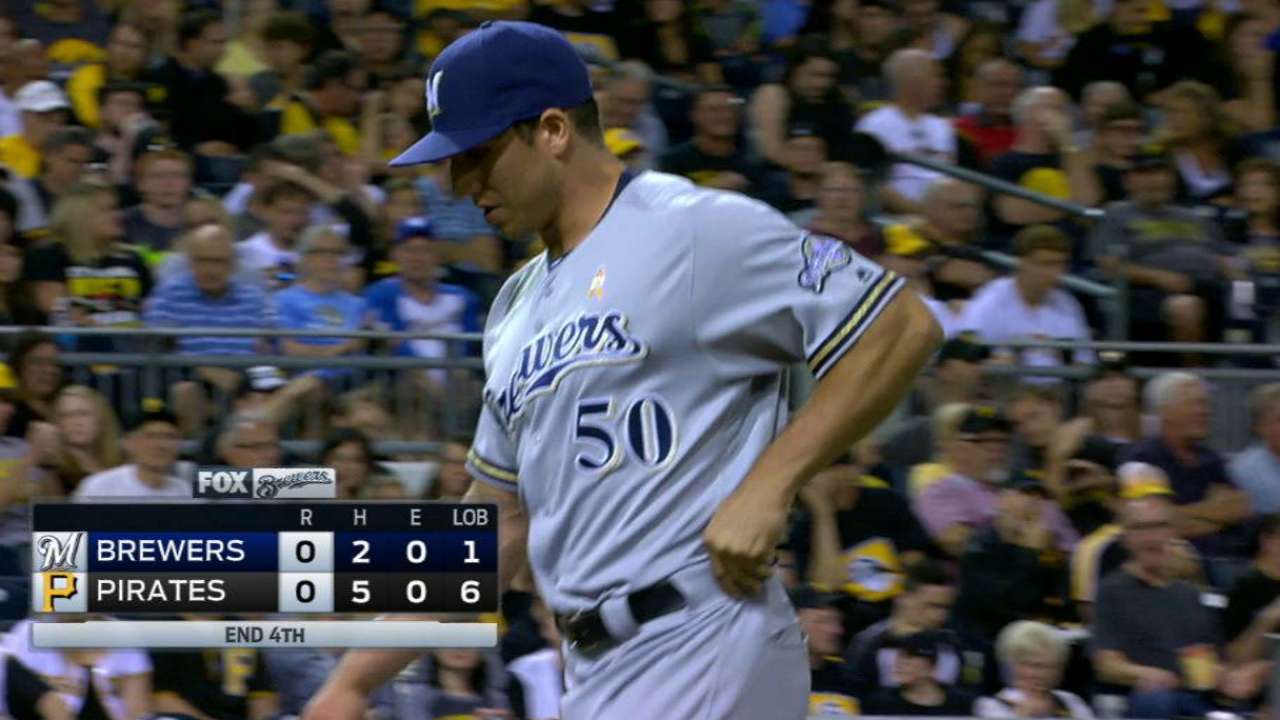 Blaine Boyer, Jhan Marinez and Torres each threw hitless innings of relief, and Knebel escaped the eighth thanks in part to Perez's throw to get Harrison.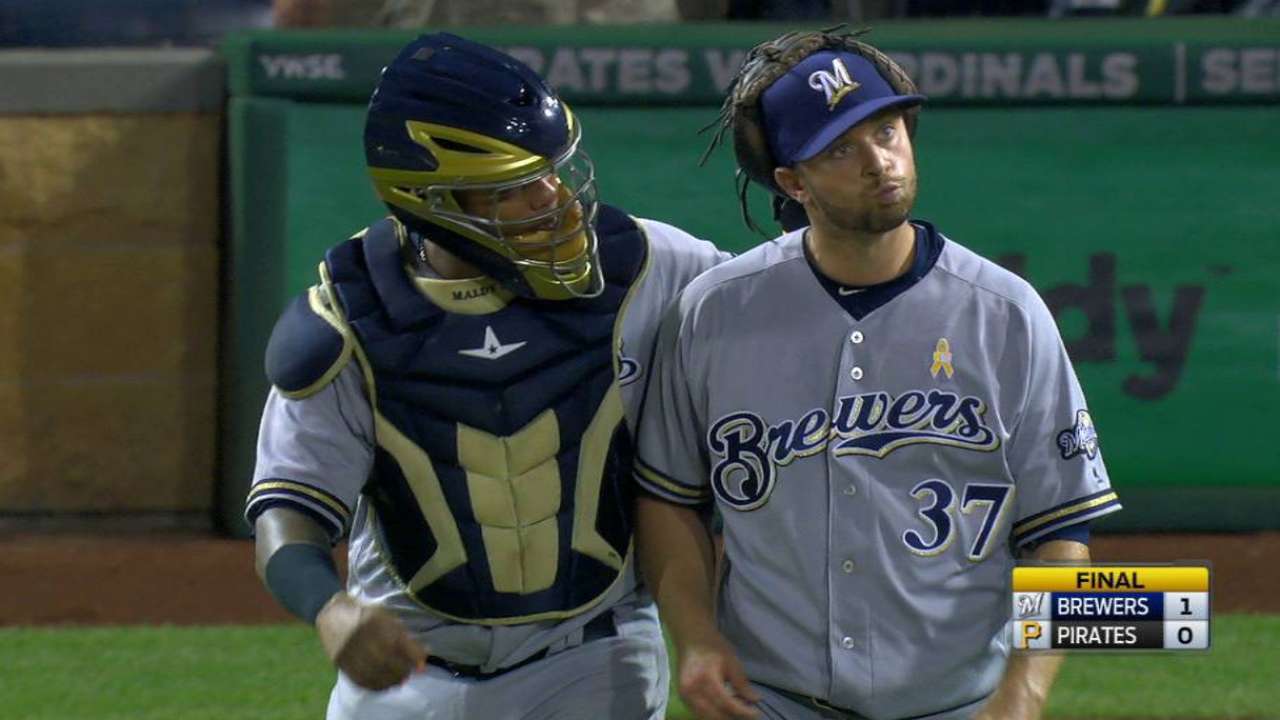 Then in the ninth, Tyler Thornburg worked around a one-out walk to David Freese to lock down the save.
George Von Benko is a contributor to MLB.com. This story was not subject to the approval of Major League Baseball or its clubs.