Bogaerts doesn't neglect defense in rout of A's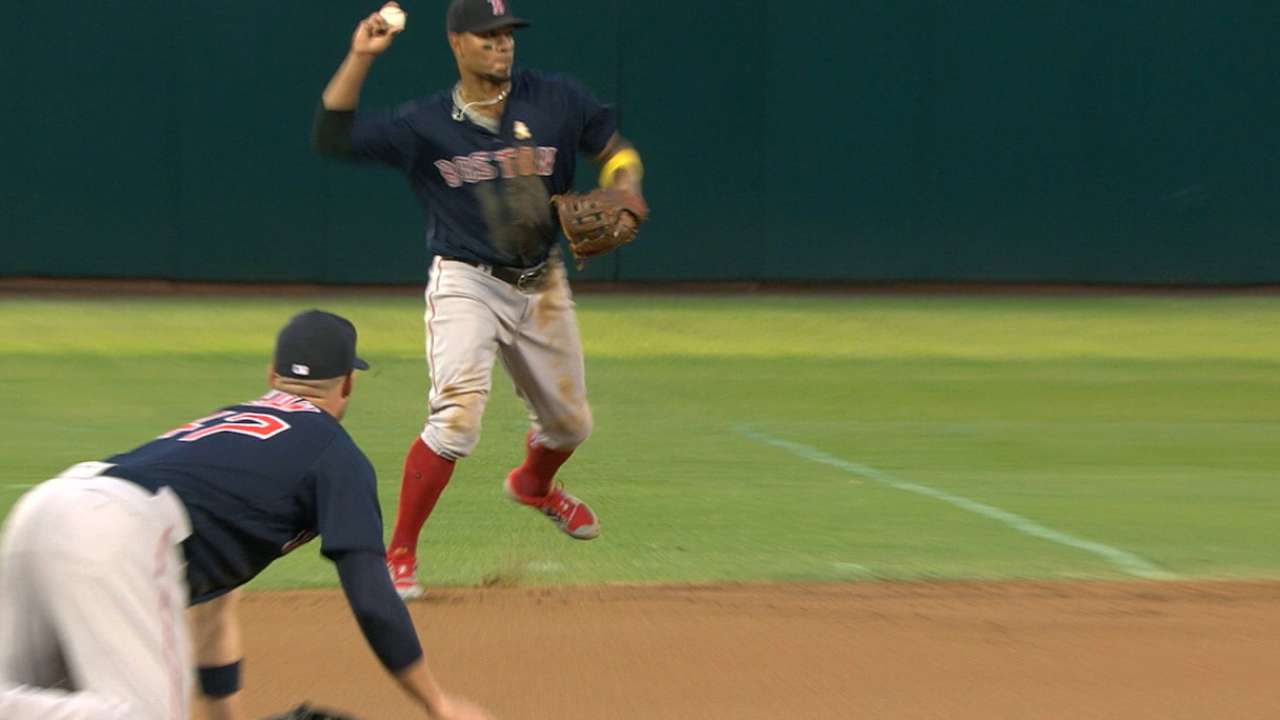 OAKLAND -- Red Sox shortstop Xander Bogaerts made several impressive defensive plays in Friday night's 16-2 win over the A's, two of which came at the expense of Oakland's Jake Smolinski.
In the sixth inning, Bogaerts made a superb over-the-shoulder basket catch in short left field, ranging backward to rob Smolinski for the first out of the inning. Bogaerts deftly knocked his cap off amid his pursuit to get a better view of the ball before catching it mid-stride with his back turned to the infield. He later began a 6-4-3 double play in same frame, ranging to his backhand to field a Billy Butler grounder and end the inning.
Smolinski also appeared to have a hit in the first inning, but Bogaerts was again in position, this time thanks to a fortuitous bounce.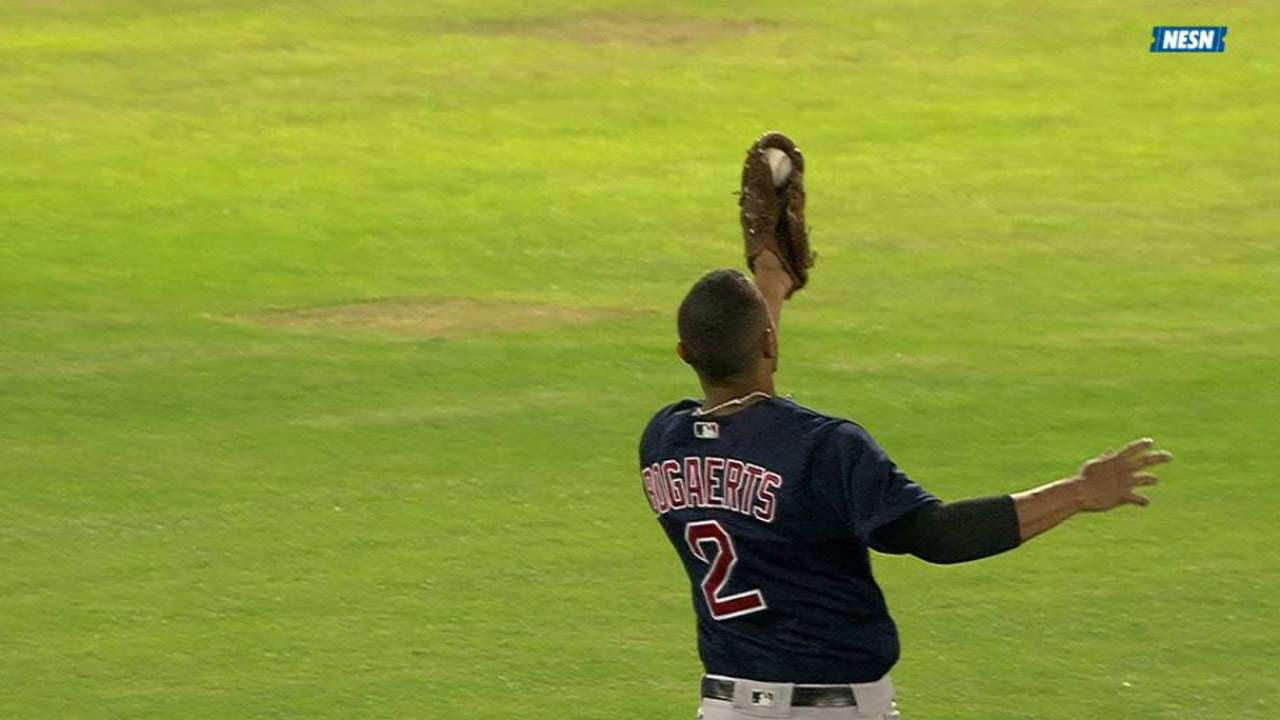 Third baseman Travis Shaw dove to his left and deflected a scorched Smolinski grounder into the air directly to Bogaerts, who calmly fielded it and threw out Smolinski at first base. Price made quick work of Oakland, retiring the side in order thanks to the quirky 5-6-3 second out.
Red Sox starter David Price, who was on the mound in the sixth inning, was impressed by Bogaerts' awareness, especially on the double play.
"Bogie made a very smart play," Price said. "He came up to me the at-bat before and was like, 'Hey, a comebacker with first and third with one out, you're coming back to me. Billy's not the fastest runner.' For him to know that and that next play go to second and turn the double play, a lot of the shortstops would probably take the easy out and go to third. And then you still have first and second with two outs. But Bogie understood the situation, and that was huge."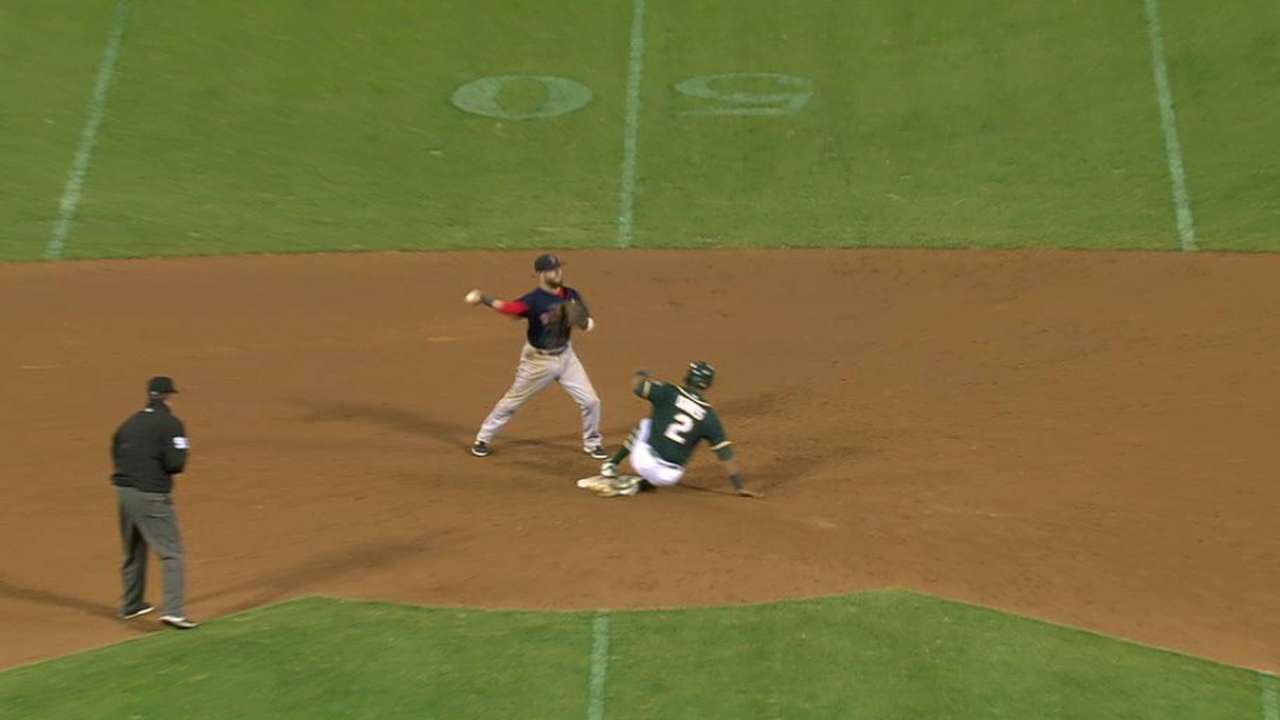 Mark Chiarelli is a reporter for MLB.com based in the Bay Area. This story was not subject to the approval of Major League Baseball or its clubs.