Kemp, Inciarte lead Braves' new-look offense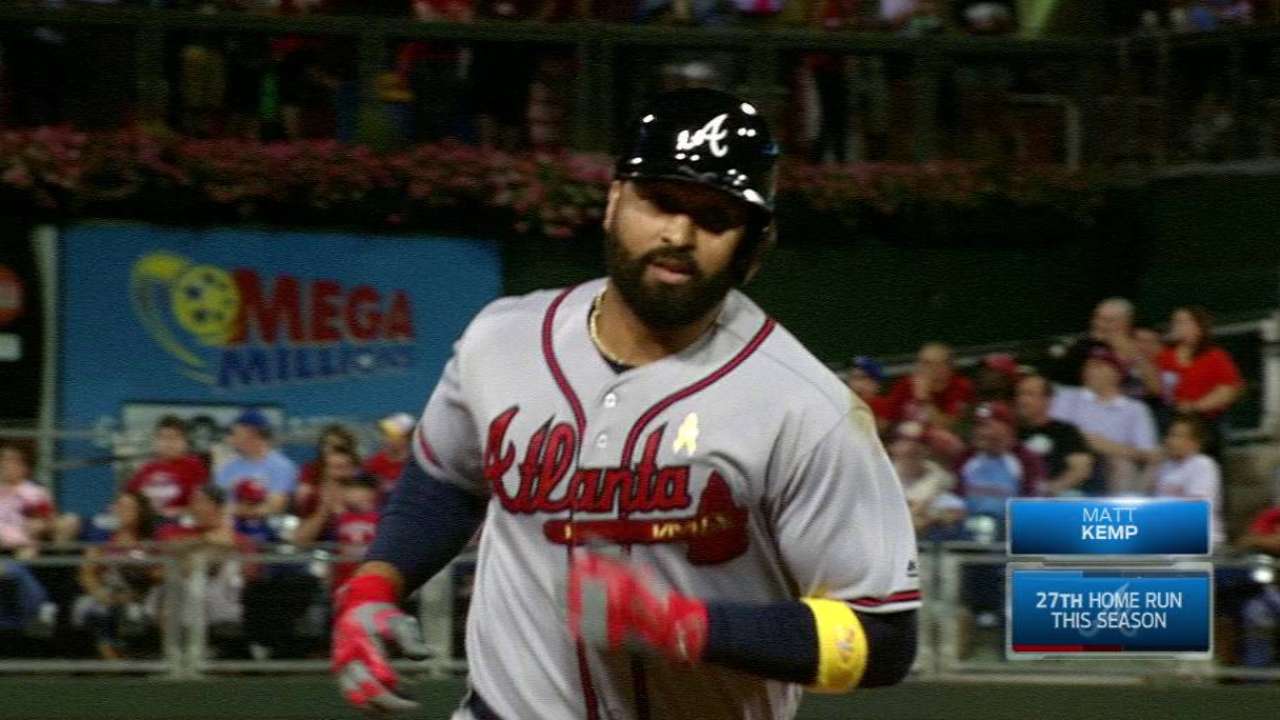 PHILADELPHIA -- It doesn't take a long memory to remember a Braves lineup without Ender Inciarte and Matt Kemp. And yet, it's hard to picture it without them.
Inciarte collected his 18th multi-hit game in his last 32, driving in a run and scoring another. Kemp added a three-run blast to tie the game in the fifth and drove in an insurance run in the ninth of an 8-4 win over the Phillies at Citizens Bank Park on Friday.
If anyone knows a Braves lineup sans Inciarte, Kemp or even Adonis Garcia, it's Freddie Freeman, who extended his on-base streak to 25 games with two doubles, two walks and an RBI.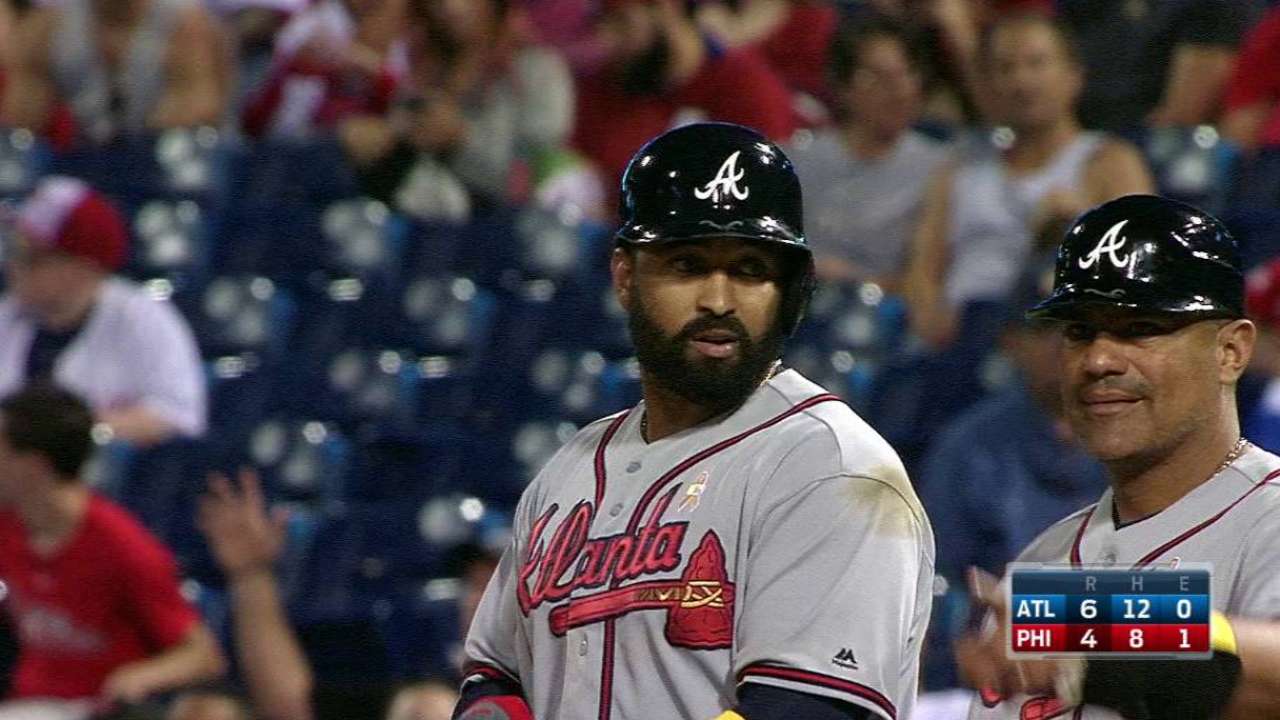 "The offense has been showing up the last week or so. Actually, since Matty got here," Freeman said. "Tonight didn't happen without Ender and Adonis and Matty."
Kemp hadn't worn a Braves uniform until it was already August. Inciarte had only been a D-back before this season. Now, Inciarte is the catalyst atop a lineup that has scored the second-most runs in baseball since Aug. 2 -- the day it inserted Kemp.
The fifth-inning home run was Kemp's fourth as a Brave. In 30 games with Atlanta, Kemp has 23 RBIs. Over that same time, Inciarte has scored 28.
"Matt, he hit the homer, but that add-on run was just a good piece of hitting," Braves manager Brian Snitker said. "He's just an RBI guy. Some guys have a knack for driving runs in. He and Freddy drive runs in. They love those situations."
Possibly most impressive of all is Inciarte's ability to get on base -- the most important job at the top of the order. The only thing standing between Inciarte and a 42-game on-base streak is a single 0-for-5 night in the middle of August.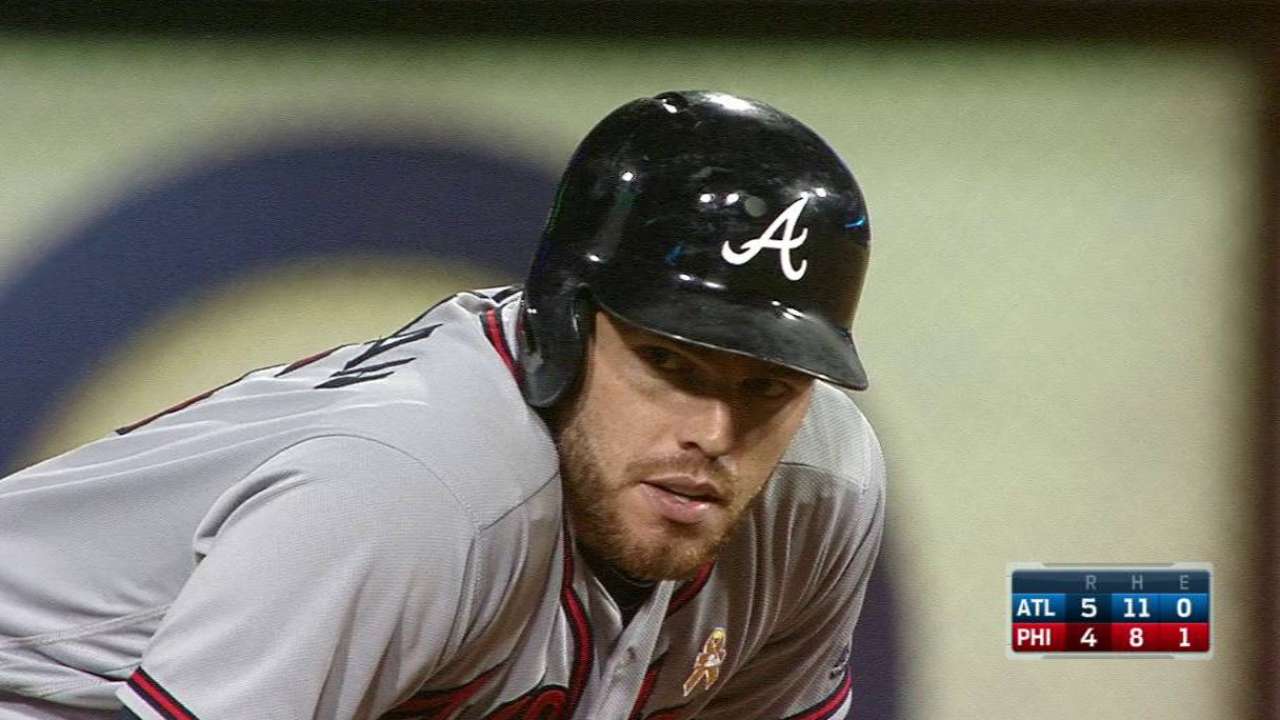 "I really feel the first two guys are setting the table for us offensively," Kemp said. "Then me, Freddie, [Nick] Markakis and the rest of us, we're just feeding off of that. You can't really score runs without those first two guys getting on base and doing what they're doing."
Atlanta has now scored at least seven runs in its last four ballgames. Since it acquired Kemp, Atlanta is scoring more than 5.2 runs per game. The offensive surge has brought the Braves from dead last in runs scored to securely in second, ahead of the Phillies.
Evan Webeck is a reporter for MLB.com based in Philadelphia. This story was not subject to the approval of Major League Baseball or its clubs.