Miggy's career full of key knocks against KC
Tigers slugger's 2-run winning single gives him 108 RBIs all-time vs. Royals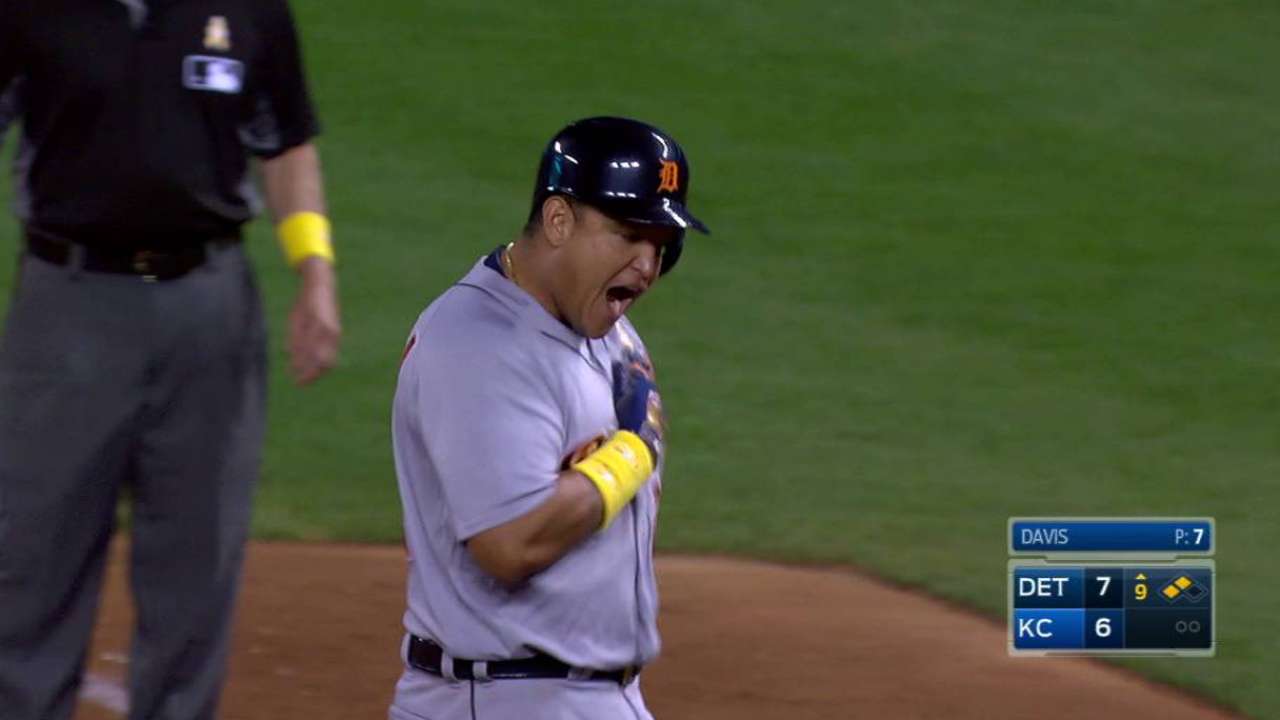 DETROIT -- Miguel Cabrera played through a groin tear in 2013, then a broken foot the next fall. He played through calf and ankle issues down the stretch last year with only an American League batting title on the line. If it's September, he's playing.
"We have to keep fighting, try to fight all the way to the end," Cabrera said after culminating his four-RBI night with the go-ahead two-run single in a 7-6 win on Friday at Kauffman Stadium.
And if Cabrera is playing in September, there's a good chance he's hitting. He's done it too many times. The Royals have seen it too often. Nobody does it better than Cabrera, not just fighting the opponent, but fighting himself.
Not only did his sore ankle not keep him from playing on Friday, it didn't keep Cabrera from sliding for a foul ball, sending his foot into the railing between foul territory and the first-base stands. He got up, dusted himself off, walked off the impact on his ankle and took his spot at first base.
Cabrera took it easy on himself when he hit Peter Moylan's seventh-inning sinker to the waterfall beyond left field for his 29th home run, allowing the Tigers' slugger to trot around the bases with what at the time loomed as a critical insurance run. The Royals' eighth-inning comeback rendered that moot.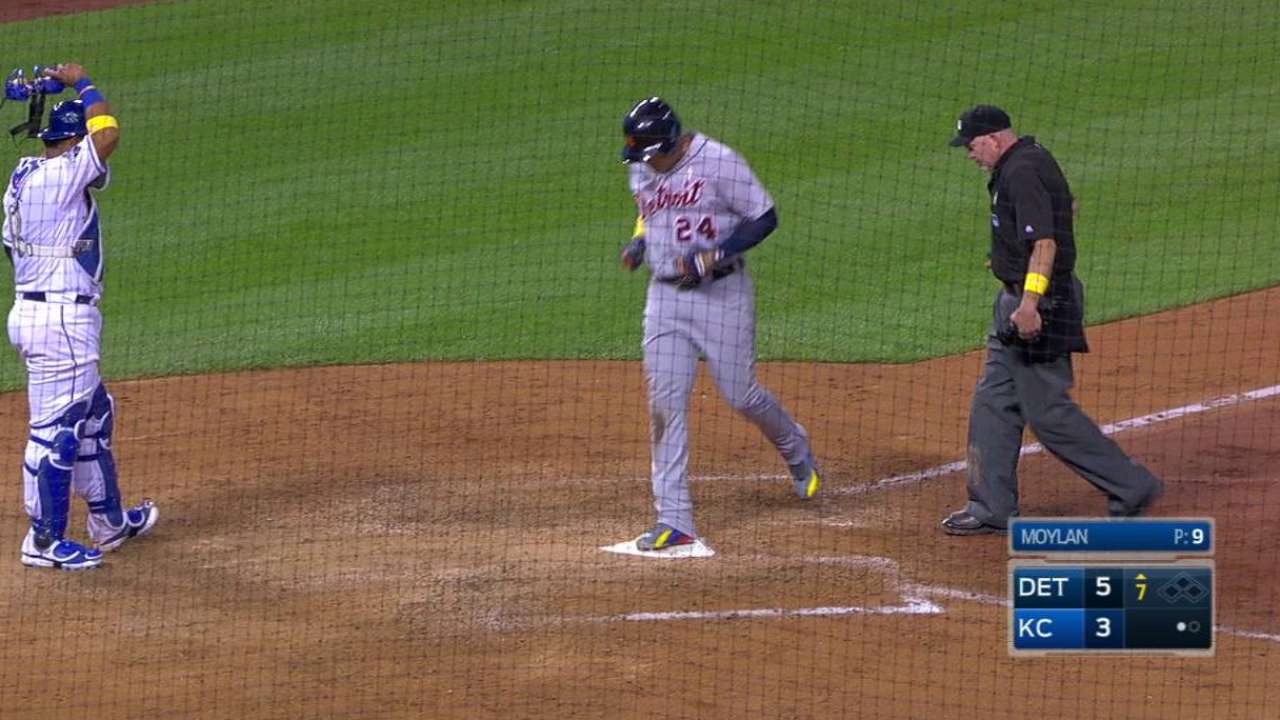 When the Tigers came up for one last chance against All-Star closer Wade Davis, fresh off the disabled list, Cabrera's teammates made it easy for him. After Davis' first pitch hit Ian Kinsler, Jose Iglesias got to hit, rather than bunt, because manager Brad Ausmus wanted to go for the win rather than extra innings with his bullpen already extended.
Iglesias hit a gapper that rolled past Alex Gordon in left-center for a double. Considering how far Gordon had to go to run down the ball, third-base coach Dave Clark could've waved Kinsler home with a reasonable chance to score. Considering who was coming up, there was no sense risking it.
"We have no outs," Ausmus said, "and we have Cabrera and [Victor] Martinez coming up. He probably wanted to be 100 percent sure that Kinsler could score to send him, because if he's not 100 percent sure, it would be worse to have him thrown out with Miguel Cabrera coming up."
Thus, Cabrera came up with runners at second and third, needing only a single to put the Tigers back on top.
"If that happened early in the game, I'm trying to hit the ball the other way," he said. "But right there, they're playing halfway. It was the ninth inning and I'm trying to make something happen. I'm trying to make good contact on the ball."
Davis threw him a first-pitch breaking ball on the inside corner, at the knees. Cabrera, needing only a single, turned on it and sent a ground ball to the left side, just under a diving Alcides Escobar at shortstop.
"We got lucky, past a Gold Glover," Cabrera said. "He's so good over there."
The RBIs give Cabrera 108 for his career against Kansas City, trailing only Martinez (116) and Joe Mauer (111) among active players. Cabrera has 1,530 RBIs for his career against all opponents, 260 of which have come in September.
The way he's hitting, he'll have a few more before this September is through.
Jason Beck has covered the Tigers for MLB.com since 2002. Read Beck's Blog, follow him on Twitter @beckjason and listen to his podcast. This story was not subject to the approval of Major League Baseball or its clubs.