MLB raises awareness for childhood cancer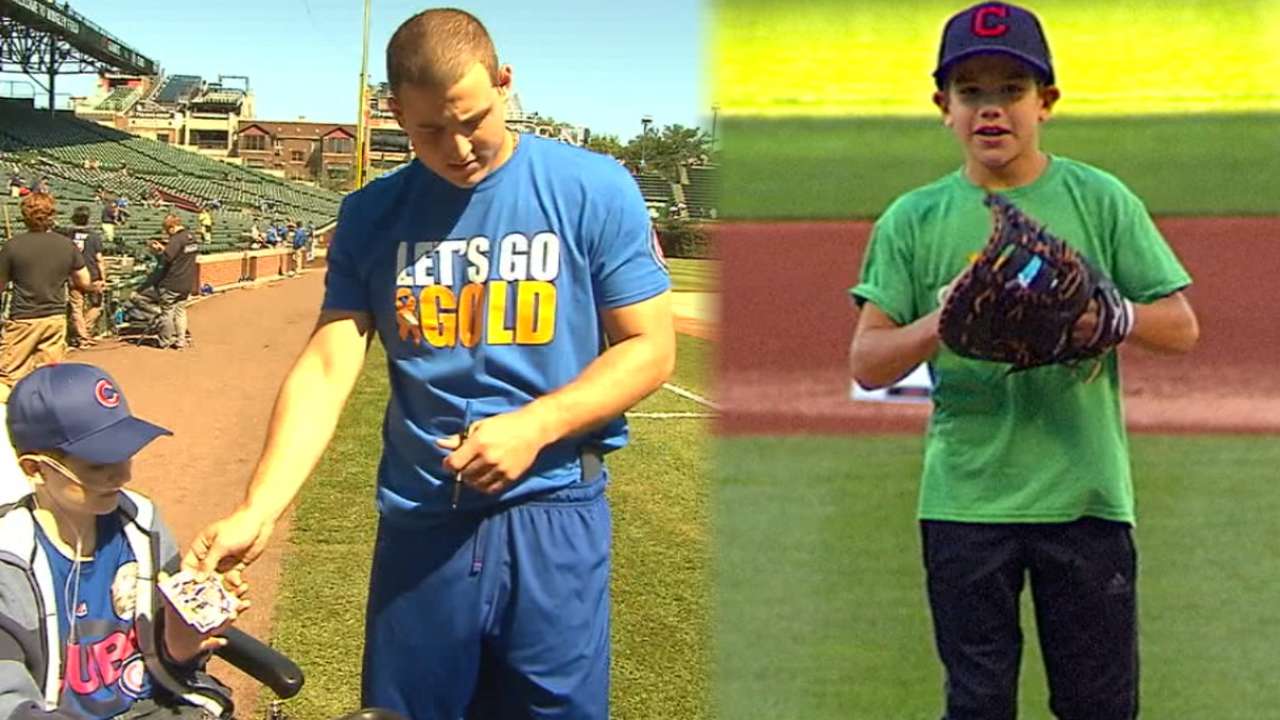 For Cubs star first baseman Anthony Rizzo, Friday marked the eight-year anniversary of the day he learned he was in remission. Coincidentally, Friday was the same day that Major League Baseball held a league-wide effort to raise awareness for childhood cancer.
"I remember getting the news, and I could see it and remember where I was," Rizzo said on Friday. "It's so far in the past, but when I think about it, it was like it was yesterday."
MLB launched a league-wide effort to raise childhood cancer awareness in partnership with Stand Up To Cancer (SU2C). All players, coaches, umpires and grounds-crew members wore gold-ribbon decals and gold wristbands to further promote awareness for childhood cancer, which is the leading cause of death by disease in children aged 15 and under in the United States.
Rizzo, 27, was diagnosed with limited-stage classical Hodgkin lymphoma in April 2008, when he was a Minor Leaguer in the Red Sox organization. One of the people who inspired him was pitcher Jon Lester, whom he met in Boston, and who now anchors the Cubs' rotation with Jake Arrieta.
Rizzo predicted Lester would throw a no-hitter on Friday afternoon against the Giants. Lester came close. The left-hander held the Giants hitless until Hunter Pence's solo home run with two outs in the seventh in the Cubs' 2-1 victory.
"It's nice that we're recognizing kids now," said Lester, who was diagnosed with lymphoma in late August 2006. "It's a serious issue. ... It's a little more special for me and Riz with our foundations and what we've been through."
We're joining @MLB in the fight against pediatric cancer. https://t.co/8gkQtKoZSr #LetsGoGold pic.twitter.com/iwOW1sCgqd

— Chicago Cubs (@Cubs) September 2, 2016
Since joining the Cubs, Rizzo started the Anthony Rizzo Family Foundation, which has raised more than $2 million with a walk-a-thon in his hometown of Parkland, Fla., plus "Cook-Off for Cancer" and "Laugh-Off for Cancer" fundraisers.
Lester's foundation is the NVRQT Campaign, short for "never quit," which partners with the Pediatric Cancer Research Foundation to raise awareness and money for children's cancer research.
Rizzo was active on social media on Friday, sharing his story. He posted on Twitter: "8 years ago TODAY I was told I was in remission. I remember crying and hugging my family thinking how lucky we were."
He added: "Today we are going gold to recognize those families who are battling cancer who will never receive the news my family did."
Rizzo also noted that only 4 percent of cancer funding goes to pediatric cancer research, and he tweeted, "We must change this and make sure every kid has a fighting chance. #LetsGoGold."
Checking out all the gear. Come support @RizzoFoundation and help us knock cancer out of the park. pic.twitter.com/2rnBNr2qbX

— Anthony Rizzo (@ARizzo44) September 2, 2016
Meanwhile, in Pittsburgh, eight Pirates players and coaches shaved their heads for a good cause.
Pirates coaches Nick Leyva, Jeff Livesey, Euclides Rojas and Heberto Andrade, along with closer Tony Watson, reliever Jared Hughes, outfielder Starling Marte and catcher Chris Stewart, participated in a head-shaving event at PNC Park.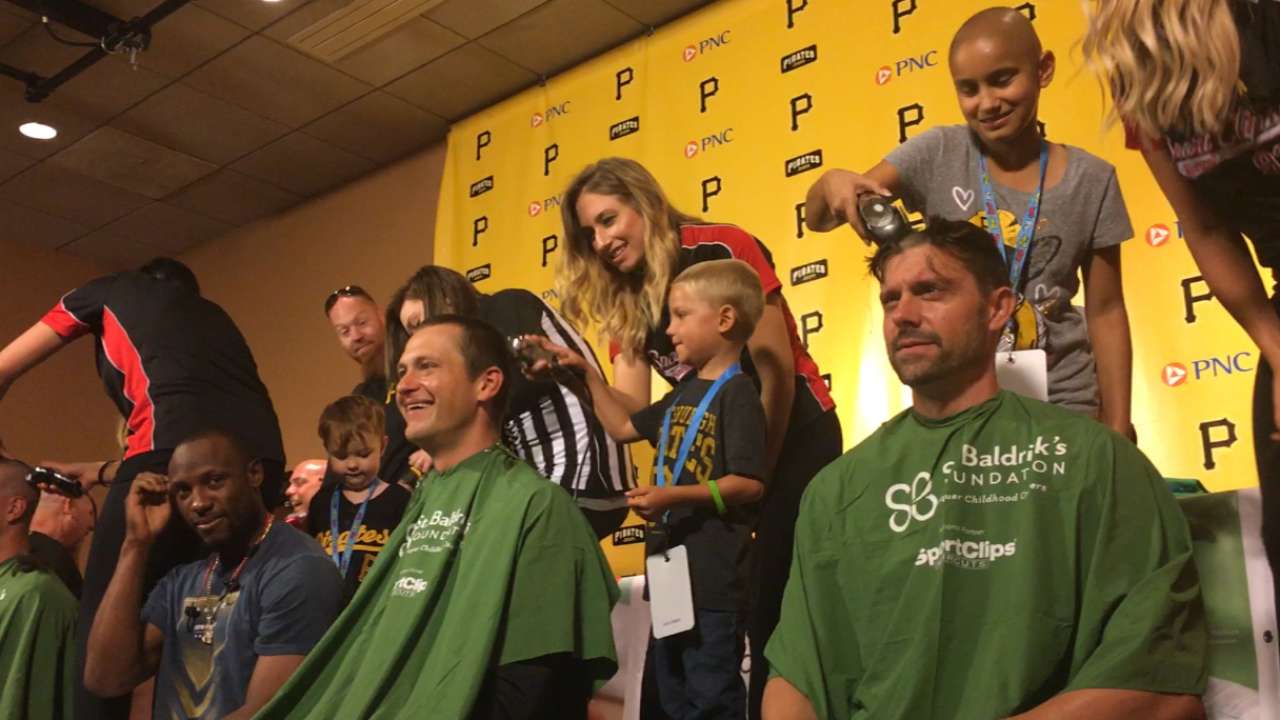 "It just goes to show that baseball cares, the Pirates care," Stewart said. "It's a great cause, a great day for everybody."
The Pirates invited 25 children affected by cancer for a night out at the ballpark. The 25 children, all battling the disease or having overcome it, gathered with their families in a conference room at PNC Park early Friday evening. Each player and coach picked a child to help shave his head on stage, with Stewart joking that his mane was the grand prize.
"It's really cool what we were able to do with them, really cool for them to come out and do that for us," Stewart said. "Overall, it's a great day."
Before, during and after with Stew. pic.twitter.com/5AVgcEdJqW

— Pirates (@Pirates) September 2, 2016
From there, the night took on a superhero theme. Each child, a V.I.P (Very Important Pirate) for the day, took part in a "caping" ceremony on the field in which they each received a black-and-gold Pirates cape from Pittsburgh's players, coaches, wives and front-office executives.
The children then headed to three of PNC Park's World Series suites to watch the Pirates play the Brewers.
"It's a wonderful cause," Hughes said. "If we can help out by merely shaving our heads, how easy is that? And I think the kids had a lot of fun today."
Rizzo and Lester are far from the only big leaguers with foundations involved in the fight against cancer.
Rangers pitcher Derek Holland has a 60 Feet 6 Foundation that is actively involved in the fight against childhood cancer.
Watch @Dutch_Oven45 treat his pals from @SunshineKidsOrg to a magical day at the ballpark. #AHeartForKids pic.twitter.com/pziV6uI0W1

— Texas Rangers (@Rangers) September 2, 2016
"It's huge," Holland said. "There's never going to be enough words to express how this makes me feel. These are kids that don't get the same opportunity that I've got right now, or other kids have got, so any time I can give back to them and let them know that people like us are on their side cheering for them and pulling for them to help them get through these tough times."
Rockies reliever Jason Motte, who uses his Jason Motte Foundation to raise money for children's hospitals and pediatric cancer programs, provided shirts with a gold backwards K for Rockies personnel during Friday warmups. The shirts are part of the "Strike Out Cancer" movement, which Motte and his foundation helped launch a few years ago.
@Rockies rocking the @MotteFoundation @StJude #Kcancer shirt this Sept 2nd. #GoGold #KCancerDay16 pic.twitter.com/zOmR8Grifz

— Jason Motte (@JMotte30) September 2, 2016
"It's a cause that means a lot to me," said Motte, who has two young children. "It's something that I think we can make a difference in."
Orioles manager Buck Showalter said that Friday's efforts were a "reminder of the impact our guys, everyone can have."
Dr Yoram Unguru recognized for his dedication to helping children battling cancer at @horizondaycamp #BirdlandHeroes pic.twitter.com/bD1csZFyeS

— Baltimore Orioles (@Orioles) September 3, 2016
"It just reminds you that there are a lot of other things going on in this world that you should keep in the forefront," Showalter said. "Any chance we can help with that is pretty humbling."
Austin Laymance is a reporter for MLB.com. This story was not subject to the approval of Major League Baseball or its clubs.