Moncada gives Sox a glimpse of the future
MLBPipeline's No. 1 overall prospect debuts in blowout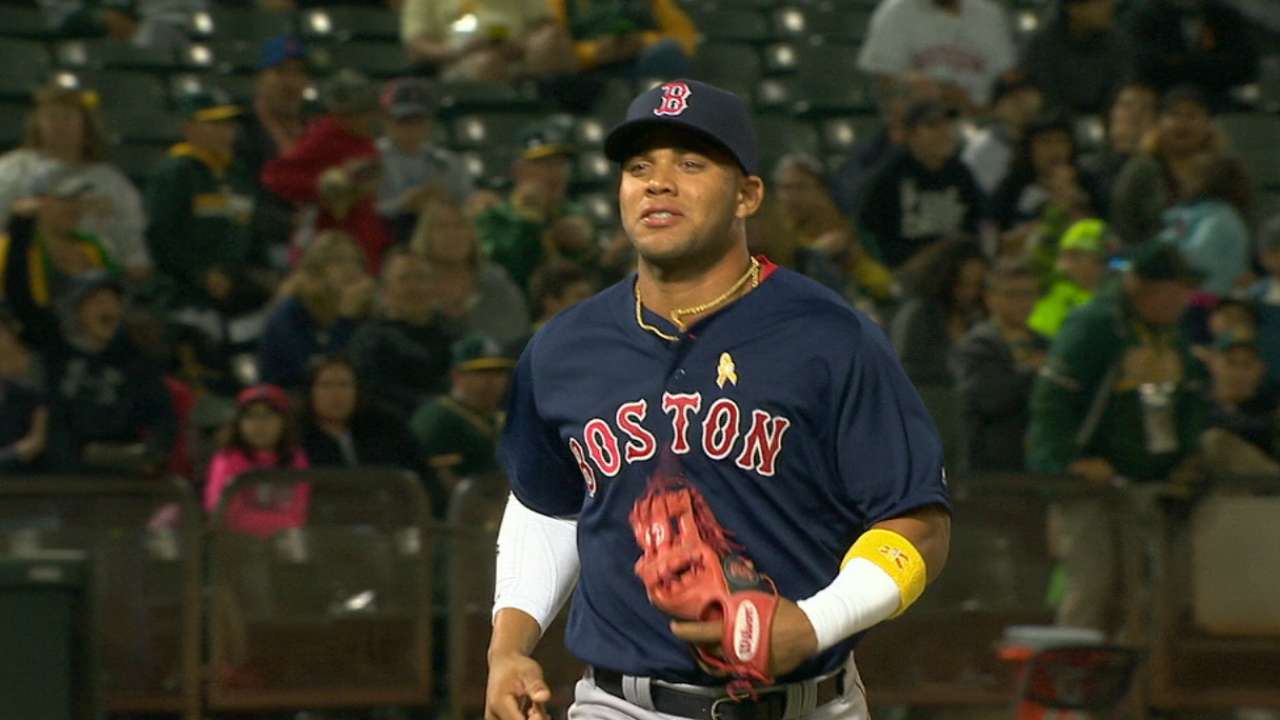 OAKLAND -- After months of anticipation, Yoan Moncada finally arrived. And, as he tends to do, the rookie found a way to impress while leaving room for the imagination to wonder what his future holds.
Moncada made his Major League debut on Friday night in a 16-2 Red Sox win over the A's, entering as a defensive substitution in the seventh inning. Manager John Farrell noted it was an ideal "none-pressure situation," as Moncada played three innings on defense and batted twice at the tail end of a blowout.
The 21-year-old appeared to take it in stride, even if he wasn't necessarily feeling at ease.
"It was a shock, a culture shock," Moncada said. "You see the big stadium, you're a little nervous before the game. The nerves were there, but it felt good to be out there. I'm looking forward to the future."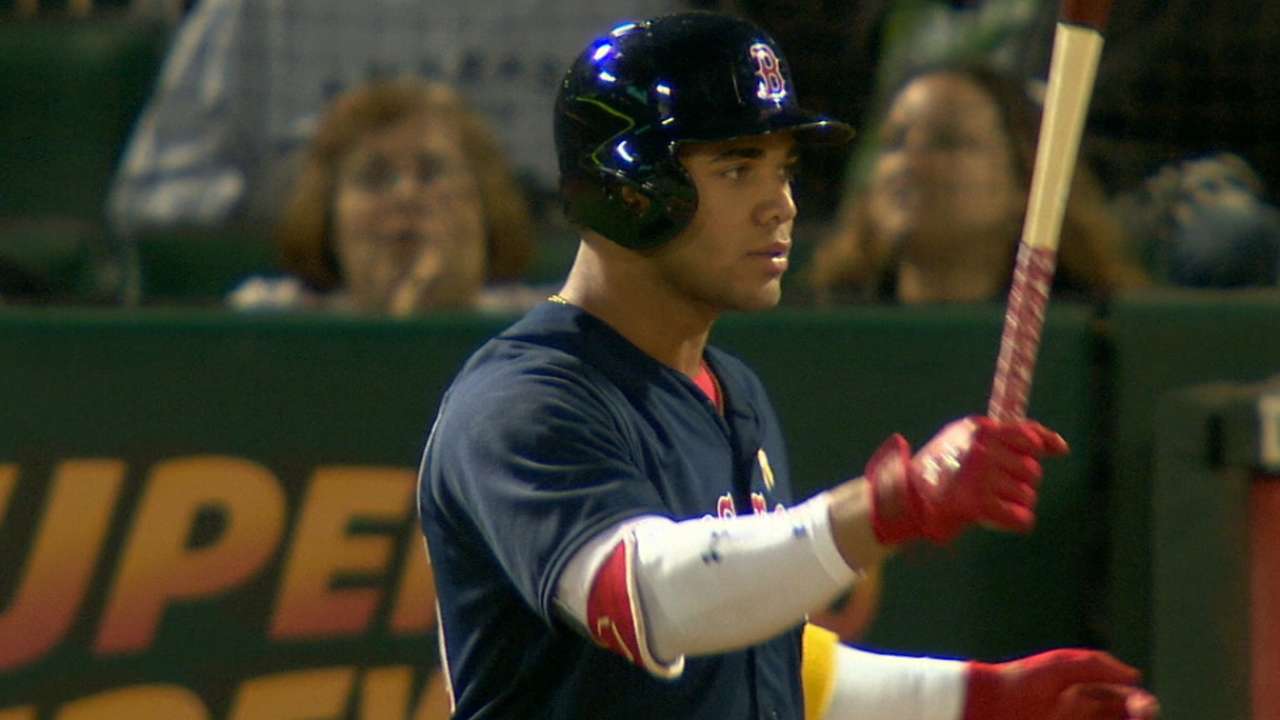 So are the Red Sox, who took one of their biggest pieces of the future and made him part of their present playoff push, calling him up Friday to join the active roster. Moncada was quickly challenged upon entering the game at third base, fielding a Chad Pinder hopper and firing a dart to first baseman Travis Shaw for the final out of the seventh inning.
Moncada then made his first plate appearance in the top of the eighth, drawing a walk against A's reliever J.B. Wendelken. He scored on an RBI double from Shaw, flying around the bases and blowing through a stop sign from third-base coach Brian Butterfield.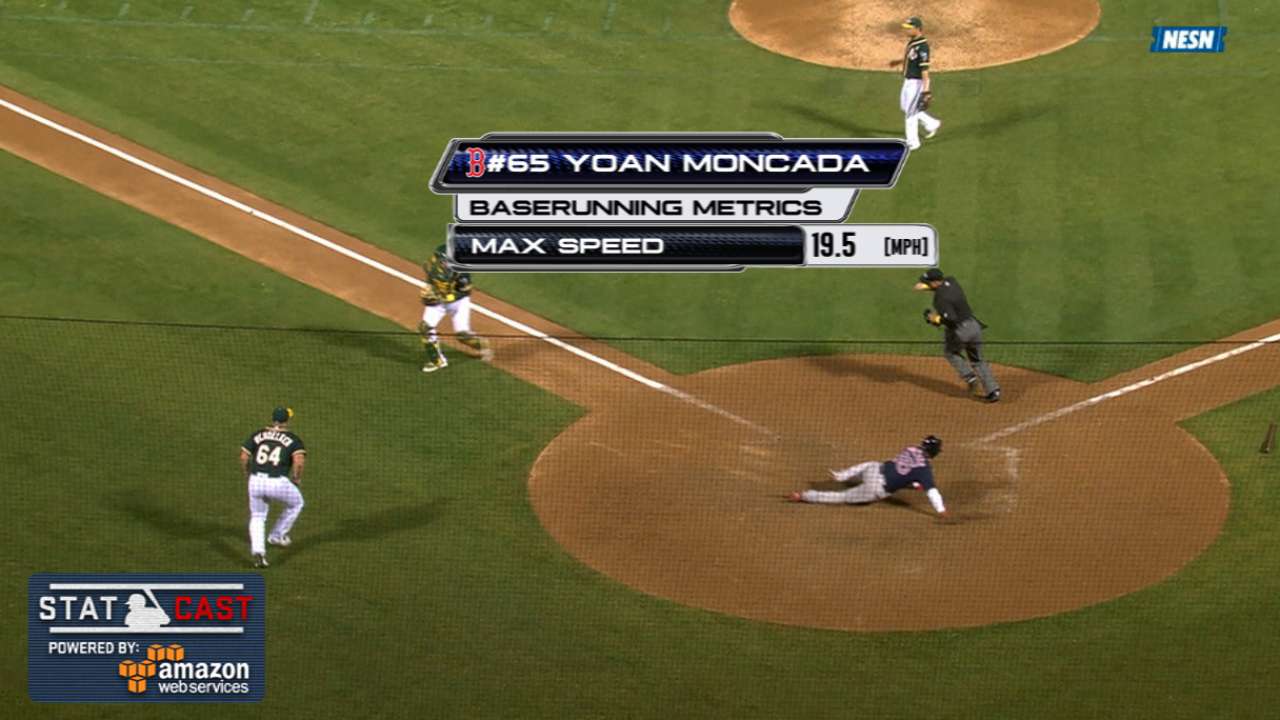 A powerful arm? Advanced plate discipline for a 21-year-old? The same speed which he used to steal 45 bases in the Minors this season?
"In a three-inning look, you see some exciting skills," Farrell said.
Moncada looked the part of a rookie, too. He booted a grounder in the ninth inning, cutting in front of shortstop Deven Marrero despite Marrero appearing to have an easier path to the ball. Ryon Healy was credited with a single, but it was a play Mancado would hope to make. He also struck out in the ninth inning. But standing by his locker -- one of the portable lockers brought in to the A's visiting clubhouse following the roster expansions -- he was encouraged by his night.
"It felt good to be out there," Moncada said. "My first game, it was good to get it out of the way. Even though I came in the seventh inning, it just felt good to be out there. Tomorrow is a new day."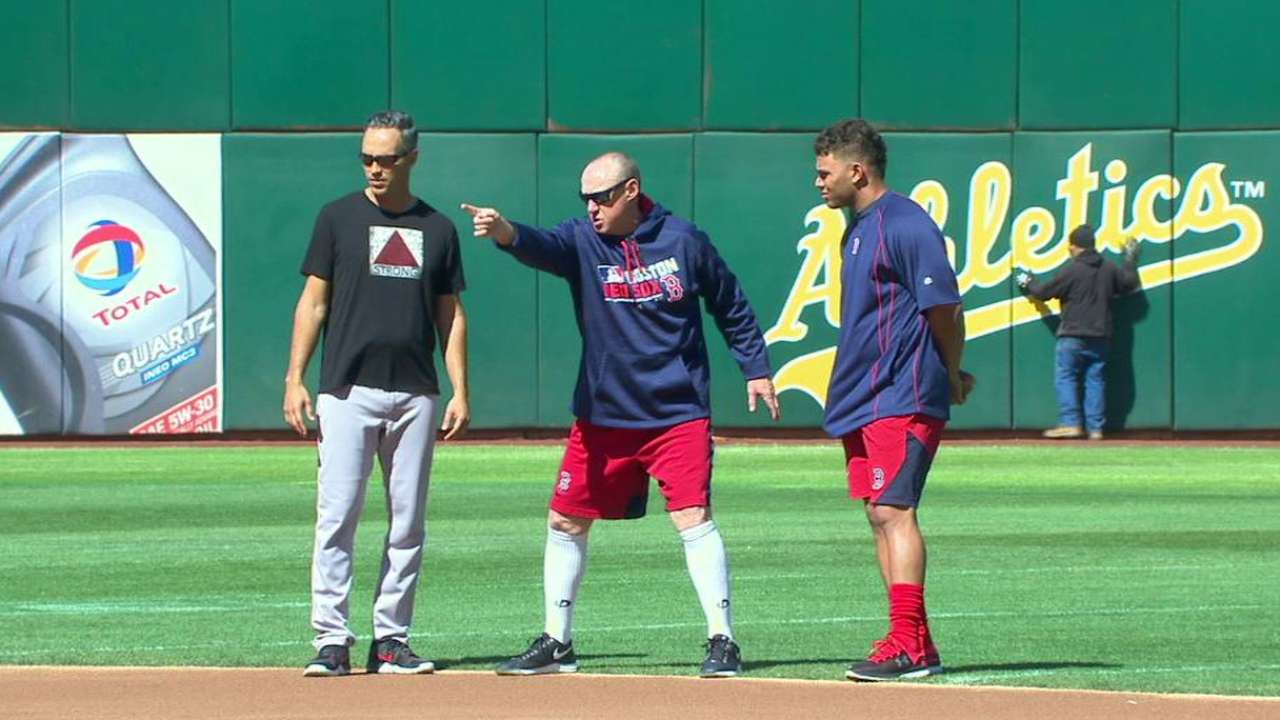 Several hours earlier, Moncada walked onto the sun-soaked Coliseum infield prior to the game, flanked by Butterfield, discussing a combination of defensive techniques, positioning and strategy. The tutelage and preparation of Boston's most prized prospect was already underway.
Farrell said prior to the game that Moncada will play third base primarily against right-handed pitchers, seemingly displacing Shaw while platooning with Aaron Hill. Moncada has spent most of his professional career at second base before transitioning to third last month, but has experience playing it as a youth in his native Cuba.
Moncada ran roughshod in the Minors this year, batting .294 with 15 homers and a .918 OPS while splitting time between Class A Advanced Salem and Double-A Portland. Considering the rapid ascension, a steep learning curve is expected, and it remains to be seen how the third base rotation actually plays out.
But, at the very least, the Red Sox can now evaluate firsthand how their most prized prospect fits in.
"It was a glimpse," said Farrell, "but he had a chance to show off two of the tools."
Mark Chiarelli is a reporter for MLB.com based in the Bay Area. This story was not subject to the approval of Major League Baseball or its clubs.