Pirates shave heads for childhood cancer awareness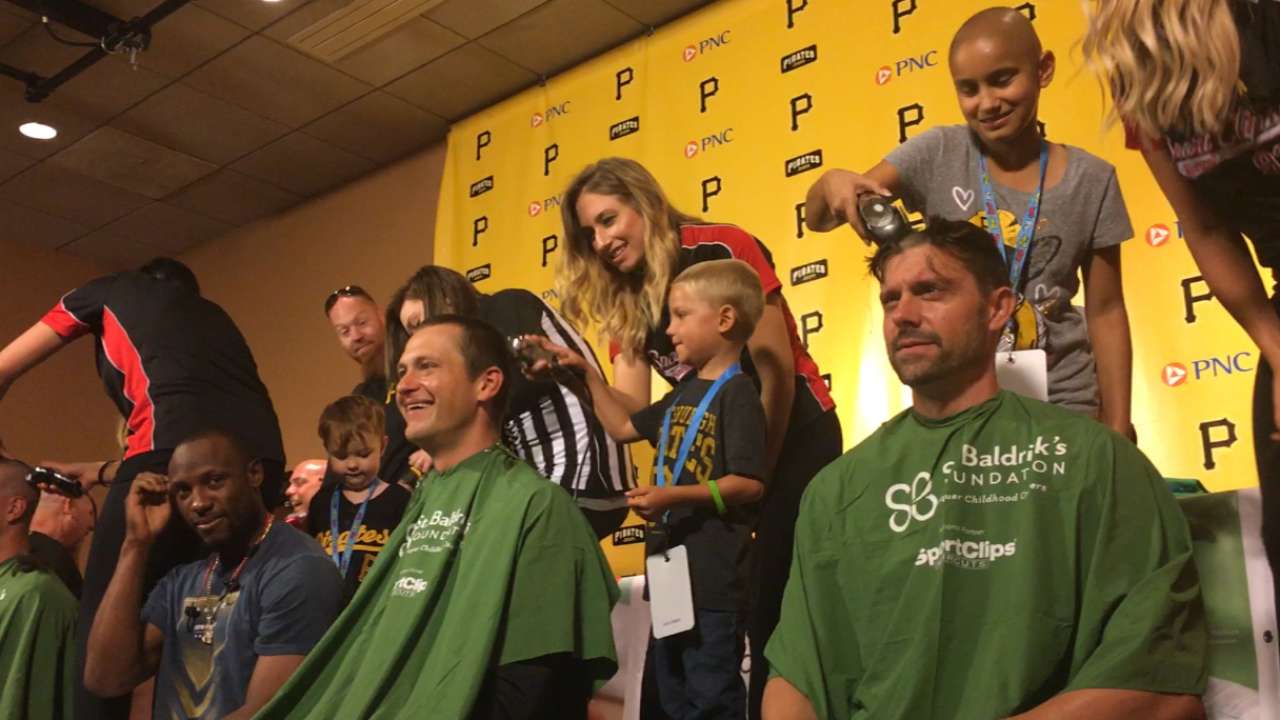 PITTSBURGH -- Chris Stewart rejoined the Pirates on Friday afternoon with a full head of hair. He gave it up shortly before first pitch for a good cause.
Stewart was one of eight Pittsburgh players and coaches to participate in a head-shaving event at PNC Park, a small part of Major League Baseball's recognition of Childhood Cancer Awareness Day.
"It just goes to show that baseball cares, the Pirates care," Stewart said. "It's a great cause, a great day for everybody."
The Pirates partnered with five local non-profit pediatric cancer support organizations -- the Leukemia & Lymphoma Society Pittsburgh, Lending Hearts, CCChampions, Our Clubhouse and the Emily Whitehead Foundation -- and invited 25 children affected by cancer for a night out at the ballpark.
The 25 children, all battling the disease or having overcome it, gathered with their families in a conference room at PNC Park early Friday evening. In walked Pirates coaches Nick Leyva, Jeff Livesey, Euclides Rojas and Heberto Andrade, along with closer Tony Watson, reliever Jared Hughes, outfielder Starling Marte and Stewart, ready to have their heads shaved.
Chris Stewart, before and after pic.twitter.com/HadjgLTMpF

- Adam Berry (@adamdberry) September 2, 2016
The Pirates partnered with the St. Baldrick's Foundation, the largest private funder of childhood cancer research grants, and Sport Clips to make the event possible. Each player and coach picked a child to help shave his head on stage, with Stewart joking that his mane was the grand prize.
Andrade, already sporting a bald head, had his head "shined" on stage. Stewart paired up with Anya, a young girl with a shaved head, then sat and watched his hair fall off his head.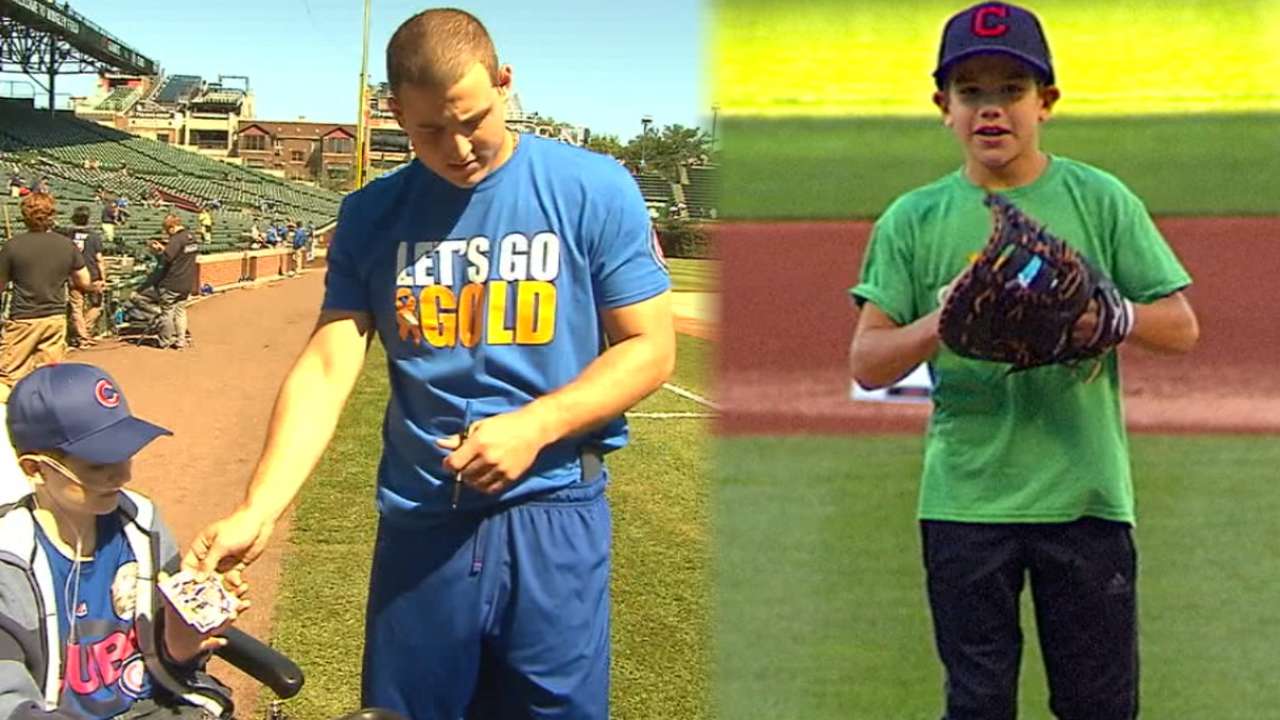 "It actually feels really cool," Stewart said. "It's like an air conditioner on my head. I had fun doing it. Anya did a great job taking care of my head. She didn't draw any blood. It's really cool what we were able to do with them, really cool for them to come out and do that for us. Overall, it's a great day."
Pirates shaving heads event to raise awareness for Childhood Cancer. pic.twitter.com/YiAiTvTJqj

- Pirates (@Pirates) September 2, 2016
From there, the night took on a superhero theme. Each child, a V.I.P (Very Important Pirate) for the day, took part in a "caping" ceremony on the field in which they each received a black-and-gold Pirates cape from Pittsburgh's players, coaches, wives and front-office executives.
They then headed to three of PNC Park's World Series suites to watch the Pirates -- all of them wearing gold wristbands and ribbons on their jerseys, several of them with freshly shaved heads -- play the Brewers.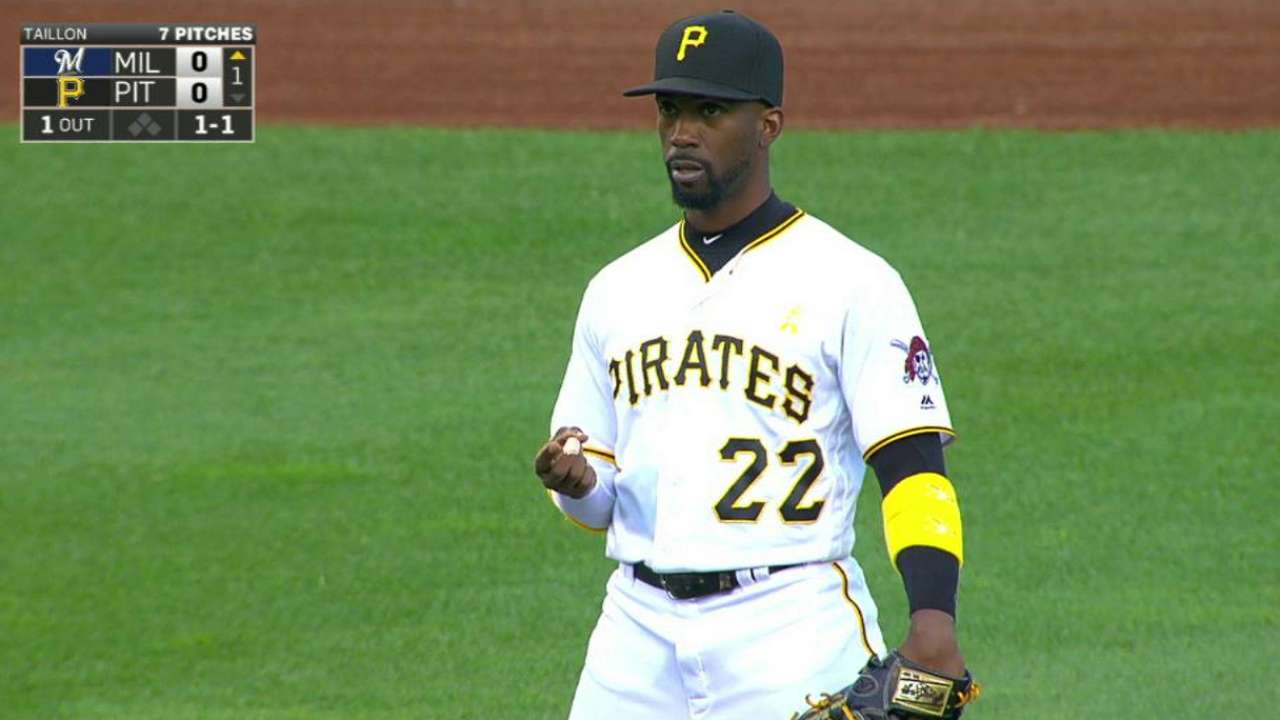 "It's a wonderful cause," Hughes said. "If we can help out by merely shaving our heads, how easy is that? And I think the kids had a lot of fun today."
Adam Berry has covered the Pirates for MLB.com since 2015. Follow him on Twitter at @adamdberry. This story was not subject to the approval of Major League Baseball or its clubs.