Phillies go all in to support Childhood Cancer Awareness Day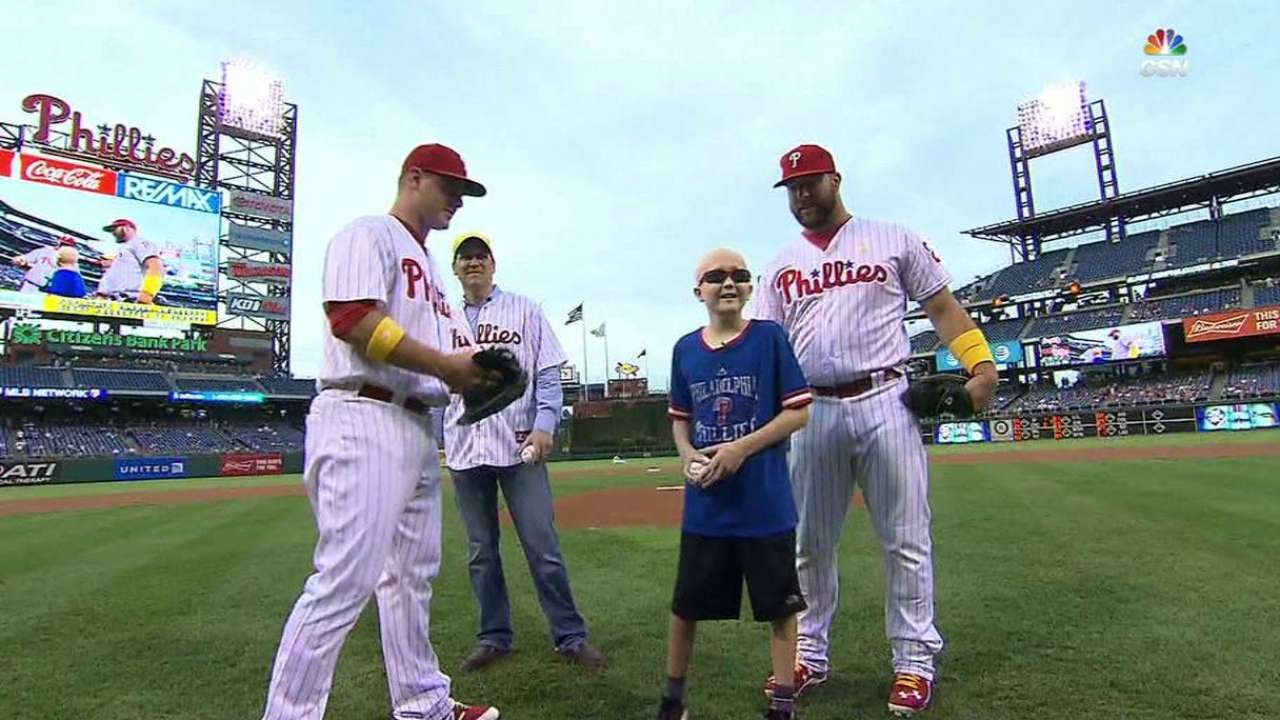 PHILADELPHIA -- It's harder for him to watch baseball now. It reminds him of how good he used to be. How fast he used to throw.
"Now my fastball is my offspeed pitch," Colby Atkinson said from a suite overlooking Friday's Phillies-Braves game at Citizens Bank Park before cracking a smile. Atkinson, now 17, was diagnosed with leukemia in December 2013.
A patient at Nemours Alfred I. duPont Hospital for Children, Atkinson was one of about a dozen pediatric cancer patients from the Philadelphia area invited to take part in the Phillies' contribution to Major League Baseball's Childhood Cancer Awareness Day. It's part of MLB's partnership with Stand Up To Cancer, for which it has raised nearly $40 million.
Atkinson instead now prefers to watch football. He's the only student on the coaching staff at Smyrna (Del.) High School.
Baseball, however, is Atkinson's passion. It's what he grew up playing. And it was part of his coping method when he first got his diagnosis and began undergoing treatment. That, and poking fun at his mom.
"How he deals with stress is through humor," said Virginia Atkinson, his mother and the donor who provided his bone marrow transplant. "A lot of time at my expense."
"I'm a momma's boy," Colby jokes.
Part of Atkinson's physical therapy routine was playing catch at the hospital. Exactly one year and one day after receiving his bone marrow transplant, he was back on the diamond, showing off a nasty curveball.
On Friday, he stepped foot onto a bigger diamond -- the one at Citizens Bank Park. Atkinson greeted Phillies players and participated in pregame ceremonies to raise awareness of pediatric cancer.
Although Atkinson was the recipient of these awareness events, he and his mother have also used baseball as a tool to raise awareness. Only four percent of cancer research funding, Virginia points out, goes to treating childhood cancers. Cancer is the leading cause of death in the United States for children 15 and under. An estimated 250,000 people 20 or under are newly diagnosed each year.
So now Smyrna-Clayton Little League sells "Go Gold" shirts. It also hosts a hit-a-thon every June to raise money, and every player, coach and umpire wears a gold ribbon either on their hat or jersey.
Gold was displayed prominently at Citizens Bank Park and around the league on Friday. Where breast cancer has pink and prostate cancer has blue, pediatric cancer's color is gold. One fan was doused in metallic gold body paint, holding a sign supporting childhood cancer victims. Dozens of players across the game sported gold wristbands. Every jersey was accented with a gold ribbon. Just like at Smyrna-Clayton games.
Evan Webeck is a reporter for MLB.com based in Philadelphia. This story was not subject to the approval of Major League Baseball or its clubs.